Life is full of drama and so are the movies and series. You need to have some drama to make your life spicy and without it, a film is all dull. Netflix is currently the most used streaming service and you can stream any sort of movie there be it a horror film, a romantic drama, historical drama, and so on.. It is hard to say which are the top 30 best drama movies on Netflix right now as there are thousands of them present. A mere drama rating should not be the only thing that makes a worth watching.
Here is a list of some popular and best dramas on Netflix which you can stream anytime.
30. Marriage Story
Director: Noah Baumbach
Writer: Noah Baumbach
Cast: Scarlett Johansson as Nicole Barber, Adam Driver as Charlie Barber, Laura Dern as Nora Fanshaw, Alan Alda as Bert Spitz, Ray Liotta as Jay Marotta, Azhy Robertson as Henry Barber.
IMDb Ratings: 7.9/10
Rotten Tomatoes Ratings: 94%
Marriage Story is a harsh yet natural story that can happen to anyone. The film revolves around a couple whose negligence upon each other has ruined their marriage but for the sake of their son, they were somehow managing till now until things got worse.
Both of them agreed to have a divorce yet are unable to listen to the lawyers initially. After several quarrels and frequent fights, they agreed to settle things in their way and seek custody of Henry. After a few years, they lived on their terms quite happily. Their marriage story might have ended yet it was a fresh start for both of them.
Scarlett and Adam both gave outstanding performances in this film and it also won Academy Awards so do not miss watching it.
The film also grabbed attention and got positive reviews mostly making it one of the most famous drama movies on Netflix now.
29. Taxi Driver
Director: Martin Scorsese
Writer: Paul Schrader
Cast: Robert De Niro as Travis Bickle, Jodie Foster as Iris Steensma, Cybill Shepherd as Betsy, Albert Brooks as Tom, Leonard Harris as Senator Charles Palantine, Peter Boyle as Wizard.
IMDb Ratings: 8.3/10
Rotten Tomatoes Ratings: 96%
The film focus on Travis Bickle (Robert De Niro ) who is a former ex-Marine and Vietnam war veteran currently residing in New York. He is now a taxi driver and haunts the streets of the city during the night. He is very much focused upon what is right and what is wrong and thinks it is his responsibility to do everything right.
The story is both good and bad so do tell us after watching, what do you think about the activities of Travis.
A protagonist is a good man but also a mentally unstable veteran. Watch this film on the Netflix streaming service. The film got four Oscar nominations including Best Supporting Actress so do not forget to stream it.
28. Mudbound
Director: Dee Rees
Writer: Dee Rees, Virgil Williams
Cast: Carey Mulligan as Laura McAllan, Garrett Hedlund as Jamie McAllan, Jason Clarke as Henry McAllan, Mary J. Blige as Florence Jackson, Rob Morgan as Hap Jackson, Jason Mitchell as Ronsel Jackson.
IMDb Ratings: 7.4/10
Rotten Tomatoes Ratings: 97%
Mudbound is one of the most famous (Oscar nominations) as well as loved best drama movies on Netflix right now. It highlights the life of two men who have just returned from World War II and trying to figure out how to lead a peaceful life from now onwards. They have started working on a farm in the rural Mississippi region but witness racism that makes their lives worse.
This film is an accurate portrayal of the post-World War II era where social discrimination was still a part that was hard to overlook.
The movie got four Oscar nominations, Academy Award nominations, so stream it as soon as possible and get to know why it became so famous. It also won the Best Adapted Screenplay, Best Cinematography, and Best Supporting actress.
27. Phantom Thread
Director: Paul Thomas Anderson
Writer: Paul Thomas Anderson
Cast: Daniel Day-Lewis as Reynolds Woodcock, Lesley Manville as Cyril Woodcock, Vicky Krieps as Alma Elson, Camilla Rutherford as Johanna, Gina McKee as Countess Henrietta Harding.
IMDb Ratings: 7.5/10
Rotten Tomatoes Ratings: 91%
This film focus upon two siblings who became popular for providing the best dresses to stars, royals, heiress, and more. The protagonist is Reynolds Woodcock who is the mastermind behind the fabrication of such a beautiful dress and gets aided by her sister Cyril to handle the overall business.
Reynolds is a bachelor who lacks such love feelings for someone but eventually falls for Alma which changes the whole scenario including the relationship of the two siblings.
You can stream this film on Netflix and know who won in the end, the brother-sister duo or the newly evolved love relation.
26. There Will be Blood
Director: Paul Thomas Anderson
Writer: Paul Thomas Anderson
Cast: The Paul Anderson cast includes, Daniel Day-Lewis as Daniel Plainview, Paul Dano as Paul Sunday and Eli Sunday, Kevin J. O'Connor as Henry, Ciaran Hinds as Fletcher Hamilton.
IMDb Ratings: 8.2/10
Rotten Tomatoes Ratings: 91%
The story centers around Daniel Day-Lewis who moves to California which is rich in oil with his adopted son and cons people whenever necessary. The duo betrays and pursues landowners to sell their valuables to them for a pittance. The more they con the more they get rich.
However, Eli Sunday comes into the scenario and doubts the real motive behind the Plainview's plans which causes serious life-threatening tensions among them.
This is one of the best drama movies so do not miss streaming it. Daniel Day-Lewis gave an Oscar-winning performance in this film so stream it and share your views about it. It also picked up the Best Director award and is worth it.
25. Lady Bird
Director: Greta Gerwig
Writer: Greta Gerwig
Cast: Saoirse Ronan as Christine Lady Bird MacPherson, Laurie Metcalf as Marion MacPherson, Tracy Letts as Larry MacPherson, Lucas Hedges as Daniel Danny O'Neil, Timothee Chalamet as Kyle Scheible.
IMDb Ratings: 7.4/10
Rotten Tomatoes Ratings: 99%
The story depicts the life of Christine Lady Bird MacPherson and her development from a teen to an adult. She wants to indulge in adventures, seek opportunities, and live her life to the fullest but fails to get all these in her school life days.
The movie moves forward to how she manages to indulge in her first romantic relationship, during her final year at high school and also shows how she wants to study more and applies for college admission. This movie picked up nominations for Best Picture and is definitely worth watching.
It is currently available to be streamed on Netflix so what are you waiting for?
24. The Irishman
Director: Martin Scorsese
Writer: Steven Zaillian
Cast: Robert De Niro as Frank Sheeran, Al Pacino as Jimmy Hoffa, Joe Pesci as Russell Bufalino, Ray Romano as Bill Bufalino, Bobby Cannavale as Skinny Razor, Anna Paquin as Older Peggy Sheeran.
IMDb Ratings: 7.8/10
Rotten Tomatoes Ratings: 95%
This film focus on the life story of Frank Sheeran who is a former labor union high official and hitman. He learned how to kill people during his training and serving in Italy. The background of the film is Second World War and now is currently associated with the Bufalino crime family.
As the story progresses the audience can see how he looks back at his past life and he is somehow associated with the disappearance of Jimmy Hoffa (Al Pacino ). This is like just another mob movie yet it is unique in its terms. This Netflix original movie got 10 Oscar nominations two of them were for Best Director and Best Picture. It also got nominated for Academy Award.
Both Robert De Niro and Al Pacino are famous actors and as expected gave brilliant performances here so stream it soon.
23. Mank
Director: David Fincher
Writer: Jack Fincher
Cast: Gary Oldman as Herman J. Mankiewicz, Amanda Seyfried as Marion Davies, Lily Collins as Rita Alexander, Arliss Howard as Louis b. Mayer, Tom Pelphrey as Joseph L. Mankiewicz.
IMDb Ratings: 6.8/10
Rotten Tomatoes Ratings: 83%
Mank is a black and white movie by David Fincher that shows Herman J. Mankiewicz has two months to create Citizen Kane. He is a severe alcoholic who seeks help from Orson Welles who is a mere boy of 24 years old. Welles has been granted carte blanche by RKO.
This movie tells how Citizen Kane was written. It is a true story so do not miss watching it on Netflix.
22. Roma
Director: Alfonso Cuaron
Writer: Alfonso Cuaron
Cast: Yalitza Aparicio as Cleodegaria, Marina de Tavira as Sofia, Fernando Grediaga as Antonio, Jorge Antonio Guerrero as Fermin, Marco Graf as Pepe, Daniela Demesa as Sofi.
IMDb Ratings: 7.7/10
Rotten Tomatoes Ratings: 96%
The film revolves around Cleo who works as a domestic helper and helps Antonio and Sofia to look after the four children living in the Mexican City. Everything was going all fine until one day Antonio fled away with one of his mistresses and it is revealed that Cleo is pregnant.
Sofia however was all there to support Cleo and even asked her to join with her and their kids for a vacation that might help her to clear her mind.
This is a famous drama now streaming on Netflix so watch it as soon as possible.
21. A River Runs Through It
Director: Robert Redford
Writer: Richard Friedenberg
Cast: Craig Sheffer as Norman Maclean, Brad Pitt as Paul Maclean, Tom Skerritt as Reverend John Maclean, Brenda Blethyn as Clara Maclean, Emily Llyod as Jessie Burns.
IMDb Ratings: 7.2/10
Rotten Tomatoes Ratings: 80%
This movie shows the life of two brothers, Paul and Norman who live a happy life without much pressure or tension about the future in Montana and loves fishing. Soon Norman goes away to attend college and Paul creates troubles at home. The two live apart for a long yet when Norman does return, the two get back like before and continue their favorite activity, fishing.
The film is based on the novel having the same name by Norman Maclean and also won the Oscar for Best Cinematography. It is a great drama movie so do not miss streaming it.
Read More: The Best Thrillers on Netflix To Watch Right Now
20. Room
Director: Lenny Abrahamson
Writer: Emma Donoghue
Cast: Brie Larson as Joy Ma Newsome, Jacob Tremblay as Jack Newsome, Joan Allen as Nancy Newsome, William H. Macy as Robert Newsome, Sean Bridgers as Old Nick, Tom McCamus as Leo.
IMDb Ratings: 8.1/10
Rotten Tomatoes Ratings: 93%
The story focus upon a young mother trapped and her young son who had been captive for a long time. Ma, Jack's mother is devoted to taking care of her child but one day they both were trapped in a 10 10-foot room which she names as Room and finds no clue how to escape it. She creates a world for Jack within that room so that he can have everything yet the outside or real-world is the one that Jack craves.
Will they be able to get out of the room and witness the real world again? Stream this film and find out. The stellar performances of this duo are surely worth watching.
19. The Florida Project
Director: Sean Baker
Writers: Sean Baker, Chris Bergoch
Cast: Brooklynn Prince as Moonee, Bria Vinaite as Halley, Willem Dafoe as Bobby Hicks, Christopher Rivera as Scooty, Mela Murder as Ashley, Valeria Cotto as Jancey, Caleb Landry Jones.
IMDb Ratings: 7.6/10
Rotten Tomatoes Ratings: 96%
The film centers around Halley and her daughter Moonee who live on welfare but both of them have no respect for people. The Motels' policy is not to let a person live long there but the kind-hearted manager Bobby has managed to let them live here as he knows these people have nowhere to go. This is an accurate portrayal of people who suffer from poverty and is a must-watch.
If you loved the synopsis so far then don't wait, just start streaming it on Netflix.
18. 22 July
Director: Paul Greengrass
Writer: Paul Greengrass
Cast: Anders Danielsen Lie as Anders Behring Breivik, Jon Oigarden as Geir Lippestad, Thorbjorn Harr as Sveinn Are Hanssen, Jonas Strand Gravli as Viljar Hanssen, Ola G. Furuseth as Jens Stoltenberg.
IMDb Ratings: 6.8/10
Rotten Tomatoes Ratings: 81%
22 July is a three-part story that depicts how right-wing terrorist Anders Behrings Breivik killed 77 people who were present in the Lobour Party Youth Camp on Utoya. The film narrates the tales of the survivors, the political situation of that time, and the lawyers involved.
This is a historical drama and shows several details about the incident that occurred in the year 2011 on the 22nd of July. Stream it and share your views about it.
17. The Trial of Chicago 7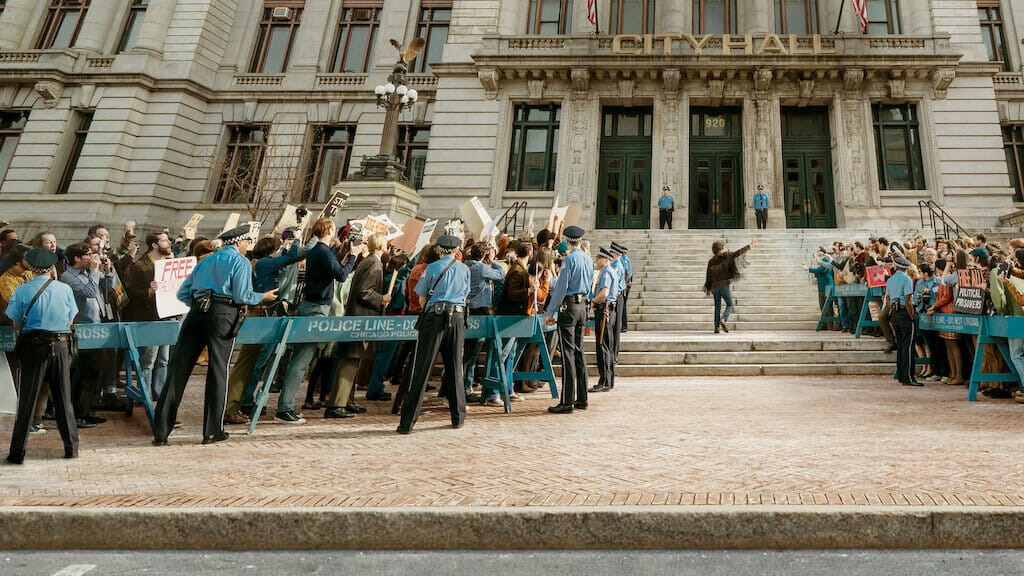 Director: Aaron Sorkin
Writer: Aaron Sorkin
Cast: The ensemble cast is Eddie Redmayne as Tom Hayden, Sacha Baron Cohen as Abbie Hoffman, Alex Sharp as Rennie Davis, Jeremy Strong as Jerry Rubin, John Carroll Lynch as David Dellinger, Noah Robbins as Lee Weiner.
IMDb Ratings: 7.8/10
Rotten Tomatoes Ratings: 89%
The Trial of Chicago 7 depicts the 7 defendants who helped guilty of conspiracy against the government and more. The incident might not be that famous that occurred in the year 1969 but did impact these peoples' lives a lot. The people shown here are Tom Hayden, Abbie Hoffman, Jerry Rublin, Bobby Seale, Judge Hoffman, Richard Schultz.
As you watch the film, you will get to know the causes, impacts, and changes that took place after this incident. This is a famous historical drama and if you want to know facts, this film is a must-watch.
16. Wildlife
Director: Paul Dano
Writer: Paul Dano, Zoe Kazan
Cast: Ed Oxenbould as Joe Brinson, Carey Mulligan as Jeanette Brinson, Jake Gyllenhaal as Jerry Brinson, Bill Camp as Warren Miller, Zoe Margaret Colletti as Ruth-Ann, Darryl Cox as Clarence Snow.
IMDb Ratings: 6.8/10
Rotten Tomatoes Ratings: 94%
The story focus upon a family who was easygoing until one day, Jerry loses his job and later decides to decide his life fighting the fire. He did not care about how his wife Jeanette and son Jerry is going to live or get food. Janette struggles to manage all things and the child, Joe all of a sudden becomes an adult and witnesses how his mother struggles to keep everything going. It is a pure family drama that reflects how situations can go upside down all of a sudden.
It is currently available on Netflix and be sure, it is worth watching.
15. Good Time
Director: Josh Safdie, Benny Safdie brothers
Writer: Ronald Bronstein, Josh Safdie
Cast: Robert Pattinson as Constatine Connie Nikas, Benny Safdie as Nikolas, Buddy Duress as Ray, Taliah Lennice Webster as Crystal, Jennifer Jason Leigh as Corey Ellman.
IMDb Ratings: 7.3/10
Rotten Tomatoes Ratings: 92%
The film revolves around two brothers who rob a bank in New York and gets a hold of $65,000. They however are soon stopped by the police and though Connie manages to escape, Nick is arrested and taken into prison. Connie tries his best to get a bail bond but is still in a need of $10,000 more. He pursues his girlfriend to pay the amount but her mother does not let that happen.
However, things get worse day by day. Nick soon gets hospitalized for indulging in a fight with an inmate and the struggle to set him free goes on. Will he be ever free?
Start watching the film and know what happened in the end. It is throughout thrilling to watch having abundant actions as well.
14. Atlantics
Director: Mati Diop
Writer: Mati Diop, Oliver Demangel
Cast: Mame Bineta Sane as Ada, Amadou Mbow as Issa, Ibrahima Traore as Souleiman, Nicole Sougou as Dior, Aminata Kane as Fanta, Mariama Gassama as Mariama.
IMDb Ratings: 6.7/10
Rotten Tomatoes Ratings: 96%
The film depicts how the workers on a construction site in the Dakar suburb regions are not given their wages for a long time. As a result, people started leaving the country and looked for better opportunities to earn more. The protagonist is Souleiman who disappears all of a sudden one night but comes back to get reunited with his lover Ada.
Will the people seek revenge or start a new life here? Watch this film and know what happened next.
13. Da 5 Bloods
Director: Spike Lee (winner of Best Adapted Screenplay for BlacKkKlansman)
Writer: Danny Bilson, Paul De Meo, Kevin Willmott, Spike Lee
Cast: Delroy Londo as Paul, Jonathan Majors as David, Clarke Peters as Otis, Norm Lewis as Eddie, Isiah Whitlock Jr as Melvin, Johnny Tri Nguyen as Vinh.
IMDb Ratings: 6.5/10
Rotten Tomatoes Ratings: 92%
The film narrates the journey of 4 African American Vets who return to Vietnam and search for their fallen squad leader and also the hidden treasure. These people have to go through several critical situations and fight both humans and nature to accomplish their mission.
Those who love thrill, excitement, adventure must stream this film and be sure it won't let you get bored even for a single second. The brilliant performances of these people do keep the film going and are thus regarded as one of the best dramas on Netflix.
12. Moneyball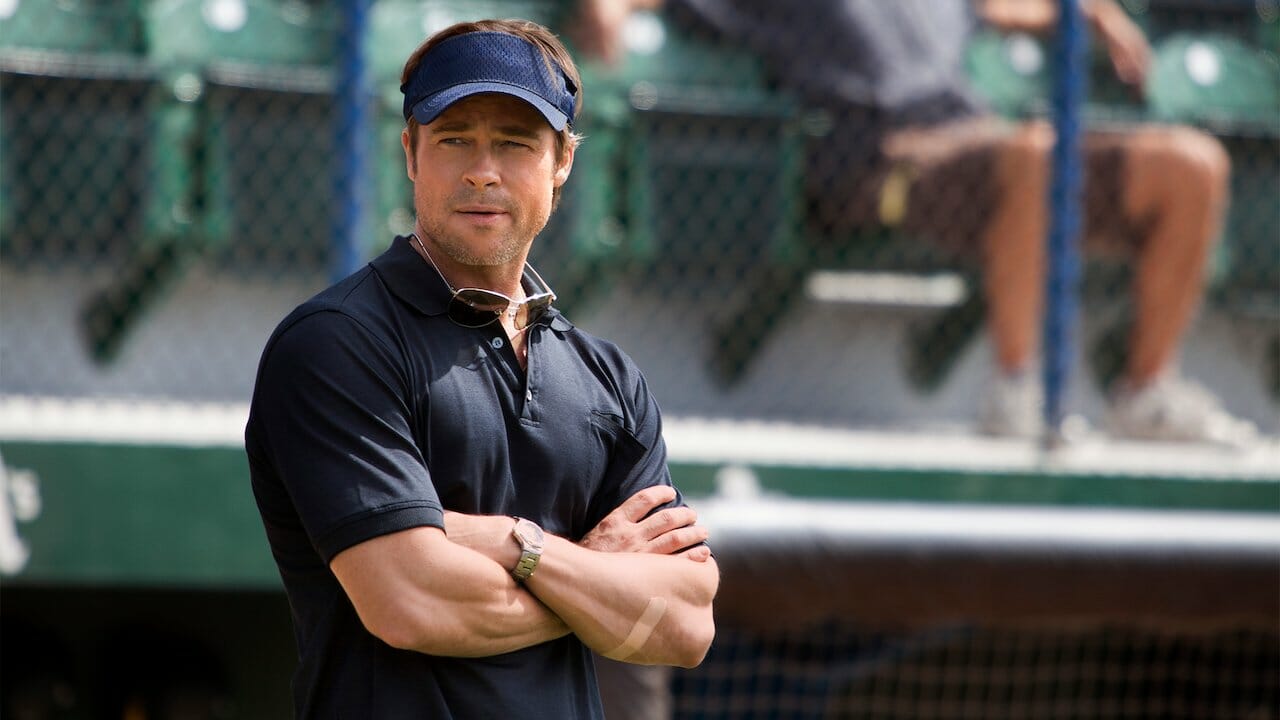 Director: Bennett Miller
Writer: Steven Zaillian, Aaron Sorkin
Cast: Brad Pitt as Billy Beane, Jonah Hill as Peter Brand, Philip Seymour Hoffman as Art Howe, Robin Wright as Sharon Beane, Chris Pratt as Scott Hatteberg, Stephen Bishop as David Justice.
IMDb Ratings: 7.6/10
Rotten Tomatoes Ratings: 94%
The film is based on the book by Michael Lewis where general manager Billy Beane is handicapped with the lowest salary in baseball and wants to gather a team and outsmart the other richer clubs. He along with Peter Brand tries to challenge the old school traditions. Will he be able to accomplish his mission?
This is a famous story put into an adapted screenplay so do not forget to watch it.
11. Passing
Director: Rebecca hall
Writer: Rebecca hall
Cast: Tessa Thompson as Irene Reenie Redfield, Ruth Negga as Clare Bellew, Andre Holland as Brian Redfield, Bill Camp as Hugh Wentworth, Alexander Skarsgard as John Bellew, Gbenga Akinnagne as Dave Freedland.
IMDb Ratings: 6.7/10
Rotten Tomatoes Ratings: 90%
Passing movie tells the story of two school friends who got reunited after a long period. Both of them are from different races, one black, and one white. They both get indulged in each other's lives after their reunion and that is what is focused upon here. Irene, the black woman is married to a Black doctor and Clare has been married to a wealthy white man.
If you have a keen interest to know how things were in the past or how racial discrimination grew and was focused upon, then this film is a must-watch.
Read More: The Best Netflix Original Movies To watch Right Now
10. Nightcrawler
Director: Dan Gilroy
Writer: Dan Gilroy
Cast: Jake Gyllenhaal as Louis Lou Bloom, Rene Russo as Nina Romina, Riz Ahmed as Rick, Bill Paxton as Joe Loder, Kevin Rahm as Frank Kruse, Michael Hyatt as Detective Frontieri.
IMDb Ratings: 7.9/10
Rotten Tomatoes Ratings: 95%
Nightcrawler tells the story of Louis Lou Bloom who was a mere thief and got to live a dull life with nothing much. However, he soon gets the chance to be a cameraman and starts capturing pictures and selling them at a high rate thereby making him wealthy day by day. The more he clicked the more money he got and now, he started crawling the city in the nights and capturing evidence that would not have been got unless he clicked it.
It was able to attract a lot of praise and attention so do not forget to watch it if you are a true drama movie fan.
9. The Killing of a Sacred Deer
Director: Yorgos Lanthimos
Writer: Yorgos Lanthimos, Efthymis Filippou
Cast: Colin Farrell as Steven Murphy, Nicole Kidman as Anna Murphy, Barry Keoghan as Martin Lang, Raffey Cassidy as Kimberly Kim Murphy, Sunny Suljic as Robert Bob Murphy.
IMDb Ratings: 7/10
Rotten Tomatoes Ratings: 80%
The story depicts how Dr. Steven Murphy, a cardiothoracic surgeon by profession comes closer and closer to a young boy Martin who has recently lost his father. Everything seems to be normal in the initial days but later, the situation got out of hand. It seemed that one's sins are affecting the whole family. Martin's influence or presence is not at all proving to be a good one and somehow Steven is all responsible for shattering his blissful life and family.
This film is full of mysteries, twists, and drama and will be a great choice to watch.
8. The Ballad of Buster Scruggs
Director: Joel Coen, Ethan Coen
Writer: Joel Coen, Ethan Coen
Cast: Tim Blake Nelson as Buster Scruggs, Willie Watson as The Kid, David Krumholtz as Frenchman In Saloon, Tom Proctor as Cantina Bad Man, Alejandro Patino as Cantina Bartender.
IMDb Ratings: 7.3/10
Rotten Tomatoes Ratings: 89%
If you are looking for a film having subplots or full of entertainment and intriguing twists then The Ballad of the Buster Scruggs is a great choice. It narrates the tales of 6 persons, about a singing gunslinger, a bank robber, a traveling impresario, an elderly prospector, a wagon train, and a perverse pair of bounty hunters.
each of these characters is different from each other and has different tales to narrate. This film is full of entertainment that will surely not make one get bored for a second.
7. The Power of the Dog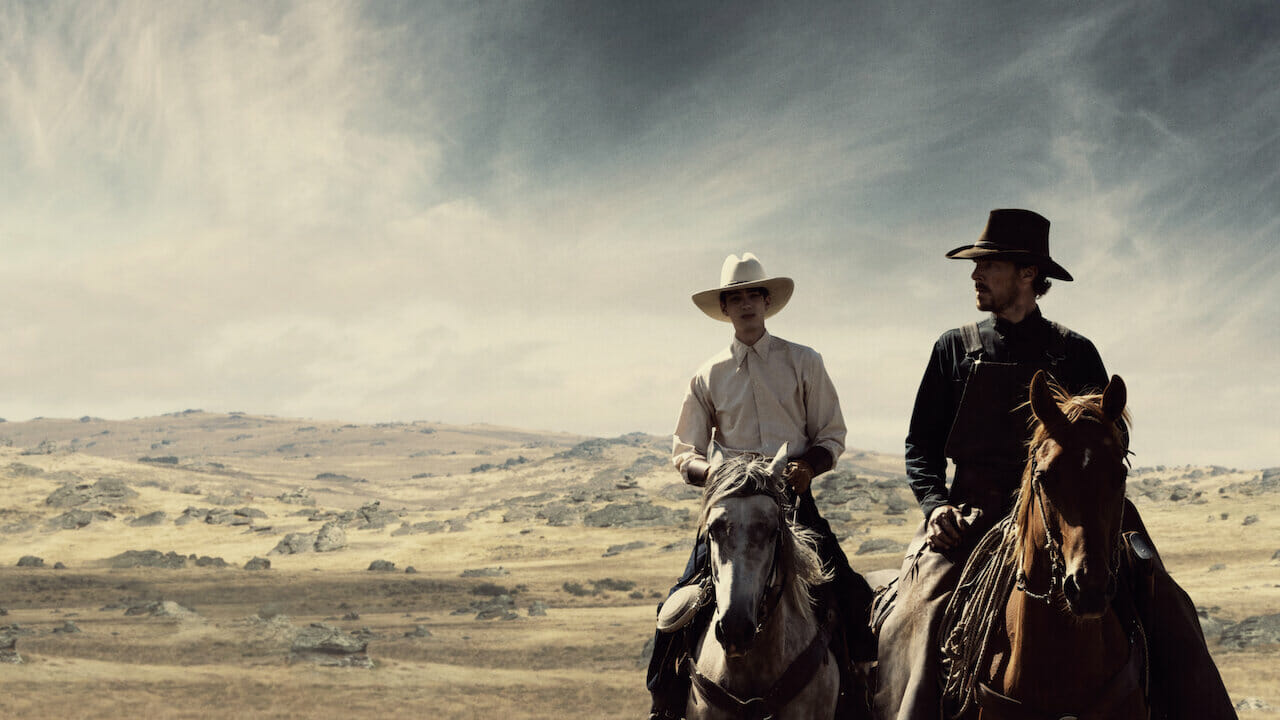 Director: Jane Campion
Writer: Jane Campion
Cast: Benedict Cumberbatch as Phil Burbank, Kirsten Dunst as Rose Gordon, Jesse Plemons as George Burbank, Kodi Smit-McPhee as Peter Gordon, Thomasin McKenzie as Lola, Genevieve Lemon as Mrs. Lewis.
IMDb Ratings: 6.9/10
Rotten Tomatoes Ratings: 94%
The story of this film focus upon two brothers, Paul and George. Paul is all cruel and brutal and pays no heed to human feelings. He is devoid of love and is determined to lack the feeling forever. Once the two brothers come across a young woman named Rose and her son Peter. Paul ridicules them and drives them away but George marries her. Paul starts caring for Peter after a while and it seems, the devil is changing with the power of love.
This film is currently streaming on Netflix so what are you waiting for? Start watching it now.
6. El Camino: A Breaking Bad Movie
Director: Vince Gilligan
Writer: Vince Gilligan
Cast: Aaron Paul as Jesse Pinkman, Jesse Plemons as Todd Alquist, Krysten Ritter as Jane Margolis, Charles Baker as Skinny Pete, Matt Jones as Brandon Badger Mayhew.
IMDb Ratings: 7.3/10
Rotten Tomatoes Ratings: 91%
The film revolves around Jesse who has just got freed from all sorts of tortures at the hands of Jack and Mr. White. The police are also after him and now his only hope is Saul Goodman's hoover guy named Ed Galbraith.
Ed is the only one who can help him to have a fresh start, but will he be able to do so? Stream this film and witness drama, thrills, excitements, and actions all in one.
5. Tick, tick…BOOM!
Director: Lin-Manuel Miranda
Writer: Stevenson Levenson
Cast: Andrew Garfield as Jonathan Larson, Alexandra Shipp as Susan Wilson, Vanessa Hudgens as Karessa Johnson, Robin de Jesus as Michael.
IMDb Ratings: 7.5/10
Rotten Tomatoes Ratings: 88%
As the title hints, the film revolves around the crisis of time in the life of Jon who aspires to be a great American musician. When he was going to showcase his best performance, he feels pressure from both his lover and friend Michael. He struggles to decide what to do and what not to do and the time ticks to remind him that he must make decisions quickly.
This film is available on several streaming platforms including Netflix so stream it as soon as you can.
4. Private Life
Director: Tamara Jenkins
Writer: Tamara Jenkins
Cast: Kathryn Giamatti as Rachel Biegler, Paul Giamatti as Richard Grimes, Kayli Carter as Sadie Barrett, Molly Shannon as Cynthia Grimes, Denis O'Hare as Dr. Dordick, Emily Robinson as Charlotte Grimes.
IMDb Ratings: 7.2/10
Rotten Tomatoes Ratings: 93%
This film, Private Life does peep into the private life of Richard and Rachel who are trying their best to have a child. They suffer from infertility and goes into the world of reproduction and adoption that somehow seems to be affecting their life. Their doctor asks for seeking a third-party reproduction but they are unable to decide whether to opt for it or not until Sadie comes into their life.
This is a famous comedy-drama so stream this popular film on the Netflix streaming platform.
3. The Piano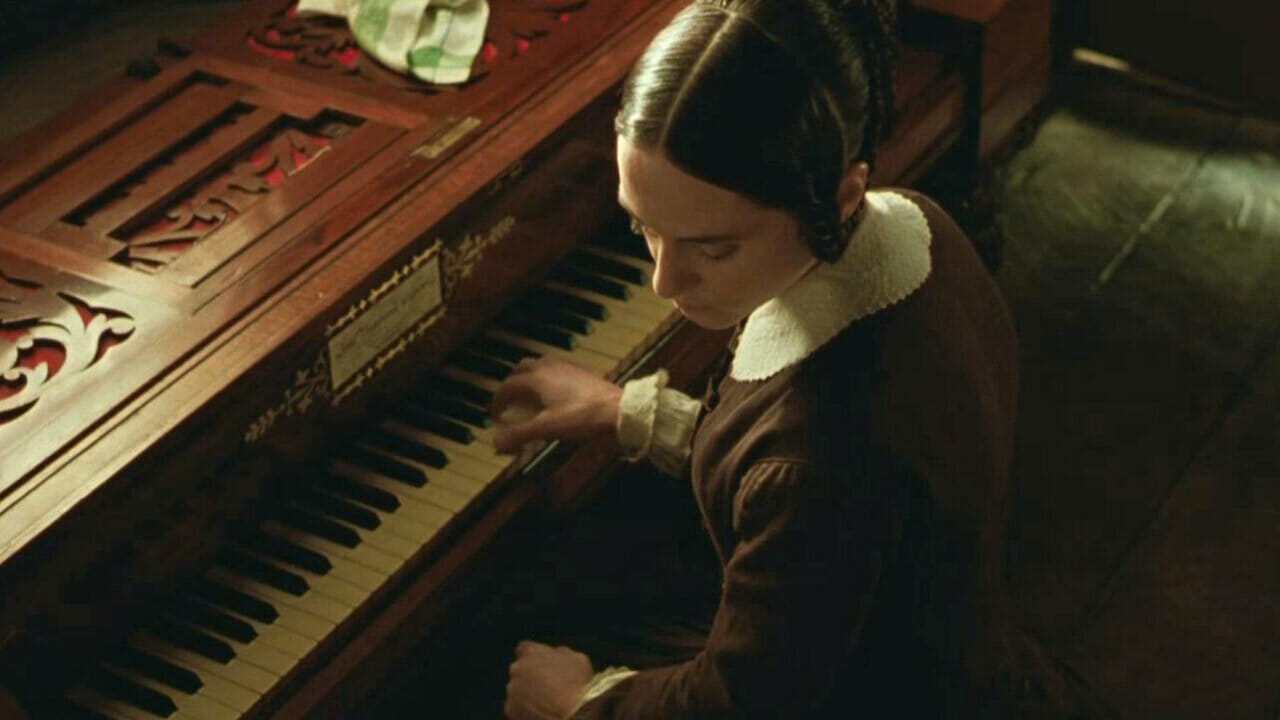 Director: Jane Campion
Writer: Jane Campion
Cast: Holly Hunter as Ada McGrath, Harvey Keitel as George Baines, Sam Neill as Alisdair Stewart, Anna Paquin as Flora McGrath, Kerry Walker as Aunt Morag, Genevieve Lemon as Nessie, Tungia Baker as Hira.
IMDb Ratings: 7.5/10
Rotten Tomatoes Ratings: 91%
The story focuses on Ada who tries her best to have a good life with her daughter Flora. Ada had an arranged marriage but that did not quite go well. Her relationship with her husband, Stewart is not a good one. Despite knowing that Ada loves her piano, Stewart sells it to one of their neighbor George who Ada despises. However, George is not as bad as Ada believes him to be. He offers Ada that she can have back her piano but in return, she has to give George lessons on it.
The film is a must-watch to know how perspectives change with time. It is currently available on Netflix to be streamed.
2. Magnolia
Director: Paul Thomas Anderson
Writer: Paul Thomas Anderson
Entire Cast: Jeremy Blackman as Stanley Spector, Tom Cruise as Frank T. J. Mackey, Melinda Dillon as Rose Gator, April Grace as Gwenovier, Luis Guzman as Luis, Philip Baker Hall as Jimmy Gator.
IMDb Ratings: 8/10
Rotten Tomatoes Ratings: 83%
Magnolia has several characters featuring in it where two stories connect each other or run parallel. Two men are shown on the verge of dying and they desperately want their children to contact them but both their wards are too reluctant to come and visit them.
The weather is also rainy and gloomy which does match the overall scenes and feelings of the characters. It is a famous drama movie that you can stream on Netflix.
1. Uncut Gems
Director: Josh Safdie, Benny Safdie
Writer: Ronald Bronstein, Josh Safdie, Benny Safdie
Cast: Adam Sandler as Howard Ratner, Lakeith Stanfield as Demany, Julia Fox as Julia De Fiore, Kevin Garnett as himself, Idinia Menzel as Dinah Ratner, Eric Bogosian as Arno, Judd Hirsch.
IMDb Ratings: 7.4/10
Rotten Tomatoes Ratings: 92%
This movie shows how once a famous gem dealer of New York, Howard Ratner gets ruined due to his practice in gambling and shattered his as well as his family's life. He is now in search of a big opportunity to get a good life and does get one when he comes across a rare uncut rock of Ethiopian gems. But life is not that easy, he knows that whatever he does to run from his past, he has to face the consequences for his deeds.
This is a famous movie and has got high ratings with mostly positive reviews and be sure, it is worthy to be streamed.
There are hundreds of drama movies streaming on several platforms and it is hard to make a list out of them that is worth watching. These are some of the most famous and loved so has successfully been able to be at the top of the list.If you want more such lists you can always look at them on our site and know other relevant updates and details as well.