The world of gambling anime has managed to collaborate with the gambling genre and create shows worth watching anime with gambling games involved in it. May it be a casino game, a card game, a simple mind game, a mental game, or illegal gambling. In this following article, you will explore a great variety of best gambling anime ranging from the old style and different styles to the new world show.
Anime fans always crave something new and interesting; for them, this sure is going to be a treat. These listed anime television series include many fruitful themes, genres, and characters. To name some are sports anime, cute girls anime, compulsive gambling anime, gambling addicts, illegal gambling, sports genre anime, mind games, mental games, simple games, card games, genius gambler anime, and so on.
Now, let's jump down straight into the world of gambling anime through these must-watch series.
20. Rio: Rainbow Gate! 
Director: Takao Kato
Writer: Mayori Sekijima
Cast: Kira Buckland, Brittany Lauda, Eddy Lee, Amber Lee Connors, Todd Haberkorn, Billy Bob Thompson
IMDb Rating: 6.2/10
Available Platform: Crunchyroll
Rio Rainbow Gate, this anime about gambling, is a series that shares the casino world of gambling through the life of a casino dealer, a young girl named Rio Rollins. Rio's vision is to follow in her mother's footsteps as she becomes MVCD, considered the most powerful and valued dealer in the vast world of Casino gambling.
This anime has well-established characters, plot, and overall performance ruled out the week for the anime fans and every viewer.
19. C: The Money of Soul and Possibility Control ( 2011) 
Director: Kenji Nakamura
Writer: Noboru Takagi
Cast: Monica Rial, Todd Haberkorn, Brina Palencia, J. Michael Tatum, Bryan Massey, Terry Doty
IMDb Rating: 6.7/10
Available Platform: Crunchyroll
Illusioned by the idea of earning a huge sum of money, a full-time young student named Kimimaro when received a shocking invitation to the East Financial District, and his life shifted in seconds. This isn't any ordinary invitation. This is sent by the parallel world, which resides way beyond real life.
To have the life that he is currently fantasizing about and the one this parallel world is offering, he must put his future as collateral.
18. Danganronpa: The Animation (2013)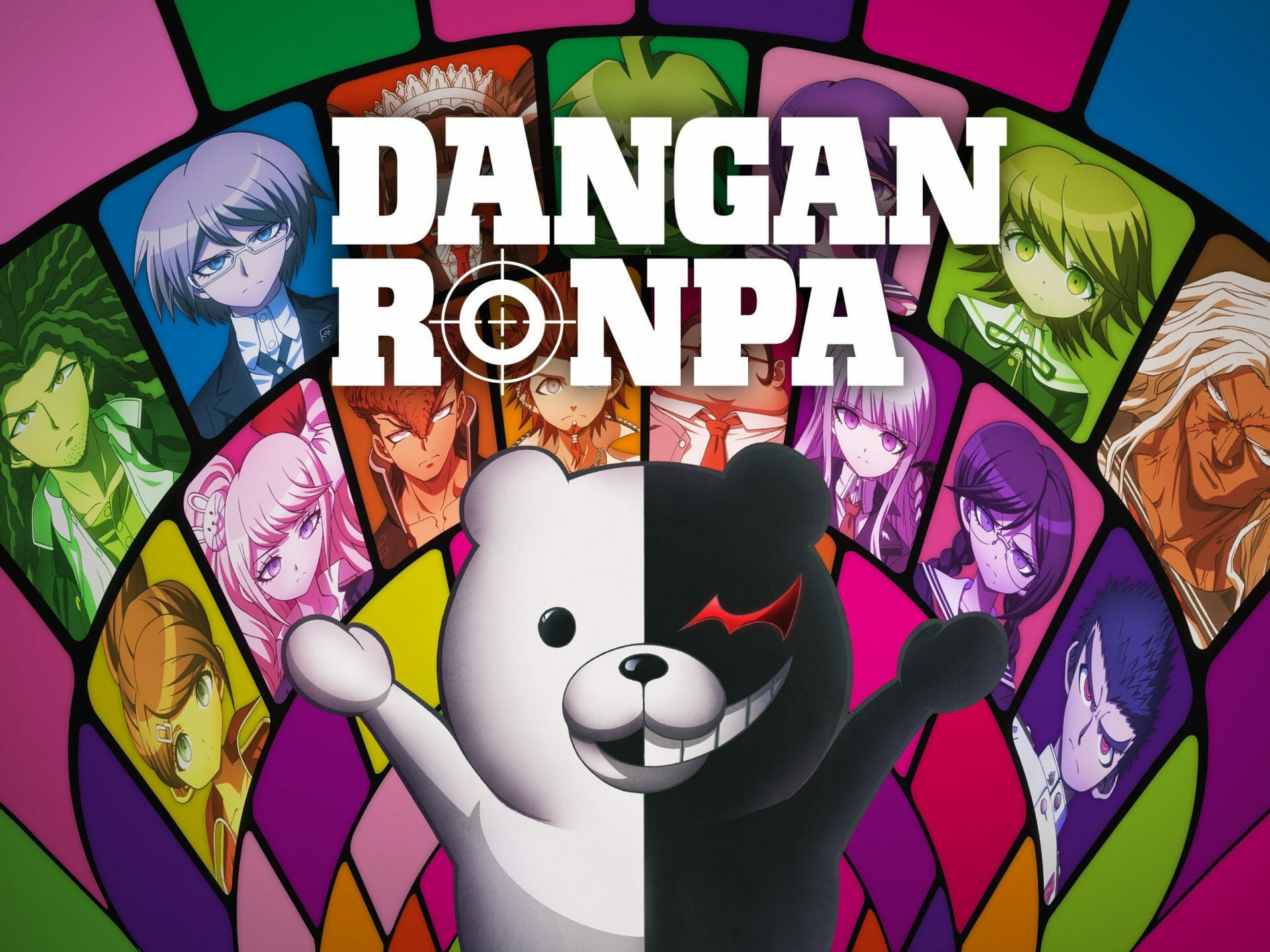 Director: Seiji Kishi
Writer: Makoto Uezu
Cast: Megumi Ogata, Chiwa Saito, Yoko Hikasa, Nobuyo Oyama, Miyuki Sawashiro, Akira Ishida
IMDb Rating: 6.9/10
Available Platform: Hulu (Free Trial)
This is one of those popularly loved anime series. Through a simple game, many lives are put in danger. Makoto Naegi, along with fourteen other students belonging to different schools, are welcomed to a high-level elite hope's high school.
Very soon as they enter the school, they learn about the hidden trap installed within the school. The ultimate truth is that they have been called here actually to murder one another.
17. BTOOOM! (2012)
Director: Kotono Watanabe
Writer: Yosuke Kuroda
Cast: Ryota Sakamoto, Himiko, Kiyoshi Taira, Kosuke Kira, Nobutaka Oda
IMDb Rating: 7.1/10
Available Platform: Crunchyroll
Ryota Sakamoto, the hero of the series, is a fictional character. His life drastically turns into a struggle to survive when upon waking up, he realizes that he is in the real-life world of the online game.
Ryota, with the help of his gambling skills, must manage to find a way out, an escape from this artificial world he is trapped in.
16. Joker Game (2016) 
Director: Kazuya Nomura
Writer: Taku Kishimoto
Cast: Kazuya Kamenashi, Kyoko Fukada, Yusuke Iseya, Richard Shelton, Richard Moss, Jasper Bagg
IMDb Rating: 7.1/10
Available Platform: Crunchyroll
During the whole world's major collapse, when the world was fighting world war ii, D-Agency, a clandestine espionage group, prepared a total number of eight elite spies. This is a special force being prepared to fight threats from both ends, namely domestic as well foreign in Japan.
15. The Legendary Gambler Tetsuya (2000)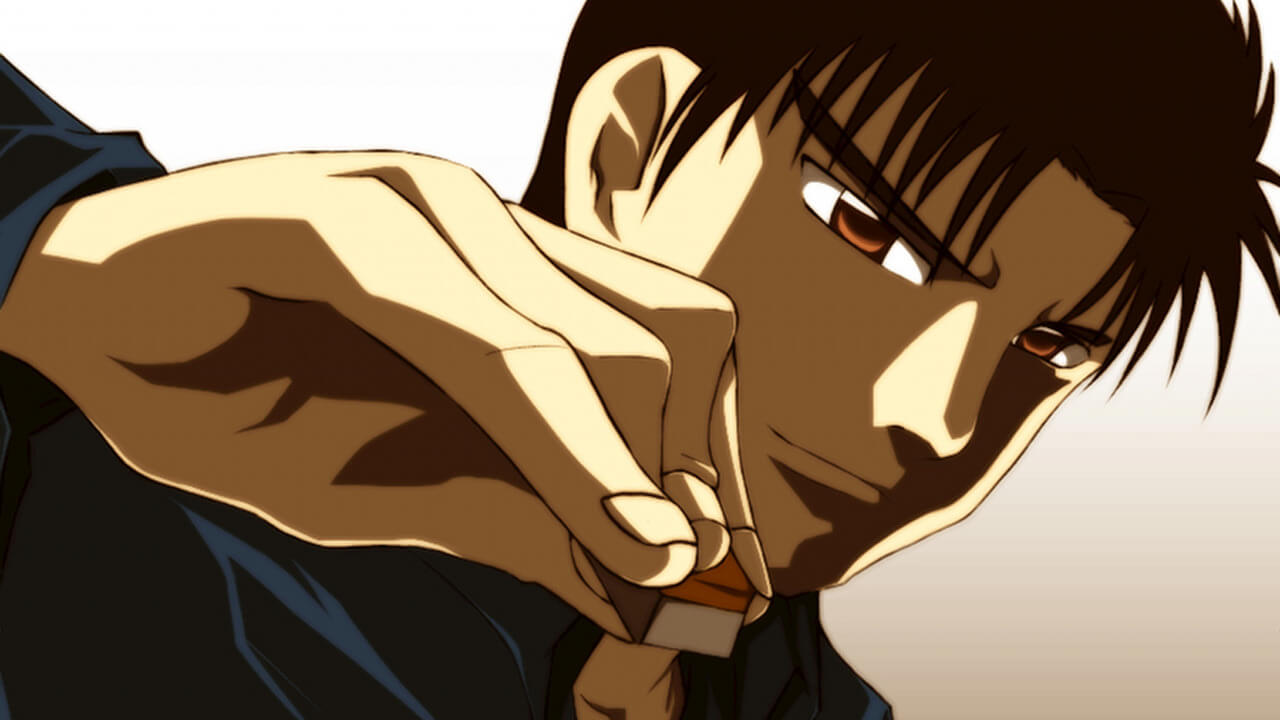 Director: Nobutaka Nishizawa
Writer: Yoshiyuki Suga
Cast: Ryotaro Okiayu, Chikao Otsuka, Wataru Takagi
IMDb Rating: 6.9/10
Available Platform: Crunchyroll
Legendary Gambler Tetsuya is a gambling anime series belonging to the Japanese culture of gambling. Tetsuya, the main character, travels just like many others in search of work to earn some money and fill his stomach.
Tetsuya, unlike others who choose the path of serious gambling to survive and stop their hunger. He chooses to work in illegal Mahjong Parlors and earn by wiping the floor. Soon, he gets an opportunity to meet Boushu-San, which makes him realize that his skills still need to be polished more.
14. Alice in Borderland (2014)
Director: Hideki Tachibana
Writer: Ryosuke Nakamura
Cast: Yoshinasa Hosoya, Tatsuhisa Suzuki, Takahiro Sakurai, Minako Kotobuki
IMDb Rating: 7/10
Available Platform: Netflix, HIDIVE
Alice in Borderland is an action-filled drama series where some friends as a group are transported into an unidentified parallel world. Here, they are charged to complete some tough and life-threatening games. They must participate and come out as a winner. Also, understand that this whole series of gaming tasks will somewhat put their friendship in danger.
13. Saki (2009)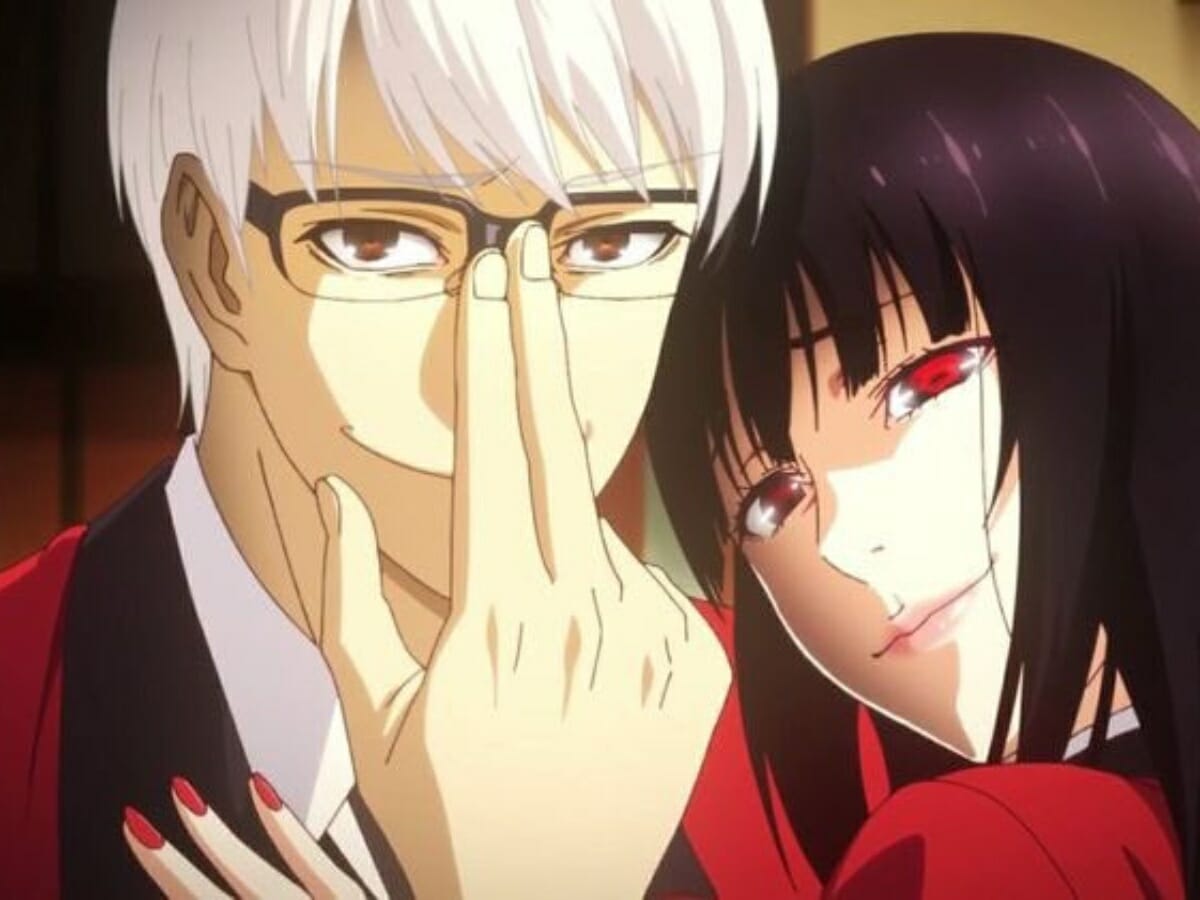 Director: Manabu Ono
Writer: Tatsuhiko Urahara
Cast: Ami Koshimizu, Kana Ueda, Shizuka Ito, Rie Kugimiya, Jun Fukuyama, Ryoko Shiraishi
IMDb Rating: 7.2/10
Available Platform: Crunchyroll
This is a high school-based story where several students come together and form a group. This group, as they are aiming, has to come together and form a unity with one another to play in the national high school Mahjong Tournament. They believe in at least aim a neutral score, no less but always more.
This series is beyond what we call a simple game of entertainment. While they play mahjong, in the process, we get to learn, see and experience the skills, guts, and innovative minds residing within the young students.
12. No Game No Life (2017) 
Director: Atsuko Ishizuka
Writer: Jukki Hanada
Cast: Ai Kayano, Yoshitsugu Matsuoka, Scott Gibbs, Yoko Hikasa, Caitlynn French, Yuka Iguchi, Sara Ornelas
IMDb Rating: 7.4/10
Available Platform: Netflix
It is highly believed that when your heart believes in something, you must speak for it. A young man in this series of No Life No Game amid massive destruction around the world of the Ancient era. He decides to firmly stand and lead the whole of humanity to a better, hopeful, and magical world, which his heart yearns for.
11. Yu-Gi-Oh! (2000) 
Director: Hiroyuki Kakudo
Writer: Toshiki Inoue
Cast: Wayne Grayson, Dan Green, Eric Stuart, Amy Birnbaum, Gregory Abbey, Marc Thompson, Tara Sands
IMDb Rating: 7.3/10
Available Platform: Hulu (Free Trial)
This great card game involves genius gamblers. A student named Yu Gi becomes the possessor of the Millennium Puzzle, a very popular yet secretive artifact. Yugi Moto was gifted this by his grandfather. Soon, he and his friends, including Tea, Honodo, and Joey, become closely protective of this artifact.
They believe that the extremist powers this artifact is capable of might be stolen by those who wish to possess or use it for their purposes.
12. One Piece: Gold (2016)
Director: Hiroaki Miyamoto
Writer: Tsutomu Kuroiwa
Cast: Mayumi Tanaka, Akemi Okamura, Kazuya Nakai, Ikue Otani, Hiroaki Hirata, Kazuki Yao
IMDb Rating: 7.3/10
Available Platform: Amazon Instant Video
This gamble is the highjacking of a ship called the Country of Dreams. This moving ship is attacked along with its wealthy captain, Gild Tesoro. Some straw hat and Luffy pirates lead this unfortunate event. This large-sized ship its travel was captured.
This is a film bringing the whole energy of a series within its limited time. The film has settled in some games to bring alive the adventurous experience for the viewers.
9. Kakegurui (2017) 
Director: Yuichiro Hayashi
Writer: Yasuko Kobayashi
Cast: Tatsuya Tokutake, Saori Hayami, Minami Tanaka, Miyuki Sawashiro, Mayu Udono, Ayaka Fukuhara
IMDb Rating: 7.2/10
Available Platform: Netflix
A special academy by the name Hyakkaou Private Academy is one such major gambling place. Here, gambling is notedly providing fortune to people. People are put to low to high ranks in gambling winnings. It is just a matter of winning strategy.
It has been marked as one of the top anime shows. Loved by many. This is due to the personalities presented, impressive animation styles, and how anyone can enjoy it.
8. Akagi (2005)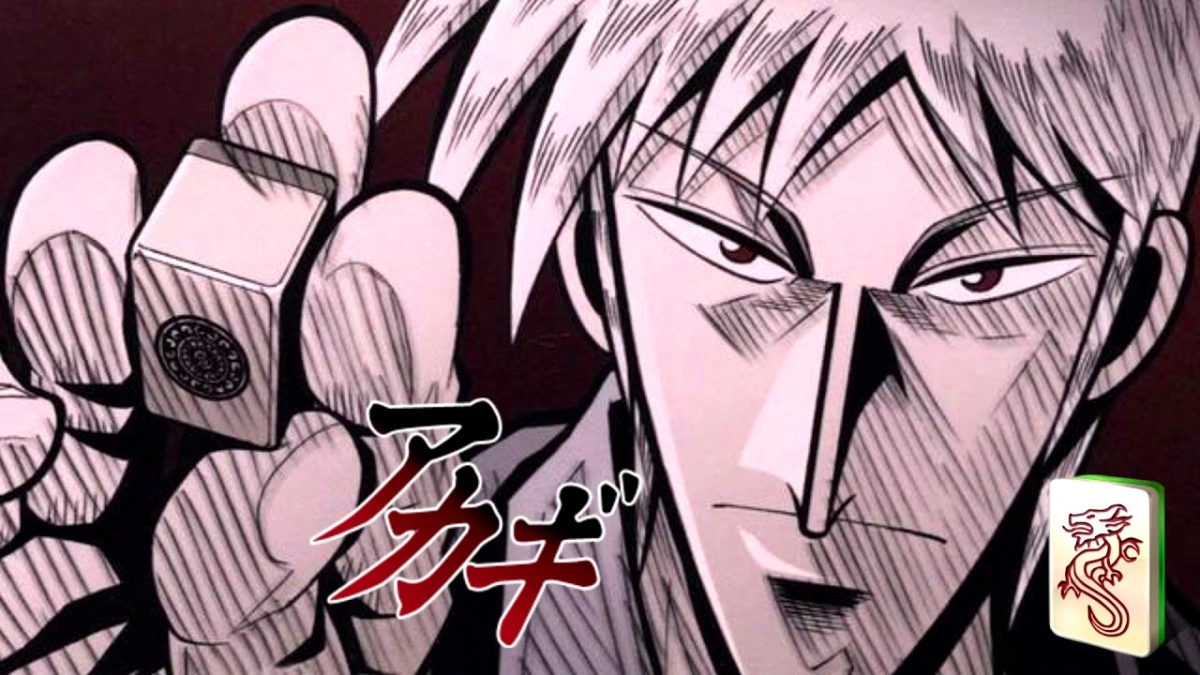 Director: Yuzo Sato
Writer: Hideo Takayashiki
Cast: Masato Hagiwara, Toru Furuya, Takayasu Usui, Rikiya Koyama, Tassho Genda, Yuichi Nakamura
IMDb Rating: 7.8/10
Available Platform: Crunchyroll
Akagi is one of the top-rated classic high-stakes gambling series, which includes playing mahjong at high levels. When this game becomes a matter of life and death, this brings everything to a halt.
This anime brings the darker side of what extent anime can go. They have planted the vision in the best form by giving its character a complex personality and a cunning plot.
7. Death Parade (2015) 
Director: Yuzuru Tachikawa
Writer: Yuzuru Tachikawa
Cast: Tomoaki Maeno, Jamie Marchi, Asami Seto, Anastasia Munoz, Alex Organ, Rumi Okubo
IMDb Rating: 7.9/10
Available Platform: Hulu (Free Trial)
DeathParadee is a thrilling adventure that will lead you to bumper now and then. You will have chills and adventure with a gripping story. The plot of Death Parade follows a bar named Quindecim Bar which organizes gambling games to play amongst the recently deceased; this ultimately will result in deciding their soul's final fate.
Thus, ultimately death parade is a must-watch series to get literal in the world of gambling.
6. Death Note (2006) 
Director: Tetsuro Araki
Writer: Toshiki Inoue
Cast: Mamoru Miyano, Vincent Tong, Brad Swaile, Trevor Devall, Riyo Naito, Naoya Uchida
IMDb Rating: 9/10
Available Platform: Netflix
A mysterious, exciting, and thrilling, highly acknowledged, best gambling anime. A high school student when gets a superpower notebook. He becomes the possessor of the ability to kill people. It is interesting to watch him explore the intense possibilities of what he can do with this power.
5. Kengan Ashura(2019) 
Director: Seiji Kishi
Writer: Go Zappa, Makoto Uezu
Cast: Tatsuhisa Suzuki, Yoshitsugu Matsuoka, Cho, Rikiya Koyama, Junya Enoki, Tetsu Inada, Joji Nakata
IMDb Rating: 8/10
Available Platform: Netflix
This dark-themed anime is set in the dark underworld level. Isolated from the fresh world outside. This series is highly acclaimed for its amazing visuals, spectacular presentation, and engaging story. This is about a gladiator Tokita Ohma who fights for the business mogul Nogi Hideki, who only deals with big-sized business deals.
4. Hikaru no Go (2001)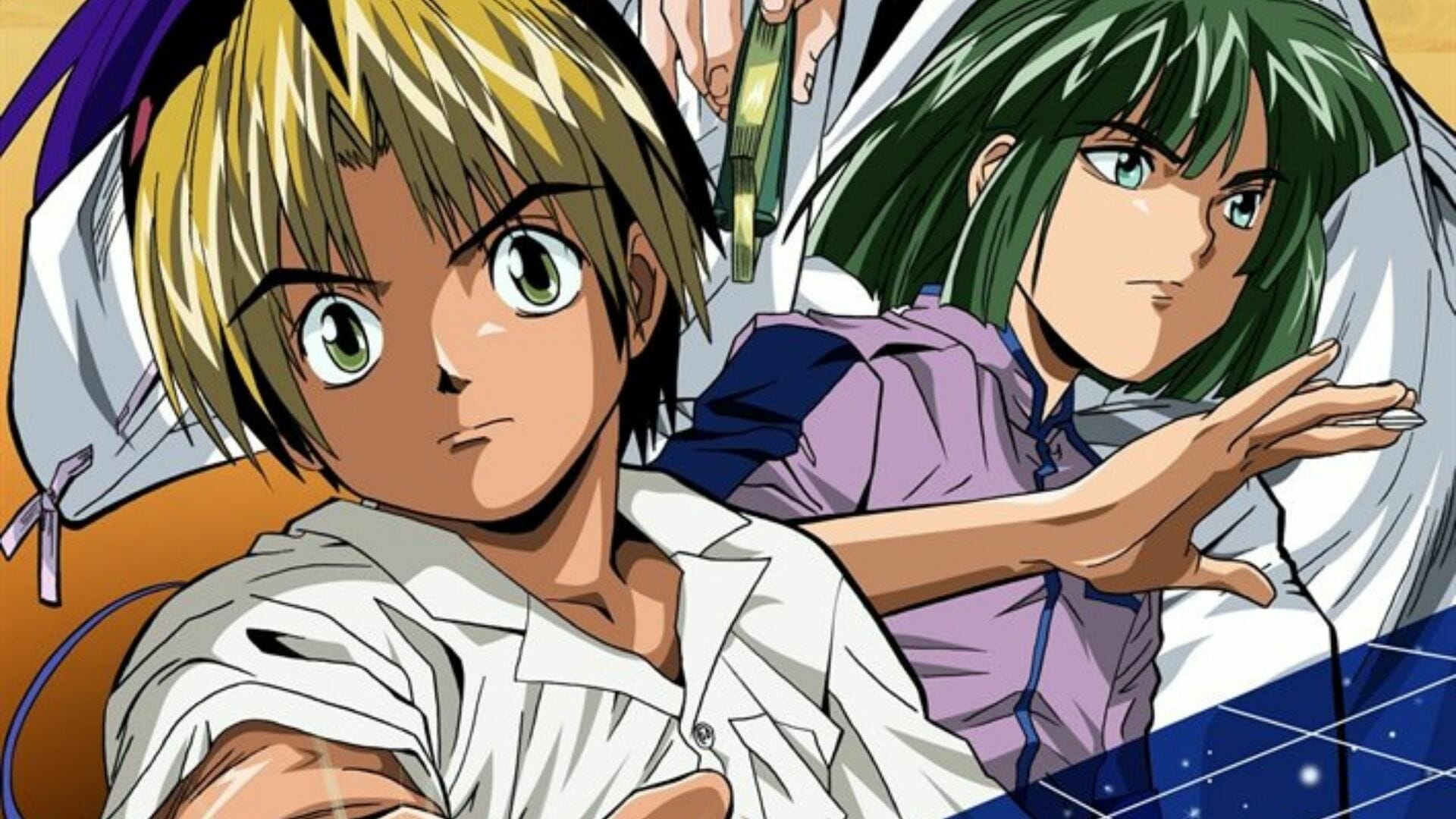 Director: Susumu Niishizawa, Jun Kamiya, Tetsuya Endo
Writer: Yukiyoshi Ohashi
Cast: Sanae Kobayashi, Tomoko Kawakami, Yumi Kakazu, Susumu Chiba, Brad Swaile, Sam Vincent
IMDb Rating: 8.3/10
Available Platform: Hulu (Free Trial)
A simple yet exciting anime unknowingly touches on a variety of themes such as deep friendships, competition, and the ultimate world of Go, which is considered an exciting game. A young boy plays the central role. Old spirits have trained him to excel at the game Go.
3. One Outs (2008) 
Director: Yuzo Sato
Writer: Toshio Nakatani
Cast: Tsutomu Isobe, Masato Hagiwara, Kenji Utsumi, Kappei Yamaguchi, Hitoshi Kubota
IMDb Rating: 8.3/10
Available Platform: Crunchyroll
One Out's main character Toua Tokuchi is seen dealing with both baseball as well as gambling. Skillfully pitching all the fastballs and simply achieving wins consecutively in the popular game of one out.
2. Gyakkyo Burai Kaiji: Ultimate Survivor (2007) 
Director: Yuzo Sato
Writer: Hideo Takayashiki
Cast: Masato Hagiwara, Naoya Uchida, Hakuryu, Hiroshi Yanaka, Hideo Ishikawa, Fumihiko Tachiki, Yuichi Nakamura
IMDb Rating: 8.3/10
Available Platform: Crunchyroll
Gambling is an illegal game of serious addiction. Once you enter this by force or by choice, you're stuck here for the rest of your life. This ultimate survivor tells the unfortunate troubles that in the present time haunt the life of Kaiji Itou.
His life has brought him to the unlucky situation of high-stakes gambling. This simply messes up his simple ordinary life.
1. March Comes in Like a Lion (2016) 
Director: Kenjirou Okada, Akiyuki Shinbo
Writer: Yukito Kizawa
Cast: Kengo Kawanishi, Ai Kayano, Khoi Dao, Kana Hanazawa, Laura Post, Zach Aguilar, Misaki Kuno
IMDb Rating: 8.4/10
Available Platform: Crunchyroll, Funimation Now, VRV
This anime is ranked in the list at the top for one of the finest reasons, that is, its performance matches the level of perfection. Those who have watched it are already rescheduling to watch it once more for the charming and delightful way it presents itself. This is a story of a loner boy who often lives by himself and in his self-created world. But, when he gets acquainted with the trio sisters and his bond grows with them eventually. He becomes more focused as a shogi player.
Conclusion
Though the industry is filled with new scripts and stories now and then, finding great anime is yet a tough task. The above-mentioned is a simple shortcut to get going with. Apart from the gambling animes listed, you can also check out series like Stardust Crusaders, liar game, Usogui, etc.
A long list is yet to follow, but for people ranging from a beginner to die-hard fans, this is one such wholesome list of gambling-themed anime series to put away your confusion about which one to start first.