Haruichi Furudate is the source material for this manga series Haikyuu!!. Because so many talented volleyball players of inarizaki high school, kamomedai high school, etc., feature in this series, fans of this anime will each have a favorite Haikyuu character.
So many people have been inspired to play volleyball thanks to "Haikyuu!" This has kept the number of volleyball players from declining.
Shouyou Hinata recounts his experiences playing and coping with various volleyball players in this episode. Production I.G has completed four seasons of the entire series, although the manga's run has finished at volume 45.
Avid Fan of Haikyuu characters!! have their favorite characters due to the series' popularity in both anime and manga. With the aid of its adored Haikyuu characters!! Became well-known and thriving in the anime community.
Even individuals who have only recently become anime fans and haven't seen a single show episode may immediately identify what "Haikyuu" is. This is a result of the enormous success of this sports anime, which has several seasons and shows character development with its capabilities.
Fans liked following their favorite teams' victories (and defeats) on the volleyball courts, but the real stars of the show were the people. So naturally, and with good reason, some personalities are more well-known than others. So start with an exciting question, Which characters were the most popular among My Anime List users?
10. Koushi Sugawara
Koushi Sugawara is an exemplary character, a three-year student at Karasuno who formerly held the positions of vice-captain and backup setter. His physical ability includes a relatively tall frame, light grey hair, and prominent eyebrows. In addition, his brown eyes and the mole under his left eye give him a kind appearance most of the time.
He is a third-year student who is kind and patient with his Karasu no team members. In addition, he frequently sports a pleasant smile.
Even though he was simply a replacement, he never lost hope in the team and constantly served as a unifying force, inspiring the group whenever possible.
In addition to serving in a pinch and filling in as the team's backup setter, Keshi Sugawara serves as Karasuno's second-in-command as the team's vice-captain (iron wall). Sugawara assists teammates during drills and offers tips on sharpening their abilities. He also tries to develop new strategies that players can use during games to their advantage.
For Kageyama to secretly communicate with Hinata for their quick attack combo, he creates hand signals for Kageyama to utilize on the court as an illustration of this.
Some More Facts
Sugawara is one of the best-skilled setters, even if he lacks Kageyama's brilliance since he bases his settings on the preferences of each player. Of course, Kageyama doesn't first comprehend this, but with Sugawara's guidance, he quickly learns to pay attention to other characters.
In addition, Sugawara has excellent game sense, which enables him to devise plans swiftly during games based on his attentive observation of rivals from the sidelines.
Sugawara's time on the court as a replacement setter is typically sparse and constrained. Nevertheless, this is skillfully used to alter the opponent's characters' plans based on Kageyama's maneuvers.
Additionally, Sugawara guides the group in developing their coordinated attacks after the Tokyo Expedition arc; they first witness them during their match against the Shinzen.
9. Keji Akashi
He has unruly black hair and gunmetal-blue eyes with tiny pupils that are thickly framed and thinly framed.
Akashi Keiji, who can precisely offer high fives for various attacks, is a very balanced player overall. Furthermore, he is renowned for his planning and best setter skills, even when his receive is not the most vital point.
Despite having solid setter skills, he decided to forgo continuing his volleyball career to work as an editor for a publisher's Shounen manga magazine.
8. Tetsurou Kuroo
Kuroo, a 3-year student, is the best volleyball team member at Nekoma High School. He is a middle blocker who serves as a leader and is referred to as the Scheming Captain. In addition to having a muscular build, he is tall with broad shoulders.
His scary facial characteristics include slanted, dark-colored eyes with cat-shaped pupils that are part of his facial features. He also has unruly, black hair that curls on top of his head, leaving bangs on the right side, and conceals his eyes; for these reasons, he is frequently referred to as "Rooster Head."
Despite having a laid-back demeanor, Kuroo is frequently seen as clever due to his reputation as a "specialist of provocation." As Kuroo often makes caustic remarks and unintentionally provokes other volleyball players, this was remarked by multiple characters from various other teams.
However, despite external looks and preconceived notions, Kuroo is genuinely a kind and authentic character in real life if you become friends with someone.
7. Koutarou Bokuto
Bokuto Koutarou has spiky grayish-white hair, some black hair, and round golden eyes.
He is among the top five aces in Japan, and if he is serious, he is skilled to be even more potent than the third-best ace. In addition, he is adept at setting, offense, and defense when playing volleyball.
After graduating from school, he joined the MSBY Black Jackal Squad, a Division 1 squad in the Japanese V-League, as an outside hitter. He plays volleyball for the Japan National Team as well.
6. Kei Tsukishima
He is a first-year student who plays middle blocker for the Karasuno High School volleyball club—also named "Karasuno's Guardian Deity." Being the tallest player on the Karasuno High team at 190.1 cm and possessing a lean body make moving for the middle blocker position simple. Short blonde hair, sparse eyebrows, light skin, and golden brown eyes support his image.
Due to his reputation as a player who speaks bluntly and frequently irritates his teammates, his facial expression is not far from sullen or haughty. Although he appears pompous, he suffers from low self-esteem, which occasionally causes him to feel inferior.
Tsukki is a severe player despite not putting out as much effort as other players. He successfully blends his height with his analytical abilities, such as jump float serve in every battle, which enables him to predict opponents' actions.
He can, therefore, effortlessly divert attention away from Hinata and Kageyama's renowned lightning-quick assaults. Furthermore, despite demonstrating a lack of enthusiasm for bettering himself outside of practice throughout the Tokyo Expedition arc, Tsukki can learn new blocking skills under the tutelage of Kuroo and Fukurdani's setter Akashi. He comically coerces him to train one game with them.
The Shiratorizawa match of Season 3 features Tsukki's most noteworthy performance, in which he is placed in a challenging circumstance because of Ushijima's potent wing spiker and Tendo's precise blocking.
5. Tooru Oikawa
Third-year student Tooru Oikawa, also known as Oikawa in this novel and the best Haikyuu!! character plays for Aoba Johsai High School. He was the team's primary setter and the squad leader, a great feeling.
His outer appearance is characterized as having dark brown hair, and his eyes are as having the same color as his hair. Fans may be thrilled to see this character because of his adorable face and physique.
When he plays, he exhibits a personality trait that is a victory celebration, such as waving or grinning enthusiastically. Oikawa was introduced as the series' main adversary for the Interhigh and Spring High Preliminary arcs of Haikyuu.
He has the tall height for the position of a player at slightly over 6 feet. We must have assumed Oikawa was a different person based on his outer appearance because of his terrible personality.
However, it demonstrates that Oikawa is a very skillful player who takes the sport seriously and has a wealth of information. During a match, spectators may observe Oikawa's kind nature and genuine concern for his teammates.
4. Kenma Kozume
Kenma is one of the best Haikyuu!! character having petite, average height, blonde hair with black roots, and golden eyes with catlike slants. She also has golden eyes.
He is a second-year volleyball player at Nekoma High School. He plays the setter position when competing, but his teammates also view him as the team's intellect and heart.
Despite his seeming lack of enthusiasm and patience, he is a person who cherishes every effort made by his team members and friends. He is frequently considered as haughty merely because he never expresses his opinion out of concern for the other person's displeasure. He has an arrogant demeanor for individuals who are first beginning to know him, in addition to his outward appearance.
3. Yuu Nishinoya
Nishinoya, a second-year student, is a libero for the volleyball team at Karasuno High School. As a result, he earned the moniker "The Guardian God of Karasuno" and is a qualified libero.
He stands at 159.3 cm, making him the team's shortest libero player. However, despite his short stature, he has excellent agility and a robust frame. So being tall is not a barrier to being a dependable player.
Nishinoya is further outlined as having black hair that is unkempt and arranged in front of him to make him appear 10 cm taller. He also has brown eyes with slants. He plays with an exuberant and volatile spirit, occasionally leading him toward unintended losses. Nevertheless, he is always sensitive to his colleagues' emotions.
Nishonoya appears to garner many votes from fans as one of the most famous haiku characters because of his distinctive personality, which includes frequently using absurd expressions in competition, such as "Rolling Thunder" when he receives the ball as a libero.
Additionally, he has affection for their team manager Kiyoko, but for some reason, as in the manga, he must put an end to them. Throughout the time gap, Nishinoya explored the world as a traveler rather than continuing his career as a professional volleyball player.
2. Tobio Kageyama
Tobio Kageyama, one of the best haikyuu characters, a volleyball prodigy who lives on the Karasuno team, is the best player on the field. Thanks to his natural talent and unmatched game feel, Kageyama is in charge of the team's offense.
In addition to serving as Karasuno's designated setter, he is a versatile player who can easily succeed in any position. However, nobody can dispute that Kageyama deserves the title "King of the Court" and a team mom. Unfortunately, even though his nickname was initially got intentional as a jab at his selfishness, he has had to beat players like a mad dog.
Every game puts Kageyama's skills on full display. His match-saving dump shots and service aces, which were famously for against formidable squads like Oikawa's Aoba Johsai and Ushijima's Shiratorizawa, are another characteristic of his, in addition to his accurate tosses and quick analysis of opponents.
As a central protagonist, Kageyama's unquestionable skill is further recognized when he is the only player from Miyagi Prefecture who gets in to train at the prestigious All-Japan youth training camp.
Kageyama exhibits tremendous progress despite his immense strength and immediate skill: He transitions from a selfish player to a dependable and considerate teammate.
This is possible because of Hinata and his other teammates, who encouraged him to overcome his weaknesses and let go of his tendency to pressure other people. As a result, he has developed into a great setter who can respond to the skills and limitations of every player.
1. Shouyou Hinata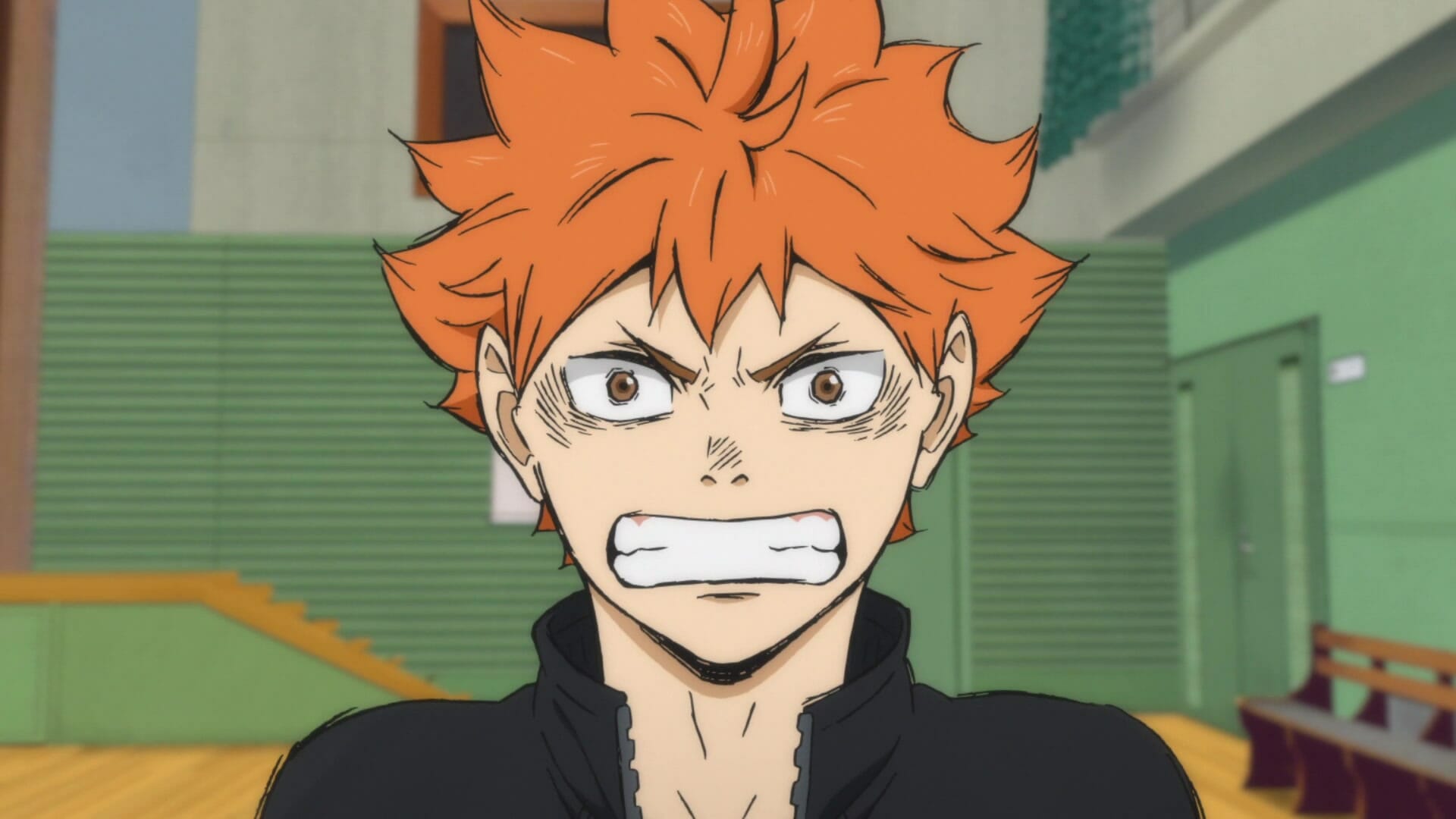 Fans rank Hinata first among their best Haikyuu characters since she is the series' central heroine. He is a one-year student and a member of the Karasuno High volleyball team as a middle blocker and also has the name, little giant.
He is the second-shortest great player after Nishinoya but has a body of 164.2 cm tall at mid-year and has developed into a player with the high jump. Brown eyes and tangled orange hair give him the appearance of a middle schooler, as does his stature.
Being upbeat and optimistic, he makes it simple to get along with anyone. As a result, his teammates frequently get inspired by his upbeat personality, which boosts team spirit.
Because he has a simple mind, his eager and upbeat temperament frequently causes him to make rash decisions, despite this, he is a keen observer and can read a sport, whether it is the state of his teammates or the opponent.
He is famous as a highly passionate player who constantly strives to improve. During the time skip, he played professionally for the MSBY Black Jackal and the Japan national volleyball team.