Few Hollywood stars have tasted success more than Harrison Ford. Making his film debut in 1964, Harrison Ford has had a career spanning over five decades, starring in over 50 movies and several more documentaries and television series.
The actor's long list of exploits has made him the fourth highest-grossing box office star in the U.S. An actor, pilot, and environmentalist, Harrison has impressed in every one of his roles. As the actor turns 78 this year, now is as good a time as any to look back at his incredible career.
25. K-19: The Widowmaker
Director: Kathryn Bigelow
Stars: Harrison Ford, Sam Spruell, Peter Stebbings, Christian Camargo
K-19: The Widowmaker is a historical submarine movie from 2002 that was written and directed by Christopher Kyle. It was also produced by Edward S. Feldman, Sigurjon Sighvatsson, Christine Whitaker, and Matthias Deyle. The movie, which was produced internationally by the United States, the United Kingdom, Germany, and Canada, is set in 1961 and centers its narrative on the Soviet Hotel-class submarine K-19.
Along with Peter Sarsgaard, Donald Sumpter, Christian Camargo, Michael Gladis, and John Shrapnel playing supporting roles, the movie also stars Harrison Ford and Liam Neeson.
24. Ender's Game 

(2013)
Director: Gavin Hood
Stars: Harrison Ford, Asa Butterfield, Hailee Steinfeld, Abigail Breslin
The 1985 book of the same name by Orson Scott Card served as the basis for the 2013 American military science fiction action movie Ender's Game. Asa Butterfield plays Andrew "Ender" Wiggin, a child who is sent to a top-notch military academy in space to train for an impending alien invasion.
The movie was written and directed by Gavin Hood. Along with Abigail Breslin and Ben Kingsley, the supporting cast also features Harrison Ford, Hailee Steinfeld, and Viola Davis.
23. 42 

(2013)
Director: Brian Helgeland
Stars: Chadwick Boseman, T.R. Knight, Harrison Ford, Nicole Beharie
When Jackie Robinson signed with the Brooklyn Dodgers in 1947, he became the first African-American to play in Major League Baseball in the modern era and encountered a lot of racism in the process.
The 2013 American sports biopic 42 is about Jackie Robinson, the first black athlete to compete in Major League Baseball (MLB) in the modern era. Robinson played baseball. Chadwick Boseman plays Robinson in the movie, which was written and directed by Brian Helgeland.
Harrison Ford, Nicole Beharie, Christopher Meloni, André Holland, Lucas Black, Hamish Linklater, and Ryan Merriman also appear in supporting roles. Robinson's jersey number, which was universally retired by all MLB teams in 1997, is mentioned in the movie's title.
22. Apocalypse Now (1979)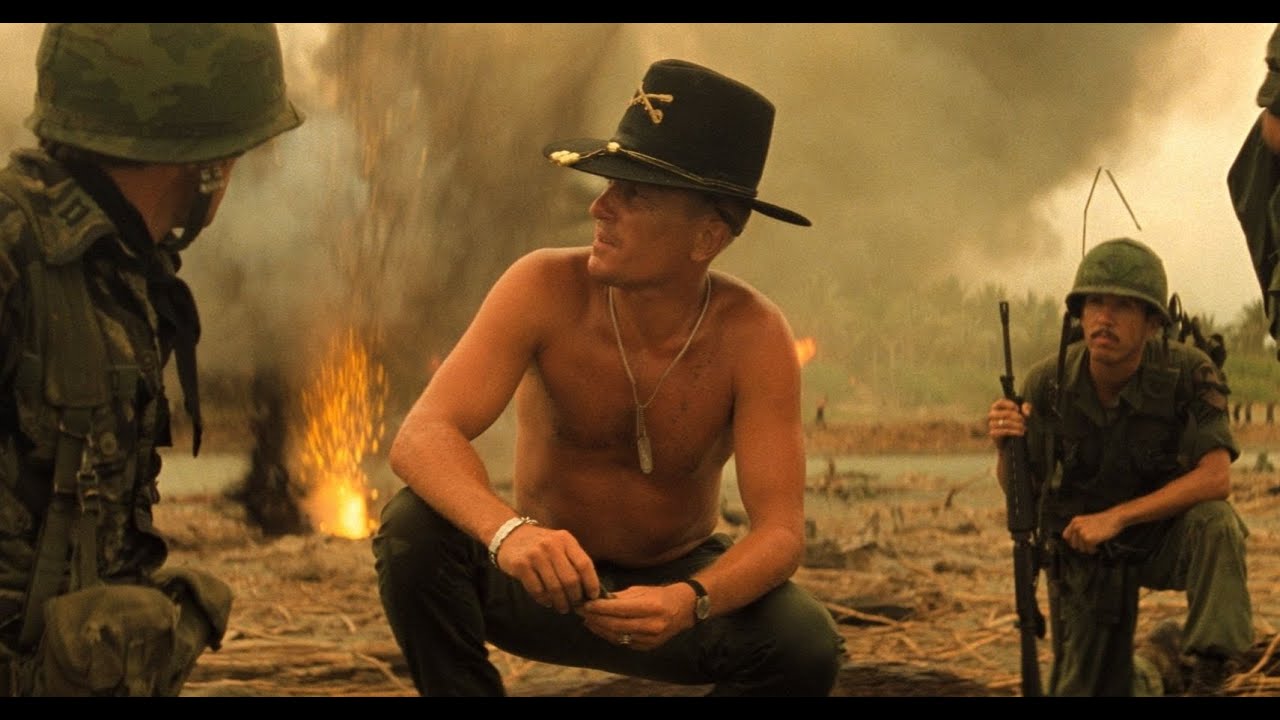 Available to rent on Apple TV
In Apocalypse, Martin Sheen and Marlon Brando stand out as the true stars. Now, the former plays a drug-addled Vietnam War soldier, and the latter represents the evil side he's trying to avoid. Harrison Ford plays a small part but is crucial because he is one of the U.S. Army officials who convinces Sheen to travel up the river in search of Brando.
One of the best-written scenes in the entire film is the one in which Ford appears, and as a result, despite Francis Ford Coppola's numerous re-edits, it has largely remained unaltered.
21. Raiders Of The Lost Ark (1981)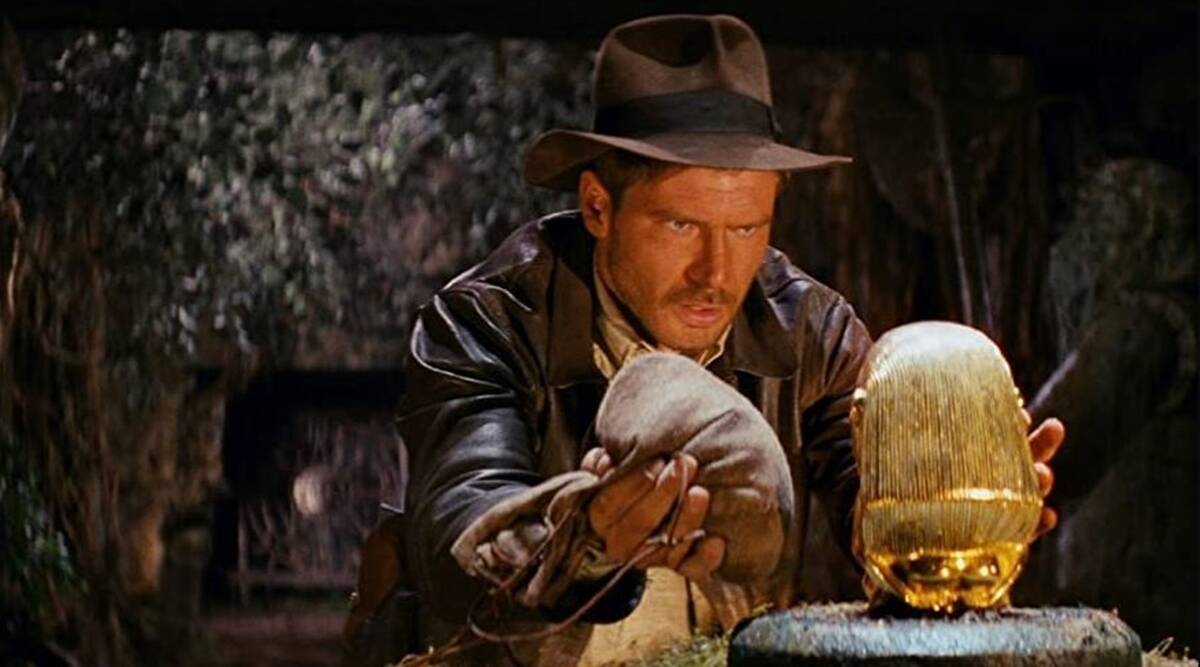 The first Indiana Jones film comes incredibly close to being flawless in every way. Raiders of the Lost Ark is a milestone in cinema with its expertly crafted action set pieces, tight, unconventional seven-act story structure, and one of the greatest movie heroes of all time.
One of the most iconic movies ever made, Raiders is replete with iconography. While giving America its own James Bond, Steven Spielberg and George Lucas aimed to pay homage to the adventure serials of the 1930s. Somehow, they succeeded.
20. American Graffiti
Director: George Lucas
Writer: Willard Huyck, George Lucas, Gloria Katz
Cast: Richard Dreyfuss, Harrison Ford, Ron Howard
IMDb Rating: 7.4
Rotten Tomatoes Rating: 96%
Platform: Amazon Prime Video
Although Ford made his debut in 1966, it was with American Graffiti that the actor first tasted success. The film has everything going right for it. From sensational visuals to stunning performances from everyone in the cast. The film does a great job in encapsulating the rock 'n' roll cultures from the 1960s.
The coming-of-age movie tells the story of two high school graduates. As they spend their last night of the strip before heading on to college, they make memories never worth forgetting. The movie also marked the emergence of the iconic Bob Falfa and his iconic '55 Chevy.
19. Star Wars series
Director: George Lucas
Writer: George Lucas
Cast: Mark Hamill, Harrison Ford, Carrie Fisher
IMDb Rating: 8.6
Rotten Tomatoes Rating: 92%
Platform: Disney+
Star Wars was the franchise that truly made Harrison Ford a household name. Regarded as one of the greatest franchises ever, it made the star an A-lister in Hollywood and Han Solo an icon. Making his debut in 1977 in the sci-fi classic by George Lucas, the smuggler Han Solo immediately became the indispensable companion of Luke Skywalker. The original trilogy follows Skywalker in his fights against Darth Vader on his way to become a Jedi.
Han Solo, played by Ford, joins the party in Star Wars when hired by Luke and Obi-Wan as they rescue Princess Leia (Carrie Fisher).
He rises as an important member of the Rebel Alliance. And Ford returns multiple times to the science fiction franchise in his iconic role. Han Solo continues to be a favorite among the fans with his energetic presence and personality. Harrison appears one last time as Han Solo in J J Abrams Star Wars Episode VII- The Force Awakens.
18. Indiana Jones series
Director: Steven Spielberg
Writer: George Lucas
Cast: Harrison Ford, Denholm Elliott, John Rhys-Davies
IMDb Rating: 8.4
Rotten Tomatoes Rating: 95%
Platform: Netflix
Harrison did not miss a beat as he shifted to Dr. Henry Walton from Han Solo in the action-adventure franchise. Indiana Jones' nonchalant attitude and hunger for adventure won the hearts of every fan. Taking on the Nazis in Raiders of the Lost Ark, the film gives any action-adventure movie a run for its money. Steven Spielberg even claimed Indiana Jones as "a James Bond film without the hardware."
The sequel was released a few years later and carried a much darker tone. Temple of Doom remains as the prequel film and introduces the iconic Monkey King. The last of the three taking the film's fantastic element even higher by sending Jones in search of the Holy Grail.
Set in the 1930s, the first three Indiana Jones films were immediate pop culture icons. Its success is telling as the films continue to be rewatched myriad times by Harrison Ford fans. Twenty years since the Last Crusade (1989), the series returned with Kingdom of the Crystal Skull in 2008.
However, the film failed to live up to the expectations of most fans. But there is not much reason to be disappointed any longer. Disney has recently purchased the rights of the franchise. And news suggests a fifth Indiana Jones film expected to release in 2022. That is sure to give fans of Ford another cause to be excited about.
17. Air Force One
Director: Wolfgang Petersen
Writer: Andrew W. Marlowe
Cast: Harrison Ford, Gary Oldman, Glenn Close,
IMDb Rating: 6.5
Rotten Tomatoes Rating: 78%
Platform: Amazon Prime Video
Any discussion about the best movies by Harrison would be incomplete without the inclusion of Air Force One. Releasing in 1997, the film celebrates every aspect of the legendary actor that makes him great. A war film against terrorism, the movie pitches two stalwart actors against one another.
While returning from Moscow, the plane of United States President James Marshall gets hijacked. With his family's safety, Cabinet, and other staff now resting on him, Marshall cannot afford to fail. Ford steals the show with his fervent portrayal. The movie is packed with intense cinematic moments to keep audiences thrilled throughout its runtime.
16. The Fugitive
Director: Andrew Davis
Writer: Jeb Stuart, David Twohy
Cast: Harrison Ford, Tommy Lee Jones, Sela Ward
IMDb Rating: 7.8
Rotten Tomatoes Rating: 96%
Platform: Google Play and Fubo TV
The Fugitive remains at the top of a must-watch list of movie buffs till today. The movie derives inspiration from a 60s TV series of the same name. But has been made memorable for its dynamic cast, high tempo, and fast-paced action scenes. With many feeling the movie to have outshone its inspiration.
Police hunt Dr. Richard Kimble after he escapes from custody. Being wrongfully convicted of the murder of his wife, he is a man on a mission to clear his name and seek justice. The suspense of the movie only intensifies as the killer proves elusive while the authorities converge on Kimble.
15. Clear and Present Danger
Director: Phillip Noyce
Writer: John Milius, Donald E. Stewart, Steven Zaillian
Cast: Harrison Ford, Willem Dafoe, Joaquim de Almeida
IMDb Rating: 6.9
Rotten Tomatoes Rating: 80%
Platform: Amazon Prime Video
The film is capable of giving viewers a whiplash with its incessant action scenes. But stuck home during Covid, that is not too bad a thing. Besides, for every Die Hard fan, this movie would be an instant favorite. The movie marks the final appearance of Ford as Jack Ryan in this franchise.
Based on the Tom Clancy novel, the drug cartel continues to be a menace in the US. Recently promoted as CIA Acting Deputy Director, Jack Ryan gets sucked into a conspiracy. As President Bennett sanctions war against the Colombian cartel, Ryan has the responsibility to mend this illegal war.
14. Blade Runner
Director: Ridley Scott
Writer: Hampton Fancher David Peoples
Cast: Harrison Ford, Rutger Hauer, Sean Young
IMDb Rating: 8.1
Rotten Tomatoes Rating: 90%
Platform: YouTube and Vudu
Ford in the summer of 1982, with his hit science fiction film Blade Runner. Complex and visually stunning, the film hardly put a foot wrong. The story was set in 2019, and Rick Deckard is tasked with hunting down a runaway group of synthetic humans. The film was praised heavily by critics for its set design and efforts in special effects.
The popularity of the film only continued to surge with advancing years. It finally culminated in Blade Runner 2049, a sequel to the original film.
Starring Harrison and Ryan Gosling, the film was exactly the sequel fans of Blade Runner demanded. Ford returned as Rick Deckard in Blade Runner 2049, which shaped into a cathartic sequel to its predecessor, with the film living up to its expectations.
13. Mosquito Coast
Director: Peter Weir
Writer: Paul Theroux, Paul Schrader
Cast: Harrison Ford, Helen Mirren, River Phoenix
IMDb Rating: 6.6
Rotten Tomatoes Rating: 76%
Platform: Amazon Prime Video
Mosquito Coast finds Harrison doing what he does best. Another action-adventure, the film stars Ford as the eccentric inventor Allie Fox. The movie is based on the novel by Paul Theroux as Fox decides to swap his cosmopolitan existence with a more rustic lifestyle.
Together with his family, he leaves for Central American jungles and lives there, building a utopia. But his plan quickly falls through as the jungle begins to change Fox as a person.
The film's climax intensifies the drama as the viewers can no longer know what to expect from Allie. Nominated for Golden Globe, the movie exhibits the quality Ford possesses as an actor. Although the film failed to impress at the box office, it remains one of his best performances.
12. Patriot Games
Director: Phillip Noyce
Writer: W. Peter Iliff
Cast: Harrison Ford, Anne Archer, James Earl Jones
IMDb Rating: 6.9
Rotten Tomatoes Rating: 73%
Platform: Netflix and Disney+
Certainly, the Jack Ryan series cannot be covered without mentioning Patriot Games. The second movie of the franchise, the novel by Tom Clancy, again form the influence behind the film. Following the success of The Hunt for the Red October, fans knew what awaited them. But Harrison still found a way to surprise them further.
During their visit to London, Jack Ryan and his family become the target of a faction of the Irish Republican Army when he saves the life of Sir William Holmes.
Expectedly the group proves to be no match for the booming hero. With stunning action and stoic performances, the film is an entertaining action piece.
11. Working Girl
Director: Mike Nichols
Writer: Kevin Wade
Cast: Harrison Ford, Sigourney Weaver, Melanie Griffith
IMDb Rating: 6.8
Rotten Tomatoes Rating: 84%
Platform: Amazon Prime Video and Hulu
Ford enters the romantic comedy scene with the 1988 hit. The movie goes along with sensible and witty humor to evoke constant chuckles. Harrison brings a natural charm to his character of Jack Trainer that is pleasing to see.
A feminist movie, Working Girl, has Tess as its protagonist, working as a stockbroker's secretary. Trusting her boss Katherine, she pitches an idea to her, which she plans to steal.
Learning about her plans, Tess dresses up as Katherine as she attempts to foil her plans. The film manages to be chaotic and charming at the same time. While its satiric portrayal of the chauvinistic corporate sector of the 80s makes the movie an inspiring watch.
10. Call of the Wild
Director: Chris Sanders
Writer: Michael Green
Cast: Harrison Ford, Omar Sy, Dan Stevens
IMDb Rating: 6.8
Rotten Tomatoes Rating: 62%
Platform: Amazon Prime Video, Google Play, and Vudu
The touching story of Buck is enough to melt the coldest of hearts. Set in the magnificent Yukons of the 19th century, Call of the Wild is a story of a sled dog's survival and loving relationship with John Thornton.
Sent into the mountains to carry mails, Buck encounters one event after another that hardens him up. Eventually, he heads away from the mountains with his new master Thornton. The two find friendship in each other's company.
Now away from civilization, he gets his true calling from the wild and finally let's go off John Thornton in an emotional farewell. Released this year, the movie is told from the perspective of a dog. Ford impresses on his own, and his bonding with Buck is worth watching.
9. Sabrina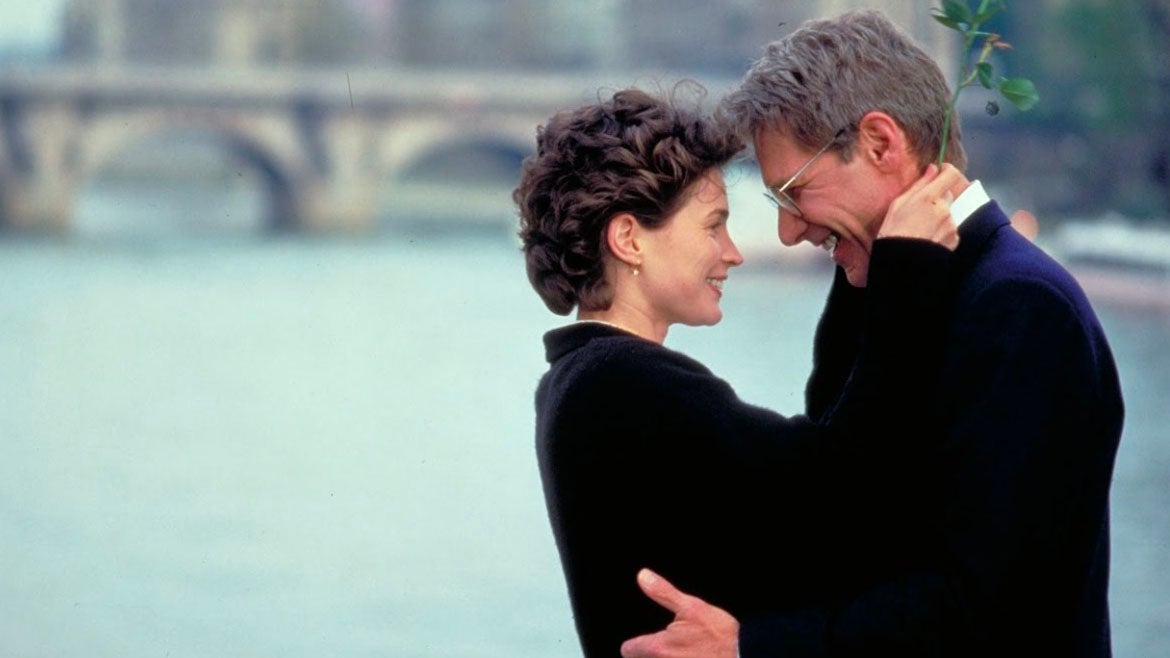 Director: Sydney Pollack
Writer: Barbara Benedek
Cast: Harrison Ford, Julia Ormond, Greg Kinnear
IMDb Rating: 6.3
Rotten Tomatoes Rating: 65%
Platform: Netflix and Disney+
The 90s saw Ford experiment with several different genres. With the actor delivering many of his non-franchise hits in this period. In the romantic comedy Sabrina, Ford plays the role of business tycoon Linus Larrabee. Planning a huge merger of Larrabee Corporation with Tyson Electronics, he arranges a marriage between his brother and Elizabeth Tyson.
However, his plan seems to begin being derailed when his brother gets attracted to Sabrina. Unwilling to let that happen, Linus Larrabee draws her affection towards himself, but chaos is yet to follow. The movie is certain to be a nostalgic trip for anyone re-watching it all these years later. As for the first-time viewers, it is a pleasurable experience.
8. What Lies Beneath
Director: Robert Zemeckis
Writer: Clark Gregg
Cast: Harrison Ford, Michelle Pfeiffer, Diana Scarwid
IMDb Rating: 6.6
Rotten Tomatoes Rating: 86%
Platform: Amazon Prime Video
The movie marks the initiation of Harrison Ford in the horror genre. And it could not have been better. Becoming one of the most successful movies of its year, the film has everything you look for in a horror thriller. Creepy and suspenseful, Dr. Norman Spencer and his family get involved in a mystery they did not want. Norman's wife grows concerned when they move into Norman's old house.
As she begins to experience unnatural activities, dangerous secrets lurk in the corner to be explored. The film does not portray Ford as his usual swashbuckling self. Rather casts a shadow over the motivations of his character Norman Spencer. Filled with dramatic tension and unexpected twists, the movie knows what it is doing.
7. Regarding Henry
Director: Mike Nichols
Writer: Jeffrey Abrams
Cast: Harrison Ford, Annette Bening, Mikki Allen
IMDb Rating: 6.7
Rotten Tomatoes Rating: 72%
Platform: Amazon Prime Video
Appearing as Henry Turner, Regarding Henry is one of those movies which might go under your radar. But as anyone who had seen the movie would vouch, it is a film not worth missing. Successful, ambitious, and proud lawyer Henry Turner's life goes downhill when he is afflicted with amnesia.
As he tries to revive his memories, he learns to value people he had taken for granted this long. A story about growth and maturity, the film boasts brilliant acting performances, led by Ford himself. The movie remains grounded on morals and keeps itself relevant without being didactic.
6. Frantic
Director: Roman Polanski
Writer: Roman Polanski, Robert Towne, Gérard Brach
Cast: Harrison Ford, Emmanuelle Seigner, Betty Buckley
IMDb Rating: 6.9
Rotten Tomatoes Rating: 76%
Platform: Amazon and YouTube
Finally, no list of the movie star can be complete without one final inclusion of another thriller. Released in 1988, Harrison Ford returns to theaters as Dr. Richard Walker. While in Paris, Richard Walker finds his wife missing curiously from their hotel room. In a chase he never wanted to be in, Walker tastes the ugly side of the city.
Jumping through the city's dark underworld and corrupt security system, he is in a race against the clock to find his wife. Hailed as one of Polanski's best work's best works, the film elevates Harrison from an ordinary man to extraordinary heights.
The lifelong career of Ford as an actor has been nothing short of fantastic. Even in recent years, he has been doing his magic with characters like Woodrow Dolarhyde, Mike Pomeroy, Richard Dreyfuss, and Jock Goddard. Ford has the ability to transform any role he plays with his own nuances.
That is perhaps what makes actors of his breed such a rare species. Even with his advancing age, Ford is showing no signs of stopping. And it is only hoped may he continue for several more years.
5. Witness
Director: Peter Weir
Writer: Earl W. Wallace; Pamela Wallace; William Kelley
Cast: Harrison Ford; Kelly McGillis; Lukas Haas; Jan Rubeš; Danny Glover
IMDb Rating: 7.4
Rotten Tomatoes: 93%
Streaming Platform: Amazon Prime
What happens when a young Amish boy visits Philadelphia with his mother and he later witnesses a murder? Well, he is the sole witness to this murder.
The storyline sounds intriguing just like all of the Harrison Ford movies. We couldn't have been more thrilled as this movie not only unlocked all the potential of Harrison but also the other vast members did an amazing job.
4. The Conversation
Director: Francis Ford Coppola
Writer: Francis Ford Coppola
Cast: Gene Hackman; John Cazale; Harrison Ford; Allen Garfield; Cindy Williams, Harrison Ford
IMDb Rating: 7.8
Rotten Tomatoes: 97%
Streaming Platform: Vudu
I believe all the Harrison Ford movies require you to watch it with full concentration. Otherwise, you will miss out on important details about the story. Let's take The Conversation for example. The storyline of this popular movie revolves around a secret surveillance expert who suspects the murder of the couple he has been spying on.
The audiences truly appreciated Harrison Ford playing the character of Martin Stett. Yes, he looked sizzling in this mystery thriller apart from his brilliant acting skills. The fans gladly accepted that this was Ford's best acting role ever even though he played a bad guy in the movie. That's what we call the magic of Harrison Ford.
3. Random Hearts
Director: Sydney Pollack
Writer: Warren Adler (Random Hearts novel)
Cast: Harrison Ford, Kristin Scott Thomas, Charles S. Dutton, Bonnie Hunt
IMDb Rating: 5.3
Rotten Tomatoes: 15%
Streaming Platform: Amazon Prime Video
The death of loved ones is excruciating but how would you feel if you later found out that they were faking their deaths just to get rid of you?
Random Hearts has a similar story. The plotline revolves around a US Representative and Police Sergeant who lose their wives in a plane crash but later they discover that their spouses were planning to cheat on their husbands with each other.
Harrison Ford played the role of Police Sergeant Dutch Van Den Broek in the movie. Something about this iconic movie that forces the viewers to go back to this Harrison Ford movie again and again just to relive this gem.
2. Presumed Innocent
Director: Alan J. Pakula
Writer: Scott Turow (Presumed Innocent novel)
Cast: Harrison Ford; Brian Dennehy; Raul Julia; Bonnie Bedelia; Paul Winfield
IMDb Rating: 6.9
Rotten Tomatoes: 86%
Streaming Platform: Amazon Prime Video
Presumed Innocent revolves around a lawyer who investigates the murder case of his colleague. He later realizes that he is deeply connected to the crime more than anyone else. The mystery and the emotional element were truly adored by the fans in this movie.
Harrison Ford plays the character of a prosecutor named Rusty Sabich who is in charge of this murder case. Ford played the role with utmost perfection. This movie wouldn't have been the same without his presence.
1. Extraordinary Measures
Director: Tom Vaughan
Writer: Robert Nelson Jacobs
Cast: Brendan Fraser; Harrison Ford; Keri Russell
IMDb Rating: 6.4
Rotten Tomatoes: 28%
Streaming Platform: Disney Plus Hotstar
Harrison Ford movies are certainly a delight to experience. They not only offers us with much-needed drama and entertainment in our life but also, they tend to teach us various human values. Extraordinary Measures embodies a moving storyline that is not normally seen in movies nowadays.
The plotline revolves around a hardworking couple that belongs to middle-class background whose children have been diagnosed with a rare genetic disorder that will be the reason for their death at an early age. They take all possible measures to save their children from a life-threatening disease.
This movie has presented a beautiful storyline and well-crafted characters which is why everyone needs to watch things movie at least once in a lifetime.
Harrison Ford plays the role of the passionate father. You can notice the pain in his eyes throughout the movie for his miserable kids and he can't do anything about it. This movie makes us realize that Harrison Ford is truly a legendary actor.