Different movies from different genres are released nowadays, yet the films in the horror genre are the most loved. There is not a single horror film that can be the best. Since the past decade, the audience has also been more into horror than in other genres. So here is a list of the 30 best horror movies on amazon prime video that you can start streaming.
A horror movie is only praised when the story successfully induces fear among the audience for a long time. There are several kinds of horror films as well. Some are horror-comedy, some dark films with elements of horror or killers, and nowadays, psychological horror movies are also a kind that is being loved greatly.
However, not every horror movies bear the capability to impact the audience. It is not only the frightening things needed to produce horror films. The overall execution, a well-fabricated plot, and excellent portrayal of characters are also focused upon.
30. Creepshow 2
Director: Michael Gornick
Writer: George A. Romero, Lucille Fletcher
Cast: Domenick John as Billy, Tom Savini as The Creep, Joe Silver as The Creep, George Kennedy as Ray Spruce, Philip Dore as Curly, Dorothy Lamour, Kaltey Napoleon.
IMDb Ratings: 6/10
Rotten Tomatoes Ratings: 29%
The movie depicts several stories, firstly, how a statue comes to life to seek revenge against the killer of the shop owner and his wife. It then moves forward and deals with a bob-like creature to menace children. The final part depicts how a woman hits a hitchhiker and departs from the scene, but the sufferer is not dead yet.
29. Edge of the Axe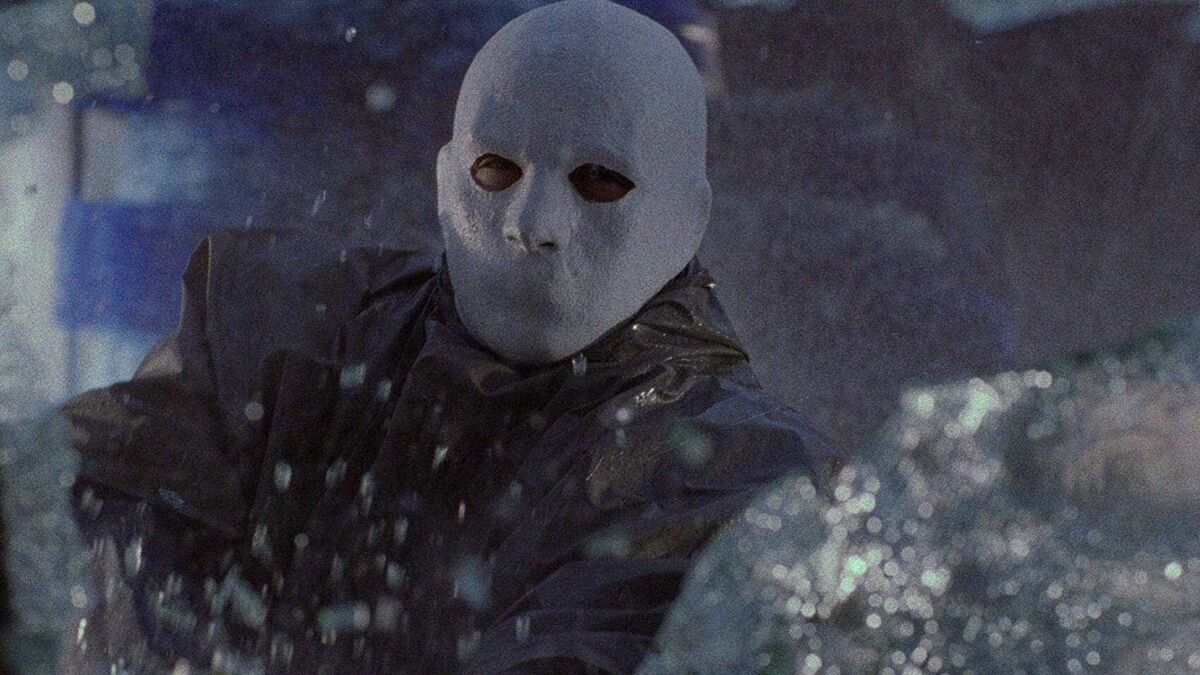 Director: Jose Ramon Larraz
Writer: Jose Frade, Joaquin Amichatis, Javier Elorrieta, Pablo de Aldebaran
Cast: Barton Faulks as Gerald Martin, Christina Marie Lane as Lillian Nebbs, Page Moseley as Richard Simmons, Alicia Moro as Rita Miller, Jack Taylor as Christopher Caplin.
IMDb Ratings: 5.4/10
Edge of the Axe is one of the awful movies that revolve around a murderer. This murderer has been killing people and terrorizing the people of Northern California and leaving no clue to know who he is. As the case rises, two young adults, experts in the computer, are determined to find the culprit out.
This quite an old movie yet is popular for its story and execution. This should be a must-watch, so do not forget to stream it.
28. Sharknado
Director: Anthony C. Ferrante
Writer: Thunder Levin
Cast: Ian Ziering as Finley Shepard, John Heard as George, Tara Reid as April Wexler, Cassie Scerbo as Nova Clarke, Jaason Simmons as Baz Hogan, Aubrey Peeples as Claudia, Chuck Hittinger as Matt.
IMDb Ratings: 3.3/10
Rotten Tomatoes Ratings: 74%
This movie is a sort of illogical horror-comedy where you will witness how a mysterious hurricane lets the city of Los Angeles gets flooded with sharks. So naturally, everyone is panic-stricken, and no one knows the cause behind such an incident.
The focus is on the protagonist Fin, who tries his best to save his and his family's life. This film is full of horror, mystery, comedy, action, and thrills. Overall, it is good to watch so you can try it out too.
27. HeadCount
Director: Elle Callahan
Writer: Elle Callahan, Michael Nader
Cast: Isaac Jay as Evan, Jay Lee, Ashleigh Morghan as Zoe, Bevin Bru as Camille, A. J. Helfet, Billy Meade as Max, Hunter Peterson as Nico, Catherine Tapling, Chelcie May as Vanessa.
IMDb Ratings: 5.4/10
Rotten Tomatoes Ratings: 68%
The story focuses upon a group of friends who vacation to the Joshua Tree desert. They unknowingly summons a supernatural being who can change itself to human form. It tries to divide the groups and use them for its benefit, which will cost them their lives.
This is one of the best horror movies on amazon prime, so do watch this.
26. Children of the Corn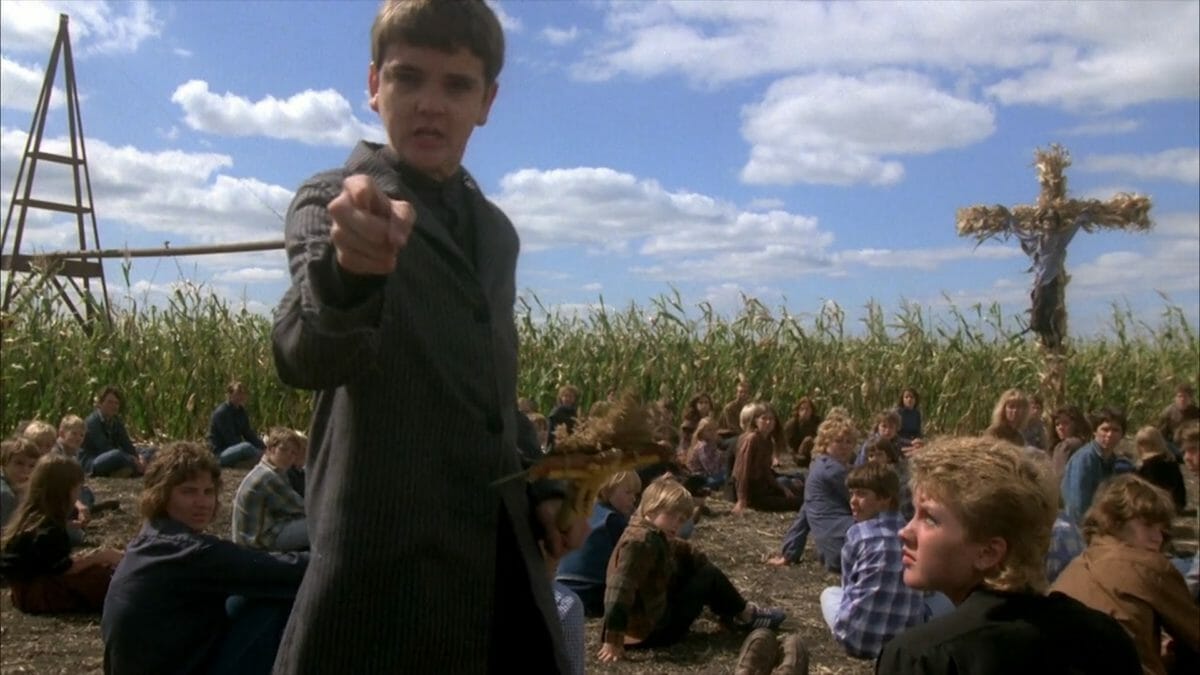 Director: Fritz Kiersch
Writer: George Goldsmith
Cast: Peter Horton as Burt Stanton, Linda Hamilton as Vicky Baxter, R. G. Armstrong as Diehl, John Franklin as Isaac Chroner, Courtney Gains as Malachai Boardman, Robby Kiger as Job.
IMDb Ratings: 5.6/10
Rotten Tomatoes Ratings: 36%
In this movie, you won't witness an adult committing murders but children. The couple Burt Stanton and Vicky were driving to the Midwest when they encountered the body of a boy in the road. The duo tried to contact people, but there was no one to help them.
To know what happened or get connected with some people, they started wondering and stopped in a village consisting of only children. These children are the followers of Isaac Chroner and are the ones who sacrifice adults to please their demon deity.
25. Vivarium
Director: Lorcan Finnegan
Writer: Garret Shanley
Cast: Imogen Poots as Gemma, Jesse Eisenberg as Tom, Jonathan Aris as Martin, Danielle Ryan as Mom, Josem M Adams as Police Officer, Molly McCann as Young Girl, Senan Jennings as The Boy.
IMDb Ratings: 5.8/10
Rotten Tomatoes Ratings: 72%
The vivarium is a science fiction horror movie that deals with existential dread. The movie depicts how a couple, Tom and Gemma, gets into a suburban area with identical houses. It seems like a maze to them, and they end up in the same area they began wherever they go. They know something is wrong but fails to find a way out.
If you love mysteries and horrors, this film is a must-watch. The plot is extremely well fabricated that won't bore you for a single second.
24. A Quiet Place Part II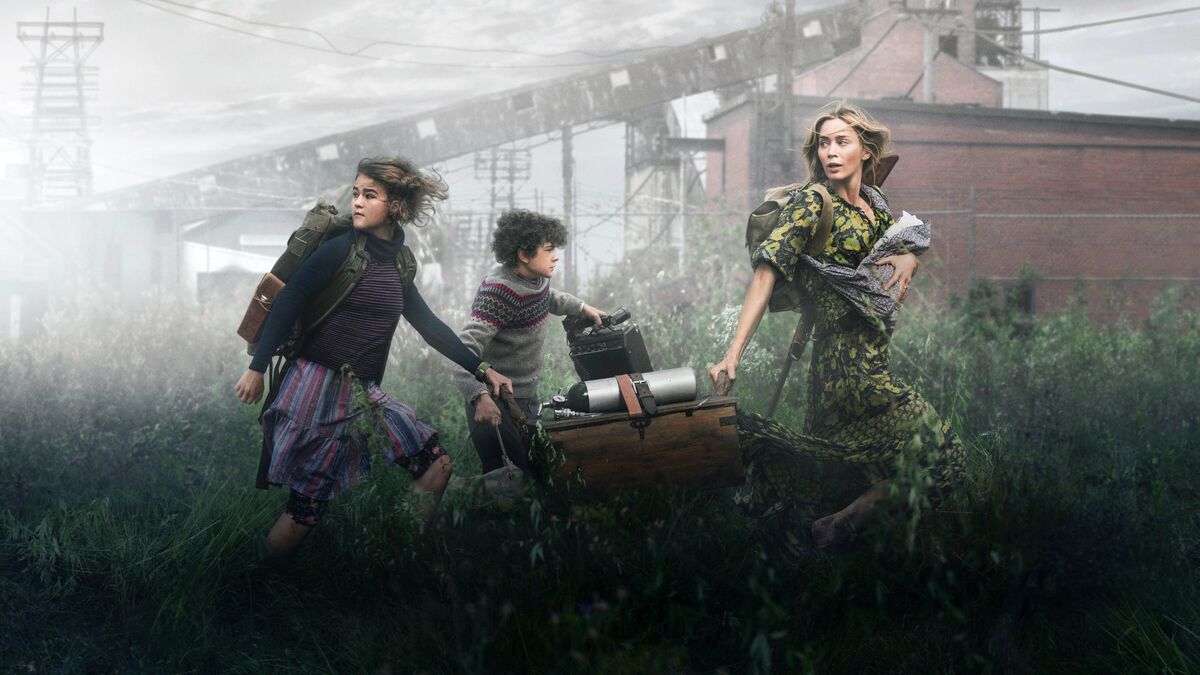 Director: John Krasinski
Writer: John Krasinski
Cast: Emily Blunt, Cillian Murphy, Millicent Simmonds, Noah Jupe, Djimon Hounsou
IMDb Ratings: 7.2/10
Rotten Tomatoes Ratings: 91%
A Quiet Place Part II is a study in diminishing returns because it serves as both the prologue and the epilogue to the first movie, flashing back to the day the murderous aliens from outer space first touched down on Earth. The concern with such films is that, ultimately, we'll grow accustomed to the conceit and get restless, as writer Tim Grierson noted in his review of the first high-concept film.
The years it took for this sequel to be released were a long time for A Quiet Place's straightforward hook to play out in the popular culture world, even if much of its appeal didn't come from its relatively constrained worldbuilding and strong use of its near-silent sensory gimmick.
23. We Are Still Here
Director: Ted Geoghegan
Writer: Ted Geoghegan
Cast: Barbara Crampton, Andrew Sensening, Larry Fessenden, Lisa Marie, Monte Markham
IMDb Ratings: 5.7/10
Rotten Tomatoes Ratings: 95%
In contrast to the second half of We Are Still Here, where all hell breaks loose as cinematographer Karim Hussain hurriedly but gradually runs from one room to the next, getting as much peripheral carnage as possible, the first half feels like a slow burn. In a weaker movie, Geoghegan's climax would serve as a wake-up call for the audience.
It offers an unexpected outburst of heightened, violent rage in We Are Still Here. However, Geoghegan seamlessly transitions from the tale of escaping the disaster that We Are Still Here begins to the massacre that it becomes. The director confidently flirts with danger the entire time; there is no sense of teasing or switching. The winter in New England only serves to heighten the dejection.
The elements simultaneously forebode and forbid. It's dreadful outside right now. And even more so, the carbonized wraiths in the basement. This is one haunted house that will never be disproved in the end.
22. We Need to Talk About Kevin
Director: Lynne Ramsay
Writer: Lynne Ramsay
Cast: Tilda Swinton, John C. Reilly, Ezra Miller
IMDb Ratings: 7.5/10
Rotten Tomatoes Ratings: 75%
We Need to Discuss Kevin centers on a mother's (Tilda Swinton) struggle to deal with the fallout from her son's school shooting (Ezra Miller). Its plot is based on two popular narrative devices: the "whydunnit" thriller, in which the motives of the murderer are a central theme, and the "family horror," in which a sinister force tears apart a traditional family. The horror lies in the fact that these seemed to be the only two options available—rather than the fact that a teenager chose complete denial over the humdrum of normal family life.
The scene in which Kevin, as a young child, temporarily loses his sociopathic tendencies while ill, giving Swinton's character a brief opportunity to feel loved, perfectly captures the heartbreaking nature of the movie. However, as soon as his physical health returns, Kevin immediately reclaims his sociopathic tendencies, dashing her hopes of making any kind of progress.
21. The Wailing
Director: Na Hong-jin
Writer: Na Hong-jin
Cast: Kwak Do-won, Hwang Jung-min, Chun Woo-hee
IMDb Ratings: 7.4/10
Rotten Tomatoes Ratings: 99%
The Wailing, the title of Na Hong-jin latest film in the United States, more strongly connotes tone than sound. Although there is a lot of sobbing to be heard in this scene, Na coyly guesses his audience's response to the bleak scenes of a county in the spiritual conflict in just two words.
More than what we typically associate with "horror," Na trades in doubt and, in particular, hopelessness. He is not trying to scare us. He is on a mission to erode our souls, just as his protagonist's faith gets corroded as a result of being put through both divine and hellish tests throughout the course of the movie. Gokseong County, a rural area tucked away amid South Korea's southern provinces, is the setting for The Wailing.
You'll make a promise to yourself that you'll never ask these questions about your own life when The Wailing reaches its breathtaking conclusion. Even if you don't leave the theatre feeling afraid, you will undoubtedly leave with scars, which is a much more meaningful reaction than outright terror.
20. The Taking of Deborah Logan
Director: Adam Robitel
Writer: Gavin Heffernan, Adam Robitel
Cast: Jill Larson as Deborah Logan, Anne Ramsay as Sarah Logan, Michelle Ang as Mia Medina, Ryan Cutrona as Harris Sredl, Anne Bedian as Dr. Analisa Nazir, and Brett Gentile as Gavin.
IMDb Ratings: 6/10
Rotten Tomatoes Ratings: 91%
Mia wants to complete her project or thesis and thus keep track or record of the lives of Deborah and her daughter Sarah. Everything was perfect and normal on one initial day, but later, it seemed that Deborah was possessed. Something is controlling her, and that is when horror strikes in the story.
19. Hell House LLC
Director: Stephen Cognetti
Writer: Stephen Cognetti
Cast: Ryan Jennifer Jones as Sara Havel, Danny Bellini as Alex Taylor, Gora Abrams as Paul O' Keefe, Jared Hacker as Tony Prescott, Adam Scheider as Andrew McNamara, Alice Bahlke as Diane Graves.
IMDb Ratings: 6.4/10
Rotten Tomatoes Ratings: 75%
This movie narrates the malfunction that let the murder of fifteen people and its reason. After five years of this death, a documentary crew visits the place and finds out what led to such an incident. But unfortunately, this is more a found footage than a documentary.
Sara was the only one to survive the malfunction and furnish the raw footage to this crew, but what dangers await them? Watch it and get your answer.
18. Trilogy of Terror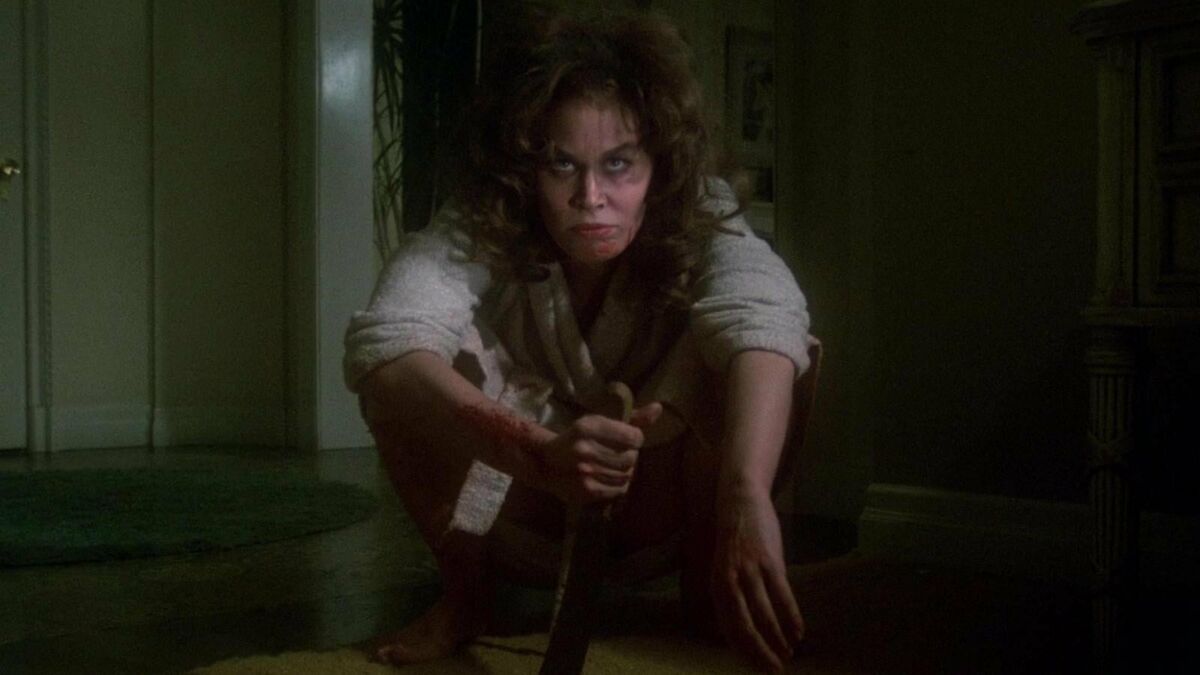 Director: Dan Curtis
Writer: Richard Matheson, Willliam F. Nolan
Cast: Karen Black as Julie, Robert Burton as Chad Rogers, Jim Storm as Eddie Nells, Gregory Harrison as the new Student, Kathryn Reynolds as Anne Richards, and Orin Cannon as Motel Clerk.
IMDb Ratings: 6.5/10
Rotten Tomatoes Ratings: 93%
There are three plots present in this film. The first story is about a college student who starts having feelings for his teacher. The second one is about two siblings, sisters, where one is good, and one is not. Finally, the third story is about a doll that terrorizes a woman at her home.
The entire film is worth watching, and the interwoven stories are a nice place that will never let you get bored.
17. Hellraiser
Director: Clive Barker
Writer: Clive Barker
Cast: Clare Higgins as Julia Cotton, Ashley Laurence as Kirsty Cotton, Andrew Robinson as Larry Cotton, Sean Chapman as Frank Cotton, Robert Hines as Steve, Doug Bradley as Lead Cenobite
IMDb Ratings: 7/10
Rotten Tomatoes Ratings: 72%
This horror film is about Frank Cotton, who unintentionally opens a portal to hell through a box he purchased abroad. As soon as it opened, Frank was torn into pieces by a creature called Cenobites and died. However, when Larry and Julia moved into Frank's house, they somehow could bring Frank back with whatever was left of him.
The intense atmosphere created was enough to frighten the film, but it was not the end. Frank convinces his wife, Julia, that he loves her and pursues her to bring men to the house so that Frank can use their blood and come back again in his original form.
This is the first film, and all the sequels are made after this. You can watch the entire series, and none of them will disappoint you.
16. The Wicker Man
Director: Robin Hardy
Writer: Anthony Shaffer
Cast: Edward Woodward as Sgt. Neil Howie, Christopher Lee as Lord Summerisle, Britt Ekland as Willow MacGregor, Lesley Mackie as Daisy, Diane Cilento as Miss Rose, Ingrid Pitt as Librarian, Lindsay Kemp as Alder MacGregor.
IMDb Ratings: 7.5/10
Rotten Tomatoes Ratings: 88%
The story focuses on the missing girl, and Sergeant Howie is charged to discover this little girl. The background of this film is set on the Scottish island of Summerisle. As soon as he arrived there, he saw that the residents were quite peculiar and hugely into pagan rituals, especially Willow, the daughter of Lord Summerisle.
The deeper he goes, the more he gets close to finding the young girl. This is one of the most popular horror movies, so try to watch it soon.
15. Nightbreed
Director: Clive Barker
Writer: Clive Barker
Cast: Craig Sheffer as Aaron Boone, Anne Bobby as Lori Winston, David Cronenberg as Dr. Philip K. Decker, Charles Haid as Captain Eigerman, Hugh Quarshie as Detective Joyce, and Bradley Lavelle as Cormack.
IMDb Ratings: 6.5/10
Rotten Tomatoes Ratings: 43%
The movie focus on Aaron Boone, who is terrified by nightmares. He goes to seek some help from Dr. Decker, unaware that the latter is a serial killer. Dr. Decker plans to kill Boone and set all his crimes against his name, which lets the police kill Boone.
Boone, however, is given life by Nightbreed, the monster which used to haunt him, and he goes to seek revenge from Dr. Decker and stop his crimes.
14. Phantasm
Director: Don Coscarelli
Writer: Don Cascarelli
Cast: Angus Scrimm as The Tall man, A. Michael Baldwin as Mike Pearson, Reggie Bannister as Reggie: Don Coscarelli, Kathy Lester as Lady in Lavender, Bill Cone as Tommy, Lynn Eastman as Sally.
IMDb Ratings: 6.6/10
Rotten Tomatoes Ratings: 74%
Phantasm depicts how the people of a small town are dying due to some mysterious incidents. Mike is charged with the task of finding out the reason behind it. After investigating a lot, he gets to know about a mysterious stranger, a serial killer who is behind all this and is known as a tall man. He kills people and reanimates them as misshapen zombies.
Mike, along with Jody and Reggie, goes on a mission to kill the tall man but faces several challenges. Finally, the riddle of mysterious deaths is solved, but will they get hold of the culprit?
13. Better Watch Out
Director: Chris Peckover
Writer: Zack Kahn, Chris Peckover
Cast: Olivia DeHonge as Ashley, Levi Miller as Luke Lerner, Ed Oxenbould as Garrett, Aleks Mikic as Ricky, Dacre Montgomery as Jeremy, Patrick Warburton as Robert Lerner, Virginia Madsen as Deandra Lerner.
IMDb Ratings: 6.5/10
Rotten Tomatoes Ratings: 89%
This film is about intruders who come to harm Ashley and a boy. Ashley takes charge of babysitting Luke, a 12-year-old boy of the Learners, in their suburban home. Ashley herself is also young, a girl of 17 years. She falls prey to a mad boy who kills Ricky, Ashley's boyfriend.
Will Ashley be able to run away from this boy? Stream it now and know what happened then.
12. Angel Heart
Director: Alan Parker
Writer: Alan Parker
Cast: Mickey Rourke as Harry Angel, Robert De Niro as Louis Cyphre, Lisa Bonet as Epiphany Proudfoot, Charlotte Rampling as Margaret Krusemark,
IMDb Ratings: 7.3/10
Rotten Tomatoes Ratings: 80%
This film focuses on Harry Angel, who Louis Cyphre hires to find out the whereabouts of Johnny Favorite. Harry is a private detective and does his work efficiently. Geoes asks several people about Johnny, but somehow the people die of a tragic incident.
After a long time, Harry goes to New Orleans to know where Johnny is but comes to know that Jonny knows black magic, and there is a reason why Cyphre hired him.
11. Night of the Demon
Director: Jacques Tourneur
Writer: Charles Bennett, Hal E. Chester
Cast: Dana Andrews as Dr. John Holden, Peggy Cummins as Joanna Harrington, Niall MacGinnis as Dr. Julian Karswell, Athene Seyler as Mrs. Karswell, Liam Redmond as Professor Mark O'Brien.
IMDb Ratings: 7.4/10
Rotten Tomatoes Ratings: 100%
In this movie, the focus is upon the protagonist John Holden who attends a conference in London on parapsychology. He reaches the destination and knows that the person he was supposed to meet is now dead. So he finds out what let an accident kill the person and learns that he has been investigating Dr. Julian Karswell's cult.
Holden feels something is wrong and tries to read the manuscripts, making him lose his faith in science.
10. Exorcist III
Director: William Peter Blatty
Writer: William Peter Blatty
Cast: Geroge C. Scott as Lieutenant William F. Kinderman, Ed Flanders as Father Joseph Dyer, Jason Miller as Patient X, Scott Wilson as Dr. Temple, Brad Dourif as James Venamun, Grand L. Bush as Sergeant Mel Atkins.
IMDb Ratings: 6.5/10
Rotten Tomatoes Ratings: 59%
The movie revolves around the protagonist William F. Kinderman, a police lieutenant. He notices several similar elements between his recent case and the methods of the Gemini Killer. Gemini's killer might have been the culprit, but he had already been executed more than a decade before.
The story from then onwards takes several turns and uncovers several mysteries to find out the connection between the cases.
9. House on Haunted hill
Director: William Castle
Writer: Robb White
Cast: Vincent Price as Frederick Loren, Carol Ohmart as Annabelle Loren, Richard Long as Lance Schroeder, Alan Marshal as Dr. David Trent, Carolyn Craig as Nora Manning, and Elisha Cook Jr. as Watson Pritchard.
IMDb Ratings: 6.8/10
Rotten Tomatoes Ratings: 89%
House on Haunted hill shows how Frederick Loren, an eccentric millionaire, pursued 5 persons to spend a night at a haunted mansion and get the scope to bag $10,000 each. The persons are close to each other, and there is also Annabelle, Frederick's estranged wife.
They thought it would be easy to complete the task, but no. As time passes, they witness more horrific incidents. Several films have the same name and plot, but this one, released in 1959, is the original film. Watch all of them, choose the best, and share which Haunted hill allied artists are the best.
8. Suspiria
Director: Luca Guadagnino
Writer: David Kajganich
Cast: Dakota Johnson as Susie Bannion, Tilda Swinton as Madame Blanc, Mia Goth as Sara Simms, Angela Winkler as Miss Tanner, Ingrid Caven as Miss Vendegast, Sylvie Testud as Miss Griffith.
IMDb Ratings: 6.7/10
Rotten Tomatoes Ratings: 65%
Susie Bannion is an American ballerina who moves to Berlin to learn dancing at Madame Blanc's Markos Tanz Company, world-famous. She soon learns that a student has been murdered, and the more she indulges in this incident, the more she starts suspecting that this institute is somehow linked with the murder. Several mysteries will get uncovered as the plot progresses. Guadagnino's film is one of a kind, so stream it soon.
This is a very famous horror movie and should be at the top of your list of movies to watch. Do not forget to share your views as well.
7. The Silence of the Lambs
Director: Jonathan Demme
Writer: Ted Tally
Cast: Jodie Foster as Clarice Starling, Anthony Hopkins as Dr. Hannibal Lecter, Scott Glenn as Jack Crawford, Ted Levine as Jame Buffalo Bill Gumb, Anthony Heald as Dr. Frederick Chilton, Brooke Smith as Catherine Martin.
IMDb Ratings: 8.6/10
Rotten Tomatoes Ratings: 96%
The film focuses on Clarice Starling, a young FBI agent charged with the task of saving a young girl from a serial killer. Jame, the serial killer, is a psychopath who skins people. Jack seeks the help of Dr. Hannibal Lecter to help in this case since he was a psychiatrist and is now a psychopath. But will Clarice be able to win his trust?
This is indeed a gruesome horror movie, and you will need enough courage to watch it. However, do share how much you liked watching it.
6. The Monster squad
Director: Fred Dekker
Writer: Shane Black, Fred Dekker
Cast: Andre Gower as Sean Crenshaw, Robby Kiger as Patrick Rhodes, Stephen Macht as Detective Del Crenshaw, Duncan Regehr as Count Dracula, Tom Noonan as Frankenstein's monster.
IMDb Ratings: 7/10
Rotten Tomatoes Ratings: 60%
The Monster Squad is a well-fabricated plot that depicts how five young people have to fight against some strong creatures like Dracula, The Mummy, the Gill-Man, and Frankenstein's monster who have come into their land in search of an amulet.
This film is thoroughly exciting and full of action that will not let anyone get bored. Sean Crenshaw is the main protagonist of this film and has done an excellent job.
5. Arachnophobia
Director: Frank Marshall
Writer: Don Jakoby and Wesley Strick
Cast: Jeff Daniels as Dr. Ross Jennings, Harley Jane Kozak as Molly Jennings, John Goodman as Delbert McClintock, Julian Sands as Dr. James Atherton, and Brian McNamara as Chris Collins.
IMDb Ratings: 6.5/10
Rotten Tomatoes Ratings: 93%
This film is a must-watch, especially at this time. The film is about the death of people due to a spider bite. A spider from the forest of South America gets transported to California and mates with a local spider there. Soon after, people die, and the cause is a spider bite. A couple of doctors then go on a mission to find a remedy before it spreads more.
4. When a Stranger calls
Director: Fred Walton
Writer: Fred Walton, Steve Feke
Cast: Charles Durning as John Clifford, Carol Kane as Jill Johnson, Colleen Dewhurst as Tracy, Tony Beckley as Curt Duncan, Rachael Roberts as Dr. Monk, Ron O'Neal as Lt. Charlie Garber.
IMDb Ratings: 6.4/10
Rotten Tomatoes Ratings: 41%
Get ready to get chills after watching this film. The story depicts how Jill Johnson arrives at a hotel to babysit a kid but soon realizes she is in trouble. She gets repeated mysterious stranger calls and asks whether she has checked the children or not. A few moments later, she complains to the police and finds that the children are dead, and the killer is sent to jail.
John Clifford, a private detective, also plays a vital role in finding out the culprit, Duncan, and kills him after much effort. This story has been derived from the cult classic folk horror, the babysitter and the man upstairs.
3. The Lighthouse
Director: Robert Eggers
Writer: Robert Eggers, Max Eggers
Cast: Robert Pattinson as Ephraim Winslow and Thomas Howard, Willem Dafoe as Thomas Wake, Valeriia Karaman as Mermaid, and Logan Hawkes as the real Ephraim Winslow.
IMDb Ratings: 7.4/10
Rotten Tomatoes Ratings: 90%
The Lighthouse is a famous horror movie, and if you have not watched it yet, you have missed watching a lot of things. This film is a psychological thriller with touches of dark comedy that focus upon two lighthouse keepers, Robert Pattinson and Willem Dafoe, as Thomas Howard and Thomas Wake, respectively. It is set in late 19th century England where these two persons have no one else to talk with other than each other and have to console themselves as much as they can.
There is no creature or haunting house to arouse fear. Instead, the horror is coming from inside, which is why this film is also a survival film where you can vividly witness the character development of these two men.
2. The Fly
Director: David Cronenberg
Writer: David Cronenberg(co-writer)
Cast: Jeff Goldblum as Seth Brundle, Geena Davis as Veronica, John Getz as Stathis Borans, Joy Boushel as Tawny, Leslie Carlson as Dr. Brent Cheevers, George Chuvalo as Marky.
IMDb Ratings: 7.6/10
Rotten Tomatoes Ratings: 93%
The story focuses upon Seth Brundle, who wanted to test the teleportation devices on himself, but when a fly comes in between the process, things go crazy. Brundle went through the teleportation successfully, but the fly slowly developed like him.
Brundle also changes slowly into a fly, which seems shocking to his girlfriend, Veronica. Will he be able to make things like before? Watch the horror story and get all the answers.
1. Night of the Living Dead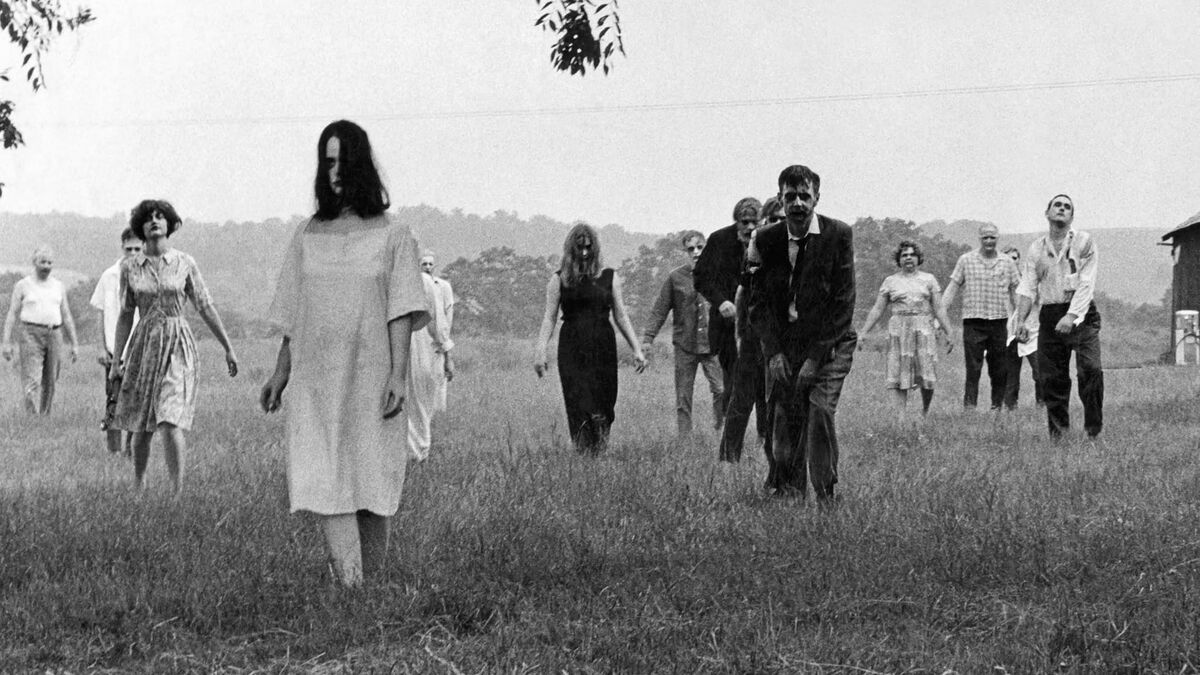 Director: Geroge A. Romero
Writer: Geroge A. Romero
Cast: Duane Jones as Ben, Judith O'Dea as Barbra, Karl Hardman as Harry Cooper, Marilyn Eastman as Helen Cooper, Keith Wayne as Tom, Judith Ridley as Judy, and Kyra Schon as Karen Cooper.
IMDb Ratings: 7.8/10
Rotten Tomatoes Ratings: 96%
Night of the Living Dead is one of the best horror movies ever produced. This film is an old one, yet the impact is that it is still one of the most loved horror films. Horror fans still believe it is hard to overtake its place.
This story features a group of friends who take shelter in an abandoned house, unaware of the danger. Unfortunately, corpses or zombies from the graveyard begin to come to this house and feed upon flesh and blood of these humans. Ben tries his best to stop them, but these horrific creatures somehow find a way to get into the haunted house, and one by one, the humans become their prey. There are great horror flicks in this film. If you are a true fan of horror movies, this film is a must-watch.
A horror film is not great if it fails to frighten you for a few upcoming days. These are some of the best horror films ever produced. We hope this list is perfect to be streamed on Amazon prime video, and we are sure most of them will please you.
Thrillers, ghost stories, dark comedies, and many more are there on amazon prime, so why wait? Start streaming these horror movies on the amazon prime video service. For more such lists or news about films, stay tuned with us, and do not forget to share which films you liked the most.