In 2016, Walt Disney Animation Studios released the buddy police comedy Zootopia under the Walt Disney Pictures label. Officer Judy Hopps (Rabbit) is a police officer, while Nick Wilde (Fox) investigates a conspiracy involving the disappearance of animals in the metropolis dubbed Zootopia. It has the most inspiring Zootopia Quotes ever.
Everything depicted in the film is a mirror of our own real life. Every individual possesses an exceptional talent.
The world is packed with people who wish to promote peace, people who have quick reflexes, clever people, and substantial people.
Many of Disney's Zootopia's notable statements are attributable to the film's rich backstory and likable animal characters. Here are some of the best words from the Zootopia movie that will inspire you to improve your life!
20. I Am Just A Dumb Bunny, But We Are Good At Multiplying
One of the best Disney quotes comes from Judy's victory over Nick with another smart animal-related joke. Judy blackmails Nick with information about Nick's massive tax fraud to gain information from him.
As she calculates the incriminating data, she modestly states, "I am just a dumb bunny, but we are good at multiplying.
"Not only does she outmaneuver Nick, retaliating for an earlier insult and revealing his crimes, but she also slips in an adult joke about rabbits that fits perfectly with the circumstances and the Zootopia universe.
19. Life Isn't Some Cartoon Musical Where You Sing A Little Song And All Your Insipid Dreams Magically Come True. So Let It Go.
One of the funniest jokes in Zootopia isn't about animals at all; it's a jab at Disney. Chief Bogo screams at Judy to "let it go" and reminds her that life isn't always lovely and magical. The more ambitious your goal, the greater the sacrifice and effort required.
Almost everyone has lofty aspirations. It is common to hear people say that they aspire to be wealthy and financially secure, buy a sizeable beachside villa, travel first-class, and so forth.
On the other hand, most people lack the tenacity and dedication necessary to make their aspirations a reality.
But you won't see them working hard to establish their company because they say they want to succeed.
18. Ooh, uh, you probably didn't know, but a bunny can call another bunny cute, but when other animals do it, it's a little
When people behave this way, it is referred to as in-group vs. out-group conduct. Individuals belonging to the same cultural group can get away with various activities. However, the same behavior is considered socially unacceptable outside the group.
17. If you want to talk about making the world a better place, there is no better way to do it than to become a carrot farmer.
The Bonnie Hopps family demonstrates their optimism and positive outlook on life. It is a movie about a rabbit and a carrot farmer. Moreover, they are extraordinarily upbeat creatures if you call bunnies people.
Yes, you can make a difference in your own life and the world around you by taking little, incremental steps (not with carrots, of course).
Being successful is seen as such a lofty goal by many that they have given up hope of ever achieving it.
You'll need to put in the time and effort to accomplish greatness in life. And anyone may achieve the desired achievement if they are prepared to put in the time and effort each day to work on the modest steps.
16. "It's Called A Hustle, Sweetheart."
The most memorable line in Zootopia is probably this one. When Judy discovers their popsicle trick, Nick pulls the same line on her when she discloses that she can blackmail him with his tax offenses.
This line is most effective when Judy gets to videotape Bellwether confessing to coordinating the predator assaults in a closing scene of the film. Short and easy, yet it's a terrific mic-drop line for breaking a very evil villain.
15. Change Starts With You
The rabbit police officer, Judy Hopps, has a vision of a better future for everybody. To do her part in keeping the peace, she decided to join the police force.
And Judy is correct in this regard. All of us have made mistakes in the course of our lives. However, this does not imply that you are a lesser person or incapable of accomplishing anything.
14. "I Wish I Had A Memory Like An Elephant."
There are also several supporting characters, such as Yax, the yak who works at the Mystic Spring Oasis, a nature-oriented club. Yax may appear disoriented, but he is more valuable to the investigation than he could have imagined.
Judy and Nick go to elephant yoga instructor Nangi to ask about Emmitt Otterton's whereabouts in the hopes that Nangi, an elephant, will have some insight.
The problem is that Nangi doesn't know what Yax is talking about. He unintentionally revealed every aspect of Otterton's time at and subsequent journey out of the Oasis to Yax as he tried to elicit a memory from her.
After that, Yax explains to Judy, "The steel trap in her mind is Nangi's mind. A memory like an elephant would be nice." It's amusing because not only did the elephant forget, but Yax had no idea how wise he was.
13. Gideon Grey Was A Jerk. What Happened To Be A Fox. I Know Plenty Of Bunnies Who Are Jerks."
In the film's opening scene, Gideon Grey, a vulpine bully in her hamlet of Bunnyburrow, faces out against young Judy. For the past fifteen years, Judy has been a police officer in Zootopia. Recalling Gideon's encounter with foxes, Judy's parents urge that Judy bring a variety of fox-deterrent objects with her.
Because she is younger and more accepting, Judy argues that Gideon is a jerk regardless of his species and that this holds for rabbits and other prey animals in general. It's clear from this scene that the animal stereotypes in Zootopia aren't going to be standard.
12. Take A Leap Of Faith
Judy Hopps: I'm not just some token bunny.
Chief Bogo: You strike out, you resign.
Judy Hopps: Deal. To accomplish greatness in life, you must be willing to take risks. To succeed, you have to take a chance.
It's possible you're apprehensive and unprepared for the experience at first. You run the risk of tripping and failing. Never, however, let your failure define who you indeed are.
You must seize any chances presented to you. If you're hesitant to take a risk, you'll never take advantage of an opportunity.
11. Nick Wilde: Are you saying that because he's a sloth, he can't be fast? I thought in Zootopia, anyone could be anything.
Nick Wilde, the red fox, is making fun of Judy Hopps in this scene, so pay attention. There are many things Judy hopes to do in her life, and she believes that everyone can achieve them. In her quest for a quick resolution to her case, she runs into sloths that labor at a snail's pace.
You should believe anyone can achieve their dreams if they are willing to put in the effort.
A sports automobile drives past Flash at the very conclusion of the film. Speed automobiles can help sloths get around, even though they're sluggish.
There is no limit to what you can be. Thus you can be anything. You only need to be creative enough and use what you have in your life to your advantage to get ahead. Even if you're a slow learner or can't speak English fluently, it doesn't imply you can't succeed.
10. That poor little bunny is going to be eaten alive.
To Judy's detriment, this was a cruel remark. It didn't matter that she'd graduated from another police academy — not this one — since she was still being bullied.
Some people will inevitably doubt your abilities even after you've proven them wrong. They'll think you have a lot more to prove to them. That's up to you now, mate. Disprove those who mistrust your abilities. Don't stop trying. Do your job and be an effective leader.
9. If The World's Only Going To See A Fox As Shifty And Untrustworthy, There's No Point In Trying To Be Anything Else
Nick stands out among Disney's most memorable fox characters because his past goes beyond the stereotypical sly fox.
Nick tells Judy that as a child, he was tormented and muzzled by prey animals for no other reason than the fact that he is a fox. Even Nick's arrogant and wisecracking persona gains depth in one of the film's most affecting scenes. The deceptive artist hides a vulnerable golden heart behind him. It's not about what Nick is, but what he is.
8. We Can Only Solve it Together.
Officer Hopps breaks down the steps that need to be taken since she is aware that her future as a police officer depends on this case's outcome. She has no choice but to cooperate with Nick Wilde to find a solution to this problem, even though he is the least likely partner.
7. Never Let Them See What They Get To You
He never vows again to allow anyone to get pleasure from seeing Nick in any way impacted by the physical or emotional suffering inflicted upon him after the prey scout troop muzzled him as a boy. Similarly, several marginalized groups adopted this mentality and slogan to resist the hatred heaped on top of them.
Racial biases thus cause the oppressed, who internalize them, to have self-fulfilling prophecies. To prove her bias against him, Hopps sees Nick as the fox his culture wants him to be, and he behaves precisely the same way his culture expects him.
6. Your words can bring life or death.
After Judy revealed what she had learned about the lost animals, Gazelle took the initiative to describe how Zootopia used to be. Judy's remarks doomed Zootopia. It sparked a commotion.
Things would have been different if Judy had chosen her words more carefully. As it turned out, her statements had a profound impact on the plot of Zootopia. Words have power, so be careful what you say. This has an impact on the people you lead.
5. Real life is more complicated than a slogan on a bumper sticker.
Despite our hopes to the contrary, the reality is that life is neither simple nor easy. People have difficulty finding their way through life due to its high complexity and difficulty.
Put an end to living your life like a slogan on a car bumper. Experience life fully, including its ups and downs, pleasures and sorrows, triumphs and defeats, happiness and misery, and everything else it offers. That is the only method to go through life.
4. Tomorrow's another day.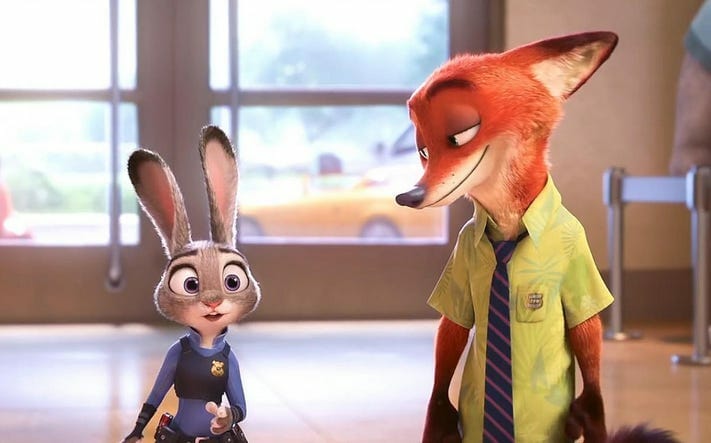 A fresh start is always possible. Whatever has occurred to you does not matter. Even if you come from a low-income household or are deeply in debt, your present situation does not dictate your future.
The fact that you are impoverished and in debt doesn't mean you'll always be that way. No rule says if you've never attended school or tried your hand at running a business and failed, you'll continue to do so in the future.
Things are going to get better, and things are just going to become worse. It doesn't matter where you are now; it's where it is. It's essential to keep in mind that the past does not determine the future.
If you fail at something, don't be discouraged. You can always try again. There's always a second chance, even if your first attempt failed. Or, if you'd prefer, revise your approach and try it again.
3. I came here to make the world a better place. I think I broke it.
When Judy first arrived in Zootopia, she did so with noble goals. She had the intention of making the world a better place. She didn't. She was responsible for the widespread terror that she generated throughout Zootopia.
Doesn't that sound a lot like our everyday lives? Our goal is to make things significantly better, except that we don't. Judy should accept responsibility and acknowledge that she has messed up. That is the role of a leader.
They are willing to admit when they are in the wrong.
2. It's not about how badly you want something. It's about what you are capable of!
Never underestimate the importance of seeing things from the other person's perspective.
You must have a burning passion and a strong desire to reach for what you seek. It's also important to keep an eye on your limitations so you don't go overboard.
You can only get started if you are fully committed and have the necessary amount of willpower. And what makes you successful are your abilities, abilities, and skills gained from your dedication to learning and preparation.
Success is within your grasp if you possess the talent and the zeal to achieve it.
1. Whoopsie! We don't all get along.
Despite our best efforts, people and teams will always be disagreements. When it comes to Sam, Fred is a no-go. People's tempers are going to get hot. There will be disagreements.
Don't expect everyone to always agree with you when you're in charge. Instead, look for methods to benefit from disagreements amongst people.