Anime is so in worldwide because of its unique story, action-adventure, and humor. Jojo Bizarre Adventure might sound familiar as it is one of the famous and high-rated anime series based on experience, fantasy, and supernatural elements with a pinch of humor and romance.
Even if you haven't watched it yet, you might have come across several anime memes related to this series, sure regarding the characters, their quotes, and their JoJo poses, which are becoming viral in the anime industry. The show is so trendy that people try to copy the characters' dressing styles, makeup, and hairstyle. However, this show is not just a show but a cosplay at a grand level with adventures and fights, and humor, of course.
The designers of the characters have made each character unique in every possible, be it in physique, powers, hairstyle, face, eyes, or anything else. You look at any surface, and you cannot say that it is not handsome or beautiful or have a unique art style.
Well, I think that is why the Jojo poses are famous because they are being pulled off by dashing characters who pull off the simplest of the Pose like a pro. And why wouldn't they be so good after all?
They have been inspired by some sculptures, action heroes like Jackie Chan, and many more. The Jojo anime has received the CDECC Awards for Visual Art Division which is understandable once you look at the characters who have been designed with unique styles.
This series has been viral for so many Jojo poses. Every character has unique poses coupled with their natural attacks. Many characters also have poses that make them stand out. The character, all in all, look heaven literally when they strike their Pose, no matter if they do something good or bad.
Hirohiko Araki wrote and illustrated Jojo Bizarre Adventure, and a Japanese manga series adapted into an anime series. It revolves around the large Joestar family's adventures that continue from the 19th century to modern times and their efforts to fight all the enemies using their powers and abilities.
The anime is directed by Naokatsu Tsuda and Kenichi Suzuki and was written by one of the famous and established anime and manga writers Yasuko Kobayashi. All the characters in the series have been portrayed with unique art styles that are reflected in their poses as well, and also that set them apart.
The show's music is also quite excellent, just like the fantastic poses. The superheroes have great human powers and do not forget that they have been designed as the most fashionable characters in the anime with great bodies and unique fashion sense.
Jojo's Bizzare Adventures was first aired in 2012 with the first season, which was based on the adaptation of Phantom Blood and Battle Tendency. It was Followed by the second season, which was based on The Stardust Crusader, and the third season was based on Diamond is Unbreakable.
The fourth season is based on the Golden Wind, and the fifth is based on the Stone Ocean. In 2021 it was made available on Netflix. Jojo's bizarre adventure is adventurous with son fight and other epic fights, but it is humorous too, and there are several groups too, like star platinum, that have Star Platinum's power pose, which is just so good.
Unfortunately, there are so many Jojo poses that you might be unable to select which is good and which is not. And did I mention that it has some love too? Yes, you heard right, it has, and that, too, is not simple. In this article, we have included a list of the 20 best Jojo Poses that are the most epic poses of your favorite character from Jojo's Bizarre Adventure and for which the show is famous.
The list includes different Jojo poses, which can be extreme poses, most normal poses, striking poses, funny poses, and many more. So, all the fans and anime fans out there, get ready to unveil amazing Jojo poses from Jojo anime.
But let us know if the list consists of your favorite characters and their bizarre Pose that you like. So, let's begin Jojo's posing adventure. And trust me, and this article is not just for Jojo fans; everyone will enjoy it.
1. Yukako's Menacing Pose
Her Pose reflects her demeanor and can intimidate anyone. This Pose has also shown her personality of bad temper.
This Pose of her shows her cold face, but still, somehow, her cuteness is intact. Yukako Yamagishi is a cute and beautiful character who loves Koichi. Therefore, she has been the side character. She has violent mood altercations, which she tries to hide in front of her love, but they cannot be hidden for long.
2. Narciso Anasui Pose
One of the compelling characters with risky fashion choices. He has an epic pose because of his costume, which makes us say, CAREFUL Narciso. The Pose looks like a dance step for sure, and that's why this Pose is unique.
The central character in the Stone Ocean. He's a prisoner in the Green Dolphin's Street Jail. He has a risky choice of fashion with unique taste. Of course, Jojo's poses are meant to be unique, but the risk he carries with confidence and style is worth applause. He falls in love with Jolyne and gets obsessed with her. He believed that he could defeat Pucci if he married her.
3. Dio Brando pose
KONO DIO DA! Dio Brando's Stand poses a pose that is wicked, criminal, and full of intimidation, just like Dio. His Pose is arrogant and which comes out of his confidence. The epic character has many poses that are very close to his personality.
Dio is the primary antagonist and vampire of the show through Stardust Crusader and the powerful characters of the series, which in turn explains why he has one of the best poses.
This is just one Pose that I have mentioned here. Trust me; he has several poses that will blow your mind because of his fierceness and devil nature. He needs to have this as he is the story's central villain.
Dio secretly murdered his father and became part of the Joestar family to inherit their household. He uses Stone Mask to change himself into a vampire.
4. Jotaro Badass pose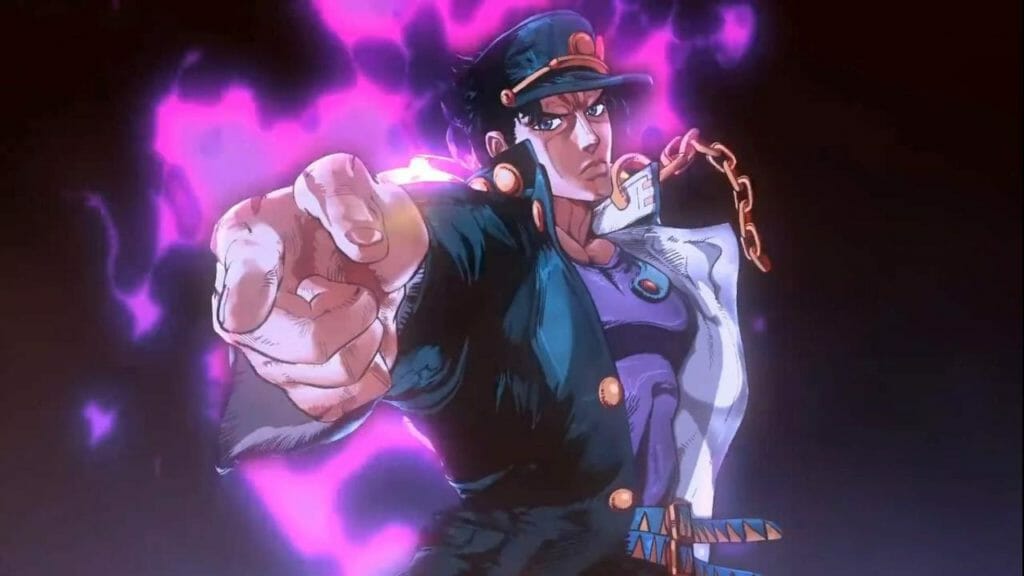 The Pose justifies the name of the Pose entirely without a doubt. However, Jotaro pointing menacingly is not a good sign for sure.
His Pose exhibits serious trouble for the opposition or the one to whom he is suggesting. And how he looks while doing his Pose adds to the danger for others. Jotar Kujo is the protagonist of the story.
He is the first character that came with a stand. He is intelligent, wise, and cool. But, on the other hand, Jotaro pointing menacingly, is badass, just like him when he is ready to fight.
Jotaro Kujo is the grandson of Joseph Joestar. He is a kind-hearted delinquent with an introverted mind. He rarely expresses his feelings which works in his favor to stay calm in dire situations and make a plan.
5. Jack the Ripper Pose
His Pose is legendary because of its uniqueness, showing his readiness to attack. This Pose appears when he is going to attack the party in front of him.
His bad personality is reflected by the knives that surround him. The darkness represents his dark aura. Jack the Ripper is a minor antagonist who was shown in Phantom Blood. He is a serial killer who has been turned into a vampire.
Jack is manipulative, convinces ladies to walk with him in the dark, and kills them relentlessly. He is a scary man, but his Pose has quite a unique art style.
6. Bucciarati Arrivederci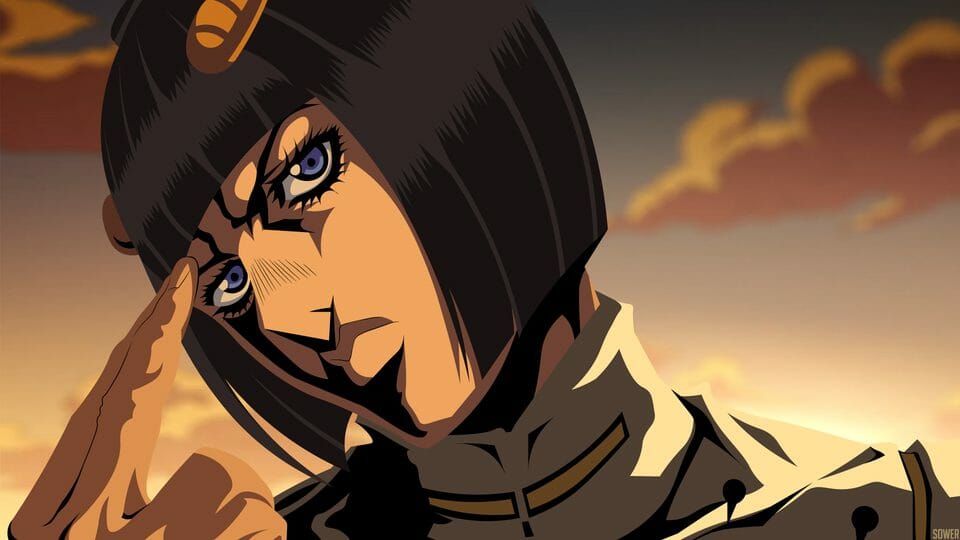 The moment I look at this Pose, I want to salute too. It is such a fashionable pose with confidence screaming out. This Pose also exhibits the victorious feel of the character in every way.
This Pose is quite typical among us too, and we too make use of such Pose in our daily lives. It might not be a Unique pose but definitely a relatable one.
When I look at his Pose, it just makes me call this a mastermind pose because of the style and the swag. It is the easiest Pose too. He looks badass with this standard Pose. The man whose sole purpose is to complete the mission and save his men. He has the power to make zippers in every object unique, right?
Well, you don't always need different poses, and a simple pose like a salute can make a lot of difference and make an impact; in his case, it completely fits. Technically the mother of the team.
7. Pillar Men Pose
The menacing Pillar Men trio pose is one of the powerful poses and screams of strength and confidence. The build and the look in their eyes are just an addition to the Pose they show. The pillar men include Kars, Esidisi, Wamuu, Santana, and the clan.
Pillar men are powerful, intelligent, and long-living humans in the series. They are antagonists in the Battle Tendency. Their looks are inspired by Roman and Egyptian sculptures, and have the power to change themselves and their bodies at a fantastic speed.
Pillar men are the last four members of the ancient race of humanoids. Each of them has extreme control over their body. Except for Kars, other pillar men are chivalrous warriors.
8. Joseph Joestar Handsome Pose
The Pose is precise, as the name suggests, 'handsome.' Joesph is one of the most popular characters in the series because of his power and looks, which makes him quite popular among women.
His Pose has that charm and swag, and the shining eyes add that perfect oomph to his Pose, making him the popular Jojo character among all the girls.
Joseph Joestar is a fictional character in the anime series Jojo Bizarre Adventure. He is intelligent and kind. He is trained in a martial art named Hamon, which lets him use sunlight as power.
The main protagonist of Battle Tendency is the grandson of Jonathan Joestar. He has a rebellious attitude with a noble heart. However, he uses mind games more than fighting to understand his opponents.
9. Polnareff Pose
Polnareff's Pose, also called the gravity-defying Pose, is a crazy pose because, of course, he does the impossible that defies gravity in this Pose.
However, even if he challenges Physics because he can, as it is an anime where anything can happen, he still looks dashing in his powerful Pose.
The rage in his eyes, his muscular body, and his silver hair act as the carries on the cake for his Pose. The Frenchman Polnareff is someone who values honor, which means he will not fight anyone from the back or will not leave the battleground.
Simply put, he will not do anything dishonorable except when the opposition is on his blocklist. Jean Pierre Polnareff, a French traveler, came under Dio's control and attacked Jotaro'group but was defeated. He then joins the group to look for Dio so that he can find his sister.
10. Josuke's Curvy Pose
This Pose is one of the most stylish and straightforward poses that exhibits her sheer passion. It is, in fact, quite a famous pose among all the ladies who have watched the series. Moreover, Pose shows all his curves which is attractive.
He is a savvy, confident, and courageous character. He is very friendly and not just warm but loyal to his friends. The same energy is reflected in his Stand as well. He is a healer who can repair and heal things quickly.
He can trap and track enemies too. So, he is not just all about curves and Jojo's Pose. But also about his unique powers. Josuke Higashikata is the main protagonist in Diamond Is Unbreakable, a freshman in Morioh.
11. OG Kakyoin Pose
Kakyoin's Pose is exactly elegant, like his character in the series. The Pose might seem like a typical pose but looks legendary on him.
The calm eyes with his hands doing the Pose look calm yet assertive. He is also one of the handsome-looking characters in the series with a unique hairstyle. He is a supporting character in the series but has many fans because of his heroism.
Dio sent him to kill Jotaro, who happened to save his life. Following that, Jotaro asks him to kill Dio. However, his Stand has a unique power to shrink itself and enter the people's bodies and control them.
12. Koichi Pose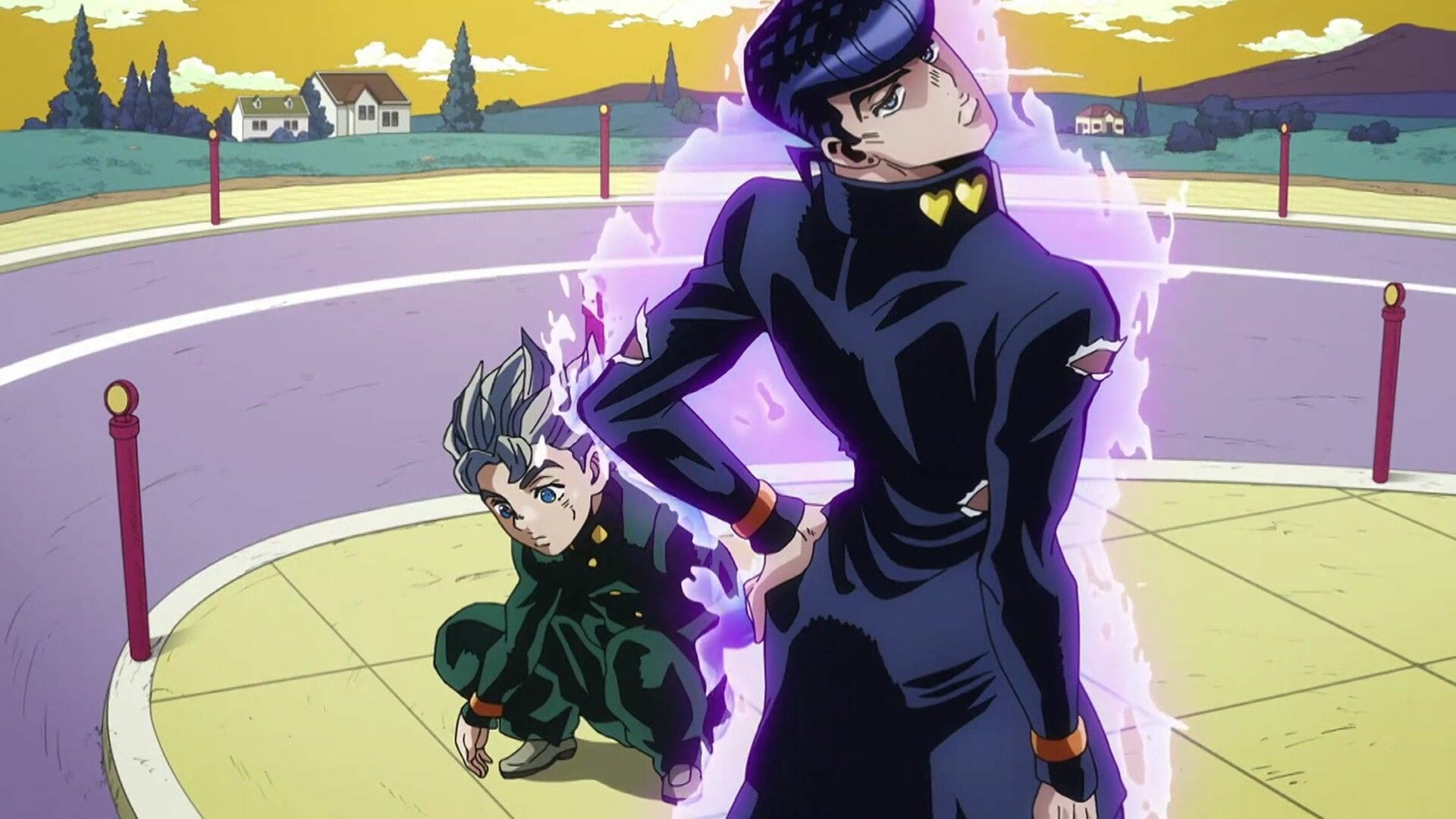 Koichi's Pose is one of the funniest Jojo poses in the anime series, which will make anyone laugh. Just like his looks, his Pose is also unique and weird. This Pose is also a reliever from other poses, which are pretty sophisticated or flashy. Just like his Pose, his character is also humorous. This Pose is one of the sick Jojo poses in a good way.
Koichi is the protagonist of the series Diamond Is Unbreakable. His looks are different from the others because of his short height, which sets him apart. However, he is a risk-taker and one of Josuke's best friends.
Koichi Hirose is a young freshman in High School and has a student-teacher relationship with Jotaro. He is the funniest in Jojo's bizarre adventure.
13. Lisa Lisa Pose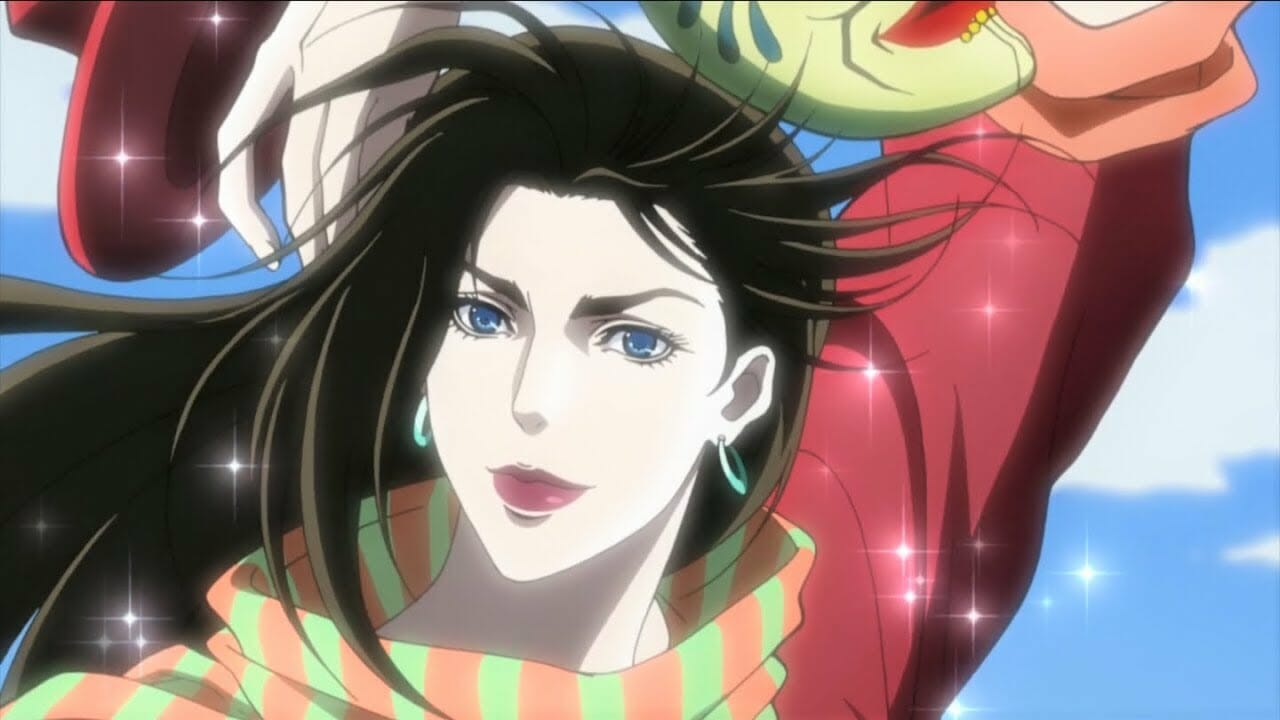 Lisa Lisa is the gorgeous lady in the series, and so is her Pose. One might get lost in her ageless beauty, but then her eyes have that spark that speaks of her enormous strength. Lisa Lisa's real name is Elizabeth Joestar, and he is the core member of the Battle Tendency and an ally.
She is a courageous, fearless, and confident woman who doesn't fear death or competition. Simply put, she is an apt example of beauty with brains and style.
Lisa Lisa, a Hamon master, teaches Hamon to Caesar. She is a mysterious lady. She is one of the few remaining guardians of the Red Stone of Aja that she protects from Pillar men. Her beauty makes her look like she is in her 20s, even though she is much older than that.
14. Joseph Joestar Pose
This Pose of him is quite a badass pose because the way he shows off his muscular body and leans on his bike is just beautiful and has attracted many eyes, and why will it not? I mean, look at him, who looks this good. Joseph Joestar is one of the handsome and essential characters in the show. He is intelligent and kind.
He is trained in Hamon and uses sunlight as power, making him one of the strongest Jojo characters because you can understand that if someone can use the sunlight, which is so strong, then imagine how strong that person will be.
15. Giorno and Gold Experience Pose
The iconic poses of Jojo pose are this one for sure. This Pose is not just fun and quirky but one of the trendsetters among the series' fans. They look fantastic and stylish. This Pose is another sick pose that is humorous and meme-worthy for sure.
In any way, the characters look and exhibit their personality that is of strength and makes you laugh because of the funny Pose.
The pair is one of the funniest and strongest pairs in the show, and that is why you can see the bond in their Jojo pose; even though it seems a little funny and uncomfortable, but then it is the Pose that shows their bond.
The main protagonist of The Golden Wind is the illegitimate son of Dio. He has a complicated relationship and birth history. Son of Dio is the biological son of Jonathan and has a Joestar birthmark. He is a cunning strategist but calm and kind.
16. Caesar Zeppeli Swag Pose
When I look at this Caesar pose, I am reminded of John Cena's You Can See Me. Aren't you reminded of that too? This Pose is one of the standard poses but exhibits swag. It is also quite confident and flashy, which reflects his personality too.
Caesar is one of Joseph's best friends. He made this pose a trend for sure. He is a charming boy with striking looks and builds. The eyes peeking through his hand have an intense look giving extra style to the simple Pose.
He is a poser in every sense. I mean, everyone is, but he is undeniably one of the posers who we would love to copy. Caesar Zeppeli is a ladies' man, and all the girls are his fan. He is an extraordinary man and has a great duo with Joseph Joestar.
17. Kars Pose
Kars' Pose is as powerful as Kars himself. The aura around his Pose exhibits his dangerous and intimidating nature. His long hair, coupled with the Pose, looks stunning and confident. Kars is simply a perfectionist.
The dangerous and fast villain of the show is the leader of the Battle Tendency's Pillar men. He is the one who put Dio on the wrong path. However, he is a person who likes perfection, and Pose his strikes also try to show that.
Kars is the leader of the pillar men pose and has created the Stone Mask. His sole dedication is to become the Ultimate Being. Due to his sheer passion, he killed his men too. He has no honor whatsoever.
18. Star Platinum's power pose
One of the robust Stands in the series might look calm but is actually as violent as Jotaro and ultimately represents him. The star platinum pose is powerful because of his build and look and manifests self-preservation.
Star platinum is the Stand of Jotaro Kujo. It is shown as a silent character but doesn't get deceived because it is very violent when punching with his fierce and loud cry ORA! ORA! The star platinum pose is one of the commanding poses in Jojo's bizarre adventure.
19. Jonathan Joestar's Viral Pose
Jonathan Joestar's Pose is viral among all anime lovers, especially those who watch this anime. He is the trendsetter of the pose culture. The Pose is unique. Some might find it funny, and some might find it cool, but it looks perfect when Jonathan is striking the Pose.
Jonathan is a compelling character and has etiquette and poise in his character. He is skilled in Hamon and is one of the most admirable characters in behavior in the series, not to forget that he is also good-looking.
Jonathan Joestar is a man who carries his name and alliance with the Joestar family with pride. He is a gentleman and wants to strive for only the best in whatever he does.
20. Killer Queen Pose
Yoshikage Kira's Stand Killer Queen dominance pose shows Yoshikage Kira's personality. The Pose is not copying its user but instead offers its powers. The Pose is as dangerous as the Stand and its enormous power. In simple words, Killer Queen is Killer Queen, and we all copy her Killer Queen pose in secret because why not.
Yoshikage Kira is the antagonist in Jojo's Bizarre Adventure: Diamond Is Unbreakable. He is calculative and dangerous. He only desires a peaceful life, and he kills women. His Stand has the power not just to finish or blow up people but also can convert himself into someone's identity.
He is an office worker who wants to live a simple life. He also has an obsession with female hands. Yoshikage Kira has been murdering women in Morioh for a long time. He uses Killer Queen to erase evidence of the murders.
After looking at the 20 best Jojo poses, you must agree that the Jojo pose makes Jojo's bizarre adventure popular, be it the Dio Brando pose, the Cute cat pose, or the Pillar men pose, Polnareff Pose, T pose, Dio pose, or any other poses. The unique poses make the show unique and trending.
In the entire series, one cannot deny how the designers have used their creativity to produce unique art styles for the characters.
The classic Jojo is not classic because of the story but because of the characters and their style and pose, which we, as viewers, adore and use and like because they are relatable and fun.
Jojo's Bizzare Adventure is nothing without Jojo's poses, making us love the show. Be it the most extreme poses. Gang poses similar to pillar men trio, or some same posture exhibited by different characters.
These poses with the fantasy and supernatural storyline make Jojo's bizarre adventure famous and popular. Apart from the story, the show is usually discussed because of the carriages. Thus, if you like what you saw and read till now, do not miss a chance to watch the series.
You never know that you might fall in love with the dashing characters because of the Jojo poses, and also, these poses might help you for your Instagram or group photos like star platinum. Because, after all, these Jojo bizarre poses are pretty unique and fun to try out and watch.