Medieval anime revolves around the middle ages. The medieval period revolves around the times of the Vikings and so on. Medieval anime also has a flair for medieval fantasy, and some dark and twisted series think even beyond. Some of these series revolve around medieval Europe, and some depend on an epic story. The darker tales bring forth the horrors of the time and some unbelievable character development.
Some of the anime takes inspiration from Japanese history. An example is Samurai Champloo, which accurately depicts Japan's Meiji Era. Other anime series just take the ideas anime fans like best and build on them in a medieval setting. Here are the 30 best medieval anime ranging from heroic legend to dark fantasy.
30. Goblin Slayer
Director: Takaharu Ozaki
Writer: Kumo Kagyu
Cast: Brad Hawkins, Yuichiro Umehara, Hayden Daviau
IMDb Ratings: 7.5
Rotten Tomatoes Score: 82
Streaming Platform: Netflix
Probably the first anime series that comes to mind when talking medieval anime series, Goblin Slayer is one of the most popular anime out there in this genre, even though it is a relatively new anime. The main story is similar to that of Attack on Titan or Kimetsu no Yaiba (Demon Slayer); instead, the villains are goblins.
Goblin Slayer shows us a man that has an unfortunate encounter with goblins. They destroy everything he ever loved, from his village to his family. The act sparks hatred in him. The man resorts to slaying goblins, hence his name, the Goblin Slayer. The story set might sound generic, but everything else is stunning. It has garnered its spot as one of the best medieval anime.
29. The Heroic Legend Of Arslan
Director: Noriyuki Abe
Writer: Hiromu Arakawa
Cast: Jerry Jewell, Justin Breiner, Aaron Dismuke
IMDb Ratings: 7.5
Rotten Tomatoes Score:
Streaming Platform: Netflix
Another excellent anime for this age. The Heroic Legend of Arslan shows us the life of Arslan, the crown prince of Pars. He first fights to regain control of Pars after his father falls victim to a plot by his closest in court. Arslan is reunited with his loyal servant, and with a few more companions, he can take back Pars. Arslan is now forced to divide his powers between defending the kingdom and attending to the needs of his subjects.
The Heroic Legend of Arslan is a great show that focuses on battles and the running of a kingdom. If you're into the royal lives of medieval times, I highly recommend The Heroic Legend of Arslan. It is one of my favorite medieval anime. The anime also has a successful video game called Arslan: Warriors of Legend.
28. The Seven Deadly Sins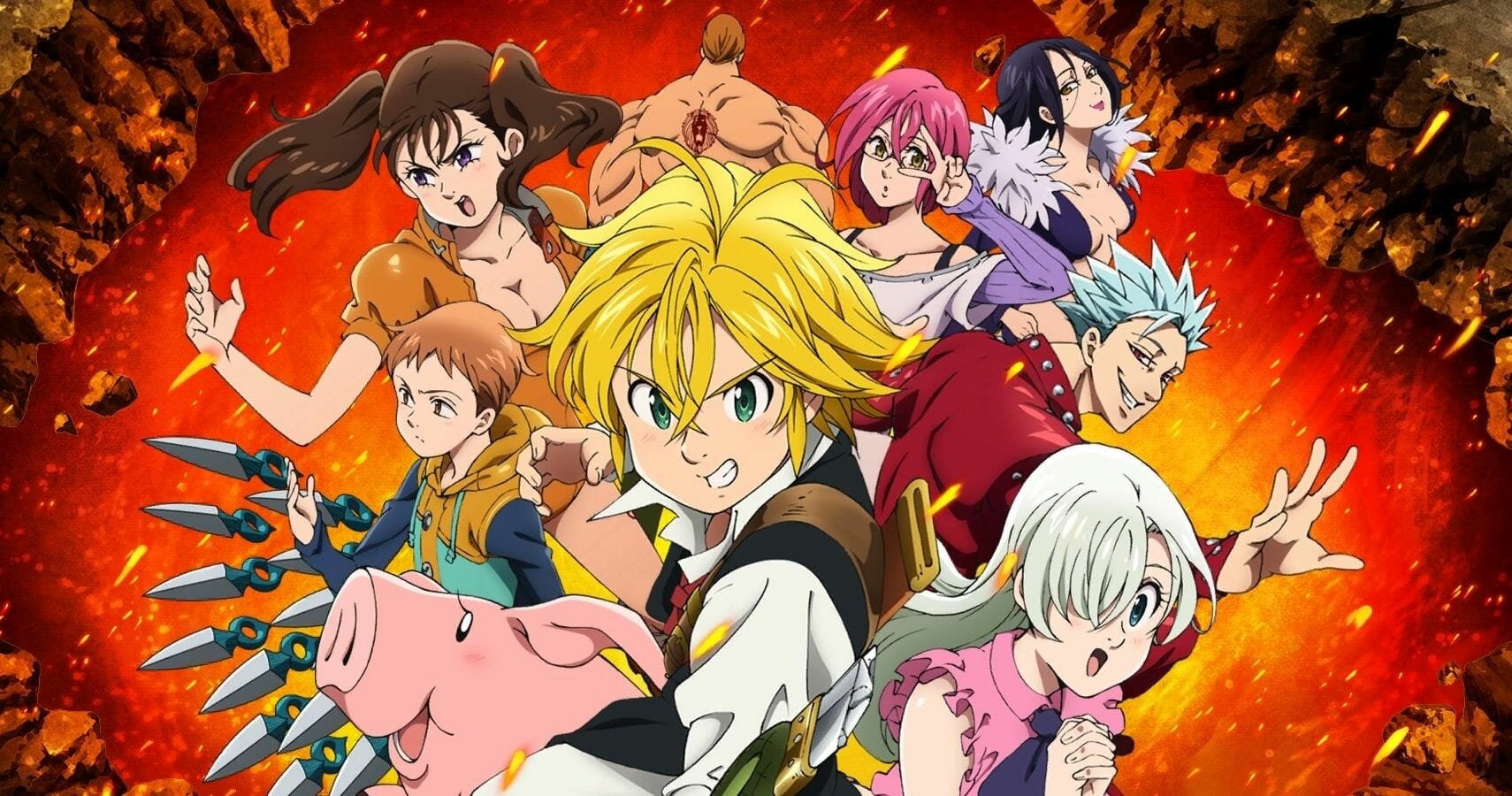 Director: Takayuki Hamana, Noriyuki Abe, Yasuhito Nishikata
Writer: Nakaba Suzuki
Cast: Sora Amamiya, Tatsuhisa Suzuki, Misaki Kuno
IMDb Ratings: 7.9
Rotten Tomatoes Score: 80
Streaming Platform: Hulu
The seven deadly sins is an anime that we cannot go without mentioning. Over the newer seasons, the anime turns gloomy, but as a medieval anime, it is still a perfect one. The story revolves around Meliodas and his friends (the seven deadly sins of Wrath, Greed, Lust, Envy, Pride, Gluttony, and Sloth) and their adventures.
The anime has some decent characters with a typical overpowered main character that can practically never die. His goal is to slay a demon king to regain control of his own life while also trying to save Elizabeth's kingdom, which has fallen into the hands of the Holy Knights. For this, he employs the help of the other deadly sins.
The demon king had set the main character's trials as that of constantly finding the love of his life reincarnated, only for her to die before they get together. Unfortunately, Meliodas still holds on to every reincarnation's memories, which starts breaking him apart. I would recommend Seven Deadly Sins for a decent medieval anime with a touch of ecchi (and not to mention such massive bloodshed in some scenes).
27. Samurai Champloo (An accurate representation of the middle ages)
Director: Shinichiro Watanabe
Writer: Shinji Obara
Cast: Kazuya Nakai, Ginpei Sato, Kirk Thornton
IMDb Ratings: 8.6
Rotten Tomatoes Score: 92
Streaming Platform: Hulu
One of the best medieval anime to be made, Samurai Champloo, is a class apart. It has a classic setting with an accurate representation of the Meiji era. Modern Japan had just come into existence, and feudal Japan was slowly transforming into an industrialized world power.
The anime is held together with a unique art style, a distinct medieval identity, and some thrilling sword fights. Samurai Champloo is some of the best anime in Japanese history. I would highly recommend watching it.
26. Fairy Tail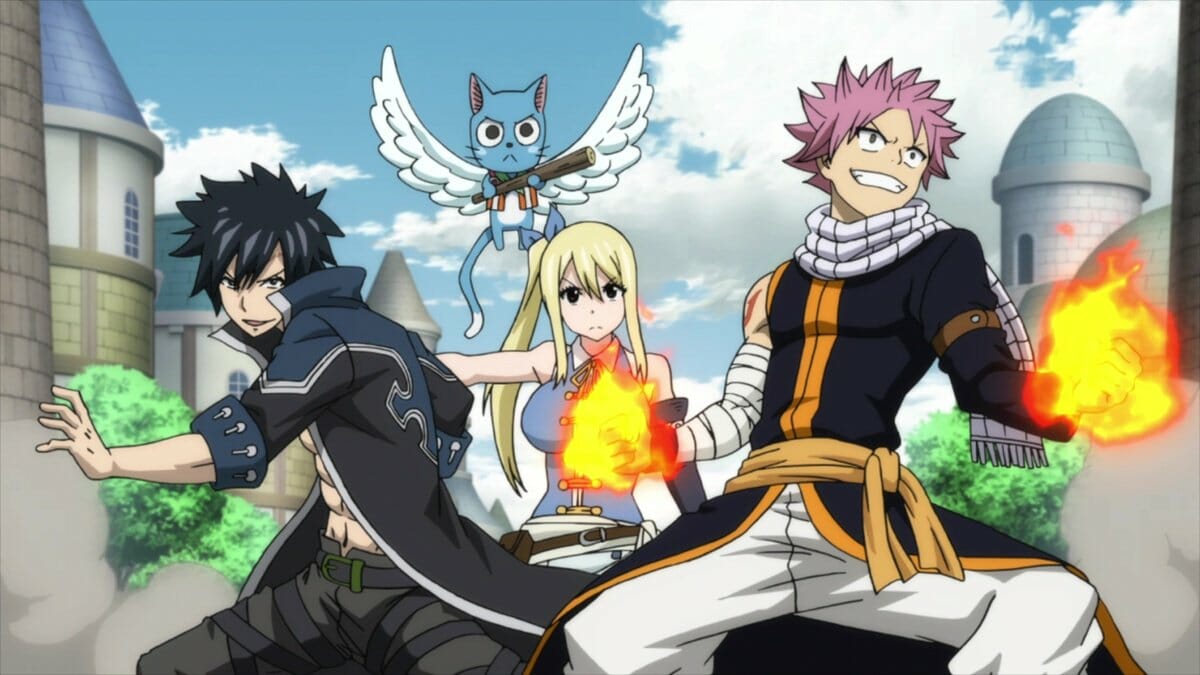 Director: Masaya Fujimori
Writer: Hiro Mashima
Cast: Tobb Haberkorn, Colleen Klinkenbeard, Cherami Leigh
IMDb Ratings: 8
Rotten Tomatoes Score: 68
Streaming Platform: Hulu
Fairy Tail has some of the highest viewerships ever. It deserves to be on the list of some of the best medieval anime because of its excellent story set, unique characters, and stunning visuals.
The fairy tale follows Lucy, an amateur mage who encounters one of the fairy tale members, Natsu, and his flying blue cat of the fairy tale guild. It is on a grueling journey with them in a fantasy world that takes most of its inspiration from medieval fantasy. It draws medieval aspects from many legends and is overall pretty well written. Fairy Tail is a fantasy series based on the middle ages and sure is one that you should watch.
25. Inuyasha
Director: Masashi Ikeda
Writer: Rumiko Takahashi
Cast: Richard Ian Coxx, Monica Stori, Satsuki Yukino
IMDb Ratings: 7.9
Rotten Tomatoes Score: 93
Streaming Platform: Hulu
Inuyasha is about a typical middle school girl named Kagome Higurashi who falls into a well at her family's shrine and finds herself in the Sengoku Period. It is a familiar feudal fairy tale. The anime manages to bring us in contact with many interesting characters. And well, judging from the period, it is a medieval anime.
24. Kingdom
Director: Shinsuke Sato
Writer: Yasuhisa Hara
Cast: Rie Kugimiya
IMDb Ratings: 8.
Rotten Tomatoes Score: 90
Streaming Platform: Crunchyroll
The story is about kingdoms and how they run. It's based on the time of the Qin dynasty and ancient China. It's heavily war-themed with epic battles, melee weapons, and heavy clanky armor. However, it also highlights the political aspects of this time.
23. Record Of Grancrest War
Director: Shinichi Omata
Writer: Ryo Mizuno
Cast: Jeannie Tirado, Lucien Dodge, Erika Harlacher
IMDb Ratings: 7.1
Rotten Tomatoes Score:
Streaming Platform: Netflix
Dark energy has consumed the land of Atlanta with monsters and demons. To protect the people, those bearing the power of the 'crest,' called Lords, must suppress the world's chaos. But as time passed, the Lords got greedy and left the land in ruins while asserting dominance over one another. Among these two people, Siluca, an alliance mage who hated the Lords, and Theo, a young warrior carrying a mysterious crest, set out to bring balance to their land.
22. Yona Of The Dawn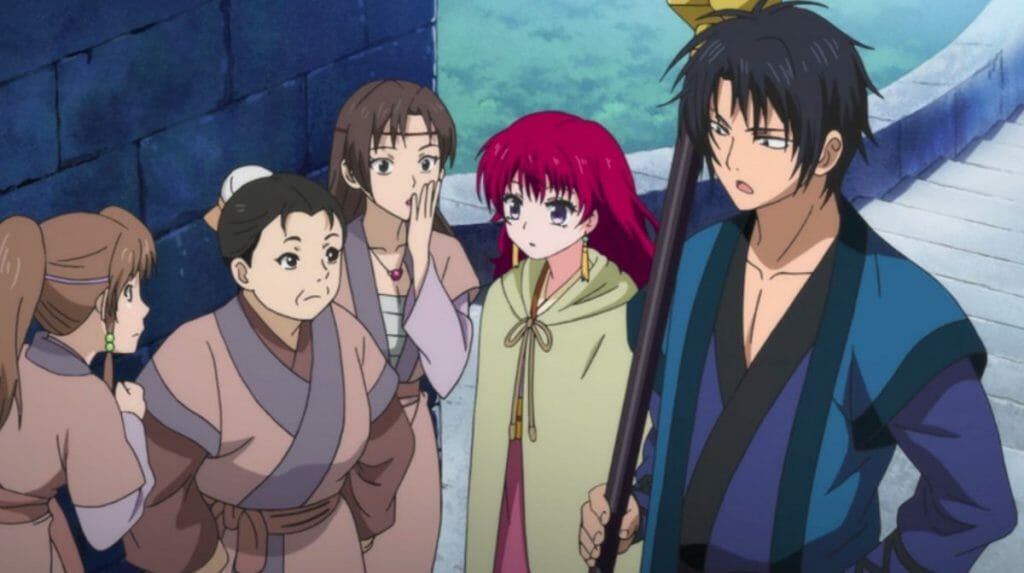 Director: Kazuhiru Yoneda
Writer: Mizuho Kusanagi
Cast: Monica Rial, Chiwa Saito, Tomoaki Maeno
IMDb Ratings: 8
Rotten Tomatoes Score: N/A
Streaming Platform: Hulu
Yona of the Dawn is a story of a princess named Yona. Her kingdom was well off, and she lived a luxury-filled life. However, everything changed after a coup d'état. Her life changed, and she decided to live outside the kingdom. Yona was determined to restore the kingdom to its former self, where the people lived quite happily.
The series has not only adventure and action but also shoujo romance. I would highly recommend you watch it for the fantasy that it has. The show's fans have been eager for a second season for years, but nothing has been confirmed as of yet.
21. Berserk
Director: Naohito Takahashi
Writer: Kentaro Miura
Cast: Sean Schemmel, Marc Diraison, Kevin T. Collins
IMDb Ratings: 8.7
Rotten Tomatoes Score: 88
Streaming Platform: Crunchyroll
Over here, we're talking about the old Berserk. The one was released in 1997. It's pretty old, so don't expect it to be animated to today's standards. The story is about Gut, who is willing to risk his life to kill beasts and demons.
It is catered toward adventure medieval anime fans, and you should give it a shot if that's your thing. The show is ferocious, too, with very few anime being able to match that level. It is one of the best medieval anime.
20. The Beast Player Erin
Director: Takayuki Hamana
Writer: Naoko Uehashi
Cast: Erico Hirata, Nanase Hoshii, Naoya Uchida
IMDb Ratings: 7.6
Rotten Tomatoes Score: N/A
Streaming Platform: Crunchyroll
The Beast Player Erin is about Erin, a young girl who can control fantastic beasts. She is caught in an epic war between two kingdoms. The story is set a complex medieval world, with many fantasy elements and different landscapes and architecture. Beast player Erin also focuses on political themes amid the wars. It is a great anime that's definitely worth watching.
19. Sword Of The Stranger
Director: Masahiro Ando
Writer: Fumihiko Takayama
Cast: Aidan Drummond, Koichi Yamadera, Scott Mcneil
IMDb Ratings: 7.8
Rotten Tomatoes Score: 91
Streaming Platform: Amazon Instant Video
Another movie is set in the Sengoku period. The story is about a boy named Kotaro, hunted by a group of skilled Ming swordsmen. A nameless ronin save his dog Tobimaru and himself.
He initially had no intentions of helping, but the deal sounded sweet when he was offered a gem in return. Unfortunately, medieval times were a lot more straightforward. They later embark on a grueling and dangerous journey.
18. Moribito – Guardian Of The Spirit
Director: Kenji Kamiyama
Writer: Nahoko Uehashi
Cast: Mabuki Andou, Naoto Adachi, Ako Mayama
IMDb Ratings: 8.2
Rotten Tomatoes Score: 56
Streaming Platform: Prime Video
We follow Balsa in this story, who is determined to protect Chagum at all costs. Chagum is the son of the Shin Yogo Empire's emperor. The prophecy said that to save Shin Yogo, the son, Chagum, had to be sacrificed.
This was so because a water demon had possessed him. It was said that the water demon could eradicate droughts. So the emperor had no choice but to sacrifice his son.
17. Rage Of Bahamut – Genesis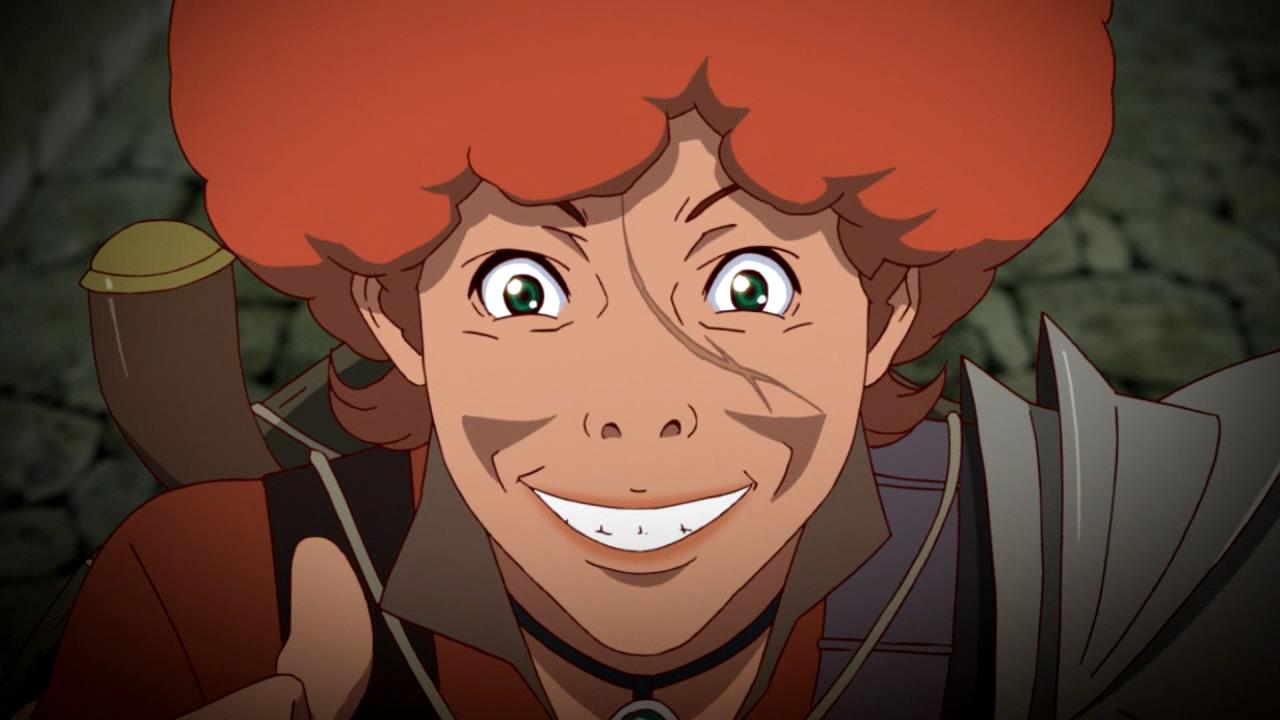 Director: Keiichi Sato
Writer: Keiichi Hasegawa
Cast: Brian Mathis, Christopher Sabat, Risa Shimizu
IMDb Ratings: 7.3
Rotten Tomatoes Score: 65
Streaming Platform: Crunchyroll
Rage of Bahamut takes us on an adventure with a group of improbable heroes caught in the middle of a battle between the gods and the demons. It is set in Mistarcia, a fantasy world where god, humans, and monsters coexist. It has been adapted from a popular card game by MAPPA.
16. Snow White With The Red Hair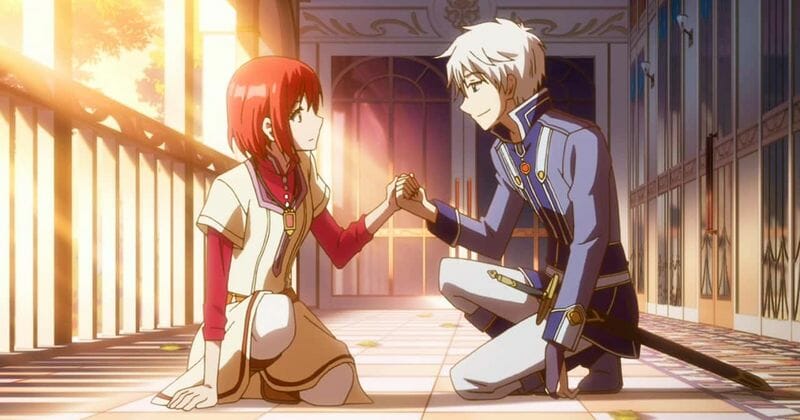 Director: Masahiro Ando
Writer: Sorata Akidsuki
Cast: Josh Grelle,Brina Palencia, Ian Sinclair
IMDb Ratings: 7.7
Rotten Tomatoes Score: N/A
Streaming Platform: Hulu
In the city of Tanbarun, there lived a cheerful owner of a herb shop with red hair named Shirayuki. Unfortunately, she is forced to be the concubine of Prince Raji of the Tanbarun empire.
Unwilling to accept her fate, she cuts her hair and flees to the forest. Here she is rescued by Zen Wistaria, the neighboring kingdom's prince. She returns to Zen's realm to repay him and begins work as a court herbalist.
The story is straightforward, following the life of Shirayuki in a foreign land. The unique part of the anime is the cast of the characters, with likable personalities and some depth to the backstory.
15. Altair: A Record of Battles
Director: Kazuhiro Furuhashi
Writer: Kotono Kato
Cast: Ayumu Maruse, Kenn, Makoto Furukawa
IMDb Ratings: 8.2
Rotten Tomatoes Score: 52
Streaming Platform: Amazon Prime Video
We follow a young Pasha named Mahmut, who fights to seek peace for his country. He starts this because there is a threat of an aggressive empire that will lead to war if nothing is done. He then proceeds to learn more about the ancient world's unwavering truth.
14. House Of Five Leaves
Director: Tomomi Mochizuki
Writer: Natsume Ono
Cast: Takahiro Sakurai, Masaya Takatsuka, Daisuke Namikawa
IMDb Ratings: 7.6
Rotten Tomatoes Score: 32
Streaming Platform: Crunchyroll
Here's another Samurai anime. This time, the character Akitsu is an unimaginably skilled swordsman who does not have anyone he can call master, primarily because of his naiveness.
So, desperate, he vows himself the bodyguard of the leader of a gang called House of Leaves. As this continues, he slowly uncovers the untold truth and deep secrets behind the name "House of Leaves."
The story shows some insane swordsmanship and sword fights aside from its rather creepy art style. If you love Samurais, this anime is for you. It is one of the best medieval anime about samurai.
13. Dororo
Director: Kazuhiro Furuhashi
Writer: Osamu Tezuka
Cast: HIroki Suzuki, Rio Suzuki, Akio Otsuka
IMDb Ratings: 8.3
Rotten Tomatoes Score: 65
Streaming Platform: Amazon Prime Video
Here we follow a samurai named Daigo. When his land was in shambles, he made a pact with the demons to restore his land at any cost. His first son was born with no limbs, eyes, ears, or skin and yet, lived. He was dumped in a nearby river.
A man named Jukai found Hyakkimaru and made him prosthetics and weapons. To get back what was his, he must defeat the demons that took his organs as a sacrifice.
Along the way of his journey, Hyakkimaru meets an orphan, Dororo, who soon joins him in his adventure. The story perfectly shows Hyakkimaru's struggle to regain what was originally his. Although it doesn't have the best animations, the story still holds up for it.
12. Guin Saga
Director: Atsushi Wakabayashi
Writer: Kaoru Kurimoto
Cast: David Wald, Emily Neves, Blake Shepard
IMDb Ratings: 6.6
Rotten Tomatoes Score: N/A
Streaming Platform: Crunchyroll
The kingdom of Parros has been invaded and taken over by the Mongol armies. The king and queen were slain. However, the prince and princess escape the place with a strange device hidden in the kingdom. On their escape, they encounter a weird man with a leopard head.
Intrigued? Good. It is a perfect anime with a gripping story. Set in medieval times, it sure does hit differently. Unlike stories with traditional Disney princesses, we see a completely different character in the form of a half-leopard.
11. Claymore
Director: 
Writer: Norihiro Yagi
Cast: Cherami Leigh, Anastasia Munoz, Caitlin Glass
IMDb Ratings: 8
Rotten Tomatoes Score: 100
Streaming Platform: Hulu
Claymore garnered fame for its gripping action and adventure. The story is about Raki, a boy who lives peacefully in a village. One day, a beast attack the town, and his family is killed. A gang of women infused with demon blood dedicates their lives to killing the demons and saving humanity.
They are called Claymores. Raki is protected by one of them, and since he has nowhere to go, he decides to follow her down her dangerous path.
10. The Twelve Kingdoms
Director: Tsuneo Kobayashi Hikari Kurihara 
Writer: Fuyumi Ono
Cast: Wendee Lee, Mari Devon, Mela Lee
IMDb Ratings: 8
Rotten Tomatoes Score: 78
Streaming Platform: Amazon Prime Video
The story follows Youko, a young high school girl who doesn't fit in with the class. One day a man claiming to be from another world named Keiki enters her class. They have a very brief meeting as beasts are chasing him.
To cut the story short, Youko and two of her classmates get trapped in the whole mess and are dragged into Keiki's world. Somewhere along the way, they are separated from Keiki and now have to live in a world with kingdoms and wars. Twelve Kingdoms is another excellent anime I consider one of the best medieval anime.
9. Tears Of Tiara
Director: Tomoki Kobayashi
Writer: Toko Machida
Cast: Makoto Ishii, Toru Okawa, Yuko Goto
IMDb Ratings: 6.4
Rotten Tomatoes Score:
Streaming Platform: Hulu
The story is about Riannon, the priestess of a small island ruled by the Gael tribe. With the Holy Empire's power growing daily, Riannon's small island also falls under his control. Riannon is later kidnapped and offered as a living sacrifice to the demon Arawn. Under the circumstances, Arawn will flip sides and join Riannon and the Gael tribe. They work as a team to fight back against the Holy Empire.
8. Spice And Wolf
Director: Takeo Takahashi
Writer: Hisuna Hasekuna
Cast: Mia Nakahara, Daisuke Namikawa, Ami Koshimizu
IMDb Ratings: 7.9
Rotten Tomatoes Score: 52
Streaming Platform: Hulu
Spice and Wolf is a medieval anime with relatively no action. Instead, it mainly focuses on the main characters and their relationship. Holo, a powerful wolf deity, has been left out by a village with her business partner Lawrence, a traveling merchant. Spice and Wolf see the characters travel together, and their relationship slowly turns romantic.
Spice and Wolf keep to the more economic genre. However, if you're a not so drama ridden anime enthusiast, spice and Wolf are definitely for you, as it is one of the best medieval anime in that genre. It is one of those wholly animated anytime-watch shows.
7. GATE
Director: Takahiko Kyogoku
Writer: Takumi Yanai
Cast: Mamoru Miyano, Kana Hanazawa, Yukari Tamura
IMDb Ratings: 7.5
Rotten Tomatoes Score: 46
Streaming Platform: Hulu
The gate is an action adventure with fantasy elements. It follows a group of soldiers trying to get by in a dangerous and different world in medieval times. This all happened because a gate opened in the middle of Tokyo, and beasts and demons from the middle ages broke through and started on their rampage.
The government decides to take control and sends a small group of soldiers from the Japanese Self-Defense Force to the other world beyond the gate.
6. Record Of Lodoss War
Director: Koichi Chigara
Writer: Ryo Mizuno
Cast: Bill Timoney, Lis Ortiz, Ted Lewis
IMDb Ratings: 7.6
Rotten Tomatoes Score:
Streaming Platform: Funimation
In the past, Lodoss had suffered from a never-ending war. After a long time in a grueling war setting, peace is finally found. But, after the taste of peace is felt, evil starts bringing more trouble. A group of six young champions, led by Parn, stand before the looming threat.
5. Grimgar Of Fantasy And Ash
Director: Ryosuke Nakamura
Writer: Ao Jyumonji
Cast: Fukushi Ochiai, Haruka Terui, Chika Anzai
IMDb Ratings: 7.4
Rotten Tomatoes Score:
Streaming Platform: Hulu
A group of people is said into a fantasy world in the medieval period. They retain nothing but their names. To survive, they are forced to take the only paying job in the realm as part of the forces of the Reserve Army. Their task is to eliminate monsters and demons that plague the world's peace.
It doesn't have the classic medieval-style beginnings, but an isekai is always appreciated. What keeps people watching Grimgar is not that it's a fantasy anime but the characters' development and genuine emotions.
4. The Time I Got Reincarnated As a Slime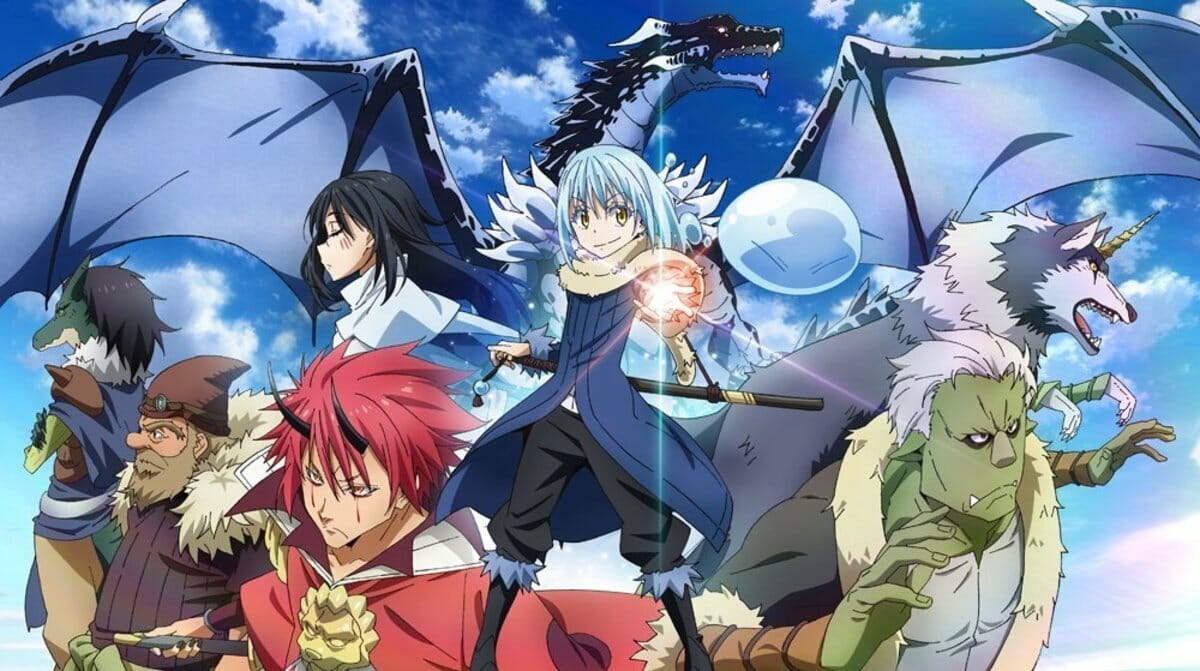 Director: Yasuhito Kikuchi
Writer: Fuse
Cast: Miho Okasaki, Takuma Terashima, Takuya Eguchi
IMDb Ratings: 8.1
Rotten Tomatoes Score: 92
Streaming Platform: Netflix
The story is action-adventure, primarily isekai. But it borrows enough from medieval times to warrant it being on the list. When it was announced, I thought they had run out of ideas for anime.
The title doesn't sound all that appealing. But the story is pretty good. A guy named Satoru is reincarnated as slime and names himself Rimuru Tempest. The story follows the adventures of Rimuru as he tries to free the storm dragon Veldora.
3. King From Now On!
Director: Junji Nishimura
Writer: Tomo Takabayashi
Cast: Yuri Shibuya, Conrad, Wolfram von Bielefeld
IMDb Ratings: 7.5
Rotten Tomatoes Score:
Streaming Platform: 
A regular teenage boy named Yuri is said to be from another world. Here he was chosen demon king because of certain physical traits that only the demon king's lineage was known to possess.
At first, he is not seen fit to rule, but when he wins his first duel with all his magical power, he is finally accepted as a demon king. His job is to balance the world where demons and humans coexist.
The Top Picks
Here are two of the top picks for the best medieval anime. They are the "Best for last" type of anime. The others were ordered based on personal taste, so there might be some controversy, but I don't think there will be any with these two.
2. Vinland Saga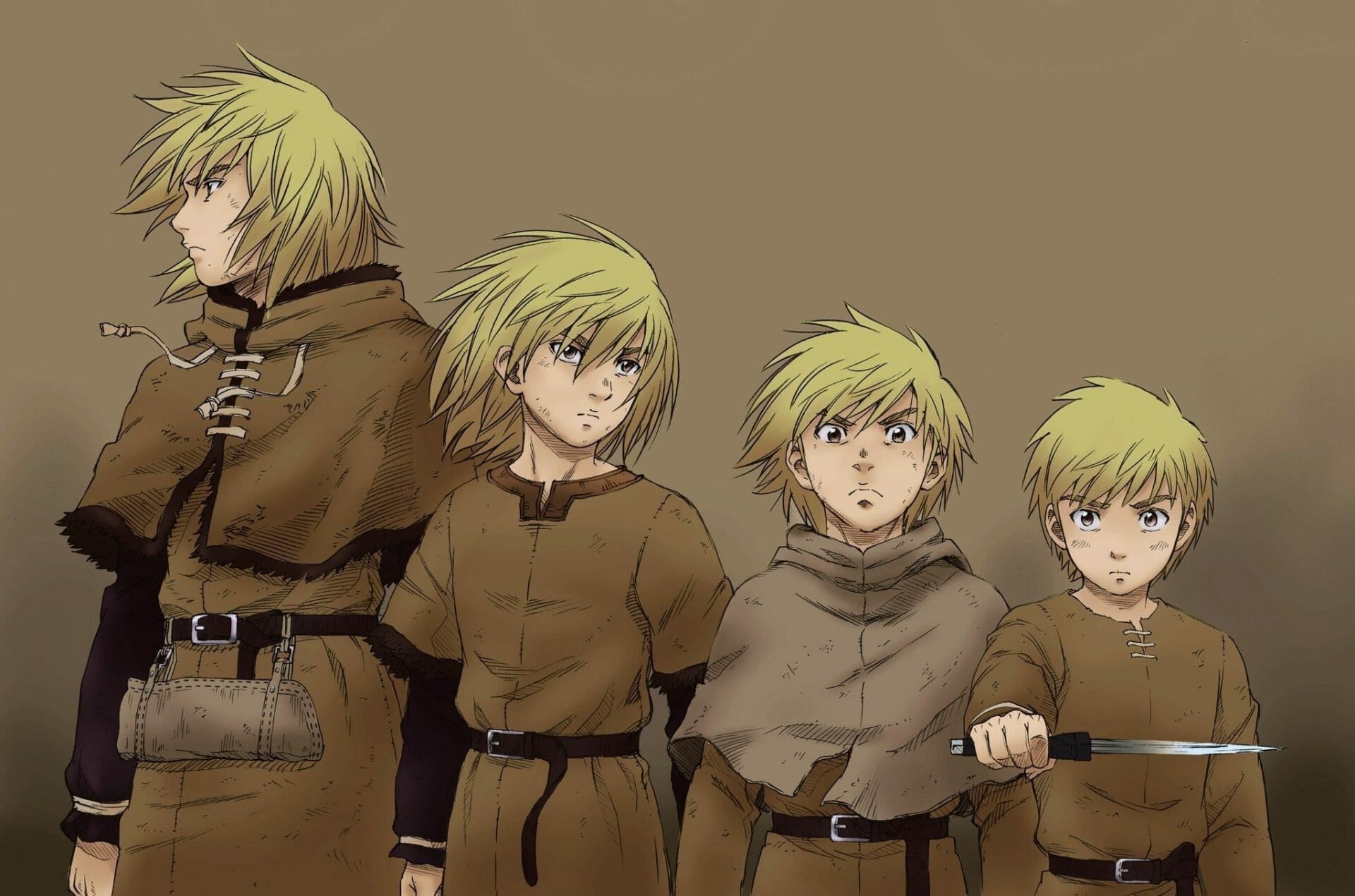 Director: Shuhei Yabuta
Writer: Makoto Yukimura
Cast: 
IMDb Ratings: 8.8
Rotten Tomatoes Score: 89
Streaming Platform: Netflix
Vinland Saga is the perfect medieval anime. It has an epic medieval story with Vikings at the front of it. WIT Studio did a great job with this one. The tale of the Vinland Saga is one that everyone enjoyed. The animations were terrific. The hype for the Vinland saga was well-placed, and the show hit. Make sure to watch Vinland Saga, as it is one of the best.
1. Attack On Titan
Director: Yuichiro Hayashi, Tetsuro Araki, Shinji Higuchi
Writer: Hajime Isayama
Cast: Bryce Papenbrook, Yuki Kaji, Trina Nishimura
IMDb Ratings: 9
Rotten Tomatoes Score: 95
Streaming Platform: Hulu
There needs to be no introduction to what is considered one of the best anime. It is one of the most popular ones too. The story follows Eren Yeager, who inherits the power of one of the nine titans.
The series is still ongoing, with the second part of the fourth and final season due to air in the winter. An all-around great series with stunning character development, animations, voices, and story. It is an absolute Must Watch for you anime lovers.
So here's a list of the 30 best medieval anime. I hope the list was extensive enough, and you may have found an anime or two to watch. This list proves that anime has a lot to give in every genre. To protect the ones you haven't, as they are all stunning.