Rick and Morty is an American animated series falling under the genres of Animated sitcom, science fiction, black comedy, and adventure. It has been fabricated by Justin Roiland and Dan Harmon and distributed by Warner Bros. Television Distribution. Another fact it is popularly known for is its so-called "Rick and Morty Quotes."
The series was released on 2nd December 2013 and have released five seasons to date. Rick and Morty are all about the adventures of Rick Sanchez and his grandson Morty Smith who embark on new absurd adventures on a daily basis that are both exciting to watch and intriguing, making the audience crave for more.
To know how witty and comic the series is, you need to watch the series and go through a number of dialogues to get an idea about the show. Read this article to know some best conversations in this show.
Some popular quotes in Rick and Morty that are still loved, remembered, and used are as follows:
Famous Rick and Morty quotes
15. What, So Everyone's Supposed To Sleep Every Single Night Now?
Rick Sanchez has the perfect answer every time and for everyone. When Summer scolds Morty for being out all night along with Rick, Rick Sanchez comes to his rescue and says the above-mentioned statement and brilliantly establishing his character. Isn't it a good thing to spend more time on scientific things than sleep?
This might seem like a mere humorous dialogue, but it has a lot of weight in itself as well.
14. It hits hard, Morty, then it slowly fades, leaving you stranded in a failing marriage.
This quote, as said by Rick Sanchez, is both true, hard to accept, and somehow misleading as well. He tells Morty that what people call love is nothing but a mere chemical reaction that compels animals to breed, but with the passage of time, it all fades away.
It might be true, but for some, as for Rick Sanchez but telling the statement and letting others believe it is not worth it.
13. Pickle Rick: Because I don't respect therapy. Because I'm a scientist.
Mad scientist Rick Sanchez says the quote as he turns himself into a pickle and does his best to avoid family therapy. He fails to visit Dr. Wong and finds himself sitting before him one day by the end of the episode. Therein starts a conversation between the scientist and therapist that is full of wit and humor.
This episode, as well as the conversation, was great, and if you have missed watching it, you must do it now.
12. Yeah Sure, I Mean If You Spend All Day Shuffling Words Around You Can Make Anything Sound Bad, Morty
By saying these words Rick Sanchez means that handing over the gun to Krombopulos Michael is equivalent to not doing anything. He also gives a powerful statement by saying these words, especially to Morty. He conveys that if he wants to assassinate someone, no one can actually do anything about it, so his actions don't make much difference.
Such statements are true as well as iconic as it reflects the perfect meaning and understanding of some thoughts that everyone has at once in their life at least.
11." Rick: I'm not a beaver who believes in Jesus Christ, Morty…but yeah it's pretty much a Narnia thing.
In this episode, the audience sees how the introduction to the wine portal eventually poses a huge problem for Morty. This is also a point where Rick Sanchez once again insults Morty's action but eventually agrees with him. It has been many times now, so it is not all new.
This is a famous quote from Rick and Morty, and the audience who has watched all the episodes must be well knowing why.
10. Sometimes Science Is More Art Than Science, Morty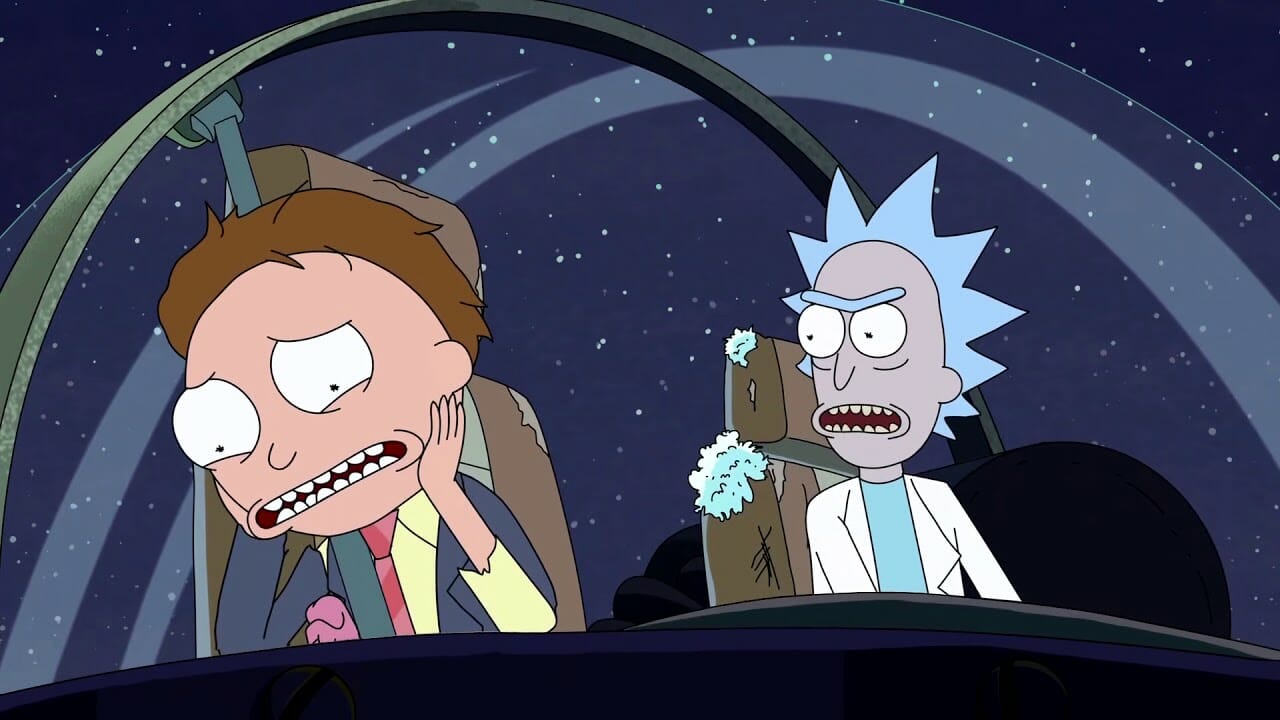 The words get spoken by Rick Sanchez when his potion gets awry and create undesired results. The effects are actually horrible, and the duo is forced to move to another dimension. It might seem to be a paradox but it actually does make sense.
Science is basically a series of attempts and results which might have errors in it as well.
9. Rick "It's funny to say they are small. It's funny to say they are big." — Shrimply Pibbles "God's turning people into insect monsters, Beth
Jerry is now tensed, having his manhood detached and given away for science for the change of heart for Shrimply Pibbles. He is reluctant to part with his asset, and an old alien comes to explain the simple terms of humans.
This line can be categorized as funny, but it's the true segment.
8. I Wouldn't Lie to you. Well…That's a lie
This episode shows how a group of smiths is trying to kill each other and know whether or not they are decoy families fabricated by the original Rick Sanchez. One of the several families takes a vacation, but Rick finds out that it won't work, and Morty doubts his motives. The main motive of this episode is to show how Rick is self-aware and catches himself in his own lies, and he tries to comfort Morty.
7. Summer: So what if he's the Devil, Rick? At least the Devil has a job. At least he's active in the community.
The episode depicts that Summer realizes that her job at the pawnshop is nothing but Lucifer's market of cursed goods. Her family tries to tell her about the Boss' ill intentions, but she does not listen.
She states somehow that she is a lot like Rick Sanchez and prioritizes function over morality, which Rick also does during his questionable scientific work.
6."To live is to risk it all; otherwise, you're just an inert chunk of randomly assembled molecules drifting wherever the universe blows you…"
Summer and Morty go through some emotional turmoil during their parents' separation. And as expected, Rick Sanchez comes to be vocal about the pointlessness of it all when Jerry comes in as well. He says that we all randomly assembled molecules drifting through life beset by external forces outside of our control.
Rick has always been practical, vocal, and more into logic than emotion, and this statement is one of those.
5."Honey, stop raising your father's cholesterol so you can take a hot funeral selfie."
This line gets spoken in the 4th season of Rick and Morty, and the season itself was a funny one that intensifies with the progress of the plot. The scene takes place while the Smiths are having dinner. Beth says these words and makes the scene all more comic, accompanied by several other hilarious exchanges.
4."To pass butter".
Rick and Morty are full of witty and humorous dialogues, and this one is one of those conversations that take place in the first season's 9th episode. When a robotic mechanism asks what his purpose is, Rick says, "to pass the butter," to which the robot replies, "Oh my God," and Rick says, "Welcome to club pal."
Rick tries to say this is his worth and this is his purpose. It is nothing but a mere depressing dose of philosophy.
3. Beth: He's not a hot girl. He can't just bail on his life and set up shop in someone else's.
This line is basically an idiom which means that he can't just give up on or abandon his life. Rick and Morty are full of witty quotes and conversations, and this is one of such which does not have a proper idea of its own, but this idiom fits the plot and conversation perfectly and hence is being used.
If you want to know more about it, you need to watch the episode overall and get its meaning.
2. What People Call "Love" Is Just A Chemical Reaction… "Listen, Morty, I hate to break it to you, but what people call "love" is just a chemical reaction that compels animals to breed
When Morty asks Rick Sanchez to give him a potion so that his girlfriend Jessica might fall for him, Rick says these words. Being engrossed in science so much that he relates almost everything with chemicals and reactions, and so does with the art of love.
Rick Sanchez is more into logic than emotion and thus wants to make Morty like him as well.
1. Rick: Listen, I'm not the nicest guy in the universe because I'm the smartest, and being nice is something stupid people do to hedge their bets
This statement states how Rick Sanchez thinks of himself and believes that he needs none in his life since he is nice and smart, so it does not matter who stays with him or who leaves him.
Humans are social beings and need someone to live with, but this scientist seems quite out of the world and believes he is capable of doing everything on his own.
Other Rick And Morty famous quotes:
Hey, muchacho, does your planet have wiper fluid yet, or are you gonna freak out and start worshipping us?
Rick: So I have an emo streak. It's part of what makes me so rad
Mr. Nimbus: Say goodbye to your precious dry land, for soon it will be wet!
Summer: You're the little brother. You're not the cause of your parents' misery; you're just a symptom of it.
"What, so everyone's supposed to sleep every single night now? You realize that nighttime makes up half of all time?"
Rick: I'm sorry, but your opinion means very little to me.
Ooh yeah, shame me. At least when I'm disgusting, it's on purpose." — Summer Smith
Rick: What about the reality where Hitler cured cancer, Morty?
"Great dancing as always, Tiny Rick."
Rick " Weddings are basically funerals with a cake."
Rick "Don't get drawn into the culture, Morty. Stealing stuff is about the stuff, not the stealing.
If you really love the show, you must look at the above-mentioned quotes as well.
Ratings of Rick and Morty
IMDb: 9.2/10
Rotten Tomatoes: 94%
Common Sense: 4/5
You can watch the show anytime on Netflix.
The series of Rick and Morty has been a fabulous one throughout the course of time and the audience has always loved the dialogues, characters, experiments, and the journey of the grandfather with his grandchild. If you have not watched the show, start watching it now and the rating itself hints that the show is worth watching.
For more such news and updates or series, start following us from now onwards, and be sure to get relevant results.