Rocky, as you know, is a famous movie sports drama franchise created and developed by none other than Sylvester Stallone. The beginning of the franchise was from the movie named Rocky, which was released on 1976 November 21.
The movie was directed by John G. Avildsen and was written by Sylvester Stallone. The original movie contained stars Talia Shire, Sylvester Stallone, Burt Young, Carl Weathers, and Burgess Meredith. The running time of the movie is 119 minutes, and is produced by Irwin Winkler and Robert Chartoff.
The plot of the first franchise was about an uneducated man named Rocky Balboa, who is a part-time club fighter and debt collector. And then gets a chance to fight world heavyweight champion Apollo Creed in the world heavyweight championship. He takes on the toughest challenge of his life to gain respect and glory.
The ratings of the movie are amazing, 8.1 on IMDb and 91% on Rotten Tomatoes. The movie also won many awards, including Academy Award for Best Picture, Academy Award for Best Directing, Academy Award For Best Film Editing, Golden Globe Award for Best Motion Picture, and many more.
With the help of this movie, Sylvester Stallone became a superstar, and everybody started following him. And he then started making more Rocky movies in a series.
And the sequence of the series is Rocky (1976), Rocky II (1979), Rocky III (1982), Rocky IV (1985), Rocky V (1990), and Rocky Balboa (2006), and all the films remain successful in the box office and all over the world.
Then they also made spin-offs of the movies and named them Creed (2015), Creed II (2018), and Creed III, which is officially announced to be released on November 23, 2022.
Below are the famous Rocky movie quotes which will inspire you to do more hard work and to be more disciplined. And the order of the quotes is according to the release year of the movies.
1."Going in one more round when you don't think you can. That's what makes all the difference in your life." – Rocky Balboa
This quote is from the movie Rocky IV, which was released on November 27, 1985. The director of the movie is Sylvester Stallone, and is around 91 minutes in length.
The main leads in the movie are Sylvester Stallone, Carl Weathers, Talia Shire, Dolph Lundgren, and Burt Young.
The main special thing about this quote is that Rocky Balboa said this quote to his son in his fourth Rocky movie. And the meaning of the quote is that even if everything fades away, if you got one chance, then don't waste it; give it a try, and that will surely make a difference in your life.
It will open paths for new opportunities, new chances, and a good life. You will never know the benefits of something if you will not try it.
2."Now, if you know what you're worth, then go out and get what you're worth. But you gotta be willing to take the hits and not point fingers saying you ain't where you wanna be because of him, or her, or anybody. Cowards do that, and that ain't you. You're better than that." – Rocky Balboa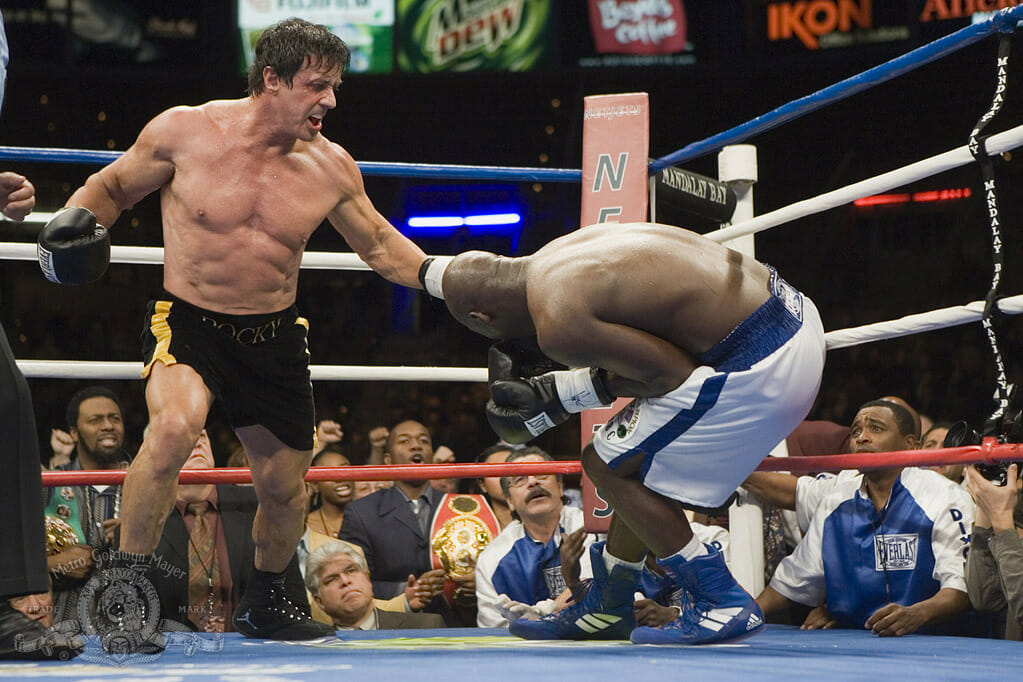 This quote is from the movie Rocky Balboa which was released in 2006 and it is one of the best movies from the Rocky movie franchise.
The above quote is from the scene between Rocky Balboa and his son. They were arguing about how Rocky's life was affecting his son's life. And during that, Rocky said to him that pointing fingers at others won't help you; instead of that, focus on yourself.
He also told him that if you're worthy of something, you will achieve that no matter what, but for that, you just need to do hard work, and if life hits you, you gotta hit harder. And only cowards blame others for their loss, and you are not that.
And during that scene, the audiences feel his every word, and it hits really hard as it is just pure truth about people's behavior and their actions. It also made us realize to do self-analysis and improve ourselves to become what we want because it is not that easy.
3."Let me tell you something you already know. The world ain't all sunshine and rainbows. It is a mean and nasty place, and it will beat you to your knees and keep you there permanently if you let it. You, me, or nobody is gonna hit as hard as life. But ain't how hard you hit; it's about how hard you can get hit and keep moving forward. How much you can take and keep moving forward. That's how winning is done." – Rocky Balboa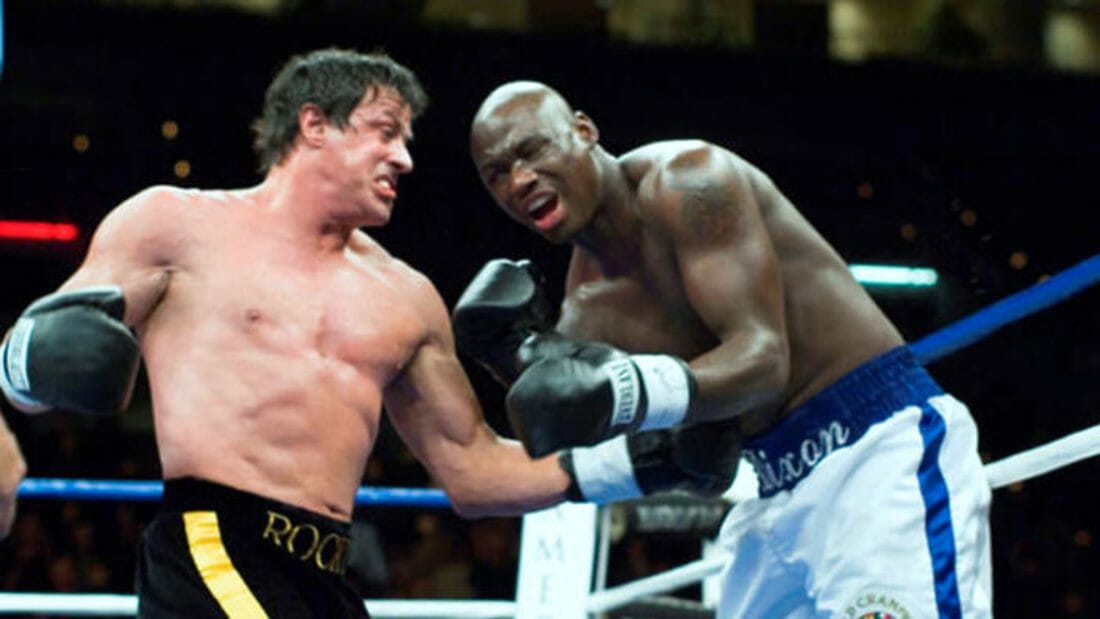 The movie Rocky is full of optimism and excitement. It will never demotivate you, even if you are facing the hardest circumstances in your life.
And all these Rocky quotes show the hard-working and optimistic Rocky Balboa. And in the quote, Rocky is saying that the world is not only a fairy tale but a war zone.
In which you have to fight because there are many people who will pull you back, but you should be tough enough to push them back and move on.
You will not find everything good in your life because life is nothing but a cycle of struggles, and how you overcome those struggles is what makes you unique.
Therefore you should not give up on any situation, and you should try hard to get what you want till your last breath. And all this hard work will lead you to a wonderful life.
4."Every once in a while, a person comes along who defies the odds, who defies logic, and fulfills an incredible dream." – Rocky Balboa
This famous line is from the movie Rocky III. And this line was said by the Mayor to Rocky during a surprise gathering.
And in that scene, the Mayor compliments Rocky for his dedication and hard work. The meaning of the line is that a person who fights odds or evils and analyses every logic of his or her life is a person who is unique.
A person should be focused and relaxed. And should keep patience till he achieves his or her dream. Because without patience, there is nothing you can achieve in your life.
Rocky is one of them, who does not quit anything, even if the situations are worst, and he tries every ounce of his breath to get what he wants with patience.
5." Because if you're willing to go through all the battling, you got to go through to get where you want to get, who's got the right to stop you? I mean, maybe some of you guys got something you never finished, something you really want to do, something you never said to someone and something…. and you're told no, even after you paid your dues? Who's got the right to tell you that, who? Nobody! It's your right to listen to your gut; it ain't nobody's right to say no after you earned the right to be where you want to be and do what you want to do!" – Rocky Balboa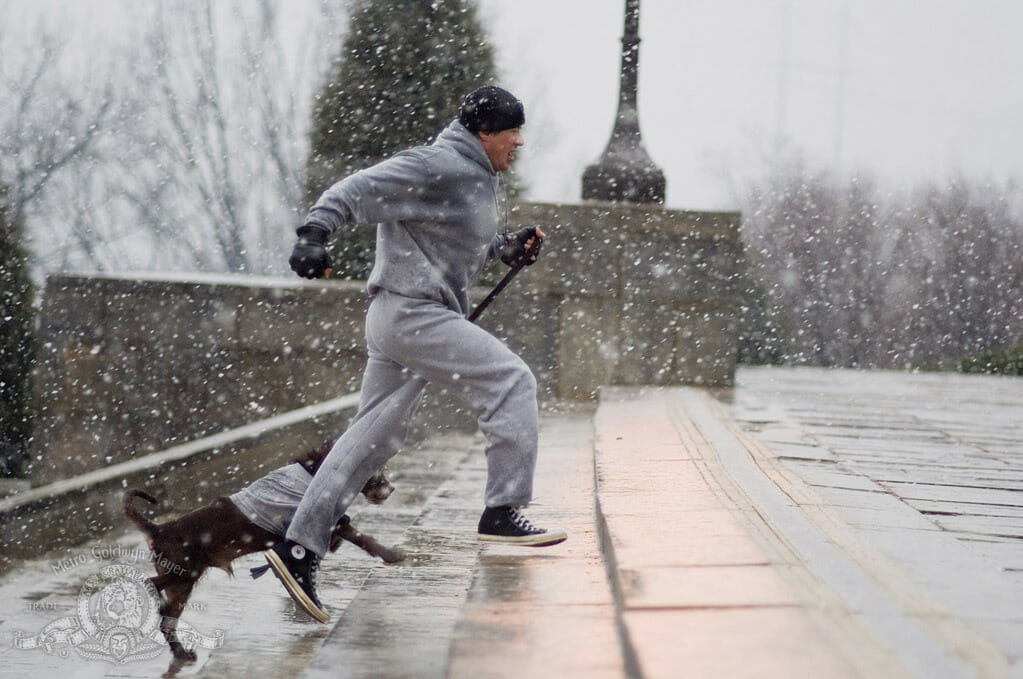 Sylvester Stallone has faced many challenges in achieving his goal and his true fan base. And the Rocky Balboa movie is one of them.
He proved himself as the best sportsperson, stuntman, director, and actor. And kept on working hard to gain more achievements, and all this makes him a true legend. That's why people respect him.
Sylvester Stallone pitched this dialogue in his speech to the sports commission when the Pennsylvania sports commission didn't provide him with a boxing license even though he excelled in all their exams. Still, Rocky didn't quit and fight back.
And the statement's meaning is that nobody has the right to stop you from doing what you dream of and cannot stop you from your desired goal.
6."I wanna kiss ya. You don't have to kiss me back if ya don't wanna. I wanna kiss you." – Rocky Balboa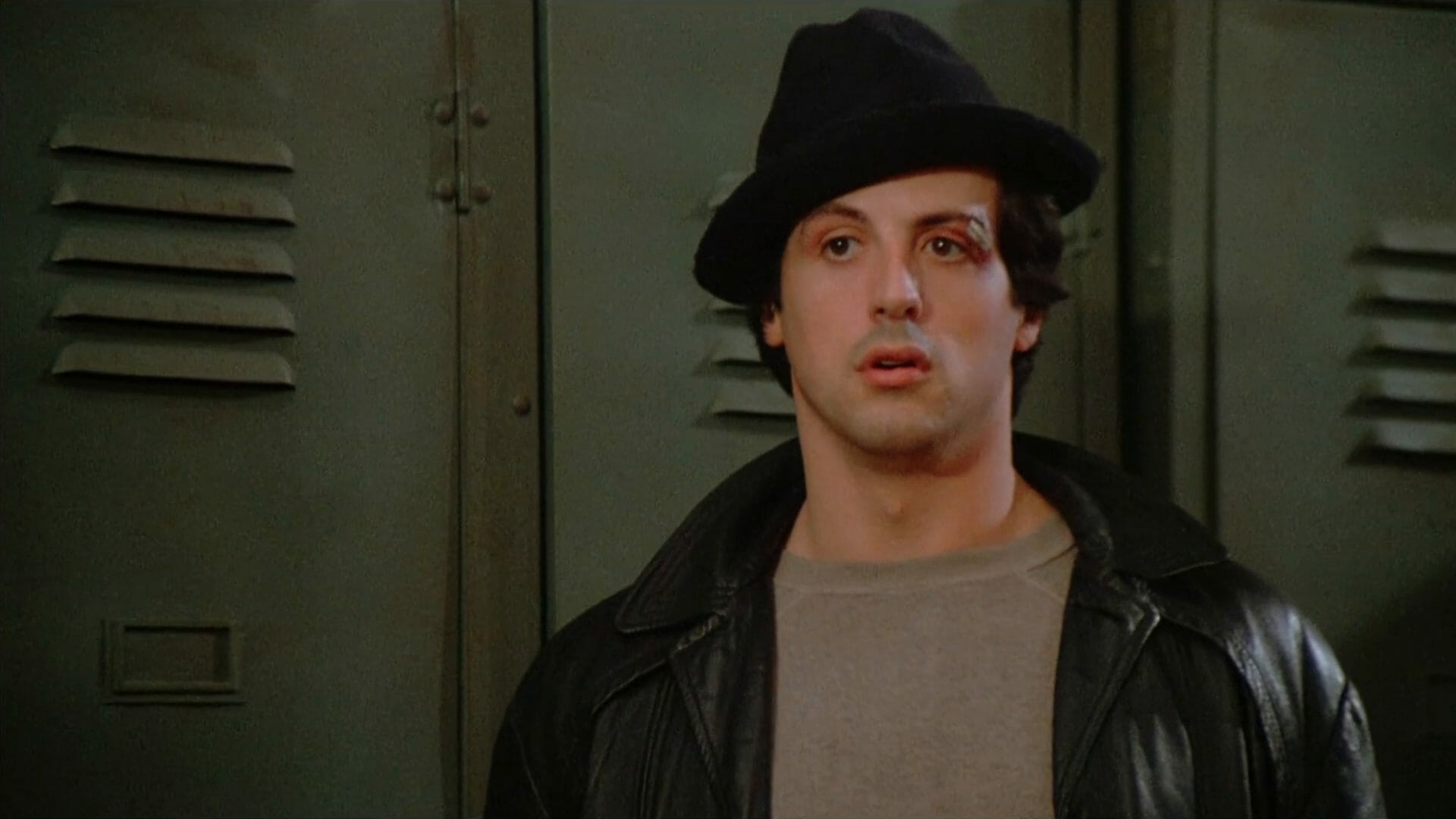 This is a beautiful dialogue from the movie Rocky (1976). And the scene is of Rocky's first kiss with his girlfriend, Adrian.
This innocent dialogue from innocent Rocky became sensational for many couples around there. He expressed his love in a very subtle way, and his love got accepted by Adrian, and they both kissed each other.
7."If this is something you wanna do, and if this is something you gotta do, then you do it. Fighters fight." – Rocky Balboa
This is another mind-blowing quote by Rocky from the movie Rocky Balboa. Rocky stated the quote in one of his speeches. The meaning of the quote is that fighters never back down from their situations. If they want to do something, they do it even if the situation is the worst.
Because trying will make you successful, and not trying will make you a fool. If you fail, try again until you reach your goal because it will give you happiness and satisfaction.
And you will develop confidence and faith in yourself. A faith that will never go and a confidence that will make you tougher than others. And this is a fighter's life.
8."I don't know if you're special. Only you are going to know that." – Rocky Balboa
This quote is from the movie Creed, which was released in 2015. The director of the movie is Ryan Coogler, and it was released on November 27, 2015.
The movie showed Rocky Balboa as the coach of the movie's main character, Adonis. The movie contained so many motivational scenes and was full of inspiration.
The stars in the movie are Michael B. Jordan, Sylvester Stallone, Tessa Thompson, Tony Bellew, Phylicia Rashad, Andrew Ward, Gabriel Rosado, Wood Harris, and Jacob Duran. The ratings of the movie are also good, 7.6 on IMDB and 95% on Rotten Tomatoes.
The quote is from the scene where Rocky Balboa is training Adonis, and he is not focused; then Rocky tells him, that I don't know what you are capable of because you only know that. And nobody can tell you this. You just have to be focused and do what you love.
9." I just want to say hi to my girlfriend, OK? Yo, Adrian! It's me, Rocky." – Rocky Balboa
Rocky stated this statement during a conference with the press. And he expressed his love for his girlfriend Adrian by saying to her, "Yo Adrian, it's me, Rocky," in front of the whole national television, which showed his innocence and character.
10." Remember, the mind is your best muscle. Big arms can move rocks, but big words can move mountains." – Rocky Balboa
The world applauded when Rocky Balboa said this quote. Because this quote has a deep meaning that Muscles are temporary; what you say and what you do after that is permanent.
So, think twice before you utter anything from your mouth because the words you choose show your character.
11."You ain't so bad, you ain't so bad, you ain't nothin'. C'mon, champ, hit me in the face! My mom hits harder than that!" – Rocky Balboa
This quote is from the movie Rocky III, which was released on May 28, 1982, in the United States. This movie contained so much melodrama that it didn't play well at the box office, and people didn't like it much.
But the movie was motivational and contained so many inspirational quotes. And the above quote is from the fighting scene between Rocky Balboa and Clubber Lang.
When Rocky provokes Lang to punch him in the face, thus making him restless and hyper. In this quote, he is making fun of the fighter by saying that his punch is not that hard, his mother hits harder than that, and he cannot defeat him with that. The lead cast of the movie is Sylvester Stallone, Mr. T, Talia Shire, Burgess Meredith, and Carl Weathers.
12."I am not the richest, smartest, or most talented person in the world." – Rocky Balboa
This is one of the famous Rocky quotes by Rocky Balboa. In which he explains that he is not the richest, smartest man, but what he achieved is the result of his hard work and consistency.
He kept moving forward even if the path was not clear and many hurdles were waiting for him. And he succeeded.
13."You see this guy staring back at you? That's your toughest opponent. I believe that's true in the ring, and I think that's true in life." – Rocky Balboa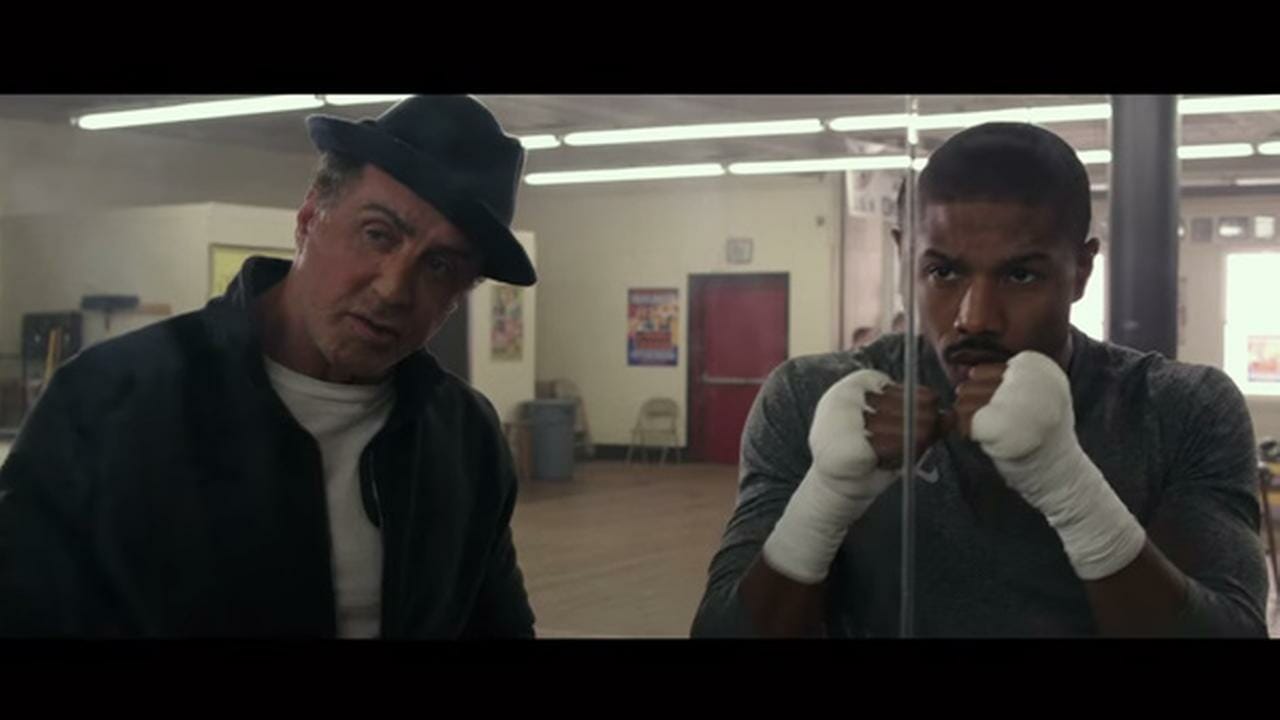 This dialogue is from the movie Creed. And it is from the scene when Rocky is training Adonis, and during that, he takes Adonis in front of a big mirror and says, "Your opponent is nobody but you."
This means that no one can move you forward if you step back from your own. Therefore we should try everything and should not fear losing anything.
Because if we do not try, then we will never get to experience anything or learn anything.
14."I believe there's an inner power that makes winners or losers." – Rocky Balboa
This quote by Rocky Balboa means that everything depends on your willingness. If you have inner power and you are willing to win, you will win. And if you have already planned to lose from the inside, then you will surely lose, and nobody is responsible for that except you.
15."Cause all I wanna do is go the distance. Nobody's ever gone the distance with Creed, and if I can go that distance, you see, and that bell rings, and I'm still standin', I'm gonna know for the first time in my life, see, that I weren't just another bum from the neighborhood." – Rocky Balboa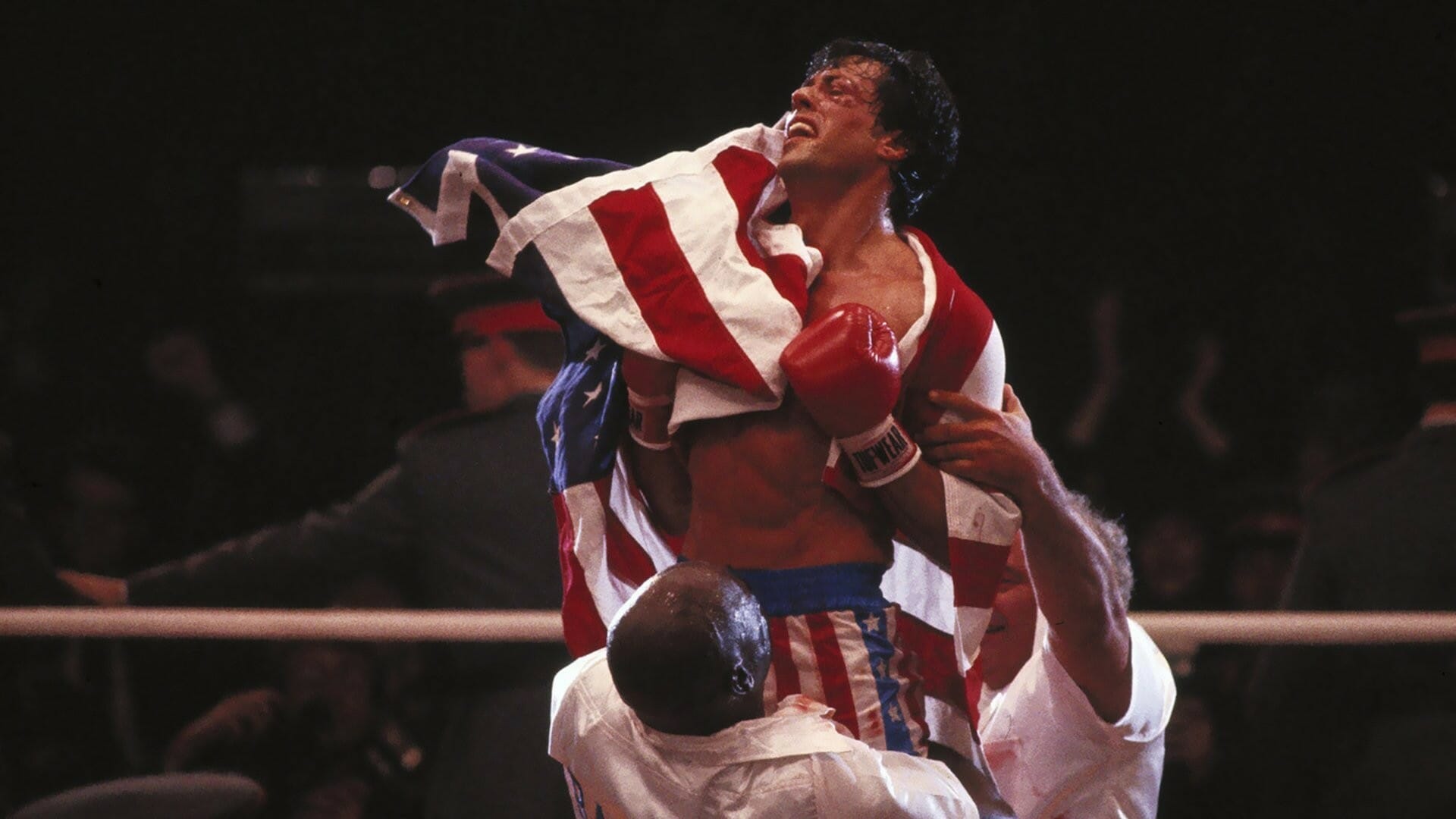 This dialogue is not what you are thinking. It is Rocky's true feelings that he shared with her girlfriend. The meaning of the dialogue is that he can't win, but he doesn't need to because he has done so much hard work to become a part of this platform.
And all this hard work is his achievement that he didn't need to prove to other people. And he is more than all this winning thing.
16."Until you start believing in yourself, you ain't gonna have a life." Rocky Balboa
This quote is the truth of everyone's life. And it is from the movie Rocky Balboa, which was released on December 20, 2006.
The movie contained main leads Sylvester Stallone, Burt Young, Talia Shire, Milo Ventimiglia, Geraldine Hughes, and Tony Burton.
And this quote was stated by Rocky to his grown-up son in order to make him understand that blaming others for your loss is just a waste of time. Therefore a person should believe in himself and should blame himself for his loss instead of pointing to others.
Giving yourself time and analyzing your mistakes will let you achieve greater things in Life. So don't waste time blaming others and pointing out their mistakes for your loss. Believe in yourself and do hard work and keep moving forward.
17."I feel like a Kentucky fried idiot." – Rocky Balboa
This dialogue is also from the movie Rocky II. Rocky quoted this line during his training to defeat Apollo Creed.
And to maintain a healthy diet during his training, he used to eat a lot of chicken. Because chicken is full of protein and it helps to build up muscle.
And Rocky is expressing his emotions through this dialogue in a funny way. He is actually trying to say that he has eaten so many chickens that he actually feels like one. Isn't it funny?
18."What's so crazy about standing toe to toe with someone, saying 'I am' ?" – Rocky Balboa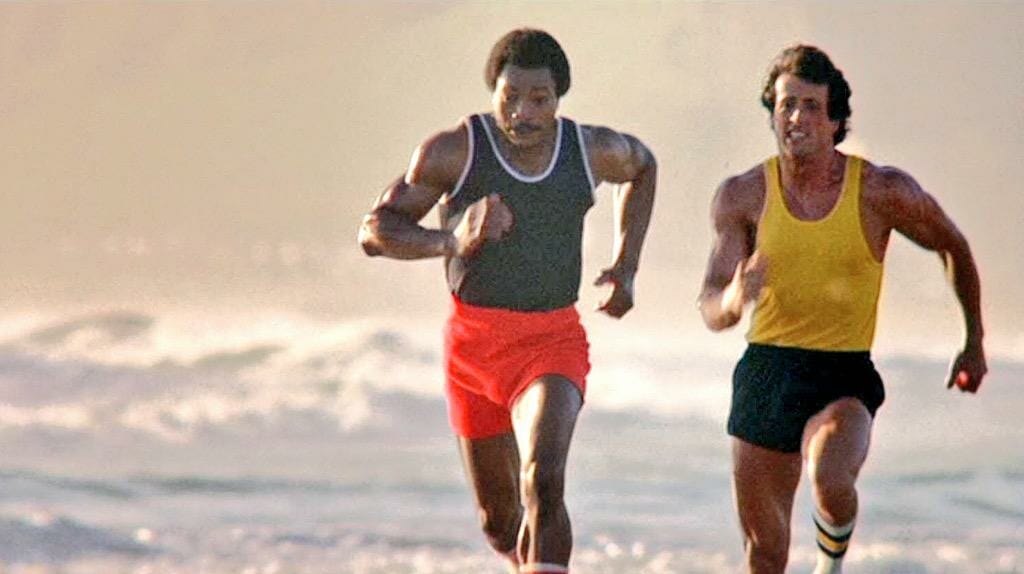 This dialogue is from the movie Rocky Balboa. And the scene in which this dialogue was stated was during a boxing match when Rocky was talking to Paulie.
He said that facing something big is not dangerous and gives you self-confidence. And he also added that he hadn't come here to lose like others. He is a winner, and he will win no matter what.
The energy and confidence that he showed during this dialogue delivery were enough for the audience to believe in his victory and his hard work.
19."Do you like having a good time? Then you need a good watch!" – Rocky Balboa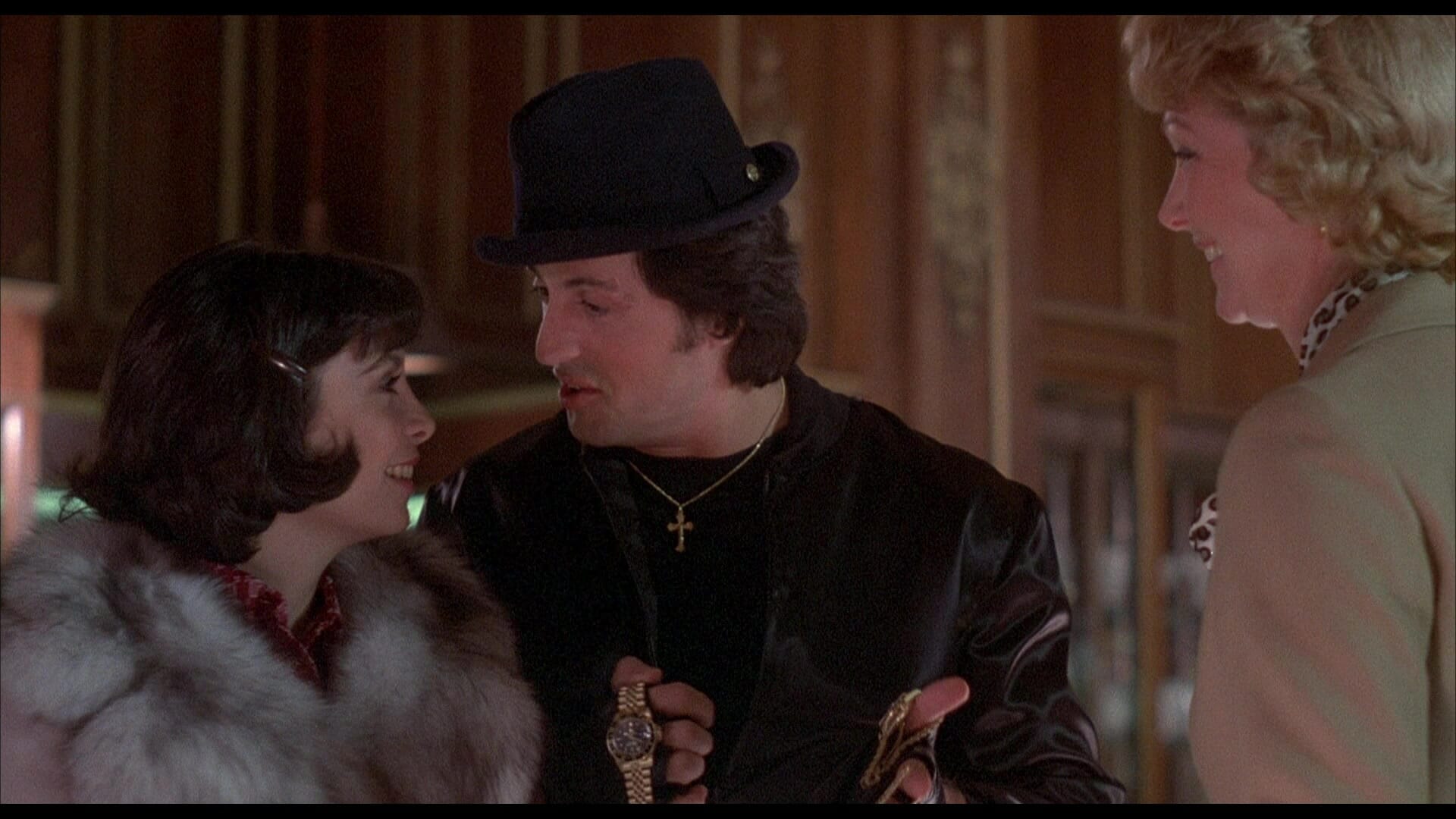 This quote is also from the movie Rocky II. And Rocky said it to Mickey during shopping. And the meaning of the quote is that if you want to enjoy your life, then nothing matters.
People can enjoy every phase of their life if they stop overthinking and focus on their present. And by doing this, they are making their future better.
Therefore you don't need anything to make your life better, and you can take advantage of every moment of your life without fearing the future.
And as you grow in your life, you start getting everything that you want without taking help from anyone. And the way he said it to her was actually really funny.
Related: 30 Best Romantic Movie Quotes to Melt Your Heart
20. "Except for my kid being born, this is the greatest night in the history of my life." – Rocky Balboa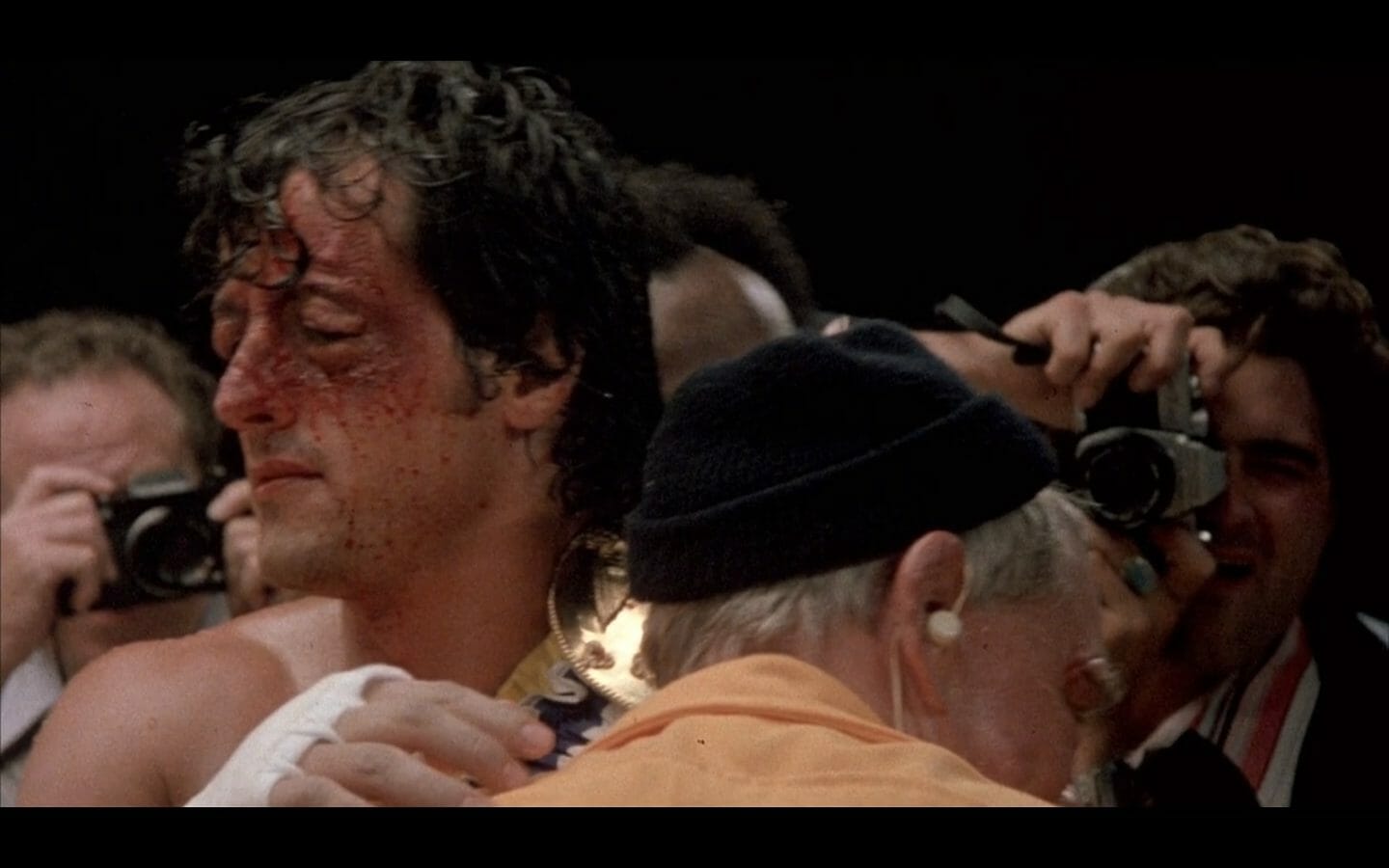 This line is from the movie Rocky II, which was released on June 15, 1979, in the United States. The director of the film was Sylvester Stallone, and United Artists distributed it.
This movie inspires us to not give up in any situation and to keep moving forward. The story of the movie is that despite losing the world heavyweight championship with Apollo Creed, Rocky gained people's respect.
And because of that, Apollo demands a rematch to defame and defeat him fully. But at last, Rocky won the match.
And the above line is from the scene where he won the match and says that this night is his greatest achievement after the night when his kid was born. His determination and dedication made him win the match, and he fulfilled his greatest dream.