Schitt's Creek is a television sitcom. This is a Canadian show created by Dan Levy and Eugene Levy. This show was aired on the CBC television network from the year 2015 to 2020.
This show is a comedy drama full of sarcasm. The original language of this drama is English, and now, six seasons have been released with 80 episodes in total. The producers of this show are Eugene Levy, Dan Levy, Fred Levy, Ben Feigin, Kevin White, David West, and Andrew Barnsley. The average running time of each episode is 22 minutes, and for special episodes, it is around 42 minutes.
The first episode of this drama was released on January 13, 2015, on the CBC network. The main leads of the show are Dan Levy, Eugene Levy, Annie Murphy, Catherine O'Hara, Sarah Levy, and Chris Elliott.
This show follows the story of Johnny Rose, a video store owner, and his family when their manager betrayed them and took away all their property. The only thing left was Schitt's Creek, a small Canadian town. The Rose family bought this town as a joke.
This sitcom made a special place in the hearts of the audiences as well as in the history of television with its great actors and memorable scenes. It also showed us not to take anything for granted, as nothing is permanent in life. In this article, we are going to list the 20 best Schitt's Creek episodes from bottom to top memorable episodes.
20. Moira's Nudes (Schitt's Creek: Season 2, Episode 9)
This episode was released on the CBC network on 3rd January 2016. The episode was very funny as it showed lots of troubling situations and how Rose's family tried to save themselves from those.
This episode shows that Moira's nude portraits have surfaced online, and the Rose family is worried about their campaign as they face backlash from the public. The episode also showed David's new job with a high paycheck and Alexis finally getting a job at a veterinary clinic. And the stunning and wistful scene of Catherine O'Hara where she told Stevie to find her photos as she wanted to see her young version.  Overall this episode shows the family reuniting and sharing an emotional bond.
19. The Hospies (Schitt's Creek: Season 5, Episode 8)
This episode is from season 5, and it was released on the CBC network on 26 February 2019. These episodes are also available on Netflix. The episode is famous for two biggest reasons.
The first reason is that the episode contained the song "A little bit Alexis," a melodious song. And another reason is the way Moira tries her best to stop Alexis from auditioning for Cabaret. This episode also showed Johnny and Stevie at regional hospitality awards, where their motel Rosebud got nominated for the best customer service in a motel under 20 units award.
18. RIP Moira Rose (Schitt's Creek: Season 4, Episode 5)
This episode is from season 4, and it was released on 6 February 2018. This episode is really funny as it makes us realize how we will feel when our death news gets circulated all over, even when we are alive. This same thing happens in this episode where Moira Rose finds out her fake death news spreads on Twitter, and everybody tributes condolences to her.
But instead of getting worried, she enjoyed the news of her death and grabbed the attention of people. The episode also showed Alexis dealing with the fact that her feelings for Ted are still alive, even though Ted is with her new girlfriend Heather, who turned out to be David's cheese supplier. This episode is emotional but will also make you laugh in between.
17. Merry Christmas, Johnny Rose (Schitt's Creek: Season 4, Episode 13)
Johnny Rose, as you know, is a lead actor and a main member of the Rose family. His wistful scenes and on-time comedy are the roots of the Schitt's Creek show. This episode is fully dedicated to this man, a most grounded and self-made man. The name of the episode is "Merry Christmas, Johnny Rose," a tender and heartful name.
In this episode, it is shown that Johnny wants to give a high-class Christmas party to all the Roses on Christmas Eve in Schitt's Creek, but he thinks that he can't make everyone happy. So therefore, he gets confused and troubled at the last moment. But the family did a get-together, which made this moment one of the most heartwarming moments of the show's history. And all these made Johnny happy from the bottom of his heart and us too.
16. Grad Night (Schitt's Creek: Season 3, Episode 13)
Grad Night is one of the most powerful Schitt's Creek episodes of the final season. This episode shows a celebration party for both David's birthday and Alexis's high school graduation. And you know the funniest thing is that the Rose family forgets about David's birthday and later when they realize they cut the cake for both of them.
And the episode highlight became Annie Murphy's performance at Alexis' graduation party. Meanwhile, David and Patrick celebrated David's birthday with a beautiful date and a surprise gift. And the episode ended with this gorgeous kissing scene between them and their evergreen chemistry.
15. Surprise Party (Schitt's Creek: Season 1, Episode 12)
This episode is from the first season of Schitt's Creek. The episode was released on March 24, 2015. The episode is all about Moira's birthday and how Johnny, David, and Alexis are going to make it special. On her birthday, Johnny wants to throw a party with the help of David and Alexis. But Alexis had some other plans with Ted. So in this situation, Johnny decided to take the help of Jocelyn and Roland. And slowly, so many problems arise during the planning. Meanwhile, Stevie is struggling with the thought of befriending David. All these troubling things don't last for long, and everything ends happily.
14. Meet The Parents (Schitt's Creek: Season 5, Episode 11)
This episode is from season 5, and it was released on March 19, 2019. This Meet the Parents episode shows how David confronts Patrick's parents and Patrick about their love. And to do all these things, he planned a surprise birthday party for Patrick and invited his parents. They confessed their love, but Patrick's parents got emotional because he hadn't told them about this before.
This scene is so touchy that it will make you cry and also happy because of so much understanding. Later in the episode, there is a scene of Moira and Alexis going to a soap opera convention and making us laugh throughout the show. The love and the new bonds between the characters amazed us, and this episode became one of the most remarkable episodes.
13. Happy Anniversary (Schitt's Creek: Season 2, Episode 13)
This episode, "Happy Anniversary," is from season 2, and it was released on March 29, 2016. This episode is focused on Johnny and Moira's anniversary. And Moira's expectations from Johnny are very high. And Jhonny decided to have dinner at a very high-class restaurant suggested by Jocelyn and Roland. But everything gets awkward as felt that their past and current lives converge unexpectedly. Meanwhile, Alexis and Ted discover that Mutt is having a party at the barn, but they are not invited. And at the party, David and Emily Hampshire as Stevie, have a funny pissing match.
12. The Hike (Schitt's Creek: Season 5, Episode 13)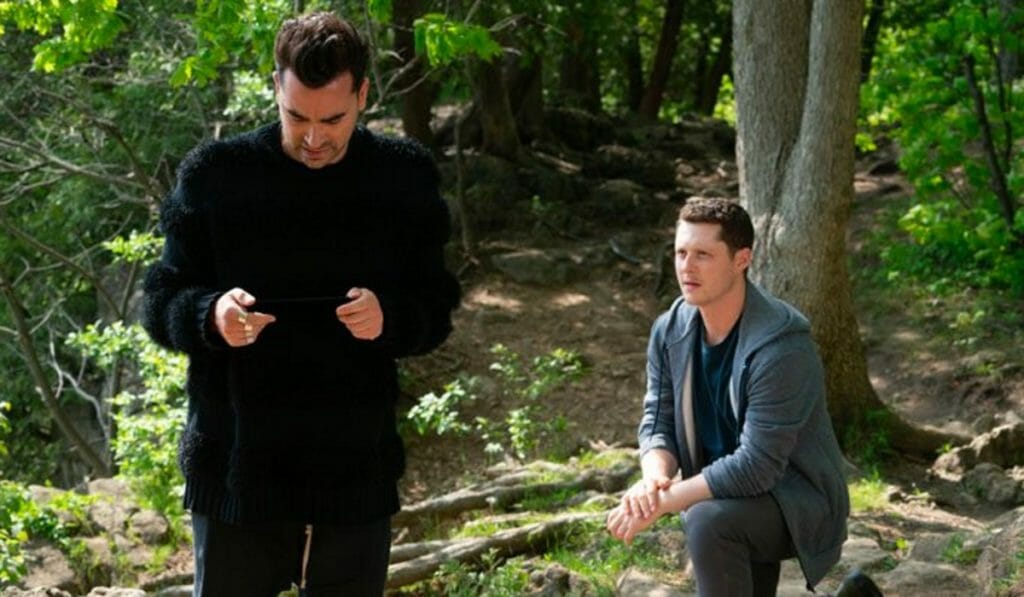 This is one of the best episodes of Schitt's Creek and was released on April 2, 2019. This episode takes away all the boundaries of romance with the scene where Patrick proposes to David. The way he proposes to David is mesmerizing as Patrick takes him to a beautiful place that he likes very much and confronts him with his love. The sweetness and tenderness of the scene will make your heart melt. But in between he impaled his foot with a branch and hot scolded by David.
But all these situations just made us feel that there is love in everything. Meanwhile, Jhonny got a heart attack and was sent to the ER. And this situation arises a new bond between Stevie, a surrogate daughter, and Johnny, his father, which later becomes unbreakable. And all these situations made this episode so emotional and unskippable.
11. Life Is a Cabaret (Schitt's Creek: Season 5, Episode 14)
This "Life is a Cabaret" episode is one of the most popular episodes. In this episode, we saw Noah Reid, Annie Murphy, and Sarah Levy as the main highlights of the episode. This episode showed Jhonny's heartfelt moment when he heard about David's engagement and Alexis moving forward in her life.
And Noah Reid and Stevie's triumphant performance seeks all the attention. Also, this episode contained a pep talk by Moira to Stevie that he needs to go out and be a phenomenal Sally Bowles. This episode was released on 9 April 2019 and has got a Canadian screen award for best achievement in hair.
10. Open Mic (Schitt's Creek: Season 4, Episode 6)
This open-mic episode is wholly based on Patrick's open-mic performance at the motel. The episode also highlights the comic scene where Moira accidentally finds out about Jocelyn and Roseland's baby sonogram and David's nervousness about Patrick's performance, as he hasn't done this before.
But when he started to perform Tina Turner's song "Simply the Best," he amazed all of us and dedicated this song to David. From this episode, this song became one of our favorites, and whenever we hear this song, this romantic and tender episode will always be remembered. And how emotional David gets when Patrick serenades David will tell you the deep meaning of love and romance.
9. A Whisper of Desire (Season 5, Episode 7)
This episode is from season 5 and was released on February 19, 2019. This episode revolves around Eugene Levy, Catherine O'Hara, Dustin Milligan, and Noah Reid. The episode shows Ted's mother meeting Jhonny Rose after so many years.
And the funniest thing is that Johnny is thought that Ted's mother is attracted to him. In this situation, Johnny doesn't want to be a bad host of the motel and also does not want to annoy Alexis's possible future in-laws. And also shows Moira as she became interested in the Cabaret music production procedure.
8. Start Spreading the News (Schitt's Creek: Season 6, Episode 13)
"Start Spreading the News" this episode is the penultimate episode, but it feels like the series finale. Because it is that episode where so many separated bonds get bonded again, and so many stories get a happy ending. And unsurprisingly, this is one of my favorite episodes of all time.
This episode highlights Patrick's and David's beautiful cottage and Stevie's conversation with David about why he wants to go to New York. And one of the most awaited revelations is that Twyla has been a millionaire the whole time. Overall this episode was so beautiful and simple, with all our comedic characters getting a happy ending.
7. Girls Night (Schitt's Creek: Season 4, Episode 4)
This episode was released on January 30, 2016. And it is from season 4. This episode showed how funnily Moira tries to put Alexis into the dating scene and how David is confronted about his inflexibility issue by Patrick and Stevie. It also showed that a new person, Roland drives Johnny crazy by improving his working skills more efficiently.
This girl's night episode is all about how Alexis runway to have a night out with Twyla, and by the end of the night, she tries to conclude all her relationship situations with Ted.
6. Family Dinner (Schitt's Creek: Season 2, Episode 2)
This episode is from season 2 and is one of the audience's favorite episodes. This episode was released on January 16, 2016. Some highlights of the episodes are Moira trying to cook dinner with the help of David and Johnny looking for an office to meet his business requirements, and Alexis trying to conclude her feelings for Ted. But all these tragedies in their life will bring laughter to your life. After all, this show is all about making people laugh and happy in their life.
5. The M.V.P. (Schitt's Creek: Season 5, Episode 9)
This is a must-watch baseball episode from season 5. This episode was released on March 5, 2019. This episode shows a baseball team led by Patrick, and David agrees to be the ninth player on the team. And the funny thing that happened was that Johnny got into the rival team that is Ronnie's team.
But David as a baseball player, is such a comedic gold and a bad choice as a player. This episode is so cheerful and sunny. It will make you laugh throughout, and watching these hilarious people playing will surely make you have a stomachache.
4. Singles Week (Schitt's Creek: Season 4, Episode 12)
The Singles Week episode is from season 4. And was released on 10 April 2018. The episode is full of misconceptions and funny scenes. The highlights of the episode are Roland jr and Patrick's relationship status. But the name of the episode is based on the tragedy that happened to Alexis as she confessed her love for Ted, who is unavailable at the moment.
And now, she has become less confident about her first event planning. But unfortunately, she does not have another choice. And everything got right as she found Ted and kissed him passionately, which made us all cheer.
3. The Presidential Suite (Schitt's Creek: Season 6, Episode 8)
This episode is from season 6 and was released on the CBC network on 25 February 2020. The episode showed Johnny and Moira spending the night together in a high-class Presidential Suite. The episode is also ranked high because of the tragic ending that made everyone sad.
It is famous for the surprise meeting of Alexis and Ted, and their discussions about their dream jobs, but the conclusion made wasn't easy to handle. As they have decided to move forward on their different paths and the most painful break-up takes place. Even this break-up scene also made us laugh but only for a limited time.
2. Milk Money (Schitt's Creek: Season 2, Episode 8)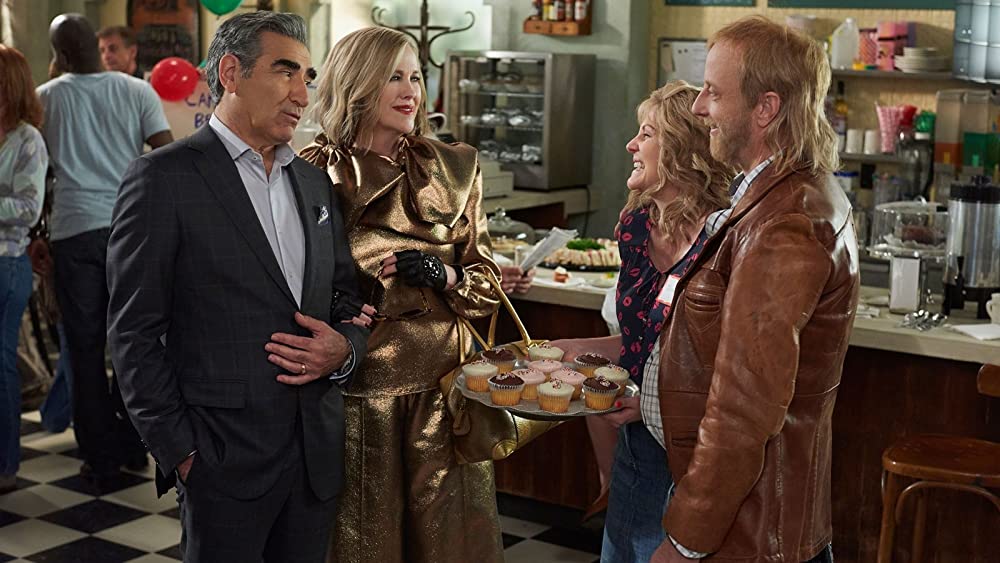 This episode is the second best episode among the best episodes of Schitt's Creek and is from season 2 and it was aired on the CBC network on 23 February 2016. This episode is wholly based on Johnny and Moira adventures. As Johnny gets into the raw milk business and Moira tries to connect with the Schitt's Creek town people.
And David tries to give people style advice, which they don't want. In one of the scenes, poor Alexis working with Johnny in the illegal raw milk business misunderstands the order and delivers a huge amount of milk instead of the original required amount. And the funny thing is that you will laugh at their loss instead of feeling pity for them.
1. Happy Ending (Schitt's Creek: Season 6, Episode 14)
This episode is the season finale wedding episode and was released on April 7, 2020. This final episode showed Patrick's wedding. And as you know that everything has to go wrong before it gets on the right path. It happened on their wedding day when due to rain, everything seemed to be wrong, but slowly things got into the right place, and a happy ending took place.
And finally, the wedding takes place. But in the morning, an emotional scene takes place in which Johnny and Moira leave Schitt's Creek for something new.
This show gave us every emotion a person can bear during his or her lifetime and so many memorable characters. And everybody got emotional as the show was going to end and it ended happily. And it became one of the best episodes till now.