Seinfeld is an American sitcom by Larry David and Jerry Seinfeld and is about a fictional character based on himself and his life with three of his best friends. The show aired for nine seasons on NBC from 1989 to 1998. The show Seinfeld has its best episodes, without any doubt. Do watch it.
The show was very well-loved and is still considered one of the best sitcoms ever. It is also known as "a show about nothing" as it shows some of life's most random and mundane moments.
The sitcom is highly hilarious, well-written, and has excellent acting. Many eccentric yet funny jokes have genuinely become classics, making the show what it is. The situations shown in the front are also very relatable and have characters that are just as lazy and slow-witted as us.
Seinfeld revolves around four New York Yankees who are going through troubles in their daily lives. Our main character Jerry Seinfeld is a stand-up comedian who lives a chaotic life with his friends, and together, they are battling some of life's most random yet tricky questions.
His three other friends are George Costanza(Jason Alexander), Elaine Benes(Julia Louis Dreyfus), and Cosmo Kramer(Michael Richards). George is his best friend, Elaine is his ex-girlfriend, and George is his neighbor.
The show has an 8.9/10 rating on IMDb and an 89% Rotten Tomato score, which shows how good the sitcom is. It is available on Netflix and is perfect to watch when you feel like watching something hilarious and chill.
The whole sitcom is fantastic, but fans especially love a few Seinfeld episodes. Here we have made a list of the 30 best Seinfeld episodes that are extremely fun and a must-watch.
30. The Bubble Boy (Season 4)
Episode no.- 7
Season- 4
IMDb Rating- 8.7/10
Jerry, Elaine, George, and his girlfriend Susan, are on the way to Susan's lakeside cabin when they hear about a sick young boy with immune deficiency. The boy lives in a plastic bubble to protect himself from germs and bacteria. George decides to speed through on the way there, leaving Elaine and Jerry behind. Elaine and Jerry get lost and go to a diner instead of asking for the course.
Meanwhile, Kramer and Naomi arrive at the cabin to surprise Jerry and others but accidentally burn it down. Kramer unintentionally started the fire by leaving cigars near a pile of newspapers.
29. The Fusilli Jerry (Season 6)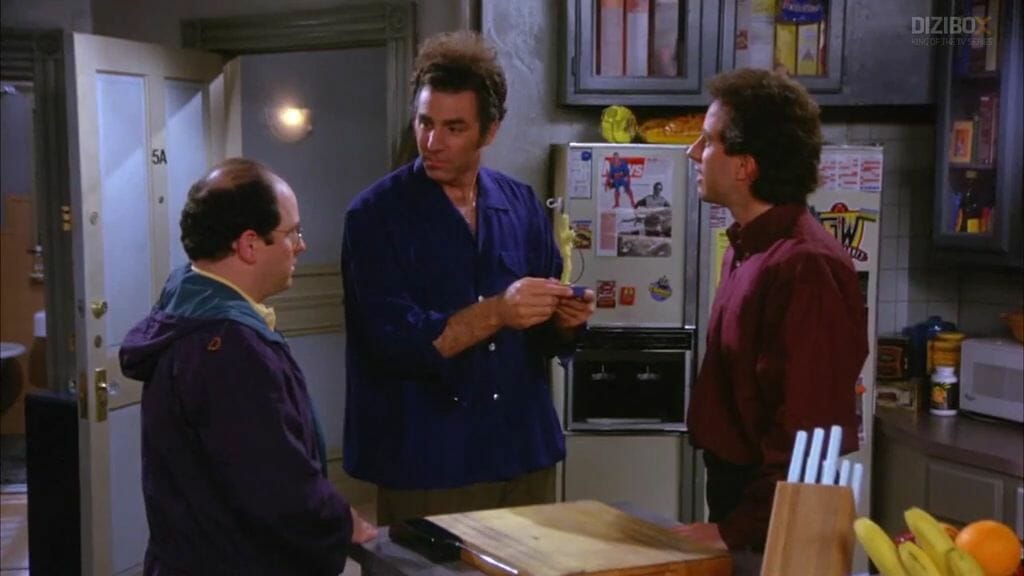 Episode no.- 21
Season- 6
IMDb Rating- 8.7/10
Kramer makes sculptures of his friends using Fusilli pasta and makes one of Jerry. He also gets a new license plate, but it's a different one with "ASSMAN" written on it. Instead, he takes advantage of it and even scores a date with a lovely lady.
On the other hand, Jerry teaches his mechanic David some sensual moves, which he uses on Elaine instead. Later, during an argument, Frank falls on the fusilli Jerry and breaks it, because of which he has to be taken to a Proctologist.
28. The Little Jerry (Season 8)
Episode no.- 11
Season- 8
IMDb Rating- 8.3/10
Kramer names his new pet rooster after Jerry and engages him in underground cockfights. Jerry's check gets bounced at a liquor store, and he is having difficulty paying back the money. Meanwhile, George asks out a prison inmate while inspecting the women's cell.
Elaine dates a guy named Kurt who likes to shave his head, but once he stops, he finds that he is going bald and surprisingly looks like George. This was indeed one heck of a chaotic Seinfeld episode.
27. The Sniffing Accountant (Season 5)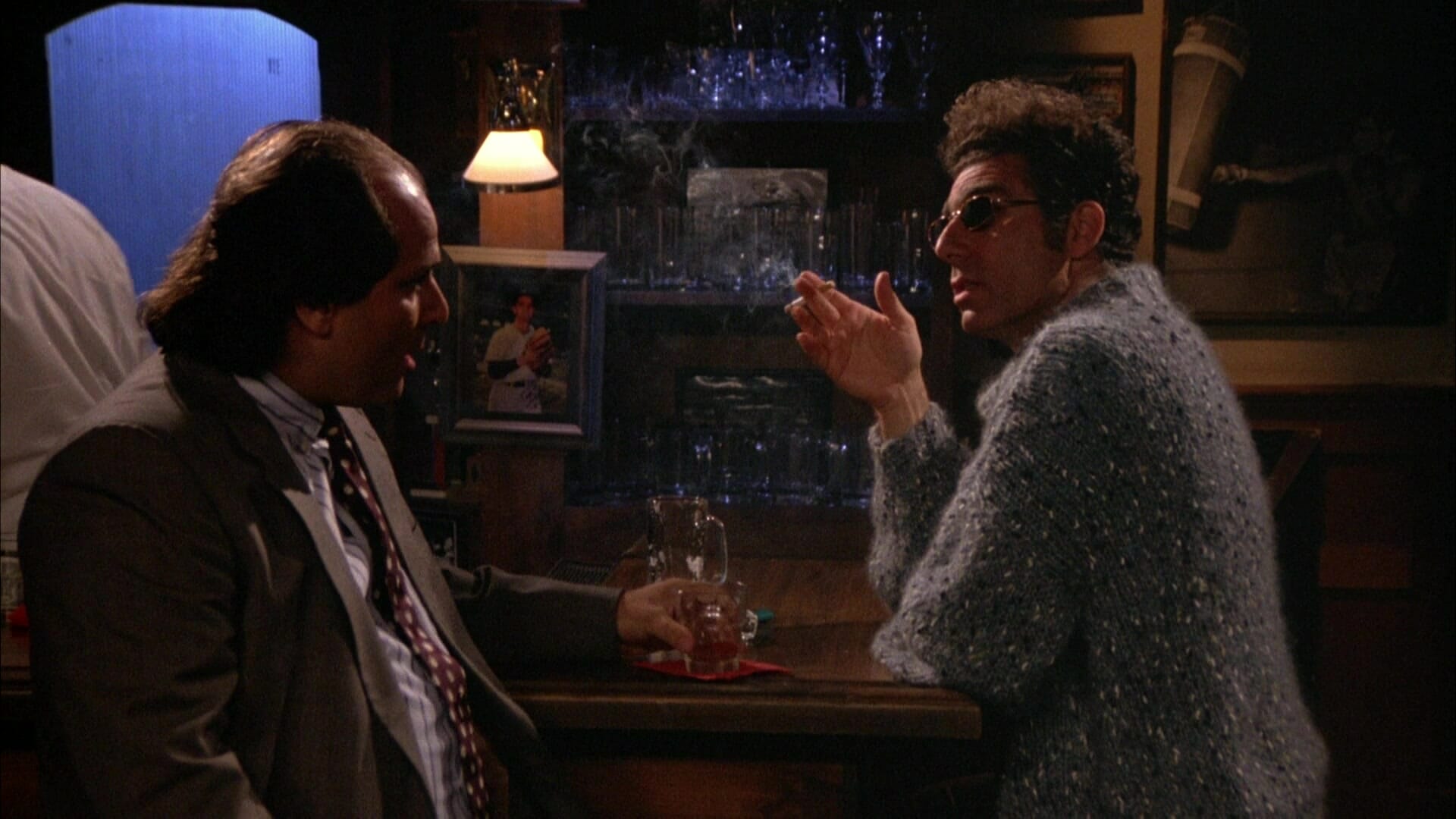 Episode no.- 4
Season- 5
IMDb Rating- 8.1/10
Barry Profit is the accountant of Jerry, Kremer, and Newman, and they suspect him of taking out their money to buy drugs. The reason is that Barry keeps on sniffing something at regular intervals. The three decide to find the truth by setting up an operation.
George interviews for a job as a bra salesman and gets hired. He was later fired. Meanwhile, Elaine realizes that her boyfriend doesn't put an exclamation point during their conversation, which immensely bothers her and leads to a breakup.
26. The Engagement (Season 7)
Episode no.- 1
Season- 7
IMDb Rating- 8.6/10
Jerry and George are having a deep conversation in a coffee shop and decide to take life more seriously. Jerry ends up calling his ex-girlfriend, and George goes to his ex-girlfriend's house and proposes to her, even though he soon regrets it.
Elaine cannot fall asleep because of the constantly barking dog in her neighborhood and decides to get help from Kramer and Newman. Together, The three plan to kidnap the dog in a van and leave him somewhere else. This ends up with them getting arrested for "Dognapping."
25. The Chicken Roaster (Season 8)
Episode no.- 8
Season- 8
IMDb Rating- 8.9/10
Kenny Rogers Roasters is a new chicken shop from Kramer and Jerry's apartment. The shop has a large, flashy red neon sign that shines through their windows and creates problems. Because of this, Kramer switched apartments with Jerry, but their personalities also hit. Newman raved about Kenny Rogers's chicken, and when Kramer tries it, he gets addicted.
Elaine gets in trouble in her office when they find out she is doing personal shopping using the company's credit card, like buying a sable hat for George Costanza.
Jerry persuades his old friend to ditch his vital meeting to have lunch with him, getting him fired. His friend then ends up working is Kenny Rogers Roasters as an assistant manager.
24. The Pie(Season 5)
Episode no.- 15
Season- 5
IMDb Rating- 8.5/10
Jerry is in a dilemma when his girlfriend, Audrey, refuses to take a bite of the pie he offers her. He is confused and wants to get to the bottom of this. He later realizes the chef doesn't wash his hands after returning from the restroom.
George has to buy a new suit for his job interview, so he goes to the mall with Elanie and his other friends. But, when they come across a dummy, they are shocked at how much it looks like Elanie.
23. The Parking Garage(Season 3)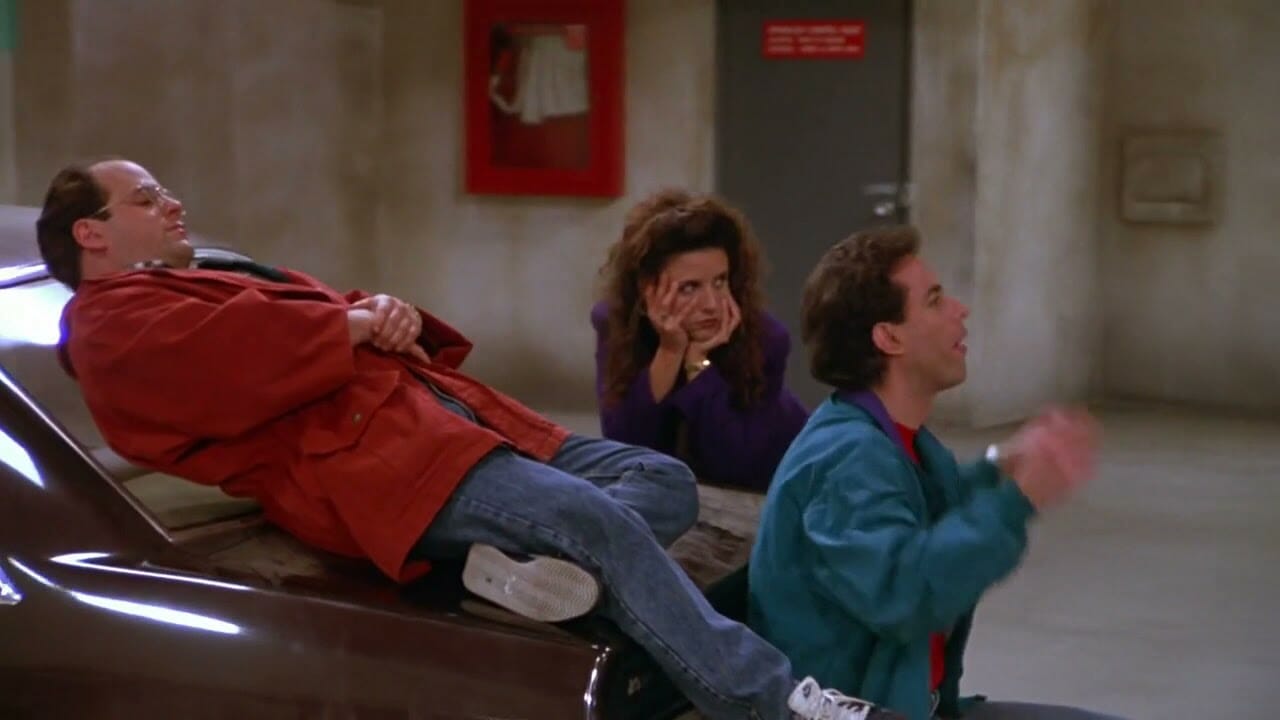 Episode no.- 6
Season- 3
IMDb Rating- 8.7/10
After returning from purchasing an AC from a mall in New Jersey, Kramer and his buddies cannot find his car parked in the vast parking lot of the mall. Kramer has been carrying the AC throughout and finally gets exhausted and leaves it behind a vehicle.
Elaine is also worried about her new goldfish dying in the bag. She also asks people to give them a ride, but no one helps them. Goerge has to meet his parents. When they finally find the car, The car doesn't start, and Elaine's fish dies before reaching home.
22. The Raincoats(Season 5)
Episode no.- 18/19
Season- 5
IMDb Rating- 8.4/10
Jerry's parents decide to visit him before heading out on their trip to France. Because his parents are at home, he cannot spend intimate time with his girlfriend, Rachel. On the other hand, George uses this as his opportunity to get out of a babysitting job.
When Morty discovers that his old design trenchcoat is a bestseller, he and Kramer decide to sell his old raincoat, "The Executive," to a vintage store.
21. The Pony Remark(Season 2)
Episode no.- 2
Season- 2
IMDb Rating- 7.9/10
Jerry feels remorseful after hearing of the death of Manya. He had gone to a family dinner with Elaine, where he commented how he hates people who have ponies as their babies. Manya was the one hosting the dinner, and she had had a pony growing up.
She felt significantly hurt by that comment and left the table. The same night, Jerry hears the news of her passing away and thinks it is because of him.
To make matters worse, Manya's funeral is held the same day he has his softball tournament. He is torn about whether he should go but attends the funeral anyways.
20. The Secret Code(Season 7)
Episode no.- 7
Season- 7
IMDb Rating- 8.4/10
George refuses to tell Susan about her secret bank account code. Elaine forces Jerry and George into coming to dinner with her boss Peterman, but George has to go alone after she and Jerry ditch the plan at the last moment.
Peterman then learns that his mother is on her deathbed. George has to tell someone about the code, so he tells it to Peterman's dying mother. Meanwhile, Karmer ends up buying a police scanner.
19. The Dinner Party(Season 5)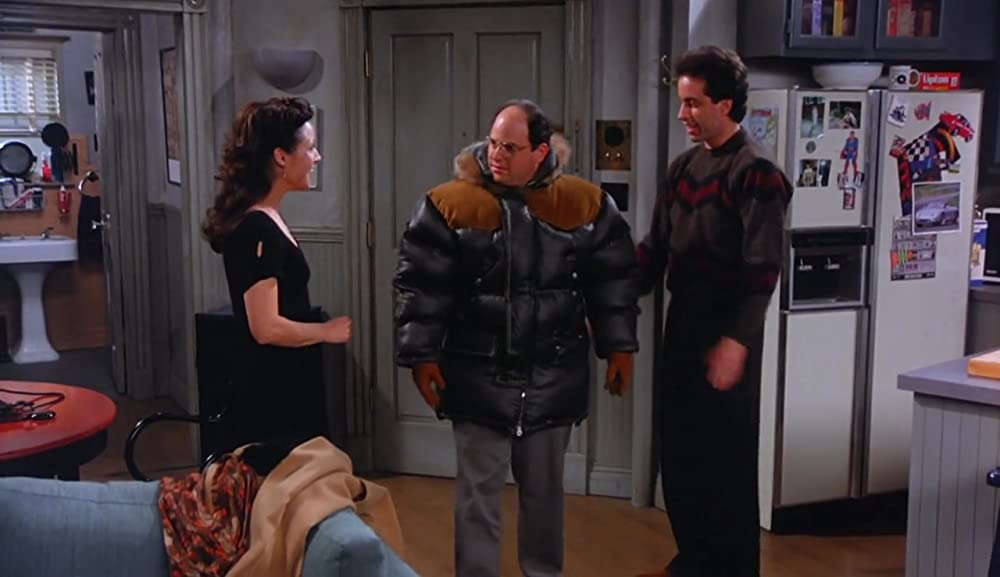 Episode no.- 13
Season- 5
IMDb Rating- 8.2/10
Jerry and Elaine are invited to a dinner, and Elaine suggests buying a small gift before going there. They decide to buy a cake, head to a bakery, and forget to get a number from the counter. Someone crosses them in the line and takes the last cake left. They finally get a different cake but later realize a hair is on it.
Meanwhile, Kramer and George head to buy wine but face many troubles. They did not have change and hence went out to get some. But, on their way back, they got blocked by a wrongly parked car.
18. "The Merv Griffin Show"(Season 9)
Episode no.- 6
Season- 9
IMDb Rating- 9/10
Kramer finds the set of "The Merv Griffin Show" and decides to bring it back home. He then interviews whoever comes to his house. While driving, Geroge has a new girlfriend and hits a pigeon and a squirrel.
She forces them to take them to the vet and, after the recovery, tends to them at home. Elaine's new coworking annoys her, and Jerry's new girlfriend Margaret doesn't let him play with the toy collection she inherited from her father.
17. The Alternate Side(Season 3)
Episode no.- 11
Season- 3
IMDb Rating- 8.3/10
Jerry Seinfeld faces complications with renting a car after his car gets stolen. A guy in Jerry's neighborhood works as a valet and parks people's cars and moves them as per requirement. George is quite fascinated by this and thinks that this is something that even he can do.
Kramer plays a small role in Woody Allen's new movie, filmed outside Jerry's apartment. This makes all the buddies jealous, but nothing seems right for the friends.
18. The Cafe( Season 3)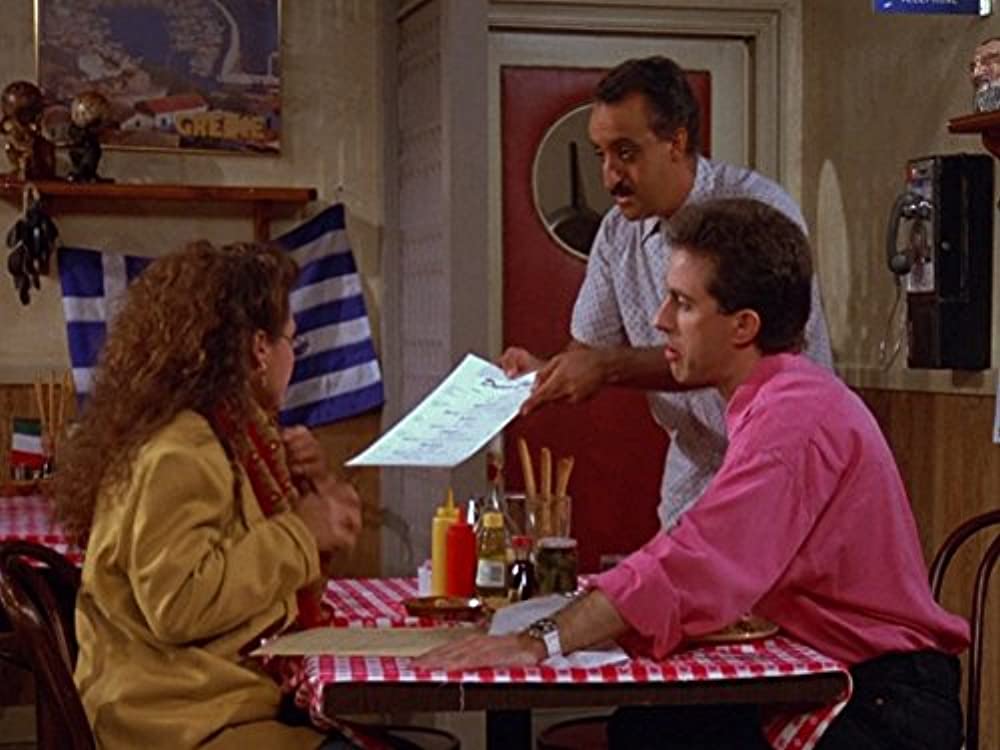 Episode no.- 7
Season- 3
IMDb Rating- 8.4/10
A new cafe has opened near Jerry's neighborhood that piques his interest. It was opened by a Pakistani immigrant named Babu Bhatt, but the business doesn't seem to be going well. Jerry suggests he have a full-fledged Pakistani menu instead of the flavorless food he currently offers.
George's girlfriend boasts of having an IQ of 145 and asks him to take an IQ test. He agrees, but she would have to take the test too. Surprisingly, the results were not as stellar as he had expected.
17. The Face Painter(Season 6)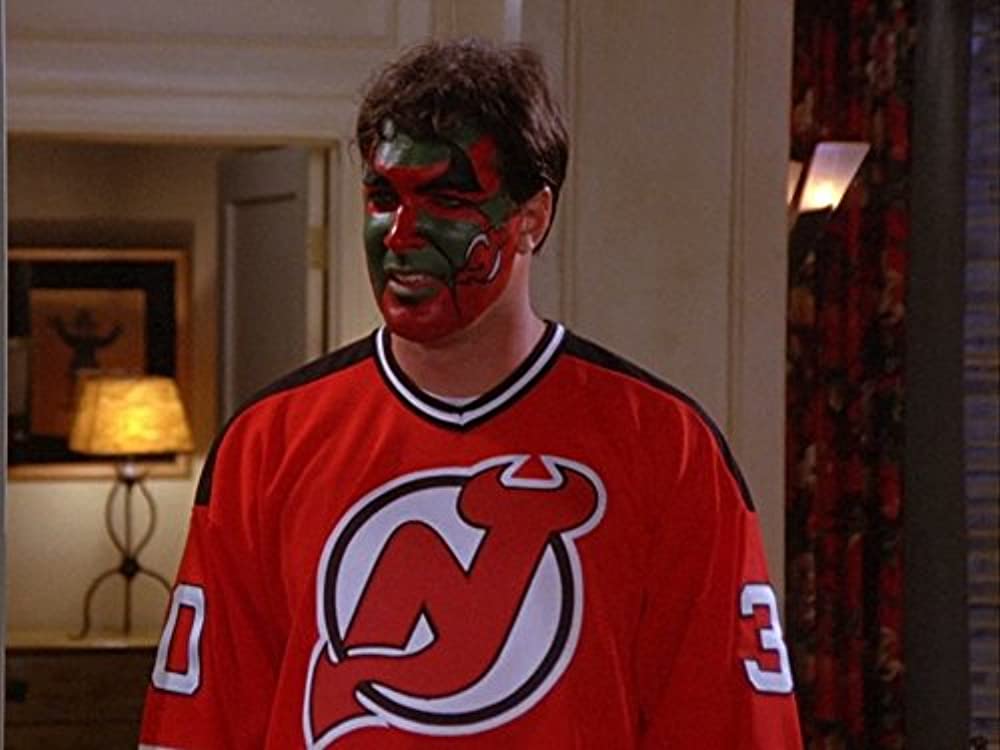 Episode no.- 23
Season- 6
IMDb Rating- 8.4/10
Jerry got tickets to a new jersey Devils playoff game and went there with his buddies Kramer, Elaine, and Puddy. The whole group is shocked when Puddy shows up to the game with his face painted to match the team's colors. He is very enthusiastic and also mocks the opponent team.
Meanwhile, Geroge confesses to her girlfriend how much he loves her but doesn't get a positive response. Kraner is in the zoo fighting a chimpanzee. The whole episode was quite chaotic and fun to watch.
16. The Summer Of George(Season 8)
Episode no.- 22
Season- 8
IMDb Rating- 8.5/10
George receives a hefty sum from the Yankees and decides to have a blast this summer. Instead of having fun and being active, he becomes lazy body and spends all his time lounging in his comfy chair.
Jerry has a new girlfriend named Lanette, who he picks up for a date, but he soon finds out that she has a boyfriend with whom she is in a live-in relationship.
Elaine gets into trouble in her office with a coworker who caught Elaine badmouthing her. She gets pissed, destroys Elaine's office, and sends harassing text messages. The boys are excited to see this 'catfight.'
Read More: The Best High Maintenance Episodes to Watch Right Now
15. The Pen(Season 3)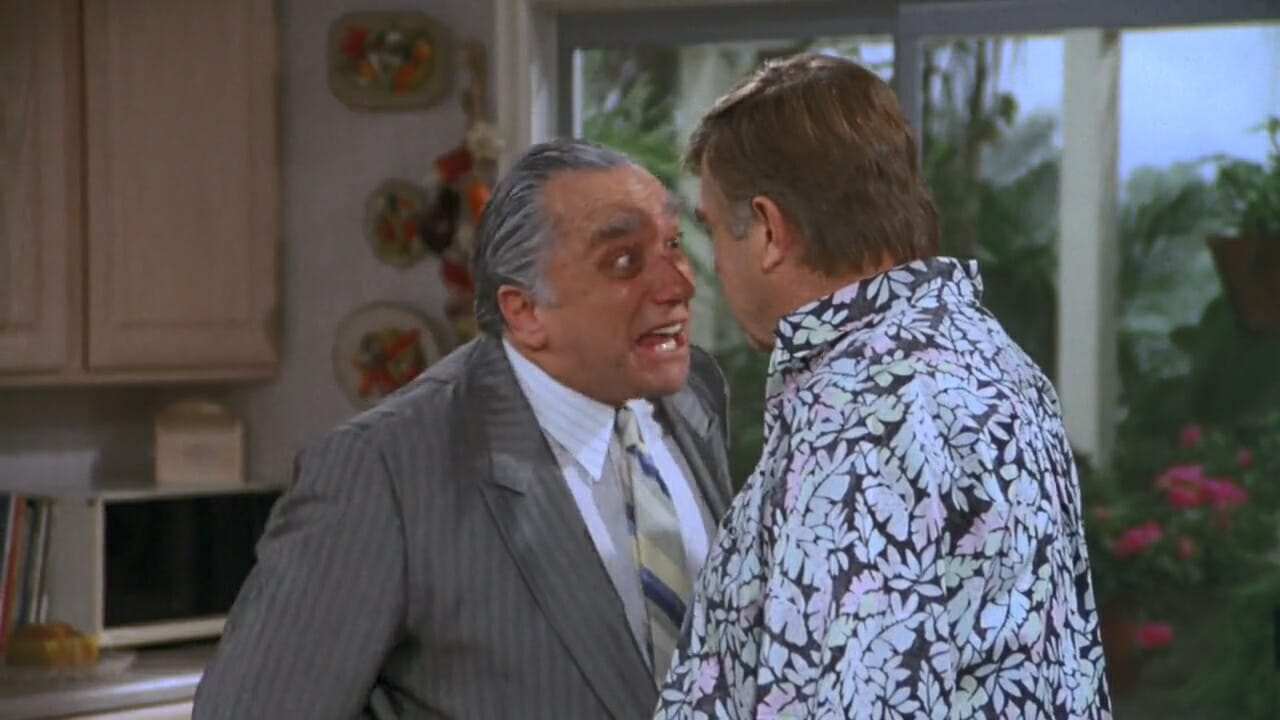 Episode no.- 3
Season- 3
IMDb Rating- 8.2/10
Jerry and Elaine go to Florida to visit his parents and attend his father's honorary dinner. They had plans to go scuba diving. There they meet the neighbors Jack and Doris. Jack has an astronaut pen that catches Jerry's eyes. Even though Jack doesn't want to, he still offers Jerry the cell.
Meanwhile, Elaine has back pain from sleeping in the uncomfortable sofa bed. The AC is also not working, which makes the whole situation worse. She visited the chiropractor and was told she could not go home for over five days.
14. The Old Man(Season 4)
Episode no.- 18
Season- 4
IMDb Rating- 8/10
Jerry, Elaine, and George decide to volunteer at an older adult's home. This doesn't end up well. Jerry is assigned to look after a man with a bad temper, Elaine is assigned a woman with a goiter, which disgusts her, and George ends up making his trusted guy depressed.
Later, Jerry loses his guy, Elaine can't stand the sight of the deformity, and George gets fired by his guy. Jerry and George also plan to steal vinyl from Jerry's old guy and sell it to a vintage record store.
13. The Hamptons( Season 5)
Episode no.- 20
Season- 5
IMDb Rating- 9/10
Elaine and her friends decide to visit her friends who live in The Hamptons as they have a baby. When they see the baby, they find it extremely ugly.
George is out naked, and his girlfriend is tanning in the sun topless. They are seen by Rachel, who laughs at him. George then explains that he shrank because he had just escaped the cold water.
Meanwhile, Kramer finds a lobster trap full of lobsters and gets super excited, unaware that it belongs to a professional fisherman.
12. The Invitation( Season 9)
Episode no.- 24
Season- 7
IMDb Rating- 8.6/10
George and Susan's wedding is approaching, but he is very anxious and wants to call it off. He knows this is not the right decision and should not go through with it. He suggests not making Susan marry her, but none work.
Susan assigns George the task of handling all the wedding invitations. He decides to buy a cheap brand invitation, and when Susan licks them to paste it correctly, she soon passes out. All this leads to their marriage getting canceled.
Jerry ends up meeting the love of his life Jeannie when he is almost hit by a car but is saved by her. He soon proposes, and she says yes.
11. The Marine Biologist(Season 5)
Episode no.- 14
Season- 5
IMDb Rating- 9.2/10
Jerry meets an old college friend who asks about George and what he does now. Jerry doesn't know what to tell her, so he says George is a marine biologist. Hearing this, she gets interested in George, and they end up dating.
Kramer gives an electric organizer to Elaine, who ends up flying off from a Russian author's car and hitting someone. The Russian guy is sharing a car with Elaine, and upon repeatedly hearing that organizer beeping, he gets annoyed and throws it out, which leads to the accident.
10. The Bizarro Jerry(Season 8)
Episode no.- 3
Season- 8
IMDb Rating- 9.1/10
Elaine breaks up with his boyfriend but ends up just staying as friends. Surprisingly, he is more excellent and reliable than Jerry, and Jerry says he is a " bizarro Jerry" because of his exact opposite.
Jerry starts dating one of Elaine's beautiful friends, but he is unsure of her manly hands. He later breaks up with her.
George decides to hit on a girl by telling her about her late fiance Susan and Kramer ends up getting a job in a renowned firm.
9. The Race (Season 6)
Episode no.- 10
Season- 6
IMDb Rating- 8.9/10
Jerry is dating a girl whose boss is a guy he beat in a track meet match. The guy now wants a rematch as he accuses Jerry of cheating in the previous game.
Elaine's boyfriend is a communist, and she also gets banned from the Chinese restaurant for making too many complaints about food delivery. George answers a personal ad from the Daily Worker, leading to everyone thinking of him as a communist.
Kramer gets a job in a department store with the help of one of his friends.
8. The Fire(Season 5)
Episode no.- 20
Season- 5
IMDb Rating- 8.6/10
Elaine's eccentric and hyperactive coworker Toby ends up loving Kramer's idea of writing a coffee table book about coffee tables. Kramer takes her one of Jerry's, and she starts booing and shouting, thinking that how to stand up is experienced. This doesn't end up well for Jerry, as he receives a negative critique from a magazine.
George's new girlfriend has a son, and he goes to his birthday party to help with some things. In the kitchen, a fire lights up, and George gets extremely scared and starts acting up. His girlfriend doesn't like this side of his.
7. The Library(Season 3)
Episode no.- 5
Season- 3
IMDb Rating- 8.5/10
Jerry receives a letter from the NYC library asking him to return a book he had taken in 1971. He is sure he has replaced it, but the librarian is a tough guy who isn't buying anything he says.
George also goes to the library with Jerry and sees a homeless guy on the stairs who seems very similar. He looks like his high school gym teacher, who got fired after he complained about him to the school. Now he feels guilty thinking that he is the one who ruined his life.
6. The Soup Nazi(Season 7)
Episode no.- 6
Season- 7
IMDb Rating- 9.5/10
All the friends go to a new soup stand because they heard their soup is very delicious. The soup stand owner is meticulous about the ordering procedure and rejects Jerry and his new girlfriend after being caught kissing in line.
The soup nazi also rejects Elaine after she ends up offending him. She had also stolen an armoire, so Kramer buys her another similar one inside where she finds the soup nazi's recipe. She then threatens to reveal the secret to everybody and make him go out of business.
5. The Chinese Restaurant(season 2)
Episode no.- 11
Season- 2
IMDb Rating- 8.6/10
George, Elaine, and Jerry are in a Chinese restaurant waiting to be seated. They have been waiting for quite a long time but then notice that people coming after them are getting placed before them. All of them are extremely hungry and bored, so Jerry dares Elaine to go and eat someone else's food.
Meanwhile, George is trying to call up his girlfriend Tatiana, with whom he has to clear some things up. He walks up to the pay phone, but it is hectic. Later he can send her a voice message and tell her what happened.
4. The Puffy Shirt(Season 5)
Episode no.- 2
Season- 5
IMDb Rating- 8.9/10
Kramer has a new girlfriend named Leslie, who is a fashion designer. She speaks very slowly, making it hard to understand what she is saying. She is designing a puffy shirt that looks like the one that pirates wear. Unfortunately, Jerry has accidentally agreed to wear it to The Tonight Show.
Meanwhile, George gets a job as a hand model and is now very conscious of his hands. In Jerry's trial room, he sees the shirt and mocks it, because of which Leslie gets angry and pushes him. He falls on the hot iron and burns his hands. This ended his career as a hand model.
3. The Subway(Season 3)
Episode no.- 13
Season- 3
IMDb Rating- 8.7/10
All the friends had to go on the subway for various occasions, and all met with troubles on the way. Jerry Seinfeld has to go to Cooney Island and finds a man who goes on all the little trips with him. The man is naked from the waist above and follows him in places.
Elaine has to attend a lesbian wedding, but the power in the subway goes out on the way there. Kramer has to go to court to get out of many of his traffic charges. George has a job interview, but on his way, he finds a young lady who takes him back to his hotel and steals his clothes after handcuffing him to the bed. This is among some of the best Seinfeld episodes.
2. The Opposite(Season 5)
Episode no.- 22
Season- 5
IMDb Rating- 9.5/10
George has his struggles in life, but after Jerry's advice, he decides to do things he wouldn't normally do. This makes him get a job with the New York Yankees, a hot girlfriend, and an apartment.
On the other hand, things are going downhill for Elaine. After her boyfriend hears that, she stops on her way to her injured boyfriend after an intense accident, and he breaks up with her. Then her company goes bankrupt, making things even worse. This was one of the best Seinfeld episodes.
1. The Contest(season 4)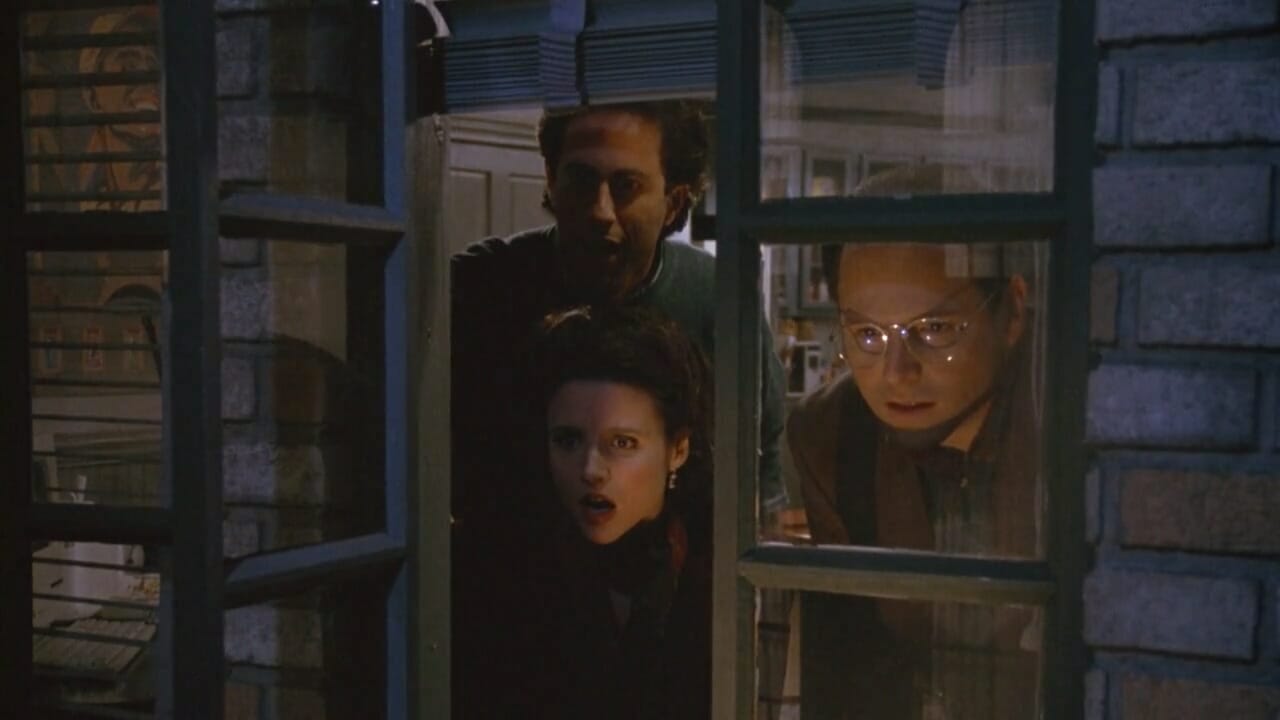 Episode no.- 11
Season- 4
IMDb Rating- 9.6/10
George's mom catches him doing acts of self-gratification and throws him out of the house. The friends then bet on who can last longer without any sexual pleasure. Things get complicated for them as they meet with unexpected situations.
Jerry's girlfriend doesn't want to be a virgin anymore; meanwhile, Elaine goes on a date with a handsome hunk. George visits his mother at the hospital but gets aroused after seeing her roommate getting a sponge bath.
Kramer sees his neighbor walk around the house naked. They all lose to their temptation. This episode is considered the best Seinfeld episode by many fans.
Read More: Best Drunk History Episodes that you Should Watch