Invincible has been one of the most outstanding adult cartoon series to come out recently. All the action freaks are currently obsessed with the seventeen-year-old Mark Greyson and his extraordinary transformation into a full-fledged superhero. His father helps him in his heroic journey, and we get to experience one of the best journeys of becoming a superhero. This hit animated series not only exceeded our expectations but also delivered one of the best-animated action sequences in history.
This show has the best of everything, ranging from animation, writing, performance, action scenes, and an unbelievable storyline. Invincible has an unbelievable charm that any show can never overshadow. The show is believed to transform the game of Western animation completely. The show will undoubtedly blow your mind as the dark and complex story unfolds. We seriously wish to watch more of this show in the future.
After watching this adult animated series, you will surely rush to grab the Invincible comic book series. But don't you worry! The creators have stayed loyal to the comic so that you can experience the most memorable content piece. So, in case you loved watching The Invincible series, we have a list of shows just like your favorite show! Don't believe us? Check it out for yourself!
25. Harley Quinn
Creator: Justin Halpern
Voice Cast: Kaley Cuoco; Lake Bell; Ron Funches; Tony Hale; Jason Alexander; J. B. Smoove
IMDb Rating: 8.5/10
Streaming Platform: Amazon Prime
I am pretty sure you might know Harley Quinn from The Suicide Squad. It's a fact that no one could ever match the level of sassiness this character presented on our screens. Now, what if I tell you that there is an animated series with the same name, which is way better than the movie version? Harley Quinn is an adult animated series that features the titular character dealing with her troubled life after she breaks up with the Joker. Gotham City awaits the main character, Harley Quinn, to unlock all the exciting adventures that will awaken you. This is one of the most intriguing shows like Invincible.
24. Spawn The Animated Series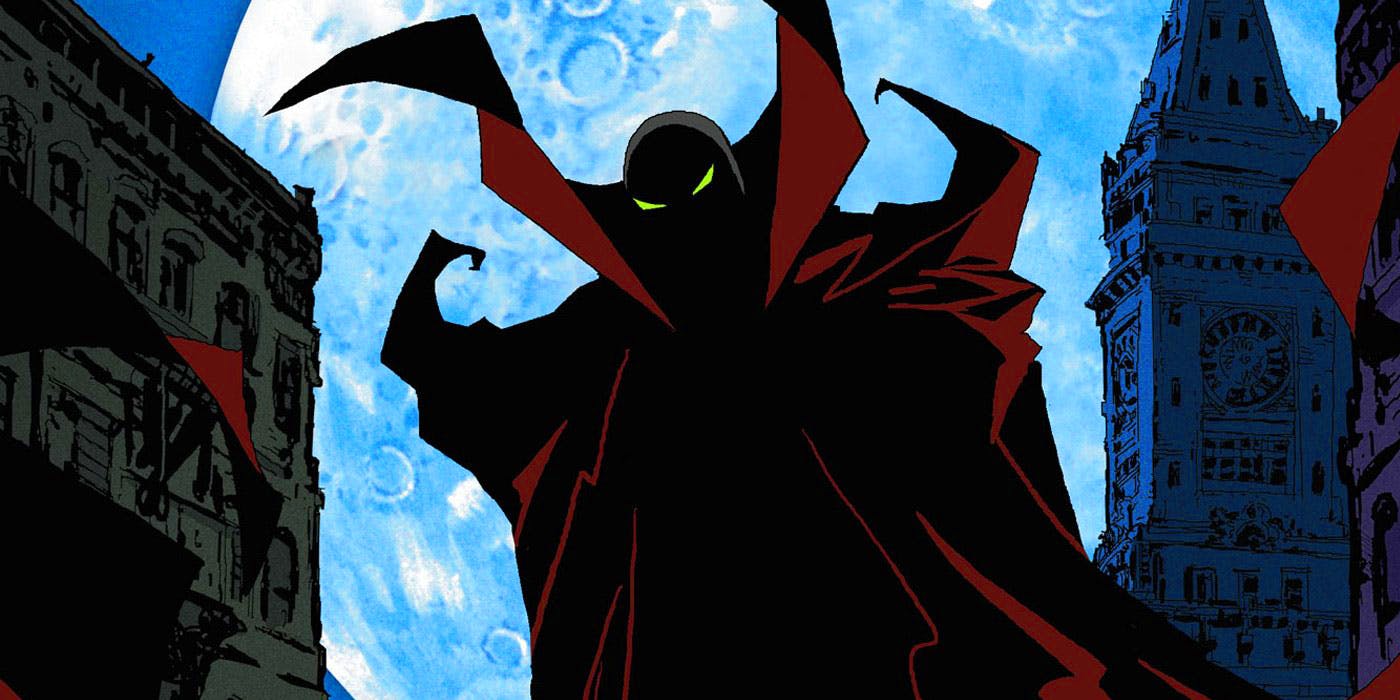 Creator: Todd McFarlane
Voice Cast: Keith David, Michael Nicolosi, James Hanes, Dominique Jennings, James Keane, John Rafter Lee, Victor Love
IMDb Rating: 8.1/10
Streaming Platform: Amazon Prime, Hulu
Have you ever imagined someone protecting you from the forces of heaven and hell? No, right. But Todd McFarlane's Spawn is here to make you think out of the box. The story revolves around a government-trained assassin who is killed in a conflict. He pledges to save his family from any kind of disaster that is going to pop their way. Well, that's called family love! This series portrayed better character development than most of the shows in present times. Although this animated show aired in 1997, it still attracts a large number of fans even now because this animated series stayed true to its comic book series, unlike most other TV shows. It's pitiful how we have a considerably low amount of adult cartoons like this masterpiece.
23. The Awesomes
Creator: Seth Meyers, Mike Shoemaker
Voice Cast: Seth Meyers, Ike Barinholtz, Emily Spivey, Taran Killam, Kenan Thompson, Bobby Lee
IMDb Rating: 7.2/10
Streaming Platform: Hulu
You know it's going to be amazing when the series comes from the creators of Saturday Night Live. This adult anime comedy series revolves around a gang of superheroes who are determined to replace the iconic superhero team. The show respectfully lived up to its name and is fantastic in every possible way. It's painful to accept the fact that season 3 is the final season of this epic series. However, it is one of the most beautiful shows like Invincible to cherish for a lifetime. This enjoyable series is witty and over-the-top hilarious. We can watch this adult animated series over and over again.
22. Rick and Morty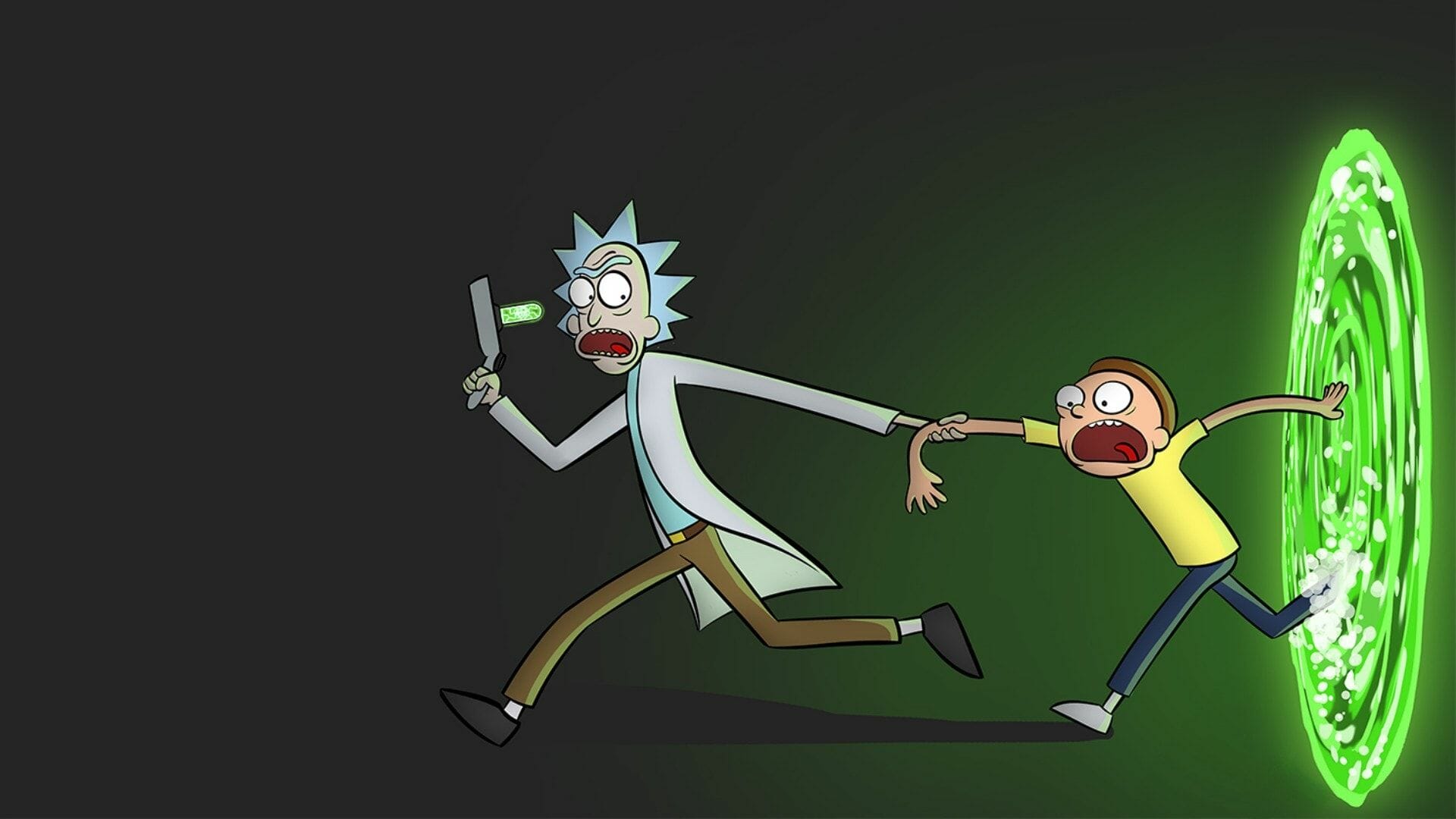 Creator: Justin Roiland and Dan Harmon
Voice Cast: Justin Roiland; Chris Parnell; Spencer Grammer; Sarah Chalke; Kari Wahlgren
IMDb Rating: 9.2/10
Streaming Platform: Netflix, Amazon Prime
If you want to make your kids smarter, just make them watch Rick and Morty! This adult animated sci-fi sitcom revolves around an insanely cynical scientist named Rick Sanchez and his kind grandson named Morty Smith. Fans truly appreciate both story elements. We adore the intriguing and weird characters with all our hearts. The genuinely funny yet clever dialogues, intelligent script, dark humor, and interesting storyline make up an iconic TV show. This mature series is legendary for a reason. This is one of the most memorable shows like Invincible that has found a home in the minds of the viewers forever.
21. Castlevania
Creator: Warren Ellis
Voice Cast: Richard Armitage, James Callis, Graham McTavish, Alejandra Reynoso, Tony Amendola
IMDb Rating: 8.3/10
Rotten Tomatoes: 94%
Streaming Platform: Netflix, Amazon Prime, JustWatch, Vudu
This dark fantasy action show revolves around the adventures of Trevor Belmont, Alucard, and Sypha Belnades while they try their best to restore the notorious vampire. This is one of the best shows like Invincible by Netflix because it has a unique storyline. The mind-blowing animation makes up for the most beloved action series. The rollercoaster of emotions it makes you ride on is truly appreciable. Sadly, the fourth season was the last season of this series, but the fans weren't disappointed as the last season was very well received by the fans. They couldn't help reliving the last episodes.
20. Legion
Creator: Noah Hawley
Voice Cast: Dan Stevens, Rachel Keller, Aubrey Plaza, Bill Irwin, Jeremie Harris, Amber Midthunder
IMDb Rating: 8.2/10
Rotten Tomatoes: 91%
Streaming Platform: Netflix, Amazon Prime
The show revolves around David Haller, who has been diagnosed with a serious mental disorder. He is taken to a psychiatric facility for further medical treatment. However, a chance meeting with another patient makes him have an unexpected revelation related to his life. We assure you that this series is easily going to make it to the list of your favorite shows once you get through the first episode of the season.
19. Final Space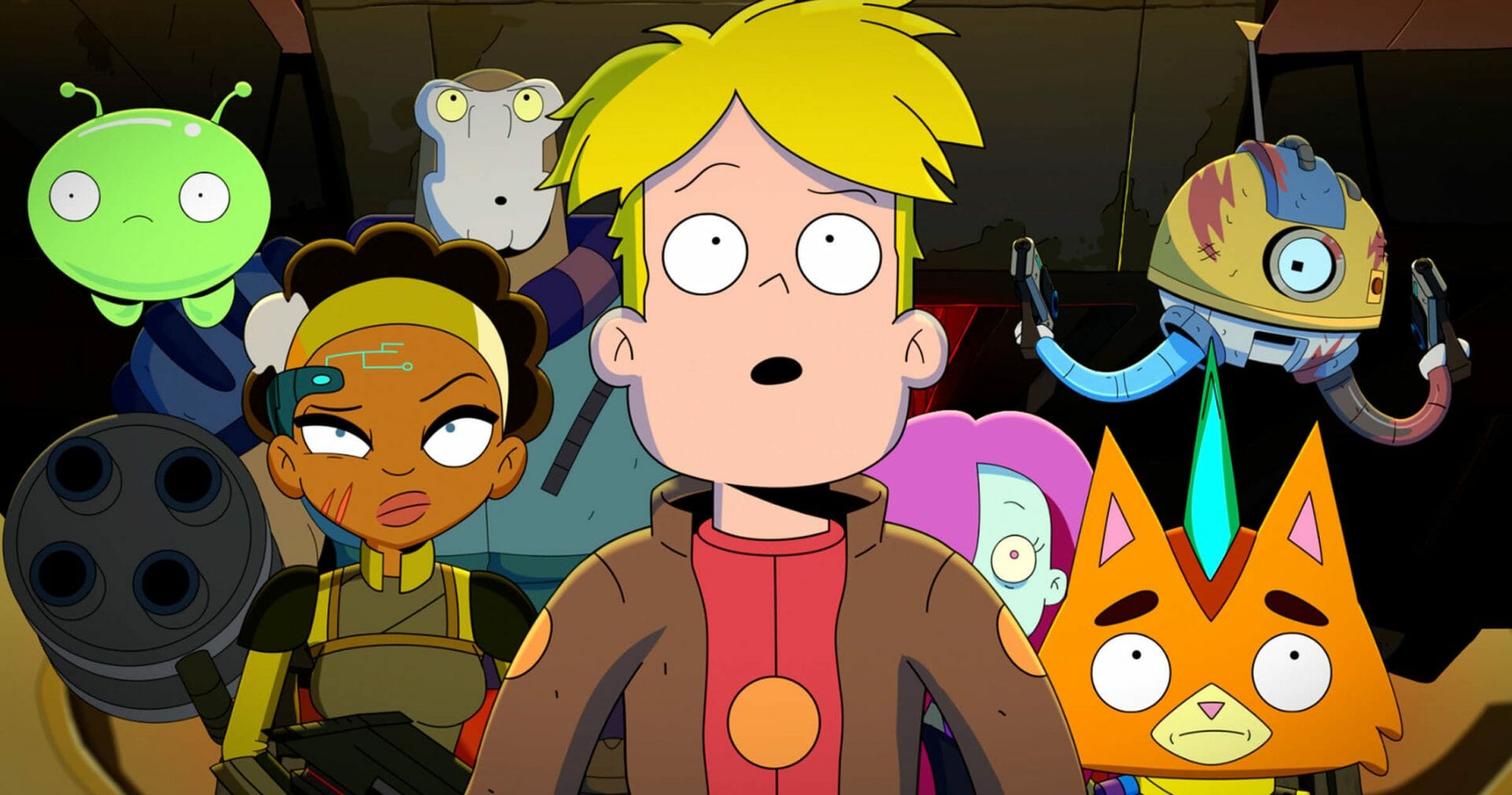 Creator: Olan Rogers
Voice Cast: Olan Rogers, David Tennant, Coty Galloway, Steven Yeun, Tom Kenny, Tika Sumpter, Fred Armisen
IMDb Rating: 8.2/10
Streaming Platform: Netflix, Amazon Prime
Have you ever anxiously wanted to make friends with an alien with immense magical powers who would complete your assignment in a blink of an eye? Final Space is an adult animated show that revolves around the adventures of an astronaut named Gary Godspeed and his insanely powerful alien friend who has an adorable name, that is Mooncake, who is a universe-destroying green blob. The show wins at its thrilling adventures and hilarious moments. The thrilling adventures make it stand out from the rest of the adult animated series nowadays.
18. Big Mouth
Creator: Andrew Goldberg, Nick Kroll, Mark Levin, Jennifer Flackett
Voice Cast: Nick Kroll, John Mulaney, Jessi Klein, Jason Mantzoukas, Jenny Slate, Fred Armisen
IMDb Rating: 7.9/10
Rotten Tomatoes: 99%
Streaming Platform: Netflix, Amazon Prime, Prime Video
No matter how terrible the initial stages of your puberty make you feel, the adult cartoon series named Big Mouth is always there to comfort you. This series presents one of the best coming-of-age stories to give you an idea about the kind of gems we have had in the past. The series revolves around two best friends named Nick Kroll and Andrew Goldberg, who has been trying hard to deal with a monster called puberty that wipes away childhood from human life. This show has exceeded all the comedic scales, and we would love to witness more seasons of this series.
17. Undone
Creator: Raphael Bob-Waksberg
Voice Cast: Rosa Salazar, Angelique Cabral, Constance Marie, Siddharth Dhananjay, Daveed Diggs
IMDb Rating: 8.2/10
Rotten Tomatoes: 96%
Streaming Platform: Prime Video
Undone is an adult animated psychological TV show that is the most impactful show you can ever experience. The story revolves around Alka, who has a near-death experience. The accident makes her find the truth about her father's death.
We can always count on Amazon to provide quality content. Undone is Amazon Prime's first adult animated original series. We loved how animation is pushing itself to become one of the best mediums for storytelling through this series. This series is one of the perfect masterpieces like Invincible.
16. Samurai Jack
Creator: Genndy Tartakovsky
Voice Cast: Phil LaMarr, Mako, Greg Baldwin
IMDb Rating: 8.5/10
Rotten Tomatoes: 93%
Streaming Platform: HBO Max, Amazon Prime
Samurai Jack is one of the best creations of the cartoon network. The story revolves around Aku, who is reborn to attribute his reign of terror. Yung Samurai Jack must fight back and prevent Aku from causing any further destruction in the world. We are pretty sure this series brings back a ton of nostalgia and sweet memories which can never be forgotten. This show used to be a treat in our childhood. The good old days!
15. The Venture Bros.
Creator: Jackson Publick
Voice Cast: James Urbaniak; Patrick Warburton; Michael Sinterniklaas; Chris McCulloch; Doc Hammer; Steven Rattazzi; Dana Snyder
IMDb Rating: 8.6/10
Rotten Tomatoes: 92%
Streaming Platform: Amazon Prime
This adult animated series was developed for a late-night programming block, Adult Swim, for the television network named Cartoon Network. The story features the bizarre adventures of the dysfunctional Venture family. This series excels at the portrayal of every character in strangely humorous fashions.
The voice actors did an amazing job in the entire series. According to the dedicated fans, the show gets better with every season. This was the longest-running show by Adult Swim, with about 81 episodes. So, if you have quite a lot of time on your hand, you can binge-watch The Venture Bros. We guarantee you this is going to be an entertaining ride.
14. Hit-Monkey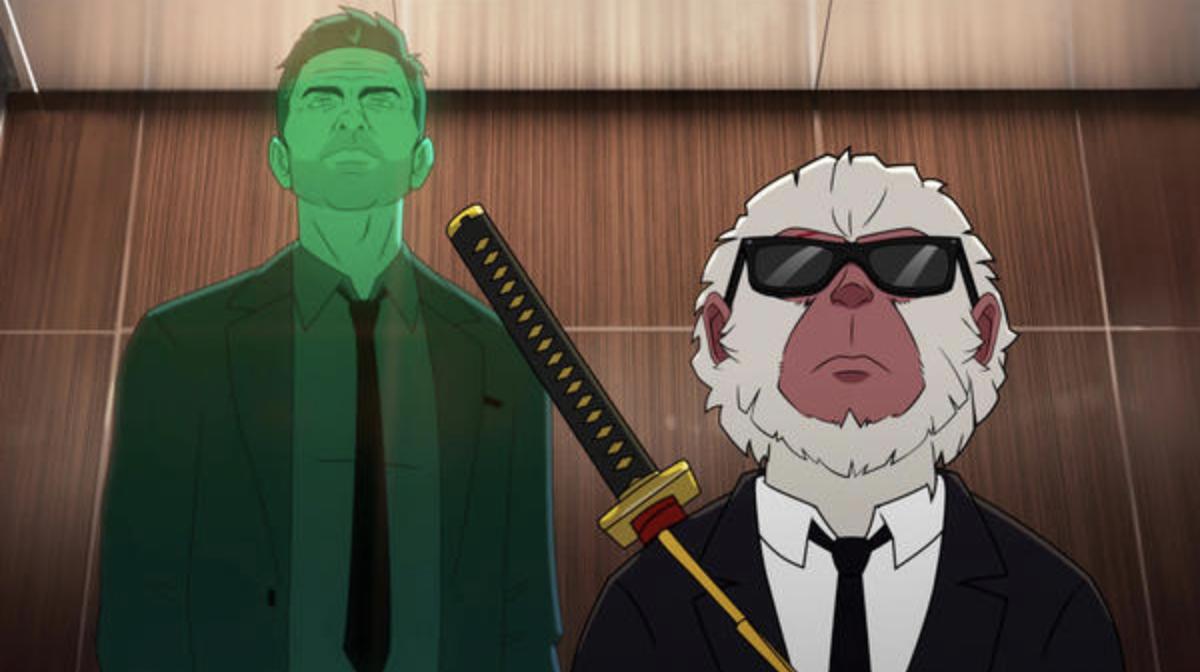 Creator: Will Speck, Josh Gordon
Voice Cast: Ally Mak, Olivia Munn, Nobi Nakanishi, Fred Tatasciore, George Takei
IMDb Rating: 7.8/10
Rotten Tomatoes: 80%
Streaming Platform: Disney Plus Hotstar
It might sound absurd to even think about the monkeys that are hungry for some kind of revenge. Hit-Monkey is one of the best shows, like Invincible, that captivated the attention of its audience for its unusual storyline. The story revolves around a Japanese macaque who is trained by an assassin named Bryce Fowler to destroy Tokyo's crime underworld. Fans truly adored this titular character for its unique animation. This series is so thrilling that you will most probably fear real-life monkeys!
13. The Boys Presents: Diabolical
Creator: Eric Kripke
Voice Cast: Karl Urban, Jack Quaid, Antony Starr, Erin Moriarty, Dominique McElligott
IMDb Rating: 6.9/10
Rotten Tomatoes: 97%
Streaming Platform: Prime Video
The Boys Presents: Diabolical is the most famous hit adult animated show like Invincible. This series is based on the comic book series of the same name. The series features a series of interesting animated short stories that take place in the universe of The Boys. This series brilliantly presents the trend of different animation styles being used for a single project. The versatility in the visuals is pleasing to the eyes. The creators were kind enough to stay true to the comic books, and that's how we got the stunning work of art.
12. Archer
Creator: Adam Reed
Voice Cast: H. Jon Benjamin; Judy Greer; Amber Nash; Chris Parnell; Aisha Tyler; Jessica Walter; Lucky Yates
IMDb Rating: 8.6/10
Rotten Tomatoes: 90%
Streaming Platform: Netflix, Amazon Prime
Archer is an animated show that ran for ten seasons. We can guarantee that this is the coolest adult animated series you will ever experience. We couldn't thank the creators enough for delivering this stunning series. It's truly an honor to stick to this iconic show for the past ten years. Archer is one of the best adult animated shows, like Invincible, on television that revolves around an international spy named Sterling Archer as he reaches new and exciting heights. We can never forget this legendary series.
11. One Punch Man
Creator: Dave Filoni
Voice Cast: Dee Bradley Baker, Michelle Ang
IMDb Rating: 8.7/10
Rotten Tomatoes: 88%
Streaming Platform: Disney Plus Hotstar, Netflix, Hulu
This animated series revolves around a superhero named Saitama who can defeat the bad guys with just one punch in order to protect the world from damage. All the heroes back at Hero Association made fun of him for thinking too highly of his powers. The series One Punch Man features the journey of Saitama becoming a superhero in the eyes of the people. Its image comics series was illustrated by an artist known as One.
10. Devilman Crybaby
Director: Masaaki Yuasa
Writer: Ichirō Ōkouchi
IMDb Rating: 7.6/10
Rotten Tomatoes: 89%
Streaming Platform: Netflix
The title sounds a bit spooky, but we assure you that this is one of the most exciting animated shows you will ever witness. The story revolves around Akira, who transforms into a devil man after joining hands with a demon. The creators set a fantastical world with a special power aspect. The effect this series has on your mind is extremely irreversible. This series is so hard to get out of your head. Watch this series at your own risk!
9. Titans
Creator: Akiva Goldsman, Geoff Johns, Greg Berlanti
Cast: Brenton Thwaites, Anna Diop, Teagan Croft, Ryan Potter, Curran Walters, Conor Leslie
IMDb Rating: 7.6/10
Rotten Tomatoes: 86%
Streaming Platform: HBO Max
Titans is a brilliant animated series that consists of only three seasons as of now. The people who are desperately waiting for the following season will be glad to hear that the fourth season was announced immediately after the premiere of the third season.
The show is getting better and more impressive with every season. Titans is undoubtedly a masterpiece that revolves around a group of superheroes as they fight off evil. This series has the perfect dose of laughter as it exceeds all the humor levels. We guarantee you that this is the best series to suit any mood.
8. The Walking Dead
Writer: Tony Moore, Charlie Adlard
Director: Daniel Sackheim
Cast: Andrew Lincoln, Jon Bernthal, Sarah Wayne Callies, Laurie Holden, Jeffrey DeMunn
IMDb Rating: 8.2/10
Rotten Tomatoes: 80%
Streaming Platform: Peacock, Netflix
The Walking Dead is set at the time of the zombie apocalypse, which leaves us with no reason not to watch the show. The show is based on a comic book series with the same title. The series revolves around a group of survivors and their efforts to stay alive in a time of crisis. You might have seen a variety of zombie-themed series, but the mystery element makes The Walking Dead stand out from the rest of the TV show. The series has a total of 11 seasons with over 169 episodes. Due to its immense popularity, the creators have also released a video game concentrating on the zombie theme.
7. Family Guy
Creator: Seth MacFarlane
Voice Cast: Seth MacFarlane; Alex Borstein; Seth Green; Mila Kunis; Mike Henry; Arif Zahir; Patrick Warburton
IMDb Rating: 8.2/10
Streaming Platform: Disney Plus Hotstar, Hulu
When we talk about dark comedy, the list isn't completed without mentioning The Family Guy animation series. The strangely weird characters and unbeatable one-liners made this series one of the greatest adult animated comedy shows in history. This irreverent yet enjoyable series revolves around an immature man named Peter Griffin and his dysfunctional family, which consists of his wife, two teenagers, an evil baby, and a smart dog. The hilarious situations this family goes through on a daily basis are so cunning and intelligent at the same time. The hilarious gags make this a must-watch adult animated comedy series.
6. Doom Patrol
Writer: Arnold Drake, Bob Haney, Bruno Premiani
Developed by: Jeremy Carver
Cast: Diane Guerrero, April Bowlby, Alan Tudyk, Matt Bomer, Brendan Fraser
IMDb Rating: 7.8/10
Rotten Tomatoes: 97%
Streaming Platform: Prime Video
Doom Patrol revolves around a group of superheroes who are ill-treated by society. These superheroes achieved their extraordinary abilities through a gut-wrenching accident that deeply affected their mental and physical health. The series showcases their efforts to get out of their unsettling phase. As the series progress, all the fantastical elements are unfolded.
5. Arcane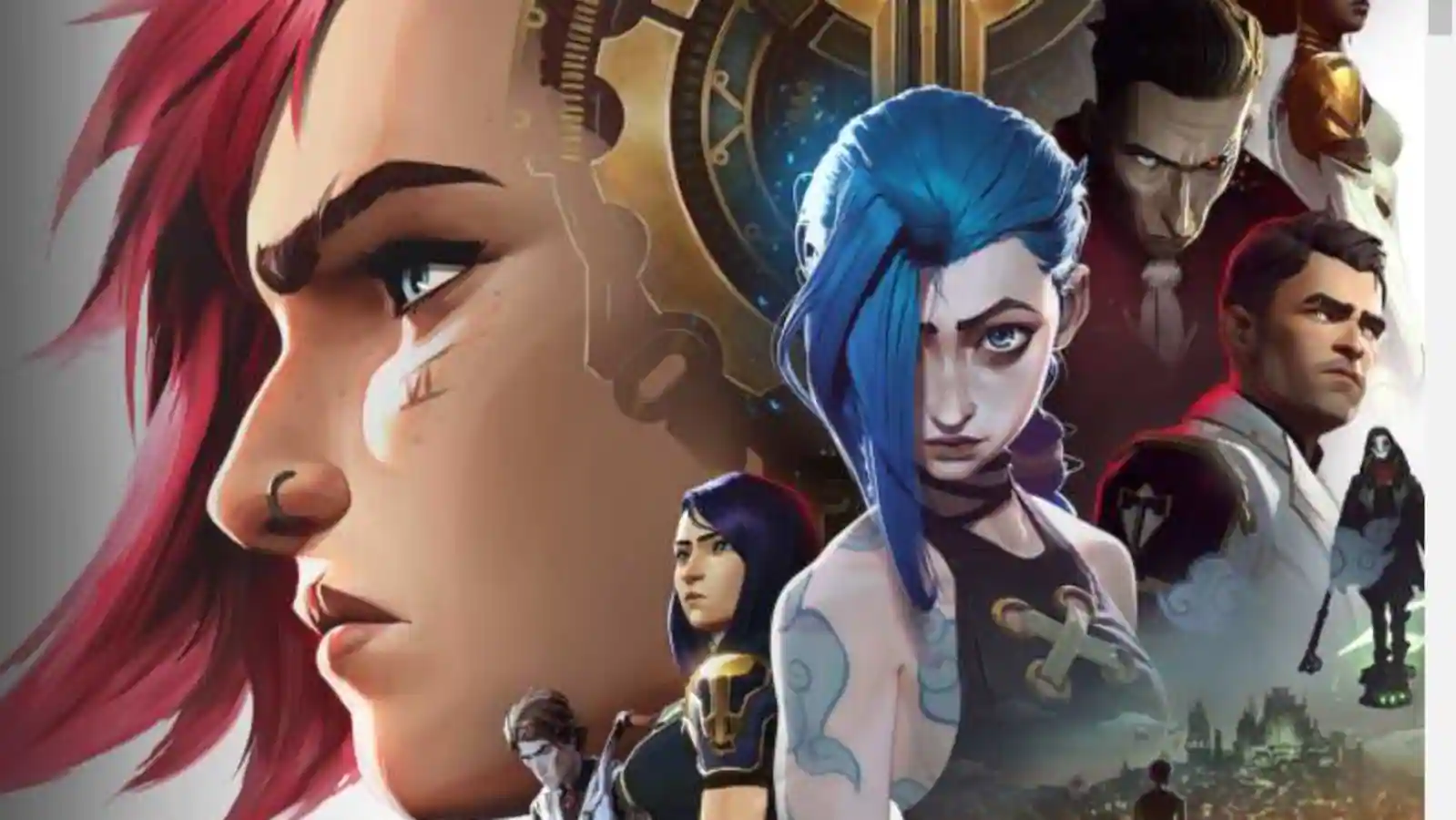 Creator: Christian Linke
Cast: Hailee Steinfeld, Ella Purnell
IMDb Rating: 9.1/10
Rotten Tomatoes: 100%
Streaming Platform: Netflix
This adult animated action series revolves around two iconic league champions and the power that broke them completely. The show excels at its emotional storytelling and on-point animation.
4. Legends of Tomorrow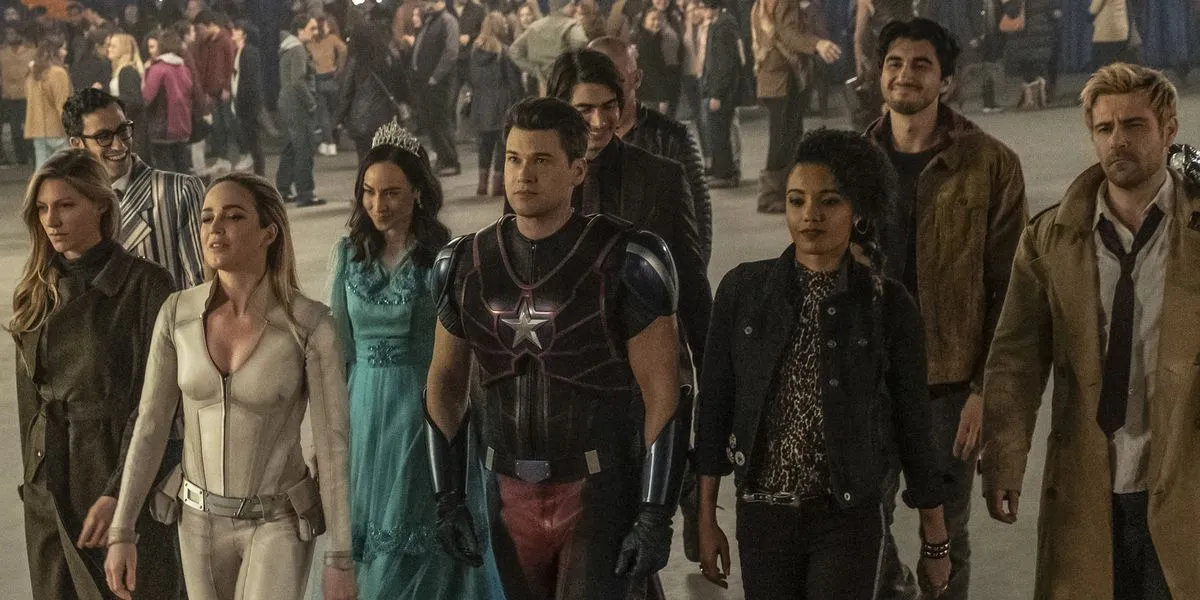 Developed by: Greg Berlanti, Marc Guggenheim, Andrew Kreisberg, Phil Klemmer
Cast: Victor Garber, Brandon Routh, Arthur Darvill, Caity Lotz, Franz Drameh
IMDb Rating: 6.8/10
Rotten Tomatoes: 89%
Streaming Platform: Prime Video
This adult animated show revolves around a time traveler named Rip Hunter and his efforts to save the world after discovering the sour truth that an apocalypse will destroy our planet Earth.
3. Justice League
Creator: Bruce Timm
Cast: Kevin Conroy, George Newbern, Susan Eisenberg, Phil LaMarr
IMDb Rating: 8.6/10
Rotten Tomatoes: 96%
Streaming Platform: Disney Plus Hotstar
Justice League is a popular adult animated show that the characters released by DC Comics inspire. The show ran for two seasons. The show was an absolute delight for the action lovers out there.
2. Solar Opposites
Creator: Justin Roiland and Mike McMahan
Voice Cast: Justin Roiland; Thomas Middleditch; Sean Giambrone; Mary Mack
IMDb Rating: 8/10
Rotten Tomatoes: 96%
Streaming Platform: Hulu, Disney Plus, Amazon Prime
This hit animated series is based on a family of aliens as they shift to middle America just to find out which of the two planets is better to live on. This adult animated comedy series seems a better option when you are watching with your whole family. This series will surely cure all your stress and anxiety because it has one of the most hilarious moments that will surely give you a hearty laugh.
1. Birdgirl
Writer: Michael Ouweleen, Erik Richter
Director: Rich Ferguson-Hull
Cast: Paget Brewster, Rob Delaney, Sonia Denis, Kether Donohue, John Doman
IMDb Rating: 5.6/10
Streaming Platform: HBO Max, Vudu, Prime Video
This adult animated comedy series revolves around a young girl named Judy Ken Sebben who combats the evil in society as Birdgirl. This female superhero does not seem to fear anything, as she can be seen picking up fights with anyone who is involved in a crime. Birdgirl is such an inspiration to all the teenage girls out there to become bold and strong in life. To all the people who loved watching the first season, we have an exciting piece of news for you. We were blessed with a second season in 2022.
Conclusion:
The Invincible series is the best comic book adaptation. It presents the best kind of graphic violence that is extremely enjoyable to the adult audience. Invincible is undoubtedly an irreplaceable show in our minds. Some shows carry the same vibe as Invincible. The great adult animation shows include Rick and Morty, Harley Quinn, Justice League, Doom Patrol, Samurai Jack, Star Wars: The Bad Batch, The Walking Dead, and many others. They all makeup for beautifully animated action series which can never fall out of fashion. Well-presented series like Invincible make up for better stress Busters in present times.