Outlander is a famous drama series that is a fantastic blend of history and fantasy. This is just like another fan-favorite series- Game of Thrones. The show's first season came in 2014, and it is based on Outlander novels written by Diana Gabaldon. This Straz series shows us a nurse in World War II who gets transported back to the 1700s, i.e., 200 years back in Scotland. She is a completely out-of-place woman who is forced to adjust to an entirely different environment. Time travel has been used as a theme in Outlander. Claire comes across a handsome Scottish Highlander- Jamie Fraser (played by Sam Heughan). This is a historical romance with five seasons. After completing this one, Outlander fans often search for similar shows. So, the following is the list consisting of shows like Outlander.
15. Vikings
Director: Johan Renck, Ciarán Donnelly and Ken Girotti
Writer: Michael Hirst
Cast: Travis Fimmel, Katheryn Winnick, and others
IMDb: 8.5/10
Rotten Tomatoes: 100%
Where to watch: Amazon Prime Video
Vikings is a popular historical drama with multiple seasons to watch. The show is made about Ragnar Lothbrok and his sons. Just like Game of Thrones, Vikings also have a lot of deaths over the course of its numerous seasons. The wars and fighting are similar to Outlander. There are rich character arcs present in Vikings. For those who want their next show to be historically based and have a lot of action, Vikings is the one for you.
14. The Spanish Princess
Director: Birgitte Stærmose
Writer: Philippa Gregory, Matthew Graham, and others
Cast: Charlotte Hope, Ruairi O'Connor, and others
IMDb: 6.8/10
Rotten Tomatoes: 75%
Where to watch: Netflix
The Spanish Princess is about European history and the influential female figures present. This is a continuation of The White Queen (2013) and The White Princess (2017). All of this historical drama is based on the novels written by Philippa Gregory. Throughout 2019 and 2020, The Spanish Princess aired 16 episodes.
In this, Charlotte Hope can be seen playing the role of Catherine of Aragon, who is, by some people, recognized as the first wife of King Henry VIII. She was a princess before her marriage. The show tells us about her journey to England to meet Prince Arthur. He was her betrothed, but she ended up getting involved with her younger brother. The show has everything. Unlike other series made about this time, the show focuses on Catherine.
13. Poldark
Director: Warren Clarke, Stephen Woolfenden, and others
Writer: Winston Graham, Debbie Horsfield
Cast: Aidan Turner, Eleanor Tomlinson, and others
IMDb: 8.3/10
Rotten Tomatoes: 86%
Where to watch: Amazon Prime Video
Outlander fans mostly love it is the period romance aspect. If you are one among them, then, Poldark is the perfect show that you should watch next. Poldark is based on the books written by Winston Graham of the same name. Aiden Turner is seen as Captain Ross Vennor Poldark. He is a man who comes back after spending three years in the British Army to fight the American War of Independence, a revolutionary war.
Captain Ross Poldark, upon returning, discovers that his father has passed away, and now his estate is in trouble. Trying to recover that, he hires a young woman. She is Demelza Carne, who is a scullery maid. They both work together. Shortly, their antagonism converts into romance. Poldark is about a couple over the years. Demelza and Poldark offer a period of the romance of years past.
12. Black Sails
Director: Michael Bay
Writer: Jonathan E. Steinberg, Robert Levine, and others
Cast: Toby Stephens, Hannah New, and others
IMDb: 7.8/10
Rotten Tomatoes: 81%
Where to watch: Netflix
Black Sails is set on New Providence Island in the early 18th century in the Bahamas when piracy was very much prevalent and was known as the Golden Age of piracy. This is a prequel series to the 1883 novel Treasure Island. The show has many similar characters like Captain James Flint, Billy Bones, John Silver, and others. This show has fantastic female characters. Black Sails was finished in 2017 after the completion of its four seasons. It has the same amount of adult content and action as Outlander. These elements were used well by the creators to make a character-driven plot. The show has epic romance and is a perfect treat for the eyes.
11. The Tudors
Director: Michael Hirst
Writer: Michael Hirst
Cast: Jonathan Rhys Meyers, Henry Cavill, and others
IMDb: 7.4/10
Rotten Tomatoes: 90%
Where to watch: Hulu
The Tudors is a popular historical drama that is set in 1500s England. The show has no supernatural aspect or fantasy element, but it is just like Outlander because of the action and drama. For those who are not familiar with the history, The Tudors focuses on the life of King Henry VIII, who had six wives during his lifetime. The first one was Catherine of Aragon, who was the focus of The Spanish Princess series. The Showtime series stars Jonathan Rhys Meyers in the role of King Henry VIII. Those who want to watch love scenes and tragedy should go for this series.
10. Turn
Director: Joe Lynch, Declan O'Brien, and others
Writer: Craig Silverstein, LaToya Morgan, and others
Cast: Seth Numrich, Daniel Henshall, and others
IMDb: 8.1/10
Rotten Tomatoes: 81%
Where to watch: iTunes, Amazon Instant Video, Vudu, Google Play
In the sixth season of Turn, the American Revolution formed an important part of the plot of Outlander. The Frasers were seen getting caught up in these important historical events. Those who find the time period interesting should watch Turn. It is a show about George Washington's spies during the time of rebellion.
9. A Discovery of Witches
Director: NA
Writer: Deborah Harkness
Cast: Matthew Goode, Matthew Clairmont, Teresa Palmer, Diana Bishop, and others
IMDb: 7.9/10
Rotten Tomatoes: 86%
Where to watch: Amazon Prime Video
Outlander fans looking for a fantasy twist should watch A Discovery of Witches, which is an exciting fantasy drama with central romance. Outlander fans will enjoy this show even more when they reach the second season, which is set in the 1500s Elizabeth London. Teresa Palmer is seen playing the role of a historian and a witch- Diana Bishop. Matthew Goode is seen as Matthew Clairmont, who is a biochemistry professor and a centuries-old vampire. They both meet at Oxford, where Diana came to study alchemy. Romance blossoms between these two, thus challenging the rivalry between the magical species.
8. Victoria
Director:
Writer: Daisy Goodwin, Ottilie Wilford, A. N. Wilson, Guy Andrews
Cast: Jenna Coleman, Tom Hughes, and others
IMDb: 8.2/10
Rotten Tomatoes: 87%
Where to watch: Amazon Prime Video
Laoghaire MacKenzie is considered to be among the most hated characters seen in the Outlander series. It will be a shock to the audience to watch actress Nell Hudson playing the role of Mrs. Skerrett, a dutiful maid. This series about the reign of the British monarchy is worth a watch because of Nell Hudson's performance. The series shows us the royal family drama during the reign of young Queen Victoria. There are three seasons in the show.
7. Game of Thrones
Director: David Benioff & D.B. Weiss, David Nutter and Miguel Sapochnik
Writer: Dave Hill
Cast: Peter Dinklage, Emilia Clarke, Kit Harington, and others
IMDb: 7.6/10
Rotten Tomatoes: 55%
Where to watch: HBO Max
Game of Thrones has eight seasons and is an HBO series. Outlander is sometimes referred to as a more feminist version of GOT. So, it is obvious for this show to find a spot on the list of shows like Outlander. Both these are set in a time when there were no electricity and smartphones. Also, both have violence and sex. But GOT's tone is a bit different from Outlander, so be prepared for that shift in tone.
6. Bridgerton
Director: Julie Anne Robinson
Writer: Julia Quinn
Cast: Phoebe Dynevor, Regé-Jean Page, Golda Rosheuvel, Jonathan Bailey, Adjoa Andoh, Nicola Coughlan, Julie Andrews
IMDb: 7.3/10
Rotten Tomatoes: 82%
Where to watch: Netflix
Bridgerton is based on the best-selling book series written by Julia Quinn of the same name. This series is about the children of a fictional Bridgerton family as they go in search of love in Regency-era London. The first season was liked a lot by the audience in comparison to the second one. Both the seasons are different and unique in their own ways. It has no shortage of period pieces of politics and steamy scenes. After the father's death, the eldest daughter Daphne goes out searching for a husband, and she falls for Anthony.
5. Westworld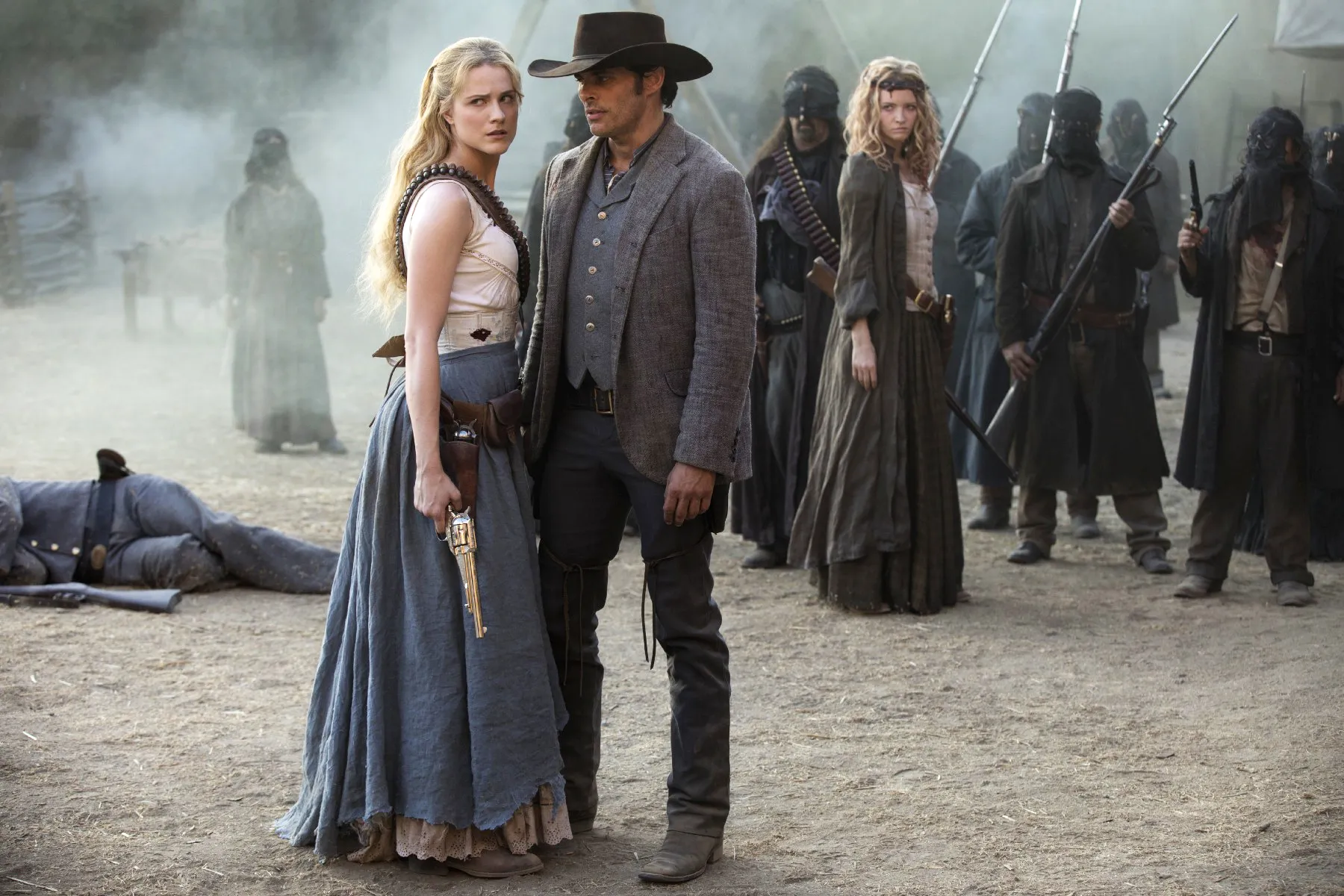 Director: Michael Crichton
Writer: Jonathan Nolan, Lisa Joy, and others
Cast: Evan Rachel Wood, Jeffrey Wright, and others
IMDb: 8.6/10
Rotten Tomatoes: 81%
Where to watch: HBO Max, Hulu
This is yet another HBO fantasy series that explores various places and times. To even tell the basic plot will ruin the fun, as it would be no less than giving spoilers. Watching the world the show wants to introduce to the audience is interesting. Moreover, it is an engrossing drama with powerful female leads. It is a science fiction series that is about a technologically advanced park. The Outlander fans would like this.
4. The White Queen
Director: James Kent, Jamie Payne
Writer: Philippa Gregory
Cast: Rebecca Ferguson, Amanda Hale, Faye Marsay
IMDb: 7.7/10
Rotten Tomatoes: 80%
Where to watch: Netflix
If, after watching Outlander, you wish to know more about British history, watch The White Queen and its sequels- The White Princess and The Spanish Princess. After watching this series, you'll be able to name the kings and queens in order. The historical drama is a little bit complicated because of the historical elements themselves. The sex and intrigue in The White Queen make it all worth a watch.
3. 12 Monkeys
Director: Terry Gilliam
Writer: Terry Matalas, Travis Fickett, and others
Cast: Amanda Schull, Aaron Stanford, and others
IMDb: 7.7/10
Rotten Tomatoes: 88%
Where to watch: Amazon Prime Video
Can someone actually alter the history? This is the question after which Jamie and Claire were in the Outlander series. 12 Monkeys aired its four seasons on Syfy, which are now also available on Hulu. Attempts to stop a deadly virus are made by a visitor that came from the future and a doctor. In the later seasons, other threats to humanity were seen. Moreover, this show has excellent character development and a love story, making it worth watching.
2. The Witcher
Director: Alik Sakharov, Yasen Atour, and others
Writer: Lauren Schmidt Hissrich, Andrzej Sapkowski, and others
Cast: Henry Cavill, Freya Allan, and others
IMDb: 8.2/10
Rotten Tomatoes: 81%
Where to watch: Netflix
A series of novels that go by the same name influenced the Netflix series The Witcher. It tells us the story of Geralt of Rivia, a monster hunter searching for meaning in his life. He battles monsters, creatures, beasts, and humans. Those who like to watch sex scenes and swordsmanship should look no further and watch The Witcher.
1. Timeless
Director: Eric Kripke, Shawn Ryan
Writer: Eric Kripke, Shawn Ryan, and others
Cast: Malcolm Barrett, Matt Lanter, and others
IMDb: 7.7/10
Rotten Tomatoes: 91%
Where to watch: Hulu
If the time travel part in Outlander was your favorite, then, Timeless is the show for you. Abigail Spencer plays the role of Lucy Preston, a history professor. She forms a team with Wyatt Logan and Rufus Carlin with the aim of tracking down a time machine that got stolen. It is about time travel and is a time travel fantasy. They want to catch the bad guys who stole the machine and have to change history so that a mysterious organization can get benefits. In all, the show has two seasons and a finale that is of 2 hours. The show faced cancellation even before the plot could complete.