'Wonderful', 'Incredible', 'Captivating' and many more such adjectives are associated with Carnival Row series. Carnival Row season 2 is up with a fire as its first season has already received such positive responses.
Who All Are Part Of The Maker's Team?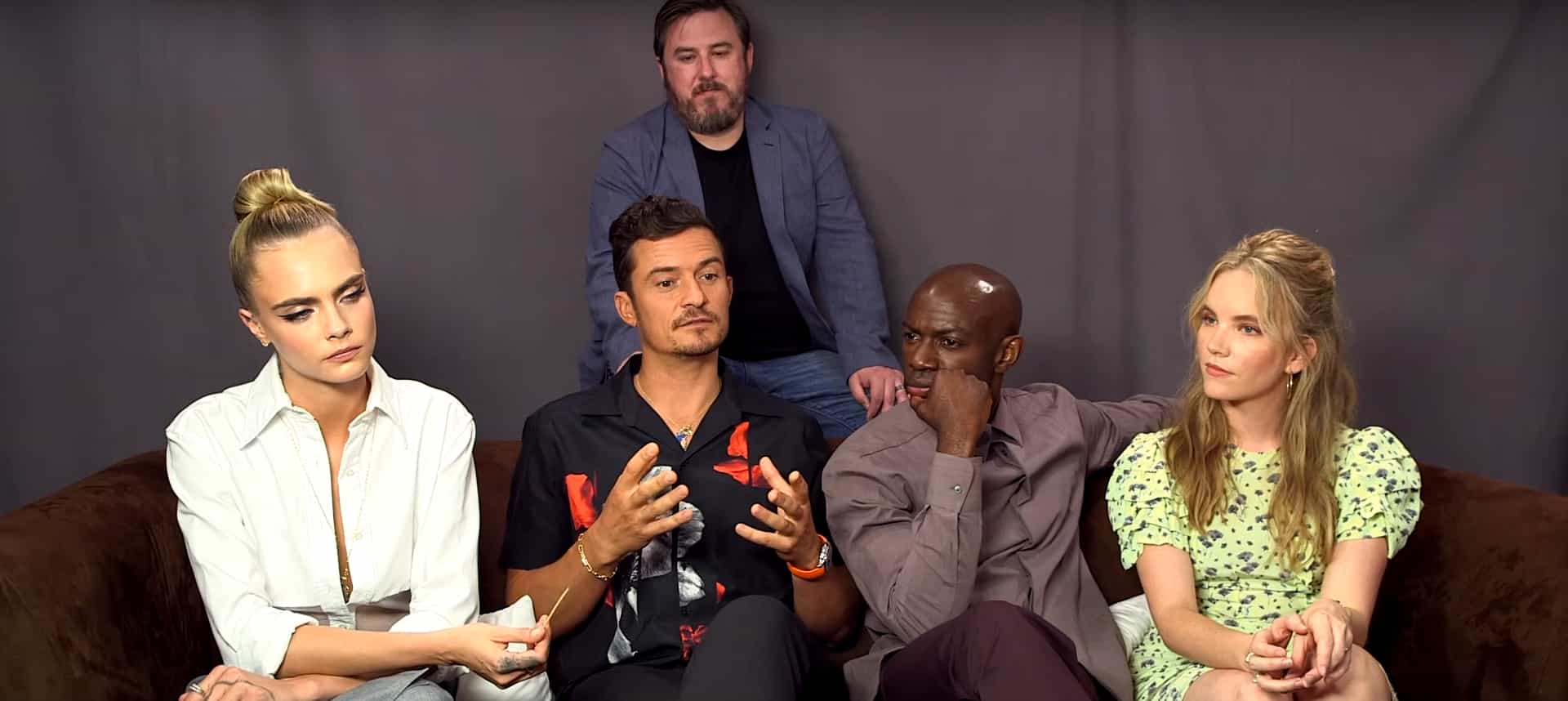 The series is popularly known to be an adaptation of Travis Beacham's A Killing on Carnival Row.It is directed by various directors involved in different episodes, including Thor Freudenthal, Andy Goddard, Anna Foerster, Jon Amiel, Julian Holmes, Wendey Stanzler.
Rene Echevarria, Travis Beacham, Marc Guggenheim, Dylan Gallagher, Eric Oleson, Peter Cameron and Stephanie K. Smith are the creators. Golden Amir produced it.
There is no doubt that a team's unity and hard work are the very reason for the show's success. These series consist of directors, writers and producers who all collectively believed in bringing alive this project.
What Is The Plot Of The Carnival Row Television Series? 
The Carnival Row storyline holds so much to explore. But, first, as we experience, the base, since its first episode, has the plot where immigrants and humans co-exist and face clashes as two opposites.
This immigrant population is an interestingly immigrant creature. Yet, all we know at the start is how these creatures have faced a crucial war-torn past and, as a result, have run out, far away from their native lands.
As the base now exists, moving forward, we are introduced to different genres such as Steampunk, Neo-noir, Urban fantasy, Political, Drama, and Murder Mystery.
This is followed by themes such as madness of power, love that is left unresolved, murdered left unsolved, social adjustments crisis and more such high-level drama themes.Thus, the struggle faced by the mythical immigrant creatures flows parallel to the investigation throughout the series.
How Many Seasons Carnival Row Series Have? 
Carnival row series has premiered its very first season in the year 2019 at the end of August. Though it seems the renewal of the series has been pre-planned for the next season, it is no more a hidden secret that the new season is indeed official. So that is its time for new episodes which will introduce the audience to what is up in the story next.
But, for now, answering the question mentioned above. Till now, these series  just has the first season within a total of eight episodes.
Full Cast List You Must Know About Carnival Row? 
One of the very significant attractions of filming is a curiosity to know about the actors joining the team to hit a blockbuster.
This series 'Carnival Row', as is currently coming up with its second season, which recently wrapped up at the near end of 2021 includes some of the same cast that the viewers have already seen in the first season, some appearing again and are introduced with some fresh actors.
First, the names of some already stunning the series by giving their best performance mainly include Orlando Bloom (Rycroft Philostrate), David Gyasi (Agreus Astrayon), Cara Delevingne (Vignette Stonemoss), Simon McBurney (Simon McBurney), Caroline Ford (Sophie Longerbane), Tamzin Merchant (Imogen Spurnrose), Arty Froushan (Jonah Breakspear), Andrew Gower (Ezra Spurnrose), Karla Crome (Tourmaline Larou).
Next, we have the complete list of actors appearing again, which includes Ariyon Bakare (Darius), Maeve, Dermody (Portia Fyfe), James Beaumont (Constable Beaumont), Waj Ali (Constable Berwick), Alice Krige (Haruspex), Leanne Best (Madame Moira), Tracey Wilkinson (Afissa), Theo Barklem-Biggs (Cabal), Anna Rust (Fleury), Ronan Vibert (Ritter Vibert), Chloe Pirrie (Dahlia), Mark Lewis Jones (Magistrate Flute), Scott Reid (Quill), Sinead Phelps (Jenila/Nefrie)
In addition, more cast members include Jamie Harris (Sargeant Dombey) with a major role, Kevin Michael Clarke, Jay Ali (Kaine), Brian Caspe (Nigel Winetrout), Ryan Hayes (Constable Thatch), George Georgiou (Kastor), Stewart Scudamore (Boz Ghaidos), Leanne Best (Madame Moira), Amira Ghazalla (Mima Danu). The series except to require a larger gang of actors to take the series into the next stage of plot or storyline.
Carnival Row Season 1 Episode Titles
Carnival Row series, as given are the following titles of the first season. The episode titles are the instant attraction before evening, catching the series's vibe. These titles have such dark fantasy quotes which will tempt the viewers to dive into the victorian fantasy world. All right episodes are available on Amazon Prime Video.
Some Dark God Wakes

Aisling

Kingdoms of the moon

The Joining of Unlike Things

Grieve No More

Unaccompanied

The World to Come

The Gloaming
Also, it is officially clear that Carnival Row upcoming season is also going to have a total number of eight episodes in it. All the upcoming episodes will bring fresh content Eight episodes in season one and eight in season two. This will make the series with a total number of sixteen episodes. These can easily catch on Amazon prime video.
Reviews And Ratings Of Carnival Row Season 1
Carnival Row series Season 1 has is released, reviewed, and received excellent ratings. The viewers are delighted, impressed and thrilled at the same time as this series has successfully marked positive responses in every possible front.
Carnival row cast members, direction, script, plot, setting, costumes and more such detailed factors have won the hearts of every single viewer. As the adventures and storylines that it follows along with the graceful performances of the best actors, everything settled well in expected places.
What To Expect From Carnival Row Season 2?
We can believe that after the success of Carnival Raw Season one, the fans are expecting more fun, adventure and enjoyment. Thus, the makers have to bring something fresh for another season.
Season two might dive deep into the concepts, themes, and genres introduced. As a result, the audience will experience more drama, action, high-level fantasy, thrill, and risk-taking adventures.
Carnival Row Season 2 Release Date
The long and slow wait seems to be going over soon. As the news is now spreading out and our latest speculations believe that the audience will soon get the chance to watch Carnival Row Second Season.
Carnival row season 2 has already wrapped up making and reached the post-production stage. So, season 2 freshly will come up with all eight episodes, key characters, and some returning cast members. Amazon Studios have confirmed that we can expect its release by the summer season of this year, 2022. Though for now, no exact date of release.
Carnival Row Season 2 Where To Watch
Carnival Row Season 1 already premiered its eight episodes on Amazon Prime Video. Prime Studios have confirmed that Carnival Row Season 2 is also giving to be premiered on this same popular streaming platform.This means that the audience can watch Season 1 and Season 2 of this murder mystery series on Amazon Prime Video.
What Else To Know Before Watching the Upcoming Season of Carnival Row?
Our recent updates have the good news for the audience that filming of Carnival Row Season 2 has already happened and finished. Its filming started long back in 2019 when the first season came out. In November in the Czech Republic, its filming took a great start, but very soon it was put on hold due to the world's worst pandemic havoc.
As the Czech Republic reopened after months of pandemic delay. The filming was soon resumed and successfully finished. Eventually, the makers and writers updated with more details and reassured its competition and soon-to-be-released news.
Carnival Row Season 2 Post Production 
As it sure that the series is renewed again. The first look is the first impression that will help collect the audience. Making them aware of it is the next step in the series.
After completing its production, the makers have also released the first look as the principal photography began. More is yet to come, but surely now the promotion stage is arriving very soon.
Carnival Row Season 2 Trailer and Teasers
The latest updates have only informed us of no such official trailer is out as of now. But, since the filming has been completed, we can worry not as, soon the makers will start with its promotion stage, at least by releasing some fascinating teasers.
Conclusion 
The audience is already high on energy with the news that Amazon renewed Carnival Row Season 2. It is going to get better and bold. Some new actors and new characters, some fresh plot and something new to watch. 
The team is already working hard in keeping the expectation level as fresh as it was in Season 1. Let us wait for more accurate information and updates. Then, please sit back and have a good time watching or even binge-watch it.