If you are a die-hard fan of the fantasy comedy genre, then we are pretty sure you must have heard about the immensely popular movie "The Cat in the Hat." How can you not be fascinated by the human-cat, Mike Myers, who talks exactly like humans!
The film starts with the unusual cat making an unexpected entry into a house that has two children (and their mom is out, so we have no elderly in the picture except the babysitter). The film follows the adventures of Mike Myers and the two children as he teaches them how to break the rules in the most creative ways possible. We also have a daring fish that keeps lecturing the kids about the rules to follow.
While it has some of the best characters that made us giggle throughout the movie, we were introduced to the most amazing quotes that need your attention. Here are some of the best The Cat in the Hat quotes that live in our hearts rent-free.
10. Mike Myers: "Mmm-mmm-hmm yeah."
One thing about Mike Myers that stands out from the rest of his qualities is that he doesn't fear anyone, not even all the grumpy mothers who don't spare anyone. The above conversation addressed a lot of panic between the kids and the fish when Mike ruined Mom's dress in an attempt to wipe the paint off the wall.
It's clear how he doesn't like the dress, as he calls it a filthy thing. Of course, he needs to blame it on other people for ruining her dress. It's highly commendable how he made an impression on a girl by putting on the dress. That was the lamest thing ever, but we enjoyed it for sure! The little victory dance he did after giving a savage reply to Sally and Conrad still plays at the back of our heads in every possible situation.
9. Mike Myers: "Hmm, How do I put this — When a mommy cat and a daddy cat love each other very much, they decide that –"
It is a fact that the people who are willing to enlighten a curious kid about how "babies are born" don't fear anything. Mike Myers decided to go hard on the kids and tried to explain the whole complex process related to the mommy cat and the daddy cat. This scene really made me scratch the wall!
Well, you don't need to give the same description as Mike Myers to a kid who asks you how babies are made. Undoubtedly, Mike Myers is the most chaotic evil character in the history of children's movies.
8. Mike Myers: "Who, Me? Why I'm The Cat in the Hat, there's no doubt about that. I'm a super fundiferous feline, who's here to make sure that you're — "meline" — "key lime" — "turpentine." I got nothing. I'm not so good with rhyming, not really, no. Look, I'm a cat that can talk; that should be enough for you people."
The comedy portrayed in the Cat in the Hat movie is so ahead of its time. When Dakota Fanning asked this evil human cat a simple question about his identity, Mike Myers had to give a unique take on himself (we can't expect him to be mainstream at this point!).
Well, nothing is normal with him as he is unbelievably strange. The statement shows how much he loves bragging about himself. The true colors of this family-friendly cat are revealed as the movie progresses.
7. Mike Myers: "Here she is, the Super Luxurious Omnidirectional Whatchamajigger, or S-L-O-W for short."
Dakota Fanning: SLOW?"
Mike Myers: "Yeah, S.L.O.W. It's better than the last thing we had: Super Hydraulic Instantaneous Transporter!"
The Cat in the Hat has a weird-looking transport named Super Luxurious Omnidirectional Whatchamajigger. His popular catchphrase, "There's nothing faster than S L O W," proves its worth when that fancy car starts running on the road.
The kids take the help of Mike Myers because they want to rescue their dog from the evil person. Meanwhile, the fish was panicking throughout the journey like a mature person (it looks like he is the only one who has got some brain among all the group members).
6. Mike Myers: "I don't know. A little voice inside of me is saying, "This is a bad idea." But I can barely hear that little voice because an even louder little voice is screaming, "Let the twelve-year-old drive." Now punch it."
The fish advised that someone else should drive after witnessing the evil cat's driving skills (well, it is strange how those words come out of a tiny fish, but as we all know, nothing is normal in this movie!).
We can all agree that the fish has got a brain like that of a mature person, and he is the only intelligent character in the entire movie. When Sally sees that Conrad is having too much fun while driving, she persuades them to let her drive. Mike Myers thinks it's a great idea.
It is funny how Mike Myers's inner voice is right, and the twelve-year-old proved to be a better driver than him. This is one of the best Cat in the Hat quotes that will never stop sounding hilarious.
5. Mike Myers: "I'll get you, and it'll look like a bloody accident."
We can all agree that we have been dying to say these words to someone who annoys the hell out of us. I can't relate to the unusual character of Mike Myers, but I can totally feel him in this quote. This is one of the most famous quotes from the Cat in the Hat film.
Some people criticize the Cat in the Hat film for being completely out of place, but no one can argue with the intelligent humor used in the movie. As long as there is a cat that doesn't threaten to kill us, we are happy this movie exists.
4. Mike Myers: "He says you may feel free to call him Thing A if you like. He will also accept Super Thing, Thing King, Kid Dynamite, Chocolate Thun-da, or Ben."
Mike Myers delivers this statement while introducing Thing 1 and Thing 2 to Sally and Conrad. He further clarifies how Thing 2 is equally as efficient as Thing 1, and you don't have to underestimate him just because is been named Thing 2. You can also call him Super Thing, Thing King, Kid Dynamite, Chocolate Thunda, or even Ben.
3. The Fish: "Children, this cat is currently in violation of — seventeen of your mother's rules."
Well, this unusual house is blessed with a teeny-tiny protector of law who screams at the top of his lungs when it comes to violations of rules and regulations. Thus, he doesn't want to take any chances and keeps aggressively persuading everyone to follow the rules. That's how we get to experience one of the most hilarious animal characters in history.
2. Mike Myers: "Hey, Rhode Island license plate. You never see those."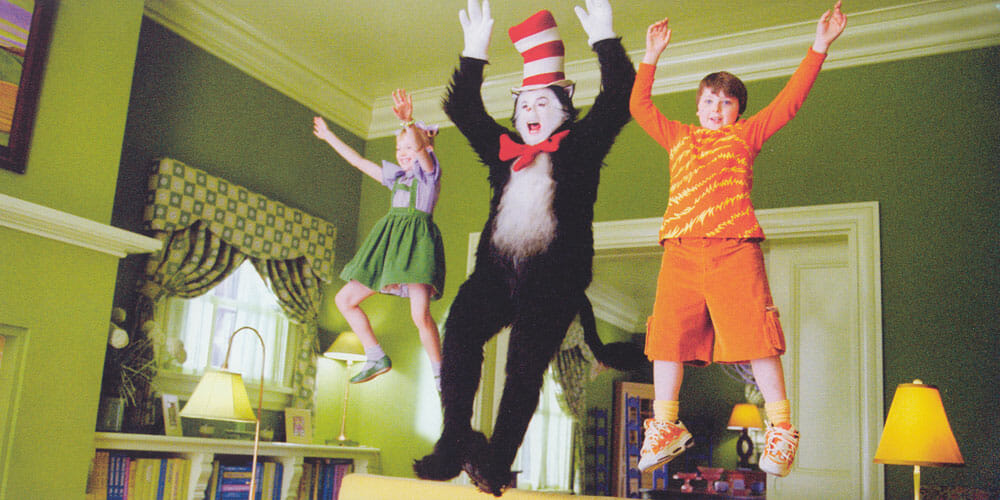 When both the kids are driving harshly without following any rules, Mike Myers taunts them with this popular quote. This fantasy movie, added with a touch of humor, is one of the best family movies we have ever witnessed. We love how the makers came up with a human cat and made it downright funny to meet the audience's expectations.
1. Lawrence Quinn: "Oh, I think you're gonna love it. It's just like summer camp, except with brutal forced marches and soul-crushing discipline."
Lawrence Quinn is the evil-looking boyfriend of Conrad's mother. It is evident how both of them completely hate each other. Lawrence wants to get Conrad out of the house by sending him to military school before he marries his mother. That's why he is trying everything to persuade Conrad's mother to make him join the school.
Conclusion:
The Cat in the Hat film has everything we wish to see in a fantasy movie. We all need to have a super-intelligent cat who talks like an actual human being and knows how to drive a car on our low days. The character of Mike Myers stole the show with their excellent comedic skills and unique outlook.
It is a must-watch for kids as well as for adults. The Cat in the Hat film also involves a musical number that people still enjoy. One of the best Cat in the Hat quotes includes, "Yeah, but without those tortured animals or drunken clowns that have hepatitis" and "This isn't just any old crate, it's the trans-dimensional transporterlator."
The Cat in the Hat film is adapted from Dr. Seuss's children's book. The movie motivates us never to stop striving for happiness and doing what makes us happy.