Josh Heald, Jon Hurwitz, and Hayden Schlossberg created Cobra Kai as a sequel to the real Karate Kid film by Robert Mark Kamen. Cobra Kai premiered on May 2, 2018, and all four seasons of the comedy-drama series are completed on December 31, 2021. The series has been updated for the fifth season, which is expected to release this year itself. Sony Pictures Television does the distribution of this martial arts drama.
Season 5 Release
Cobra Kai season 4 came to an end right before the new year, with a lot to unfold. Netflix officially announced that season 5 would be airing on September 9, 2022, much earlier than expected. The official trailer of season 5, released two weeks ago, sparked the fans to go back to their favorite show.
All About Cobra Kai
Being a sequel to the Karate Kid, Cobra Kai gained popularity worldwide, and it was a piece of great news for Karate Kid fans to know about the arrival of Cobra Kai. All the Cobra Kai characters are returning to us on September 9, 2022. It will be fun with all your favourite characters, Johnny, Daniel, Miguel, Samantha, and Robby, as a part of your September days.
We have witnessed the rival turned buddies DanielLaRusso and Johnny Lawrence's bromance in the past seasons of Cobra Kai. They even trained at Daniel's dojo together, where they taught each of their specialities, Miyagi-do and Eagle Fang. They came together based on fighting a common enemy JohnKreese's Cobra Kai.
Kreesealso started to recruit some members in his dojo and called his old friend Terry Silver for help. The ending of season 4 is screwed up when Terry Silver's misdeeds led John Kreese into prison, and Silver took whole control of the Cobra Kai. Daniel seeks help from Chozento to fight against the incoming threat from Cobra Kai. We can hope that season five will be able to give us more thrilling and fantastic episodes with little fights and, above all, the dreams and hopes of your favorite characters.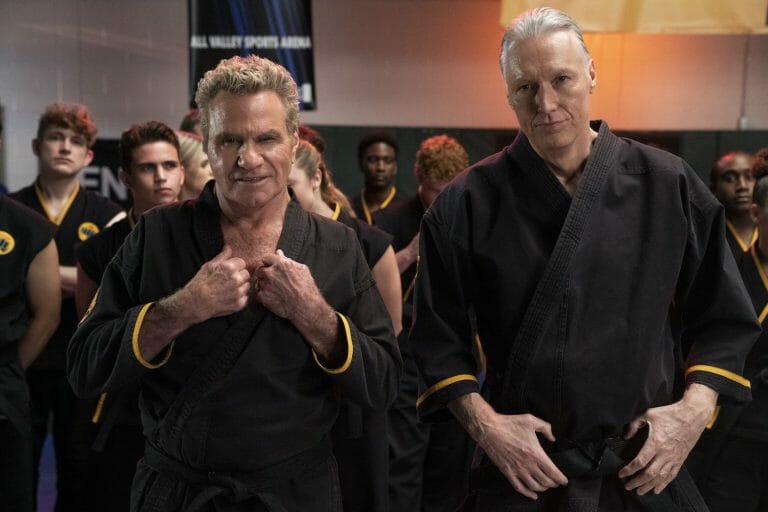 Where To Watch
Netflix resurrected the Karate Kid. It is also available on YouTube Red.
Also available (2 seasons) on iTunes, Google Play, and Vudu.
The Cast
Ralph Macchio as Daniel LaRusso, William Zabka as Johnny Lawrence, Courtney Henggeler as Amanda LaRusso, Mary Mouser as Samantha LaRusso, Griffin Santopietro as Anthony LaRusso, XoloMaridueña as Miguel Diaz, Martin Kove as John Kreese, Jacob Bertrand as Eli Moskowitz, Tanner Buchanan as Robby Keene, Peyton List as Tory Nicholas, Vanessa Rubio as Carmen Diaz, Thomas Ian Griffith as Terry Silver, Pat Morita as Mr Miyagi
Show Rating
Cobra Kai has become one of the most popular TV shows; which has come to an equal level to The Karate Kid.
The show has got really good ratings. It has got a rating of 8.6/10 on IMDb and a rating of 93% on Rotten Tomatoes.