DMZ (or demilitarised zone) was essentially a DC comic book under their Vertigo imprint, by Brian Wood and Riccardo Butcheilli. The miniseries is based on this comic book, which ran from 2005 to 2012 and has covered 72 issues and 12 trade paperback volumes. It is created by Roberto Patino who has worked in movies like Cut Bank, Prime Suspect and Sons of Anarchy.
The miniseries has a total of 4 episodes, titled, Good luck, Advent, The Good Name and Home. The four episodes will premiere the same day on HBO Max on March 17, 2022.
The series is set in the midst of a civil war in New York. The conflict between the two primary forces: the federal government of the United States of America and the Free States army, which turns Manhattan into a demilitarised zone.
What to Know Before Watching?
Synopsis
Separated at the time of evacuation from New York, Alma, a medic is accidentally separated from her son in the crowd. Now, on a mission to get his son back, she has to go into this demilitarised zone that has no police, no laws, no aid from anyone, and no guarantee of safety.
The island is inhabited by 300,000 non-citizens, who were either stranded or decided to stay back and make their own fate. The population is mostly built of poor people. No aid was given to them on the time of evacuation and even the prisoners were left in their jails.
How will this mother find her son, in this blood thirsty island where everyone wants to take control and there are no rules. She will have to choose sides here to survive or forget to ever see her son again or getting out herself as the two candidates fight for the crown. One a respected and feared gang leader and the other a trimmed, sleeked, suited man.
Stream it Or Skip it?
Since the miniseries is based on the DC comic book, you can definitely expect it to be dark. (DC definitely has a kink). On the release of the comic book, it received over the top appreciation and positive reviews; many critics called it a phenomenon and praised the refreshing story line and well built characters. It ran from 2005 to 2012 and then , Roberto Patino, made a miniseries adapted from it.
If you are into I am Legend or movies of the same genre, you will definitely enjoy it. It is a more realistic take unlike zombies, it deals with issue that could actually happen and is possible, which makes it more scary.
The miniseries is definitely a thumbs up, consisting of only 4 episodes releasing on the same day. You can binge it and won't have to wait days before the release of another episode. A segment of the miniseries also premiered at SXSW on March 12, 2022. And if the show does as well as the comic book, it will be a great watch.
Where And When to Watch?
The miniseries, DMZ is premiering on March 17, 2022 on HBO Max. However, a small segment of the series was released on SCSW on March 12, 2022
Cast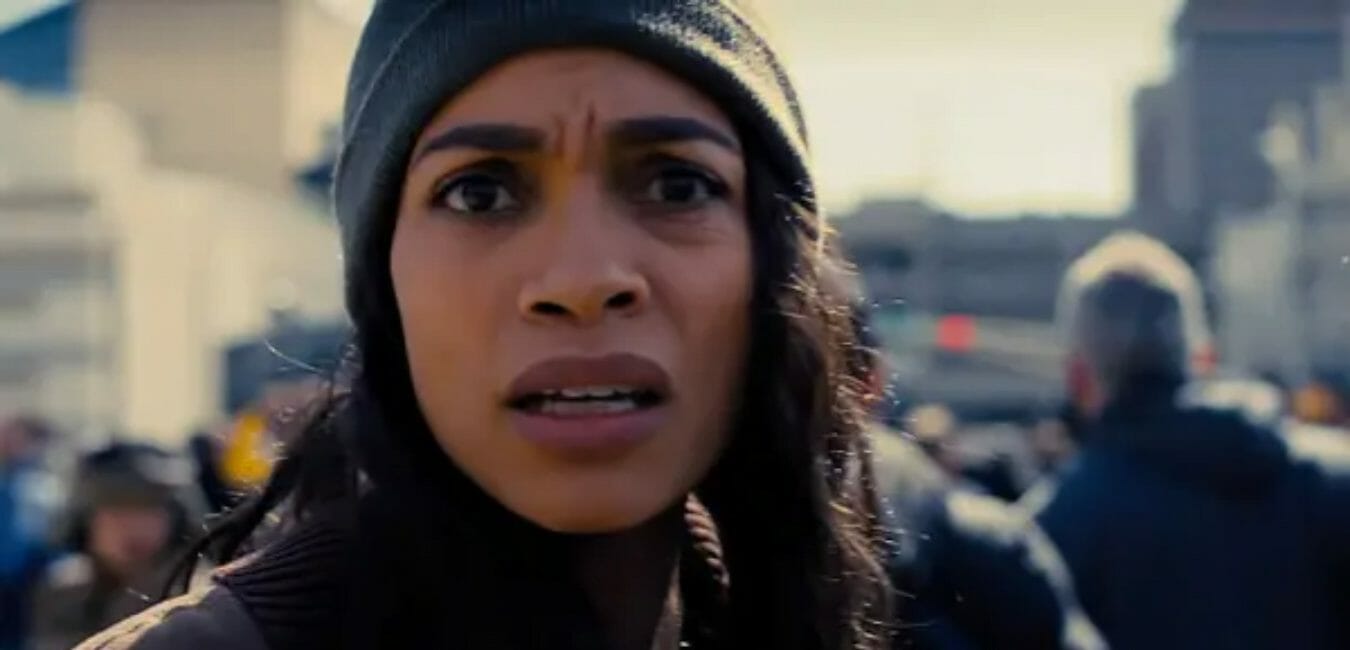 Rosario Dawson as Alma Ortega, Benjamin Bratt as Parco Delgado, Freddy Miyares as Skel, Hoon Lee as Wilson, Jordan Preston Carter as Odi, Venus Ariel as Nico, Jade Wu as Susie, Rey Gallegos as Cesar, Agam Darshi as Franklin, Juani Feliz as Carmen, Rutina Wesley as  Athena, Mamie Gummed as Rose, Nora Dumm as, Henry G. Sanders as Cedric.