HBO's teen drama Euphoria is probably one of the best dramas available. Major issues like drug addiction, childhood drama, teenage sex, and self-esteem are the focus of Euphoria. Levinson's own past helped him in making this fabulous show. Euphoria was released in 2019, and it didn't take much time to become popular among the audiences. The show gathered huge compliments from all across the globe.
It showed the issues in such a way that it made an impact on the audiences. People can't easily forget about the greatness of this show. Zendaya even won an Emmy for her role as Rue in the show. The way she portrayed the role was phenomenal, and there are just not enough words to describe that. All the characters, whether it be Jules, Maddy, or Nate, were immensely loved. And now, here we are, patiently waiting for the release of Euphoria Season 2.
Release Date of Season 2 of Euphoria
Season 1 of Euphoria came on June 16, 2019. On August 4, 2019, the final episode of season 1 was released. This season consisted of eight episodes which had an average runtime of almost an hour. Euphoria was renewed for its second season on July 11, 2019. Filming for the show's second season was scheduled to begin in early 2020, but the COVID-19 pandemic affected its production work.
Despite this, two special episodes were released in December 2020 and January 2021. The filming part for the second season was resumed in April 2021. Keeping all things in mind, we can expect Euphoria to return for its second season by the second or third quarter of 2022.
The Cast of Euphoria Season 2
The original cast will return back for their respective roles in Season 2. Zendaya will be seen in the role of Rue, Hunter Schaffer in the role of Jules Vaughn, Jacob Elordi in the role of Nate Jacobs, Alexa Demie in the role of Maddy Perez, Sydney Sweeney in the role of Cassie Howard Bennett, Barbie Ferreira in the role of Kat Hernandez, Maude Apatow in the role of Lexi Howard and Storm Reid in the role of Gia Bennett.
Apart from this wonderful cast, we'll also see Angus Cloud as Fezco, Eric Dane as Cal Jacobs, Algee Smith as Chris McKay, Colman Domingo as Ali, Javon Walton as Ashtray, Nika King as Leslie Bennett, and Austin Abrams as Ethan Lewis. Some new characters will also be added in Euphoria season 2. They will be played by Demetrius Lil Meech Flenory Jr, Minka Kelly, and Dominic Fike.
Expected Plot of Euphoria Season 2
In season 1 of Euphoria, we saw how Rue became dependent on Jules. Maddy and Nate were suffering because of their toxic relationship. Kat finds her new self while she becomes a cam girl and then develops feelings for Ethan. Cassie undergoes an abortion and later breakups with McKay. Fezco tries to stop Rue from getting into more drugs.
Nate was also seen blackmailing Jules. In the final episode of the season, we saw Jules running away while Rue stayed. The two special episodes were focused on Rue and Jules dealing with their trauma individually. Rue has a conversation with Ali regarding her hardships. Jules goes to a therapist to talk about her transformation and her feelings towards Rue.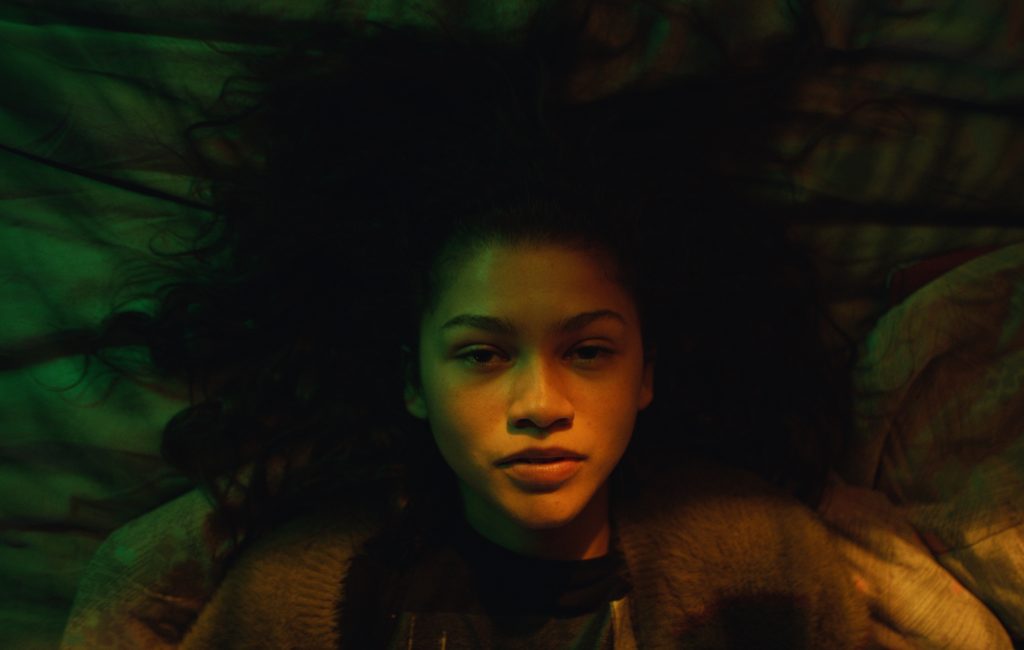 Season 2 of the show is expected to get even more exciting and intense. As Zendaya told in a recent interview, the makers will be seen going in more depth about the characters. It will also explore the possibilities between Rue and Jules. Nate's story will also be the main focus of the second season. Kat may get in a relationship with Ethan. Gia and Lexi will be seen living under their sisters. New characters will enter the plot.
Well, we can't wait to see it. Let's hope that Euphoria drops its second season soon.