Fraggle Rock is a children's musical fantasy show which features creatures who look like muppets. It is also known as Jim Henson's Fraggle Rock as Jim Henson is the show's creator. The show results from an international production between the United States of America, Canada and the United Kingdom, HBO, CBC and TVS, respectively.
The Muppet Show and Sesame Street inspired the creation of Fraggle Rock, except that the latter is entirely an international production. Four different versions of the show aired in different countries. Fraggle Rock: Rock On is the show's preceding season, which aired on Apple TV+ back in April 2020.
It was a huge success, following which, the broadcasting companies renewed the show for a new series known as Fraggle Rock: Back to the Rock. It premiered on Apple TV+ last January.
Fraggle Rock: Back To The Rock – Plot 
Fraggle Rock: Back to the Rock is a fun show full of musical adventures for the main character, Fraggles. The story this time dealt with much more serious topics, including the current situation with the environment, how one should deal with their insecurities, and how to manage a conflict.
This is also very different from the simplistic Muppet Show and Sesame Street, dating back to the 80s. The show calls humans "Silly Creatures" – and we cannot blame them – helps children develop flexible minds with complex phrases that might need a little more understanding and subtle jokes. Fraggles talking about climate change is undoubtedly an excellent example for our children.
The show tells the story of a group of 5 friends Gobo, Mokey, Wembley, Boober and Red. Each of them is unique, with their attributes and character development.
Fraggle Rock: Back To The Rock – Characters
There is an anthropomorphic species that live in Fraggle Rock. Among these, our story specifically talks of four rational creatures: Fraggles, Doozers, Gorgs and Silly Creatures (aka Humans). Fraggles are around 56 cm in height and can be of any color. Their distinguishing feature is their tail, which is full of fur. They live worry-free life and love playing games and having new adventures.
Next come the Doozers, who are greenish, 6-inch tall and human-like. They love Radishes. They love building things, and that's how they spend most of their time. They don't know much about the outside world but plan on moving out when their constructions overtake the world of Fraggle Rock.
Gorgs are huge humanoid creatures who are as tall as 264 inches! They consider Fraggles as worthless pests. And finally, humans are deemed as "Silly Creatures" by the other four species. That's when the Fraggles come in – they eat the stuff that Doozers have created, hence living in a symbiotic relationship.
Fraggle Rock: Back To The Rock – Previous Work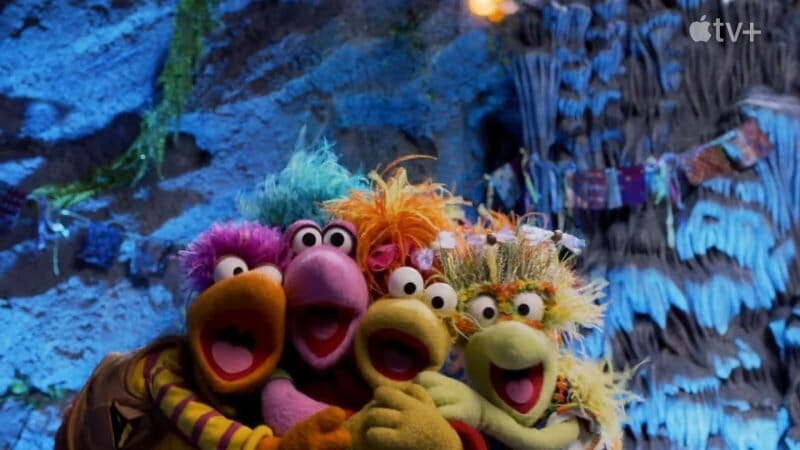 The animated series of Fraggle Rock first aired back in 1987 – almost three decades ago! The Fraggles and Doozers were also introduced, but the work was minimal. In the same year, they also featured in "A Muppet Family Christmas," where the characters from the show are on vacation to Malibu.
Jim Henson's company also created a computer-animated show named the Doozers for children. It began airing on television in 2014. Another feature film was canceled in 2015. And finally, on April 21, 2020, Fraggle Rock: Rock On came to Apple TV+, and on January 21, 2021, the succeeding spin-off, Fraggle Rock: Back to the Rock, arrived.
Fraggle Rock: Back To The Rock – Cast Members
John Tartaglia is the main puppeteer. He is the one who puppeteers Gobo Fraggle, Sprocket, Gunge, Lyle Craggle, Barry Blueberry and Architect Doozer. Karen Prell, Donna Kimball, Jordan Lockhart are some other main puppeteers. Frank Meschkuleit plays Uncle Travelling Matt, while actor Kevin Clash portrays it. Other actors include Kanja Chen, Kira Hall, Andy Hayward, Ingrid Hansen, Ben Durocher, etc.
Many voice actors are a part of the cast. They include Dave Goelz as Boober Fraggle, Uncle Travelling Matt, The World's Oldest Fraggle, Daveed Diggs as Jamdolin, and so on.