Fall Guys is a kind of knockout game and battle game developed by Mediatonic and published by Devolver Digital and Epic Games. The game designer is Joseph Walsh and is directed by Jamie Riding. The producer of the game is Alex Ruse.
Fall Guys is one of the most played games of 2020 as the game is calming while challenging at the same time. The calm and the vibrant ambiance of the game provide a great gaming environment to the players. The theme of this game is an all-new introduction, and before Fall Guys, no game like this existed. This is also a reason that adds to the popularity of the game.
The game's first season was released on August 4, 2020, for Microsoft Windows and Play Station 4. After that, the game gained whole new popularity within a very short period. Since now, the game has released its six seasons. Season 6 got released on November 30, 2021, and is still ongoing. Season 6 also proved to be successful, and now, Fall Guys Season 7 is all set to release.
About The Gameplay Of Fall Guys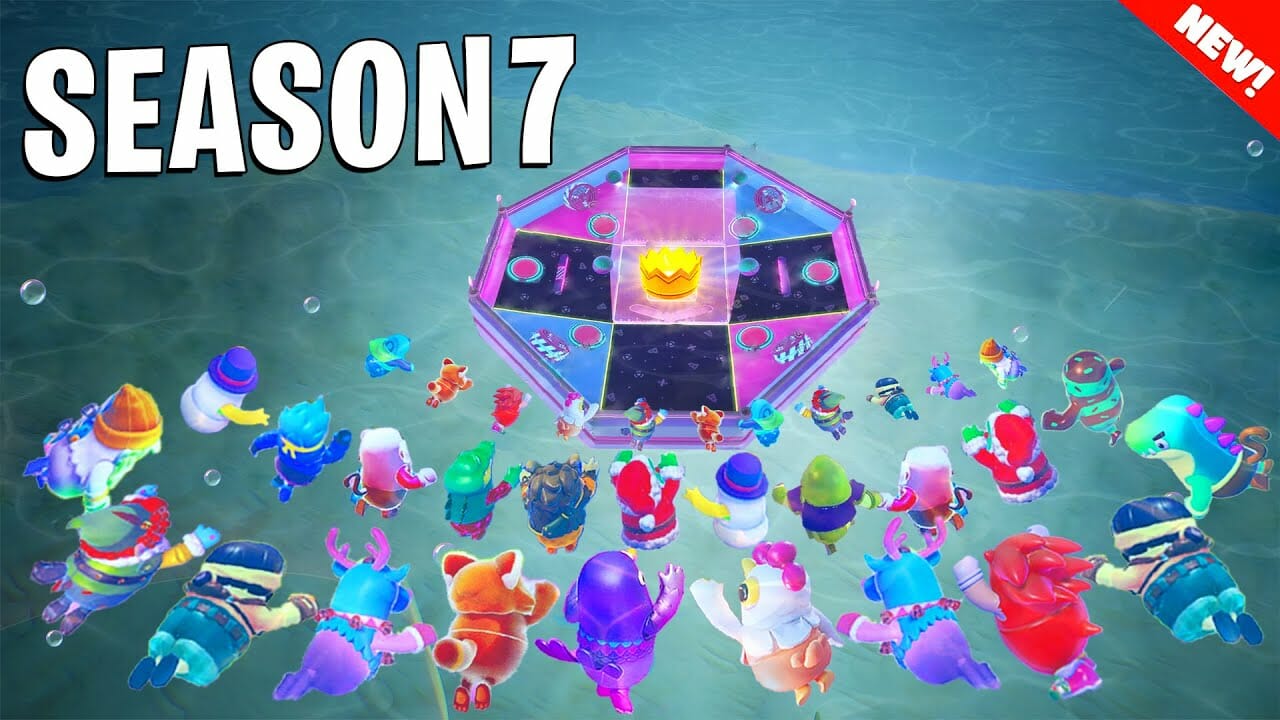 Most battle royal games always have a serious environment and require a lot of focus and indulgence. But even though Fall Guys is a royal battle game, it can be played while laying back. In the gameplay of Fall Guys, you are made to gather around a group of 60 people in a particular match. Not exactly even people, but some cute jelly-like creatures. Then these 60 jelly-like creatures compete with each other and are made to cross various hurdles and obstacles.
The ultimate winner is the one who passes all the hurdles and makes it to the end. The game somewhat has a party-liked theme, making it very engaging for the players. Also, the goofy jelly-like characters add to the popularity of the game. So in total, the vibrant, relaxing, calm, and this stupid kind of fun keeps one involved in the game.
About The Different Seasons Of Fall Guys
Originally, the game's first season was inspired by some TV reality gaming shows such as Takeshi's Castle and Wipeout. The show's first season got released on August 8, 2020, and ran till October 7, 2020.
Considering the game's immense popularity, an all-new second season was introduced. Season 2 commenced on October 8, 2020, and ended on December 14, 2020. After this, the third season started on December 15, 2020, and was accessible till March 21, 2021. Season 4 began on March 22, 2021, and ended on July 20, 2021. The period for season 5 was from July 20, 2021, to November 29, 2021. Now, the ongoing season that is season 6 commenced on November 30, 2021, and hasn't ended yet.
About Fall Guys Season 7
Just as always, with the start of a new season, some new features are introduced. This time also, season 7 will have some new visuals and gaming treats for the players. The famous game, Among Us, which was also a so-called "imposter game," will be incorporated in the Season 7 of Fall Guys. This assimilation of Fall Guys with Among Us will embrace the game's ambiance even more and will for sure gain very much popularity all around.
In this crossover of Among Us and Fall Guys, Fall Guys' jelly-like creatures will be made to appear as astronauts. Also, an alien-like invader will be introduced in the game.
When Is Fall Guys Season 7 Coming Out?
As mentioned earlier, season 6 of Fall Guys is still going on. So once this season ends, the all-new season that is season 7 will make its way to all the platforms. According to the official teaser of Fall Guys Season 7, this season will be released on March 22, 2022, Tuesday on all the leading platforms. The game will be released on Microsoft Windows, Xbox, Nintendo Switch, and PlayStation.