In the DC comic, Black Adam is a polluted old Egyptian with a twisted back story. His real name is Teth Adam, and the wizard named Shazam grants him the same powers as the hero Shazam has. But after getting the powers, he shows his true evil character. He determines to destroy the world, beginning with Egypt. Unfortunately for the wizard, Shazam, who gave power to the Teth, Adam cannot take his powers back. 
So to protect the Earth, he banished him from the planet Earth, but in 1945 he returned.
But as we have seen several times, comic stories are flexible, and the same goes for Black Adam. His story has been rewritten numerous times as per the writers liking since his first appearance. So if you are a fan, you can dig all his old issues to get a hold of his story.
How Did Black Adam Get His Powers?
Like Billy Batson, Black Adam has to shout the word "SHAZAM" to transform and get the powers of 6 Egyptian Gods that grant him similar powers to Shazam. The six gods are Shu, who gives him unimaginable stamina and invulnerability, Heru, who gives him super speed; Amon, who gives him immense physical strength, Zehuti, who blesses him with great knowledge and wisdom; and Aton, who gives him lightning power and finally Menthu who grants him uncompromising courage.
His strength levels are often placed at a higher stance than Shazam, as he has never shared his powers away, unlike Billy, who has given his powers to Freddie Freeman, Mary Batson, and 5 others in the SHAZAM movie on the big screen.
Black Adam is shown strong enough to take down Justice Society, Justice League, and other league members when furious and in rage.
Black Adam's Origin
Wizard Shazam was searching for a true successor to his powers and role of protector of Egypt. He finds prince Teth Adam in Kahndaq. Unfortunately, like Shazam, Teth was infused with the wizard's power.
Shazam calls greek gods for the powers, but Black Adam calls gods of Egyptian myth. Taking the role of the protector of ancient Egypt, he develops a relationship with the wizard Nabu, who lives at the helm of fate owned by Doctor Fate, who will appear as a member of the Justice League of America (JSA), prince Khufu who will be rebirthed as Hawkman will also appear in the film.
His home, Kahndaq, is destroyed by eternal peril, Vandal Savage, and by Akh-Ton with the help of the orb of Ra. This enrages Teth, and he goes berzerk which forces the wizard to lock him in a mythical scarab buried inside of a tomb.
Now hundreds of years later, the scarab is found by Theo Adam, a criminal assistant of archaeologists Mary Batson, who is Billy's parents. Like Shazam, Theo activates the scarab and becomes Black Adam's counterpart.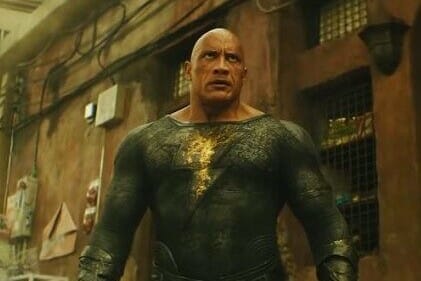 Trailer
The first trailer changes this origin story as it shows that Black Adam is enslaved and is later transformed by saying "god". The older Shazam movie also cuts the connection with Billy's parents, who had an archaeological background.
Dwane Jhonson, a.k.a. The Rock, will be seen as Black Adam in the upcoming long-awaited DC movie.