Insecure is an American comedy that is loosely inspired by another series named Awkward Black Girl by Issa Rae. The final season launched this year in October on HBO and is the creation by Larry Wilmore and Issa Rae. Throughout its run since 2016, it gained good critical response and was loved by viewers.
Executively produced by Michael Rotenberg, Jonathan Berry, Melina Matsoukas, Prentice Penny, Issa Rae, and Dave Becky, the show focuses on the lives of present-day African-American women through various phases of life.
Since episode 4 is about to get released, let's see what went down previously on Insecure Season 5, and the interesting plot is stored for the upcoming one!
Plot Speculations for Episode 4 of Insecure Season 5
Episode 4 of the fifth season is titled Faulty, Okay? It will open a new chapter in the life of Lawrence. Since his breakup with Issa, he has turned into a carefree party guy and has become quite successful in his professional front. But what is set to change his life is the arrival of his baby boy Elijah.
He will be seen becoming a responsible father, and that was evident towards the end of the previous episode. It will be interesting to watch how things turn for Lawrence this time around.
What Happened in Episode 3 of Insecure Season 5?
The previous episode of the show was titled Pressure, Okay? It showed separation between Issa and Lawrence, after which there is a leap of a few months. The new scenario opens with Lawrence in San Francisco with a good professional and personal life. However, on one similar enjoyable night with a lady, Lawrence gets a call from Candola, who happened to birth his son in Los Angeles.
Lawrence flies to meet his newly born son and happily accepts Elijah's name but frowns at his middle name kept as Mustafa by Candola. He is of the belief that Candola's family makes him feel unimportant but accepts his responsibility for the baby boy. But Candola doesn't trust him and plans Elijah's baptism without Lawrence's knowledge.
But eventually, Lawrence shows his interest in bringing Elijah home, which annoys Candola. She believes that Lawrence is carefree in his nature, and she, on the other hand, bears the responsibility and overburdens herself.
Meanwhile, Lawrence is on his way back to San Francisco when his plane experiences turbulence, and he suddenly remembers his time with Issa. But instead of calling her, he dials for Candola and assures her to be available for their son.
When Will Episode 4 of Insecure Season 5 Release?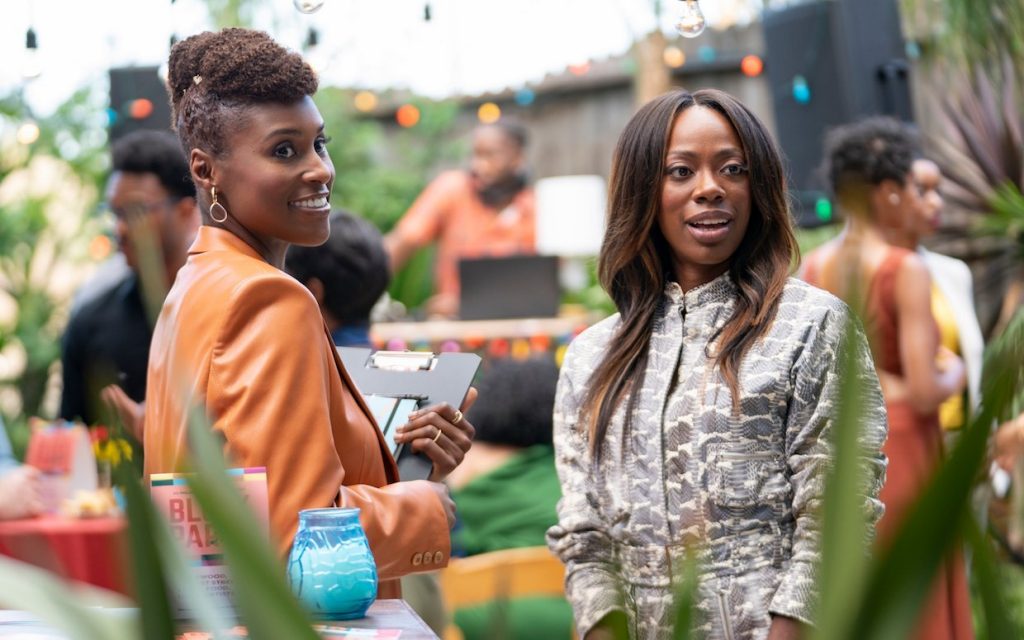 The release of Episode 4 of Insecure Season 5 is scheduled for Sunday, November 14, 2021, on HBO. Each episode ranges from 27- 40 minutes in duration, and the show follows a weekly pattern of release every Sunday. There are a total of ten episodes in this season.
Where to Watch Episode 4 of Insecure Season 5?
Episode 4 of Insecure Season 5 can be watched at 10.00 pm ET on HBO on the above-mentioned date. HBO Max will also provide the audience with all the latest episodes of the show. Hulu can also be used for streaming the episodes by adding HBO Max in the subscription pack. For the ones who don't own a cable connection, platforms like YouTube TV, Xfinity Stream, Spectrum, and DirecTV.
If you happen to be new to this show, then you can catch up with the previous seasons on video-on-demand services like iTunes, Google Play Movies, Amazon Prime Video, Microsoft Store, and Vudu.