One Ordinary Day Episode 1 will be released shortly! Within just a week, we'll be able to see Kim Soo Hyun and Cha Seung Won on the screen. Seeing these 2 different performers united, it is immediately clear that the drama will be one of the finest criminal dramas! It's also based on the British television drama 'Criminal Justice.' The viewer has been pumped after viewing many suspenseful trailers.
The series will reveal a better side of Kim Soo Hyun, who plays a convicted murderer. Cha Seung will arrive for his help. However, his position is not as straightforward as it looks. In the Korean drama One Ordinary Day, Kim Soo Hyun and Cha Seung Won will play a strong couple. As a result, viewers can expect a talented cast. The plot centers around a man named Hyun Soo, whose life is turned upside down as he becomes the culprit in a homicide.
Expected Storyline
The action drama One Ordinary Day depicts the two men's ferocious struggle against the unjust system. The plot revolves around Kim Hyun Soo, a college freshman whose life is turned upside down after being a convicted murderer. Only Lawyer Shin Joong Han is prepared to assist him when things are at their darkest. And so the two guys go on their extraordinary crime-solving odyssey, exposing the ridiculousness of the judicial process.
As a result, the first episode of One Ordinary Day will depict the beginning of the chaos. It shows how Hyun Soo discovers the lady who subsequently becomes his convicted murderer. Before Joong Han arrives to save him, the episode will tell Hyun Soo's harrowing and sad journey from behind bars. Various facets of the homicide will be revealed, and some new people related to the case might appear.
In general, it will be a Korean adaptation of the BBC's 'Criminal Justice.' All we have to do now is wait to see if it escalates, delivering a gripping crime novel!
Expected Release Date
Episode 1 will release on Coupang Play on November 27, 2021. There's just a week to reach one of 2021's most formidable lineups. Fans will be treated to an exhilarating trip when they see Kim Soo Hyun and Cha Seung Won on TV. Not to add, One Ordinary Day's teasers have piqued fans' interest with its complex criminal mystery narrative.
According to media sources, one Ordinary Day is set to premiere on Saturday and will consist of eight episodes. The series schedule remains a mystery. As a result, it's possible that all 8 episodes will be released on the same day as the debut or that every new episode of One Ordinary Day will show on Saturday.
Where to Watch
One Ordinary Day is a Coupang Play original series, and it will just be available to watch there. Unfortunately, Coupang Play is only accessible in South Korea. Fans from around the world need not worry because the drama is also accessible on ViuTV. However, only a few allotted countries.
Expected Cast
Kim Hyun Soo by Kim Soo Hyun and Shin Joong Han by Cha Seung Won are the drama's protagonists. Other cast members are Seo Soo Jin by Lee Seol, Park Doo Shik by Yang Kyung Won, Park Sang Beom by Kim Hong Pa, Ahn Tae Hee by Kim Shin Rok. It will feature a variety of fresh faces and personalities.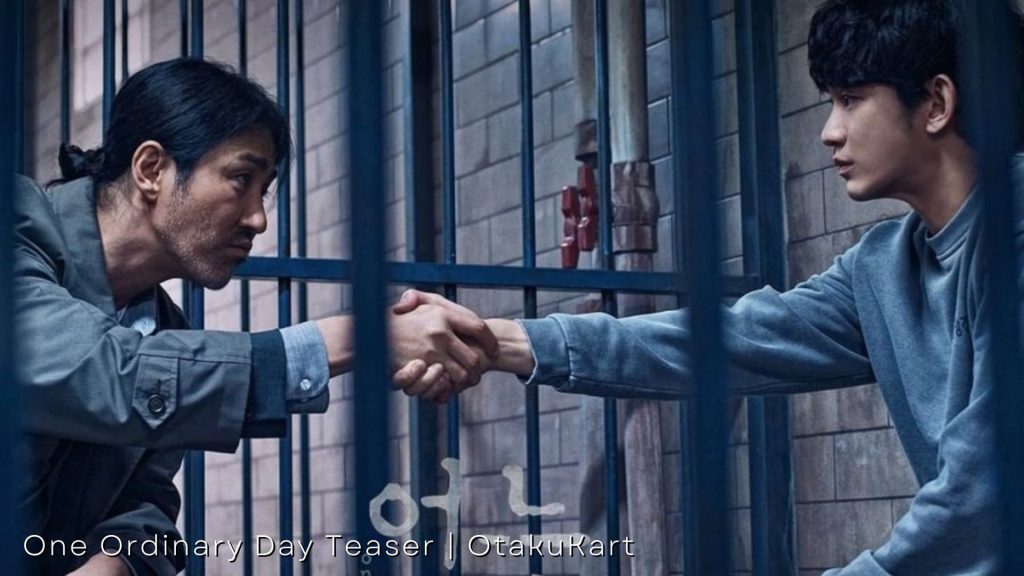 Trailer
Following the announcement of the scheduled release for One Ordinary Day, lots of trailers were published. Each clip depicts a distinct aspect of the plot. It depicts Kim Soo Hyun's transformation into a convicted murderer, as well as a sight of the dead woman. The most recent teaser also includes a glimpse of Kim Soo Hyun's wretched existence in jail as he experiences absolute chaos. All trailers for the k-drama can be found on YouTube.