Kid Cosmic is back again with a bang!! It is an American animated superhero streaming television series. Craig McCracken creates the show. It is also in-house produced by Netflix Animation. The first installment was released on February 2, 2021, on Netflix. The show is the first of McCracken's creations to have a serialized format and his second foray into the superhero genre since having previously created The Powerpuff Girls.
What is the Show About? Is it Worth Watching?
If Kid isn't reading comics, he's creating his own stories where he stars as the hero. The show's storyline follows a young kid who is naive and fantasizes about only becoming a superhero. He lives in the Southwestern United States in a very thinly populated desert stretch. A spaceship crashes in his area.
That's when he discovers it had 5 "Cosmic Stones of Power," which will finally give him a chance to fulfill his wishes. He learns that stones attract alien invasions. That's when he dorms a motley team of superheroes to fight for Earth with them. This is the best team with the best defense. The Local Heroes hone their powers and gain confidence throughout the series, ending in an epic finale that perfectly sets up the second season.
The team consists of the kid's grandfather, Papa G. His power is that he can create multiple clones for himself. The next is leader JO. He has special teleportation capabilities. Then there's Tuna Sandwich. He is a cat who is capable of predicting the future with his third eye located on his forehead. They have a company, Stuck Chuck. He is a stranded alien stranded on Earth. He stays back after his ship gets destroyed. Chuck had come to steal all the cosmic stones and get them back and present them to his leader.
When did Kid Cosmic in Season 2 Come?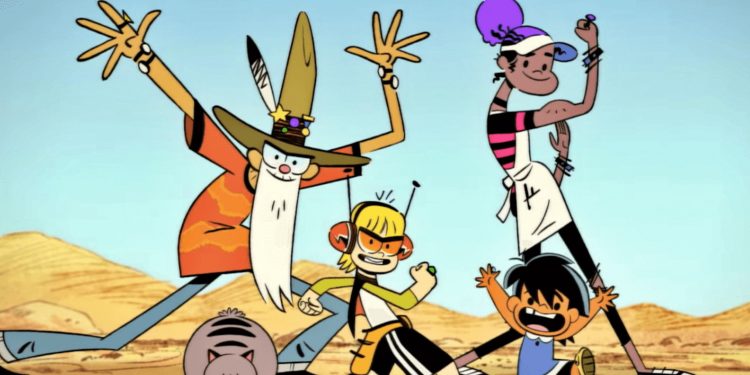 The wait is finally over! Season 2 premieres on September 7, 2021, only on Netflix. Save the date! Here is good news for all of you.
What to Expect in Kid Cosmic Season 2?
The storyline in Season 2 will be around Jo, who is the leader. She will be the one guiding all the team members to rise victorious against their enemies who are looking to steal the cosmic stones.
Just like the first season narrated arc around the kid, similarly, this one will push Jo to her limits. It will help develop her character and form her arc. The thirteen Cosmic Stones of Power will provide more supernatural abilities that will aid in the defeat of Erodious, although the trailer shows it will be a rough ride.
Who Are The Characters in Kid Cosmic in Season 2?
Most of the characters will be returning for the next season/ Jack Fisher will be playing Kid, Amanda C. Miller as Jo, and Lily-Rose Silver as Rosa Flores. Also, we will have Tom Kenny as Stuck Chuck, Fred Tatasciore as Tuna Sandwich, and Keith Ferguson as George "Papa G," Carl. Also, we have Kim Yarbrough as Flo, Christian Lanz as Carlos Flores, and many others on the show too.