Liam Neeson's full name is William John Neeson. Liam Neeson is a famous actor who belongs to Northern Ireland.  He was born on 7 June 1952 in Ballymena Northern Ireland. When he first started his career in theatre. He has done many movies.  His first movie as a lead actor was in "Schindler's List", the role of Oskar Schindler. From this film, he gained prominence and recognition. For this role, he was nominated for the Best Actor Oscar and also received the honor "Best Picture" in 1993. 
Taken (2008)
In, Taken (2008), he was cast for the role of a retired CIA operative from the elite Special Division. This film is based on the storyline composed by Luc Besson and Robert Mark Kamen. It's a story of a father in a struggle of tracking his teenage daughter who got kidnapped. The movie gained so much appreciation. It was like a kick-start to Neeson's career.
Taken was a franchise and it touches heights that till today its dialogue is famous as quotes. The film has three parts but the sequels of the first part never manage to gain popularity as the first part. It fails to recapture the Visceral magic of the first parts.
The role and character of Liam Neeson are the same in the films, but the dialogue is franchise just like the film.
The famous dialogues as quotes:
"You Don't Have To Worry." / "That's Like Telling Water Not To Be Wet, Sweetie."
Bryan's daughter Kim is all set to tour abroad with a friend for the first time.  Gradually, Bryan as a father is worried about her. Kim makes him understand that there is no need to worry about her. And that everything will be fine and that she's a grown-up. He tells her that there is no way of not worrying about it.
It's a memorable line because, as every fan knows, as the title indicates, he has his reason to worry as Kim is taken on the trip.
" I would sacrifice anything for her".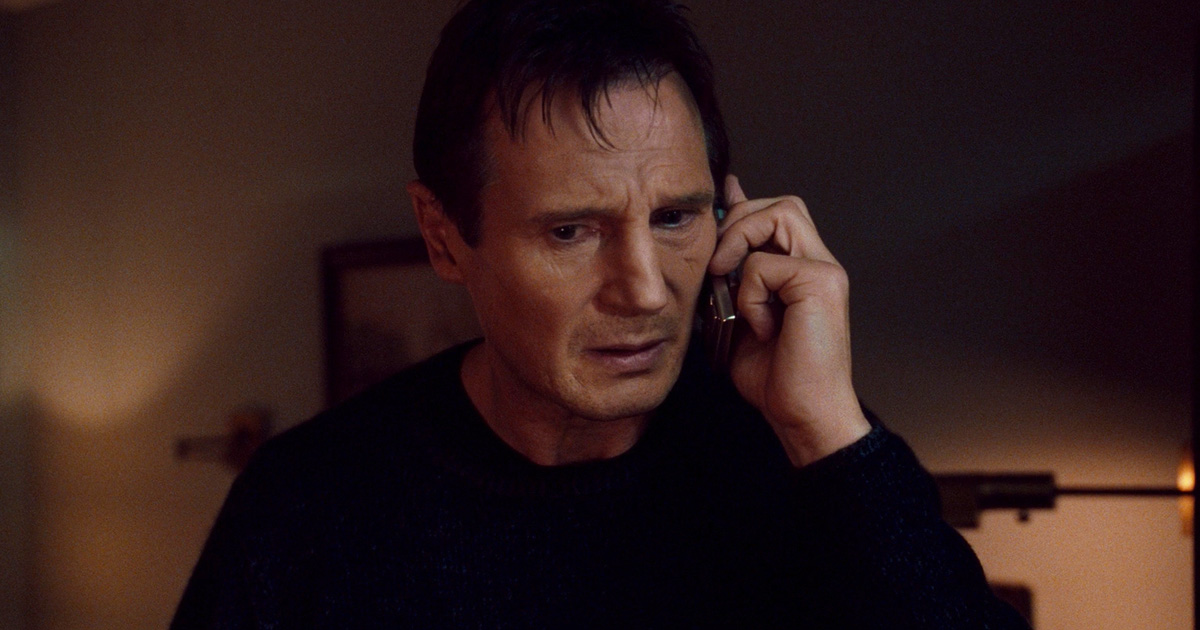 It's clear from the heart of the franchise that in every sense this quote is true. And Bryan Hills proved his every word. Bryan wants to keep his daughter Kim safe at any cost. He could do anything to keep his daughter safe.
"I Push One Button And 38 Agents Are Here Before You Have Time to Scratch Your Worthless Balls."
In the scene where Bryan is tormenting a man to get information about his daughter and where he can find her, he lets out these dialogues as well. It is one of Bryan's most extraordinary action hero qualities is that he's able to be at ease in tense situations and says that he can have 38 agents in the room just by pushing one button, but only Bryan and the audience know that it's not possible.
Bryan continues to torture till the man utters the truth about what Bryan was there and needs to hear to continue looking for his daughter. At last, he doesn't have any option left, he ends up killing the man by leaving the electrocution switch on anyway.
There are many more dialogues that set the cinema hall on fire.
"The Following Section Is Critical. They're going to kidnap you."
Bryan Mills' daughter calls him in a panic, telling him that a group of men has damaged her hotel room while she is abroad. Kim tells him everything is going on, and he remains calm while informing her what she should do.
She hides under the bed during a tense scene. In which the men kidnap her friend and murmur they are looking for her in the bedroom. Bryan produces this famous line in which he tells her she will be taken, setting up the entire series and giving it its name.
"Either you give me what I need, or this transition will stay on till they turn off the power due to nonpayment of the bill."
As this demonstrates, Bryan can easily transition from a loving father to one of the most frightening men anyone could encounter, particularly a villain on Bryan's bad side. Bryan apprehends one of the suspects in the kidnapping of his daughter.
In a grueling scene, he investigates and torments him by repeatedly zapping him. Bryan delivers a badass line here, threatening to turn on the switch that incinerates the man and abandon it until the power is switched out to obtain the information he requires.
"You don't recall me? We talked on the phone about two days ago. "I told you I'd find you."
People don't get forgiveness half as often in real life as in movies, but that's why people watch movies. It's more enjoyable than everyday life. In a real-life Taken, nobody could travel to a city halfway around the world and find their kidnapped daughter in 96 hours.
Fans enjoy the dream of Bryan Mills shooting first and then asking questions until he finds Kim. And they love the payoff of that legendary phone call scene, in which Bryan finds Marko – the guy who famed said, "Good luck!" – and serves to remind him of who he is.
"This Isn't the Time For D*** Measuring, Stuart!"
Xander Berkeley has been stereotyped as the worst of the worst. He's played characters like this in The Walking Dead, 24, Terminator 2, Candyman, and Taken. He plays Stuart, Lenore's new husband, who is a hundred times richer and a small percentage as useful as Bryan.
When Bryan arrives at their home after Kim has been kidnapped and begins questioning Stuart about his business overseas, Stuart mentions that he has "a few resources." Bryan brilliantly exposes his "d**k measuring" throughout a crisis. Stuart boasts about his wealth after kidnapping the guy's daughter.
"This guy right here knows how to vanish."
Taken 3 didn't live through the first instalment or even the second. Still, Forest Whitaker was a wonderful alternative to the franchise as Inspector Franck Dotzler, the cop delegated to track down Bryan after he's falsely accused of murdering his wife.
Dotzler has a great moment near the film's start where he tells us about Mills' unseen past: "At 21, he decides to join the Army. He joins the Special Forces at the age of 23. He's a trained sniper and an expert in explosives. Nothing, no provider record, no release record. This man right here knows how to vanish."
Related: Best Ray Liotta Movie Quotes
"It Was All About Business." It wasn't a personal attack." / "Everything was personal to me."
One-liners in action films normally take the viewers out of the movie's reality. Still, the Taken motion pictures have a way of maneuvering badass each naturally into the conversation while remaining rooted, thanks largely to Liam Neeson's acting.
This is demonstrated when Saint Clair, who the viewing public last saw ordering his bozos to silently kill Bryan so as not to disturb his party guests, is shocked to discover that Bryan has managed to escape and is armed. He tries to persuade him that their abduction. But, instead, trafficking of his daughter was not a personal matter but a business transaction.