When it comes to animals, we know that we're talking about a completely different version of love. But as time passes by, we know that these animals will soon turn out to be family. And that is what counts. There could be cats, dogs, horses, elephants, or rather anything that you could offer love and receive loyalty in return.
It's a very important part of a man's life to have someone other than a human be so mesmerizing. They are special in their ways, and we'd love to tell them exactly how much they mean to us. Humans over the ages have loved to pet animals and make them a part of the family. In every walk of life, we know that those footprints are one of the most loyal ones. A friend, a protector, and an amazing entertainer, pets have always worked their way up.
This article is about some of the famous cartoon dogs who have inspired many to have dogs as pets and have also fallen in love with the show.
10. The Simpsons
Program Creator: Matt Groening.
Developed by: James L. Brooks, Matt Groening, and Sam Simon.
Total seasons: 33
IMDb rating: 8.7/10
Rotten Tomatoes: 85%
Platforms available: Fubo TV, Hulu Plus, and Disney+ Hotstar.
The Simpsons had a fictional dog named Santa's Little Helper. He is a greyhound and a beloved pet of the Simpsons. This famous dog cartoon was seen in the very first episode of the show in the year 1989.
And it is in that very episode that the owner leaves this greyhound because he came last in a race, and that's when Homer Simpson, who was attending this race with his son with the hope of winning some money so that they can buy Christmas presents, see the dog being abandoned and decide to adopt him. In the course of the show, this dog has had his roles and also the role of a father to some cute puppies.
9. Adventure Time
Directed by: Larry Leichliter
Created by: Pendleton Ward
Total seasons: 10
IMDb rating: 8.6/10
Rotten Tomatoes: 100 %
Platforms available: Watch it on HBO Max or Hulu. Buy or rent it from iTunes, Google Play, or Vudu.
Adventure Time has a cute little dog named Jake, and there's something really special about this dog. Unlike other dogs, Jake can actually stretch himself, shrink himself or just turn himself into any shape he wishes to be in. He can be really big or really small. He is also a very good mentor to his brother Finn, the human, and just like that, we see the beautiful relationship that this dog has made with his human.
8. Family Guy
Created by: Seth MacFarlane
Developed by: Seth MacFarlane and David Zuckerman.
Total seasons: 20
IMDb rating: 8.2/ 10
Rotten Tomatoes: N/A
Platforms available: Watch it on Disney + Hotstar.
The family guy has an adorable dog who makes the show worth watching. His name is Brian Griffin. He is a white Labrador and is one of the main members of the Griffin family. In the show, he is an intelligent dog who writes. He works on essays, novels, newspaper articles, etc. A good friend and a talented dog, Brian is someone you'd want to have. Brian has been seen in many parts of the show. And Brian is also considered one of the important characters of the show. And also one of the famous cartoon dogs.
7. Rugrats
Created by: Arlene Kiasky, Gabor Csupo, Paul Germain.
Total seasons: 9
Total episodes: 172
IMDb rating: 7.5/10
Rotten Tomatoes: N/A.
Platforms available: Watch it on Hulu
Rugrats has a very special character named Spike. Spike, who is also known as Spikey, is a pet dog to the Pickles family. He is one of the famous cartoon dogs. Spike is one of the main characters of the show as well. He is of a very different fictional breed which is known as Siberian Tiger Hound. Now that's a rare species, and no matter how much you spend, getting him would be expensive. In the show, we see that Spike is very protective of the babies and takes care of them like his own babies.
6. 101 Dalmatians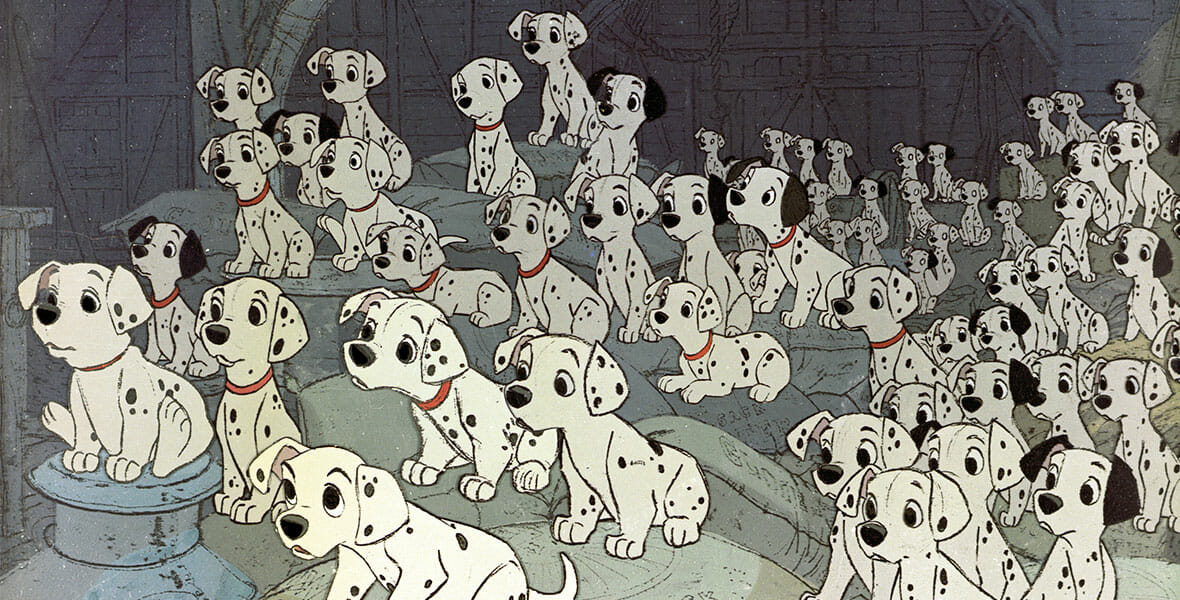 Director: Victor Cook
Writer: Jim Jinkins.
Developed by: Jim Jinkins, David Campbell
IMDb rating: 7.3/10.
Rotten Tomatoes: N/A
Platforms available: Watch it on Disney+ Hotstar.
This series is about three puppies named Lucky, Rolly, and Cadpig. They love their home and do not wish to go anywhere else. But they end up moving away from their home anyhow. There are little puppies in the show who have the abilities that make them special.
5. Blue Clues
Created by: Traci Paige Johnson, Todd Kessler, Angela C. Santomero.
Composer: Nick Balaban, Michael Rubin.
Total seasons: 6
IMDb rating: 6.9/10
Rotten Tomatoes: N/A
The main character of Blue Clues is a female blue puppy who tries to talk to her owners by barking when she means to stress a sentence, and it is followed by her expressions and tone of barking. In every episode, we see that she leaves paw prints for the audience to find out what she means. Like the other puppies, blue is also very energetic and playful.
4. All dogs go to heaven
Director: Don Bluth
Produced by: Don Bluth, Gary Goldman, and John Pomeroy.
Cast: Loni Anderson, Judith Barsi, Dom DeLuise, Melba Moore, Charles Nelson Reilly, Burt Reynolds, Vic Tayback
IMDb rating: 6.7/10
Rotten Tomatoes: 44%
Platforms available: Watch it on Hulu.
Charlie Barkin is the main character of the movie named All Dogs to Go to Heaven. He is a mixed breed famous dog cartoon. He is a German Shepherd, and a Border Collie mix, because of his parents, Burt and Loni. In the movie, we see that Charlie leaves his home at a very ripe age and has a best friend named Itchy.
3. Rocko's Modern Life
Created by: Joe Murray.
Creative Director: Stephen Hillenburg
Total seasons: 4
IMDb rating: 6.4/10
Rotten Tomatoes: 92%
Platforms available: Watch it on Paramount Plus.
Rocko's modern life has a very cute fictional dog named Spunky. He is Rocko's fog and is a Miniature Bull Terrier by breed. He gives out foul odors and survives on trash food, and gulps down his saliva. Well, that's gross. And because of these dirty habits, Mr. Bighead is mad at him most of the time. But he is often described as one of the most loving dogs who are loyal but also very gassy at times.
2. Scooby
Director: Tony Cervone
Story By: Matt Lieberman, Eyal Podell, Jonathan E. Stewart.
Cast: Will Forte, Mark Wahlberg, Jason Isaacs, Gina Rodriguez, Zac Efron, Amanda Seyfried.
IMDb rating: 5.6/10
Rotten Tomatoes: 48%
Platforms available: Watch it on Netflix.
This is a computer-animated mystery movie that was released in the year 2020. Shaggy Rogers is very lonely, so he adopts a young Great Dane and names him Scooby-Doo. Scooby-Doo can talk, which solves Shaggy's problem. On Halloween, they meet three children named Fred, Daphne, and Velma before they get into a haunted house and get hold of a thief who was disguised as a ghost, and this incident inspires them to go ahead and solve various other mysteries.
1. Garfield
Director: Peter Hewitt
Written by: Joel Cohen, Alec Sokolow
Cast: Breckin Meyer, Jennifer Love Hewitt, Stephen Tobolowsky, Bill Murray.
IMDb rating: 5/10
Rotten Tomatoes: 15%
Platforms available: Watch it on Disney+ Hotstar, buy or rent it from YouTube, Google Play, or Apple TV.
Though Garfield is a cat here in the movie, we see that Jon Arbuckle gets hold of a second pet which is a dog. He is named Odie. But soon, Odie is abducted. Now it's on Jon's cat, Garfield, to find out where Odie is and to bring him back.
The Dogs And Their Love
So here we just handed over a list of some really cute and special dogs who have won our hearts with their appearances on the respective shows. For some of us, pet movies are a way we move even closer to our pets, and those of you who don't have pets will eventually be determined to get one after seeing them here.
Maybe it's not only the appearances but also the surrounding that they create for their owners and the other people that they come across. Dogs are lovable pets and are extremely friendly once they know you. But if you seem to impose a threat on their owners, they might also be dangerous animals, and all you can do then is to run as far as possible.
That's the reason why we consider them loyal and faithful to their masters. Here in these movies, we see how these cartoon dogs have made the movie or the series a complete success by their mere presence. And that's the reason why we're here to sort them for you so that you might never have to find your way through the sites to find which one to watch now.
So what are you waiting for?