"Mr. Mayor" is back with a second season and the audience is thoroughly enjoying it. The show premieres on NBC every Tuesday at 08:30/ 07:30. The show can also be streamed on Hulu and YouTube TV. The new episode, that is, the second episode of season two will be out on 22 March 2022.
This show is about Neil Bremer, a wealthy businessman wanting to run for the position of mayor for the city of Los Angeles. It documents Niel and how after him being mayor he actually has to follow through the ideas and needs of the people of the city. He has to complete the jobs that have been given to him.
As seen in season 1, Neil wants to be a mayor so as to impress his daughter, Orly.  She views her father as an old man who has no powers left in him. This soon turns to a completely different direction as an inexperienced Niel tries to locate through his new position as a mayor.
Speculations About The Show
The relationship that began in season 1, slowly begins to bloom. Niel feels closer to his daughter, partner and his staff members. We can predict this bonded group will be going through many challenges and test to prove how trust worthy and strongly bonded this group actually is.
It looks like episode two of the show will be called "Mayor Daddy". It is expected that in the episode Mikaela somehow gets to know about the award that she received for flattening the curve of homelessness was completely based on a lie.
While on the other hand Niel looks very excited about the I-Team which obviously makes his original staff members turn into small children and throw temper tantrums on him; Niel however tries his best to appease all the staff members.
Looking at this episode it definitely is going to make one think how Mikaela is going to react and tackle her problem, how will she prove not to anyone else but herself that she truly is worth receiving the award she initially received under false pretence. On the other hand,it is going to be lots of fun watching Neil, cheering up and trying to change his staffs mood.
Cast
The show has a fabulous casting of Ted Danson, who plays Neil Bremer; the mayor followed by Holly Hunter who plays the role of Apri Meskimen; the mayor partner, followed by Vella Lovell as Mikaela Shaw, Mike Cabellon as Tommy Tomas, KulaKennedy as Orly Bremer; Niels daughter and Bobby Moynihan as Jayden Kwapis.
Crew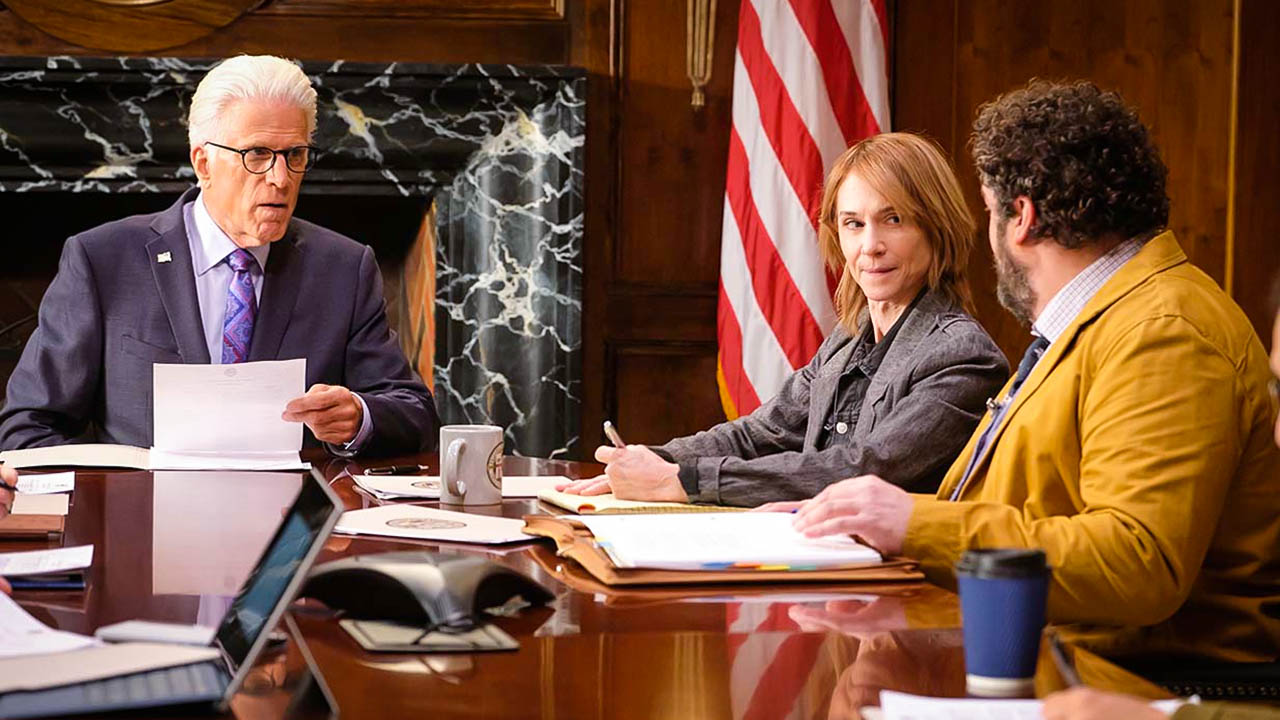 The series is directed by Maggie Carey. She is famously known for her work in "TheTo Do List" and written by, Tina Fey, Holly Hunter, Ted Danson, and Bobby Moynihan.  The show is produced by Robert Carlock, Tina Fey, Jeff Richmond and David Miner.
This show did go through its ups and downs to get renewed and get the productions started. But it is finally back with a bang and the audience can't get enough of it. Even through comedy this show tries to show how important it is to maintain family relations are and how healthy it is to know that there are some people who always will have your back.