The series, The Mayor, first premiered on Jan 7 2021. The political sitcom, starting the ever-charming and talented, Ted Danson, who has proved his effortless charm over the previous years with his works on Cheers, Three Man And A Baby, Becker and more.
The fans were also served with a special episode on December 15, 2021. After the first season ended on February 25, 2021, which left the fans waiting for more. Much to their relief, a new season was announced soon and cherry on top? It aired a week before its set premiere date.
Season 2 premiered on NBC on Tuesday, March 15, 2022. With new episodes releasing every Tuesday, serves a weekly dose of laughter and drama to the fans of the show. The total number of episodes this season is yet to be revealed, with only 6 episodes revealed so far, the show is really teasing the fans now.
Story So Far
The newly appointed mayor of Los Angeles, Ted Danson,  is all warmed up on his seat from last season. This businessman becoming a mayor just to prove himself actually did a pretty good job at it.
The previous episode was titled, "Mayor Daddy". We saw Neil being everyone's Daddy at the office as his team threw childish tantrums all over the place because of Neil's excitement over his new I-Team.
Mikaela discovered the truth behind her award she received for flattening the homelessness curve in Los Angeles. She is visibly very upset and disturbed to learn that it was all a lie, knowing her character and the game change that she is; she sets out to set things out with some help and actually earn the award she already received for.
Episode 3- What To Expect?
The new episode is titled, Trampage, which will air on Tuesday, March 29, 2022 on NBC.
From the official synopsis for episode 3, we get to know that there is something else heating up besides Los Angeles, caught in a heat wave. Neil, the Mayor has a fling with a renowned TV personnel, Angelica. This is dangerous as this could be used against him in the long run or could possibly blossom a new romance in the series for Neil.
Meanwhile Tommy and Arpi also get closer as Tommy reveals his secret hobby to Arpi, to make up for him ruining her scratch-off lottery habit. What is this big secret hobby of Tommy that he has been hiding so long?
Where And When Can You Watch?
The new episode, episode 3 of The Mayor is premiering on Tuesday, March 29, 2022, at 8:30 p.m. ET/PT on NBC.  You can also live stream the show on Hulu, FuboTV, Peacock TV, and Youtube with a monthly or weekly subscription. Or purchase it on Apple TV, Amazon Prime, Google Play, or Vudu for $14.99/for the whole season 1.
Some episodes of season 1 are also available on FuboTV, DirectTV, and Spectrum
Cast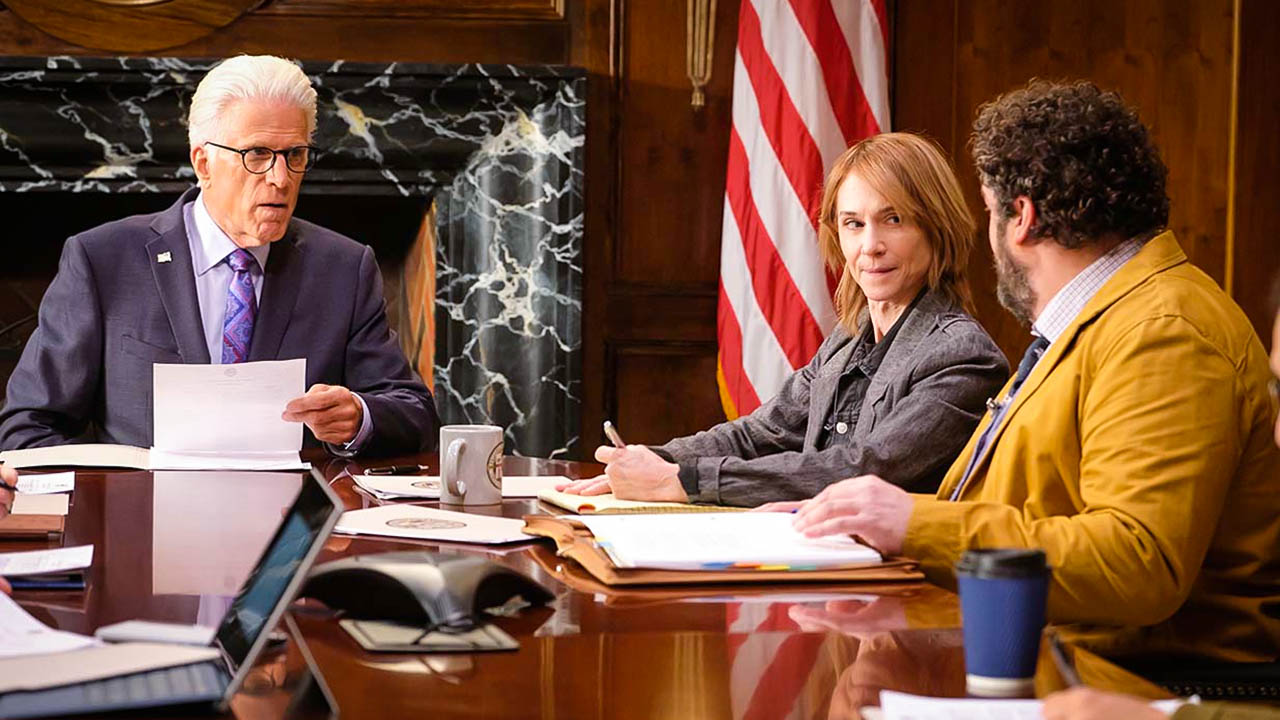 Ted Danson as Neil Bremer, Holly Hunter as Arpi, Bobby Moynihan as Jayden, Vella Lovell as Mikaela, Kyla Kenedy as Orly Bremer, Mike Cabellon as Tommy Tomas.
Guest stars
Fran Drescher as Angelica Masters, Peter Gallagher as Brett, Lombardo Boyar as Salvatore, Mercy Malick as Andrea, Tensaye Yosef as Veronica, Emily Berry as Gretchen, Dennis W. Hall as Sonny, Michael Canetty as Angry Old Man, Orvalle Williams as Guy, Emily Churchill as Shopper 1, Jill Czarnowski as Shopper 2, Eliza Shin as Shopper 3.