Japanese anime characters are truly amazing to watch. Their style of animation has abundant colorful graphics with vibrant color. The plots are filled with drama and action, and the hot anime guys in this rich anime world are genuinely worth watching. It is not that all the hot anime boys possess supernatural powers; what draws the anime fans toward the anime characters is their willpower.
An anime series is marked by all-rounder anime characters who are, in most cases, boys and are always enthusiastically ready to take a dangerous journey anytime.
It is hard to list the famous and hottest male anime characters, but here are some of the many anime characters or handsome characters that have impacted the audience a lot and carved a space for themselves in the heart of the audience forever.
40. Edward Elric
Edward Elric is the main character from the popular anime Fullmetal Alchemist series. He is represented not-so-intelligent gent main character, but he is kind and loyal.
He tries to bring back his dead mother with the help of alchemy but fails miserably. In the initial stage, he never seems ready to seek help from others, but with the plot's progress and the gradual development of this anime boy, he allows others to help him, and that is when anime lovers start loving him more than ever.
39. Kyo Sohma
Kyo Sohma is from the anime series Fruits Basket. His life was all good and smooth going until he got a curse and became a cat. The worst part is the cat is from the Chinese zodiac. Sohma is a complex character; sometimes, the audience fails to understand anything.
He is a protector of his loved ones, gets angry very quickly, and then starts his journey with the impression that he is a bad boy, but as this anime series progresses, anime fans cannot get enough of him and crave to know him more.
38. Spike Spiegel
Spike Spiegel is the hero of Cowboy BebInitiallyning; it seemed that he might be a side character who was seen as an assistant to the captain and runs the spaceship Bebop. S sometimesmes become lazy but is mainly focused and an energetic personality.
Spiegel is the hero in the truest sense who is all set to eradicate evil. He acts as a bounty hunter and gets hold of evil people and criminals on other planets and moons. It is a thrilling series with such a fantastic hero, so if you have not watched it, do it now.
37. Naruto Uzumaki
Here comes the hottest guy and one of the best male anime characters. He possesses a charming personality and has attractive qualities as well. He is the lead character of the best anime of all time, Naruto, and his spiky blond hair makes him look all more handsome.
The best part of this teenage boy is his will to overcome any obstacle and reach his goal. However, he does make mistakes like any other ordinary man, and his childish behavior brings serious consequences.
36. Killua Zoldyk
Killua Zoldyk has always been a favorite character of the Audi, belongings to the famous Hunter X Hunter series, and has a personality. He is not very friendly and has a cold feeling for all. The best part is his character goes well with his appearance.
Zoldyk possesses pale skin and blue eyes, which ideally suit him. He belongs to a family of assassins and grows to be an assassin himself at a later age. He has spiky silver hair, and if you have watched the series, you must know how good his appearance is as a rebel.
35.Takumi Usui
Takumi Usui is a famous character from Kaichou wa Maid Sama who has green eyes and white hair making his personality and look work together. She teases Misaki after learning that she works at a maid cafe. It might not sound astonishing that females fall for him both in the series and in reality.
Takumi Usui also enjoys flirting with girls, but you will never see him committing to a relationship. He is a typical high school guy.
34.Levi Ackerman
Levi Ackerman is the main protagonist of Attack on Titan and is a memorable character in the entire anime history. He has black hair, which makes him more handsome than other characters in the anime industry. However, he isn't someone who will forgive his enemies easily.
He might be a hero, but healso a unique characterwell. He is not easily approachable and always reflects how complex a personality he is.
33.Tamaki Suoh
Tamaki Suoh is a lively character but more like a child, often making the audience wonder how he can be a hero. He is the president of Ouran High School Host Club and is charged to do anything that comes under the duty of this club.
Unlike other heroes, he is not at all serious about his duties and is more inclined toward how to get a girl. His blond hair and eyes are violet, making his overattractive appearancetive. He likes dramas and is dramatic as well. Overall he has been able to take a place in the list of anime boys.
32. Itachi Uchiha
Itachi Uchiha is a famous character from Naruto who is robust, bold, and determined. He has dark eyes, and his personality can hardly be complete any other anime character. The most exciting part of this series is his determination and actions.
He tries to kill every member of his clan, which whnegatively impactst on some of him. Sasuke would have also been killed, but Itachi Uchiha spared his life. They never shared good terms; instead became enemies in the end.
31. Toshiro Hitsugaya
Toshiro Hitsugaya is another famous anime character from Bleach and has white hair, and his eyes are neither blue nor green but in between. He has a very charming personality, and his heilso makes the audience look at him with awe. He is serious about people and also wants the same respect in return.
Toshiro is a skilled swordsman, which makes him get highlighted a lot. He might not yet be the best, but he is better than many.
He is mature, hardworking, and deals with situations ideally.
30. Haru Yoshida
Haru Yoshida belongs to Tonari no Kaibutsukun, and as soon as the series starts, the audience sees him famous with the name school monster. He fails to prove himself, but as the pprogressesills, he becomes popular among the students and the audio with his social silence.
He is not handsome like other anime characters but is sweet, making him o, one of the most loved male anime characters.
29. Satoru Gojo
Satoru Gojo is a famous series named Jujutsu Kaisen. It is hard to know him; thus, he is labeled a complex character. If you love nature by his loosen, you must love this character already. Gojo is attractive, and his facial cut is impressive to look at.
Satoru's white hair and blue eyes are enough to make him a charming male anime character. Goju is both good and bad. Saturo is wise and playful towards his friends but cruel towards his enemies. He is a famous sorcerer who thinks no one can ever beat him.
28. Kirito
Kirito is the protagonist of Sword Art OnlineInitiallyng; he is only shown as a young boy with no parents to look after him. He indulges in playing games and eventually becomes a hacker and gamer and is very much skilled in them.
He is not very much responsive and mainly depicts himself as an introvert. His outfit well matches his personality as well. His sleek uniform covers his body, and his swords go well with his character.
27. Zero Kiryu
Zero Kiryu is one of the best male anime characters from Vampire Knight who has bold and expressive eyes. His silver hair makes him more charming, and the audience cannot help falling for him. Zero is brave and strong but, at times, faces severe dilemmas.
Kiyu can see vampires and believe them to be monsters, thus wanting to eradicate them and become a vampire hunter. He thought it was going to be an easy task but No. He is also not easily approachable, making him a complex character in a popular manga series.
26. Gray Fullbuster
Have you watched Fairy Tail? I hope your answer is yes. The most famous character Gray Fullbuster belongs to it. He is an ice alchemist and a member of the guild. He has several enemies, bms the most famous one is Natsu. There is not so much chaos, fighting, or rivalry among the two, yet they are antagonistic to one another.
He has spiky and dark blue hair with radiant black eyes and bears a guild mark on his left pectoral. He is overall a severe character who performs duty with utter attention and dedication.
25.Tatsuya Shiba
Tatsuya Shiba is a mature young brother-like character, evident in The Irregular Magic High School, and automatically stands among the crowd.
Shiba is a first-year student and is the eldest son of the Four Leaves Technology company's president. He has only one sibling named Miyuki Shiba.
Tatsuya has no supernatural power or special skills, but this young boy has analytical skills, so he becomes the hero of this series.
24. Sesshomaru
Sesshomaru belongs to a family of demons. Demons have special powers, but Sesshomaru's ability is unique, and his other companions crave it. He has a cold personality, a handsome young man like any other human, for which it gets hard to know his true identityHis crescent moon shape ispe imprinted on his forehead, making him look more good-looking. Inuyasha is depicted as a feelingless hero and stands out as one of the best male anime characters.
23.Sebastian Michaelis
Sebastian is one of the most famous and hottest anime characters ever encountered. His physical features are enough to attract everyone. He has an overwhelming gesture, and his eyes speak like a demon in the renowned series Black Butler.
He is the demon to fall in love with, who acts as a butler in the Phantomhive household but mostly behaves like a human. Thus duality makes his character more interesting and intriguing, and fans are bound to watch more of him. He might have several negative aspects, yet the audience falls for him somehow.
22. Kakashi Hatake
Kakashi Hatake is one of the famous male anime characters from the most popular series Naruto. He is also one of the most sensible and emotional heroes you will ever encounter. You must have seen that most heroes love killing, but Kakashi gets very depressed from seeing people dying. Hatake has excelled in ninja arts, and the audience loves his acts.
Kakashi is a severe character arc, you will see. He is dedicated to his ambition, so he has mastered his art. He is less expressive but has a unique character.
21. Ichigo Kurosaki
You all might already know him, and a few words will not be enough to describe this anime character. He belongs to the famous anime series Bleach, and after meeting a soul reaper, he belongs like it and gets the supernatural power to see spirits.
His personality seems to match his duties exceptionally well, and he is charged with the responsibility of sending the hearts away. He is courageous and does his tasks quite well. He might be the best, but he is better than many other male anime characters you will ever come across.
20.Rin Okumura
Rin Okumura is a famous character from Blue Exorcist and is odd for his canine teeth and sharp or pointed ears. He is imbued with a hell lot of power. He is considered the ward of Satan and possesses excellent powers like him.
In the initial part, Rin fails to be very responsive and depicts himself as a cold-hearted person, but with the plot's progress, he is revealed as the opposite. He is excellent to watch and has been named one of the most significant characters ever witnessed in an anime.
19. Jin Mori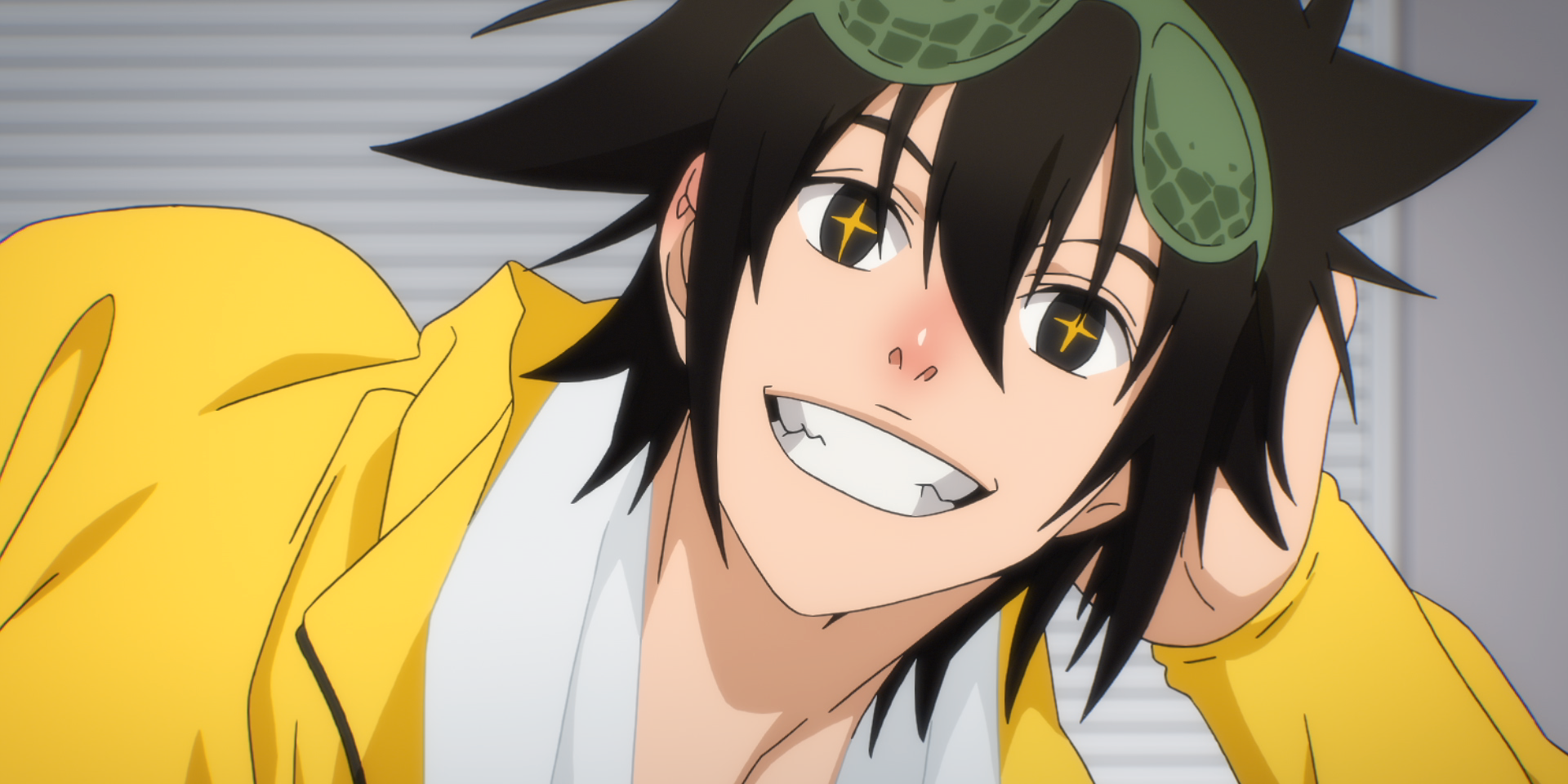 Jin Mori is famous for his role in The God of High School. Mori is brave and strong, and he seems always ready to fight. He cannot be easily approachable and is very hard and arrogant from the outside.
Jin is like a regular guy, but actually, The Monkey King. He shall never lose against a human, so he showcases his power more. His enemy is the Gods and demons, and he thus has a God-complex attitude within him.
18. Ichinose Tokyo
Ichinose Tokiyo is a famous Uta no Prince Sama character with a great personality, and skills. Featuresatat the beginning of the series, he isn't much loved and is portrayed as a cold-hearted person who can never be loved or even talked about.
Tokyo never interacted much with others, but things changed randomly when he joined the music academy. He changes from an introvert to an extrovert and grows with other band members.
Ichinose has always been dedicated and passionate about his work and wanted to be a perfectionist, but things aren't that easy. However, he gets the aid of Haruka, his composer, who helps him have a new perspective on life.
17. Lelouch Lamperouge
Lelouch Lamperouge is depicted as a former prince of Britannica and is one of the most loved male characters. He is seen in the Code Geass series. He is expressive eyes, violet in color, and his black hair makes him all more handsome and loveable.
The best part about him is his determination. He is from a royal family but eventually becomes a curse. He destroys his father's empire, which was surprising and expected. If you have watched the series, you must also know his intentions.
16. Shoto Todoroki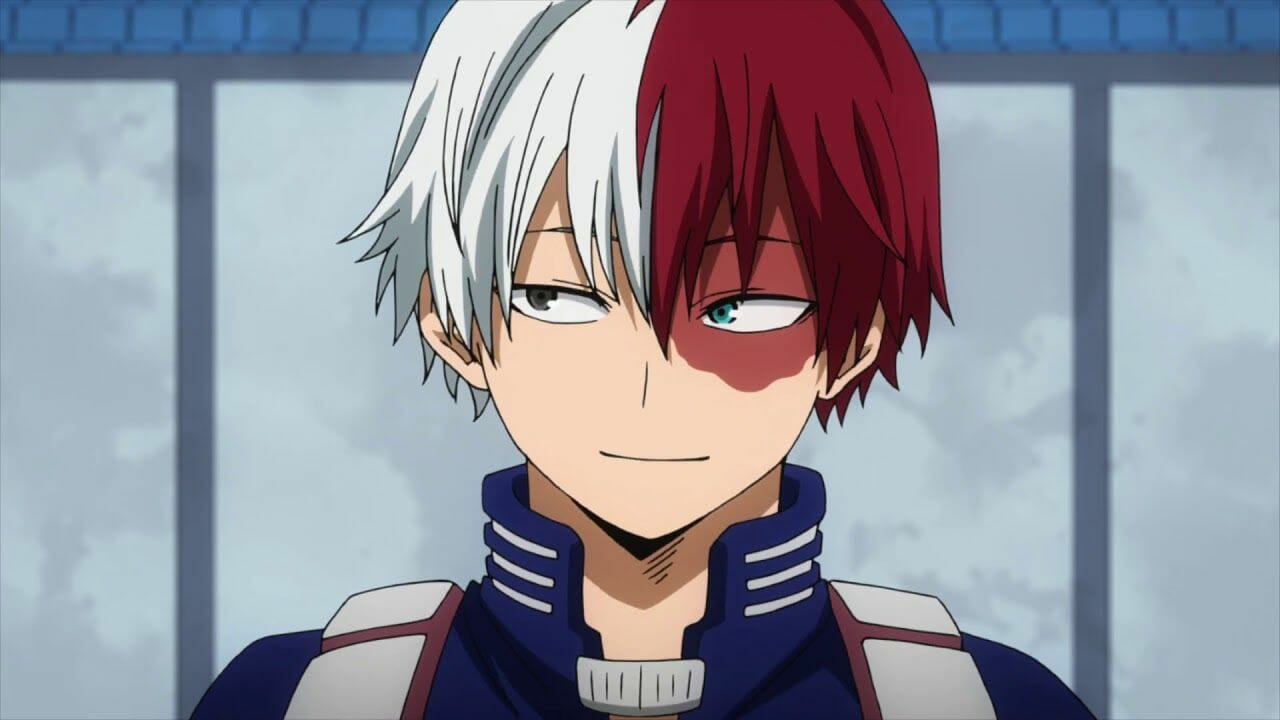 You might have already watched My Hero Academia and, if not, must have heard about it. Shoto Todoroki is the main protagonist; his personality and traits make him the best. He has red and white hair, which is also unique. Have you ever come across such an anime character in your life? Shoto is bound to stand out among all. He has a vean personality and is quite an introvert.
Todoroki has unique strategies while whilwheniindulginga fighting, and every time he has something specific for the audience. He is an evil character, but the fans also know the reason behind his behavior.
15.Shinya Kogami
Shinya Kogami can be seen in the famous psychological anime named Psycho-Passand wantsts the welfare of people and does everything for their safety. He is a police officer whose only mission is to handle critical situations and kill criminals.
But he is now more focused on finding the criminal who has killed one of his close friends. Kogami is a great officer who can easily detect criminals by looking at their faces and aconnectingect evidence that-evidence Torit.
He is brave, skilled, and handsome, and though he has no such supernatural powers, his personality is enough to make anyone love him.
14. Kunimitsu Tezuka
Kunimitsu Tezuka is the hottest anime character you will ever encounter in the world of anime characters. He is from the series named The Prince of Tennis and is the tennis team's captain as well. He is dedicated to the game but, at times, gets distracted due to the continuous pain in his arm.
Tezuka is the captain and mentor who always does what is best for the team. If one does wrong, he punishes the whole team. He wants his team to play for the nationsuffersough severe pain and often ignores his doctor's advice not to play.
He might have a doctor's advice power, but his personality and traits are enough to make him loved by anime fans.
13. Roy Mustang
Roy Mustang is more famous than Edward Elric and is the State Alchemist Officer and outwardly arrogant and playfully manipulative but very much intelligent and adaptable in the environment. He is also shown as a womanizer when the series begins, but with the gradual passage of time, his character also evolves.
Roy will be seen to be falling for Riza Hawkeye, and the duo's chemistry is also loveable. He might be brilliant, but he is also stubborn. His ambitions make him go throughout the series.
12. L Lawliet
Lawliet does not have such an exquisite appearance or handsome personality. He is more like a ghost or zombie with dark eyes accompanied by dark circles. L has no such excellent skills to showcase, and that is new of a kind. He might not have so much talent much abilities, but his genuine nature is what the audience loves him for.
He is just the opposite of Death Note. His true identity has always been kept secret; everything about him is mysterious and enigmatic.
10. Gintoki Sakata
The protagonist in the series Gintama is Gintoki Sakata. He is depicted as an angry, rebellious samurai. He has a handsome look guy that is enough to please the audience. His curly silver hair is also something new. If you have seen other Japanese anime, you must have noticed that Gintoki is someone new.
His look automatically makes him unique among other male anime characters, which is why he has made a place in the list of 40 best male anime characters. He lacks sympathy for others and has a genius mind when framing others for his mistakes and escaping from the consequence forever.
9. Howl Jenkins Pendragon
Howl Jenkins Pendragon is a character from Howl's moving castle. The best part is he is just like any other average human being in appearance but has supernatural powers. He tries to hide it as much as possible from others and never boosts or showcases it.
He is the dweller of the moving castle name, hence the series' name. However, there comes Sophie, the heroine who is determined to make him leave this castle and see the outside world.
8. Victor Nikiforov
Victor Nikiforov is a popular character from Yuri. He has a wise, lovely, and friendly attitude overall, but he becomes sophisticated in skating and winning championships. He has gray hair that not only attracts the audience but also makes him shine among all the other characters.
Nikiforov gains victory with sheer effort, and his performance has always been worth watching.
7. Tanjiro Kamado
You must have watched Demon Slayer: Kimetsu no Yaiba and already be in love with Tanjiro Kamado, the hero. Tanjiro has only one mission that keeps him going: to make his sister return to usual, and has turned into a demon now, which Tanjiro wants to change.
Kiemestu is a young teenager for whom such a task might seem too great to fulfill, but his dedication to achieving this goal makes the series worth watching.
He has extraordinary powers and has become a demon slayer so that no one else goes through what his sister has gone through. He is one of the best male anime characters ever encountered.
6. Allen Walker
The audience can see Allen Walker in D Gray-man. It becomes evident from the beginning that he has a painful past. The red mark on his face is clear and prominent whi, ch he cannot keep it hidden. He is the hero who fights against the demons with a weapon called innocence.
With the plot's progress, his links with Noah also get gradually revealed, and the more hint at suspense the audience gets, the more intrigued they become to watch more of him and learn about him.
5. Taiga Kagami
In Kuroko no Basuke, you might encounter another character named Taiga Kaga, a close friend of Kuroko and is the ace of the basketball team at Seirin High. He is also very much dedicated to his game, and his ambition is to be the best player in Japan.
He is determined to beat the Generation of Miracles, and the fascinating part about him is he follows his dreams and tries to make them all accurate at cost. You will see a lot of drama and excitement; noeveryle episode will look dull. The duo's friendship and playing are all one can want in a great anime.
4. Rintarou Okabe
Okabe is from the Steins; Gate series. He is a young man who has severe goals and ambitions to fulfill. He depicts himself as a mad scientit, bue has a kind and wise heart underneath this mask. The best part about him is that he desperately wants to save Mayuri and does everything possible for a human. He, however, comes across Kurisu, who somehow starts taking the place of Mayuri.
Now Okabe fails to understand what to do. Whether to save Mayuri or not. He is very complex. Though he is wise and kind, he sometimes becomes selfish. Apart from these two, Okabe has many other people who love him, but he pays no heed to them and is more concerned with Mayuri, which also states that he is selfish.
3. Ken Kaneki
I hope you haven't missed watching Tokyo Ghoul. Ken Kaneki is the hero of this series who finds himself changed into a monster from a mere human.
Ghoul is not only scary but also has a poor fate. He soon gets tortured as well, and it isn't something that is ignored or escaped from easily and becomes brutal and kills another ghoul eventually.
His portrayal starts from depicting him as a human who studies Japanese Literature at Kamii University to his sudden transformation into a one-eyed ghoul by Rize's kakuhou transplantation.
2. Tetsuya Kuroko
Tetsuya Kuroko has made a place among anime fans quite quickly and is a basketball player in Kuroko No Basuke and is not as tall and handsome, yet he has a charming personality to fall for. He is weak and small, but such aspects aadvantageousage while playing.
Kuroko is quick and passes the ball to other teammates with great speed, which becomes problematic for other players since they fail to know how and when thappensened and have blue hair, which might be the only beautiful thing to some. He is dedicated and hardworking, which overall makes him loveable.
1. Light Yagami
Light Yagami is the hero of Death Note. He is a hardworking young boy who is hardworking, talented and a genius. He is tall, has lengthy brown hair, and is charming enough to attract the audience's attention. Before he finds the death note, he used to live an everyday life like any other young man to relate easily.
Initially, he had the power to do justice and used the notebook wisely, but the notebook's ability was excellent. Soon he becomes ambitious, making the series all more watch worthy.
These are the best male characters you will ever see in the anime community. Of course, there are many more, but it is impossible to include everyone. You can see a variety of lists with your best characters enlisted in them, so do read them all.
Also, do not forget to follow us for more such lists, news, characters, series, films, etc.