Students get ready; the new term at Moordale high school will be starting soon, and yes! For discounts in its sex clinical, you have to keep reading here.
The release of Sex Education Season three is confirmed. After waiting for so long, we will finally see the third season of the show series. Sex Education is a British teen drama-comedy television series created by Laurie Nunn. This show is about the personal dilemmas of teenagers and their parents in Moordale high school, which is related to their sexual intimacy issues. The series depicts different sexual dilemmas. Asa Butterfield is starring as Otis Milburn, a high school teenager who is tragically awkward compared to others in his age group.
He gets panicked every time he tries to get intimate with a girl, and this makes him feel as lagging behind his peers. Gillian Anderson as Jean Milburn is a sex therapist who is sacred of forming romantic relationships after her divorce. However, Jean's occupation makes her son Otis uncomfortable, which affects their relationship. Ncuti Gatwa playing Eric Effiong, is the only best friend of Otis. However, he is gay and develops feelings towards Adam Groff, headmaster's son, who bullies Eric out of his self-loathing attitude and insecurities.
Connor Swindells has played the role of Adam, a teenager insecure and confused about his sexuality, constantly pressured by his father. The series portrays how the characters deal with their feelings and different sexual issues often discouraged by society to discuss. The show premiered on January 11, 2019, followed by the second season's release on January 17, 2020.
Sex Education is another loved release of Netflix, and with the immense popularity, the show streaming has crossed 40 million views on Netflix. Now the Sex Education Season Three has been announced to release on September 17, 2021.
Story So Far for Season Three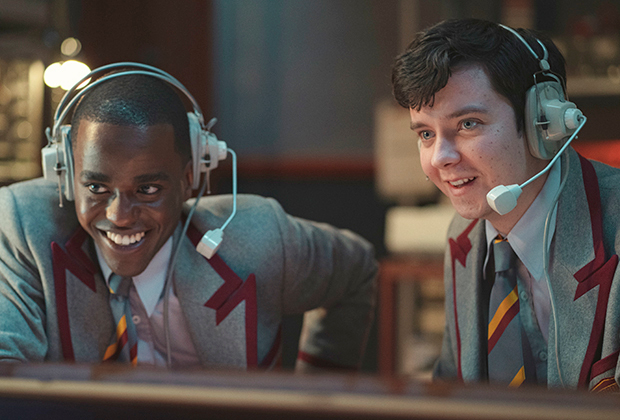 Do you remember your last appointment in Moordale high school's sex clinic? Well, we have listed the details here. Season two ended on a dramatic note leaving fans curious and full of possibilities. In the second season, there were new major changes in the characters' lives. Otis successfully started masturbating and was now more confident than ever. Adam finally accepted his sexuality and was now happy with his life. The sex clinic of Otis and Maeve makes them closer.
So far, everything seemed too good until Issac deletes the romantic voicemail Otis sent to Maeve and sent him away. Before you jump from your seats in excitement, let me tell you there will be a time jump in season three. Asa Butterfield stars as Otis Milburn stated in his interview with The Guardian about the time jump in the Sex Education Season three.
Lauren Nunn, the show's creator, talked about the theme concept of season three in an interview at Evening Standard. She stated that season three would be about the concept of 'shame.' So now the viewers must be biting their nails to see what happens in season three. Will Maeve ever know about the voicemail? Will Otis be able to explain to her how he feels? And wait! Do you know Jean is pregnant? Well, there is a lot of drama and possibilities.
Will there be Season Four?
Well, we know now it's a lot of excitement. So let us give you another shot of good news. The show creator, in an interview, stated her desire to continue the show for a season four. After the show's cast, including Anderson, also hinted about season four, the fans have a buzz. So far, there are speculators made for Sex Education Season Four, although no official statements have been made yet.