Pretty Smart Season 2 is the second season of the Comedy-Sitcom Series. Keep reading to find out more about the release date, where to stream the show, and plot details of the second season.
The show follows the life of Chelsea. A Harvard Graduate and Aspiring Novelist. After breaking up with her Boyfriend Chelsea decides to move in with her sister Clair who is in Los Angeles. But the thing is Chelsea sees Clair as an inferior version of herself as Clair works as a waitress while she has a degree from Harvard.
We see the sister reforging their lost bond after not being under the same roof after so long. Chelsea beings to realize her sister is not so bad after all. It wouldn't be a sitcom with just two people. And therefore, we are introduced to Clair's other roommates. Social Media Influencer Jayden, Lawyer turned New-Age Healer Solana and Clair's Ex-Boyfriend Grant.
Meet The Cast of Season 2
 There hasn't been an official word yet but we can expect the actors from season 1 to return to their roles. Firstly, we have American Singer-Songwriter Emily Osment as the Harvard Graduate Novelist Chelsea. Then we have American Actress Olivia Macklin as Chelsea's eccentric sister Clair. Then we have English Actor Gregg Sulkin as Clair's Ex-Boyfriend and Roommate Grant. Who is also Chelsea's co-worker
Release Date
Season 1 of the show started its premiere on the 8th of October 2021 and as of now, the Sitcom has not been renewed for the second season. If and when it does get renewed, we can expect the show around the same time. Season 1 had a total of 8 episodes of 30 minutes each. It is safe to assume that Season 2 will follow the same pattern.
Where To Watch The Show Online
The shows international fans need not fret as the show will be streamed exclusively on the popular streaming service Netflix. It is not clear whether other streaming services will also take up the show. If you are not comfortable with the Default language, dubbed version will also be made available to all subscribers
What To Expect In The New Season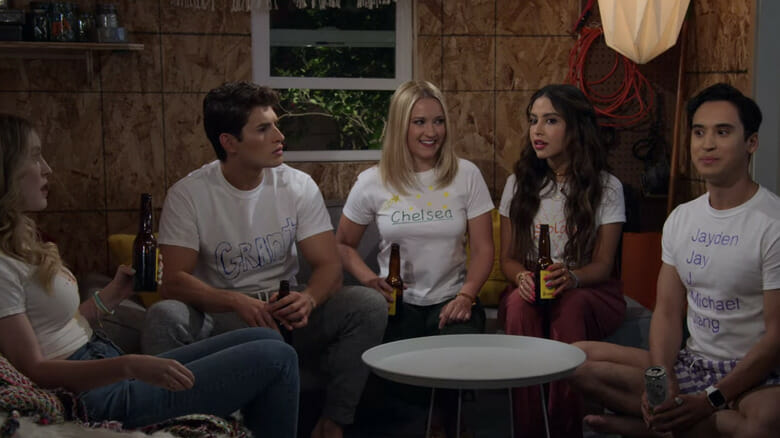 Fans are very eager for the next season as Season 1 ended on a cliffhanger. In the end, we see Clair breaking up with her current boyfriend Dave. She is then seen Kissing her Ex-Boyfriend Grant. Who is also one of her roommates? We are not sure as to what this means for their relationship. Are they going to get back together? Was it just a spur-of-the-moment thing on Clair's Part? We are left with a ton of questions with no answers.
Now for the Cliffhanger. Chelsea walks in seconds after. Chelsea was coming to ask Clair's blessing about pursuing Grant Romantically. As she has developed feelings for him over the season. Chelsea thought it was only fair to ask her as Grant is Clair's Ex. It is not clear whether Chelsea saw them kissing. Whatever the case. This conflict in Interests will surely open a new rift between the newly bonded siblings. We have to wait for the next season for the answers.