Re:Zero – starting life in another world or Re:Zero kara Hajimeru Isekai Seikatsu is a ranobe written by Tapei Nagatsuki and illustrated by Shinichiro Otsuka. An anime adaption was made in 2016 and produced by Sho Tanaka. The story is about Natsuki Subaru, a teenager who lives in modern Japan. However, one day, he was called into the other world.
He does not know about the individual who summoned him or why he has been called into a different world. The protagonist meets with a silver-haired half-elf girl named Emilia, and he soon learns that he has the power to reverse time by dying, but he would only know about the previous timeline.
Re:Zero Story
The light novel series Re:Zero, also known as Re:Zero – Starting Life in Another World, was written by Tappei Nagatsuki and illustrated by Shinichiro Otsuka.
The show centers on Subaru Natsuki, a young recluse who is pushed into a strange world where he meets Emilia, a half-elf girl who is contending for the crown of the realm. Surprisingly, Subaru passes away after visiting the new realm, but he is transported back in time and resurrected; his memory of his prior lives is unharmed.
Subaru quickly understands he can help Emilia and alter the weird, new world he has found himself in by using his newly discovered abilities! The acclaimed Re:Zero series has inspired numerous adaptations and spin-offs, and the light novels have sold over 11 million copies.
What is the Release Date for

Re:Zero Season 3?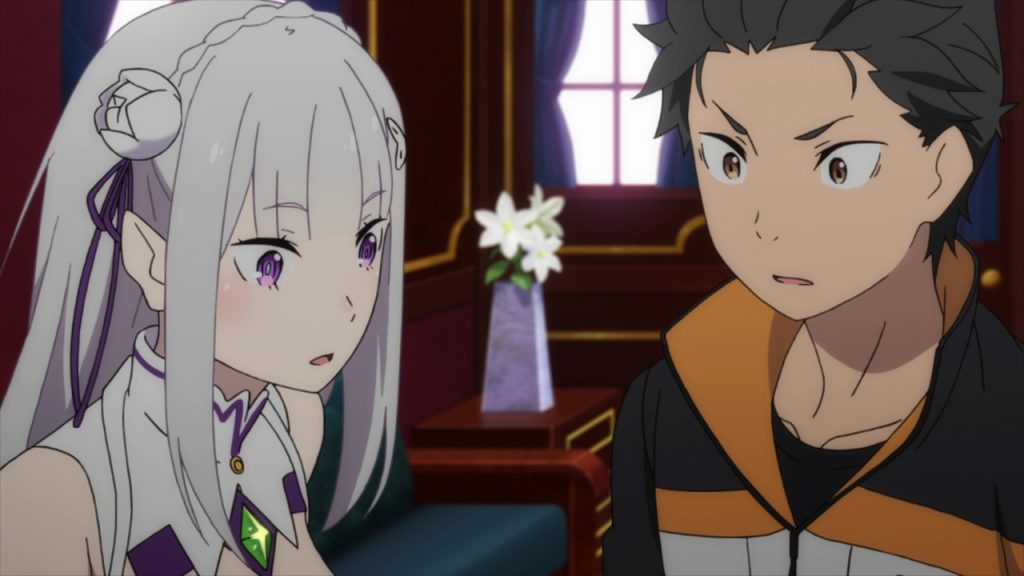 One of the best things about Re:Zero is the story and plot, the way a character develops can be seen clearly as the show progresses. The complicated relationship between the characters was to be seen, which is another reason to get attached to this anime.
Since this anime has been watched and loved by people from all over the globe, the fans crave and desire to get Re:Zero season 3 released as soon as possible. However, there have been no official dates or announcements, creators have kept their fans in the dark, and they have not uploaded a teaser or a trailer.
According to some fans, there will be an introduction of some new faces in the series; as a result, the new season is getting late. An announcement for a Re:Zero anime season 3 may occur sometime in late 2023, based on the pattern of original airing dates.
Characters of the Series
Subaru Natsuki: Subaru Natsuki is a teenage boy teleported into the world where he gets a power he calls "return by death." Subaru does not know who has called him to the other world or his purpose. In the subversion, Subaru has been voiced by Yusuke Kobayashi. In the dub version, he has been expressed by Sean Chiplock.
Emilia is a half-elf girl; she met Subaru when Felt has stolen her logo. She has been hated and despised by people because she resembles the "Jealous Witch" (one of the antagonists in the series). However, she develops romantic feelings for Subaru because he is the first person who makes her happy, accepted, and loved. Rie Takahashi in the sub has voiced her. In the dub, she has been said by Kayli Mills.
Where to Watch the Series
Re:Zero–starting life in another world is licensed only on a limited number of OTT platforms. Due to streaming rights in different regions, this adventurous and dark fantasy genre of anime is on little and other entertainment platforms worldwide. The anime is available on Amazon Prime Video in the USA, which offers a comprehensive and enjoyable variety of anime seasons apart from exclusive movies and TV series.
Both the seasons of Re:Zero is present on HBO Max, presently this platform displays a limited number of anime, but popular animes are slowly making their way to HBO Max. Since we are talking about anime streaming online, we cannot forget about Crunchyroll, which is possibly the best platform to watch anime; the latest episodes of an anime can be found on Crunchyroll in an hour or two after the attack has been aired in Japan.
The popular anime is also available on Netflix, sadly only one season is available on Netflix. Netflix UK does not have streaming rights to the anime, so they have to watch it on Crunchyroll.