Reservation Dogs is an ongoing comedy series. The writers are Sterlin Harjo, Bobby Wilson, Taika Waititi. Sterlin Harjo and Taika Waititi are not only writers but also creators. Mostly Native Americans run the series, be it actors, directors, or writers. Sterlin Harjo and Sydney Freeland direct the series.
Sydney Freeland has won many nominations and awards. Drunktown's Finest is one of Sydney's remarkable movies. Some awards received by the movie are the Albuquerque Film & Music Experience Jury Award in the category of Best of New Mexico, American Indian Film Festival Movie Award in the category of Best Film, American Indian Film Festival award in the category of Best Supporting Actress.
Sterlin Harjo, too has received a number of awards and nominations. Some of the awards he received are American Indian Movie Award in the category of Best Film, American Indian Movie Award in the category of Best Feature Documentary, American Indian Movie Award in the category of Best Director, Best Oklahoma Film for a feature film, National Academy of Television Arts & Sciences – Heartland Chapter, Emmy Award for Best Documentary – Cultural.
Release Date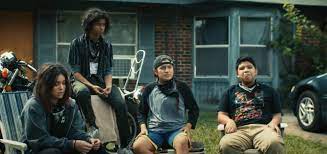 Reservation Dogs series episode six of season 1 is set to release on 6th September 2021, and it's titled "Hunting." The series is supposed to have a total of 8 episodes. As the title suggests, the four friends might be found hunting for something or someone. Unfortunately, we'll know about it only after watching the series. The series has received a high IMDb rating of 8.2 and is growing with each episode.
Cast and Characters
Devery Jacobs is playing the role of Elora Danan Postoak. D'Pharaoh Woon-A-Tai is playing Bear Small hill. Lane Factor is playing Cheese. Paulina Alexis is playing Willie Jack. Apart from these, we can find. Dallas Goldtooth is playing the role of Spirit. Sarah Podemski is playing the role of Rita – Bear's mom. Jon Proudstar is playing as Leon – Willie Jack's dad. Kimberly Guerrero is playing Auntie B – Willie Jack's aunt.
Jack Maricle, Jude Barnett, Xavier Bigpond are seen playing the characters of White Steve, Bone Thug Dog, Weeze, respectively, who are members of the NDN Mafia group. Elva Guerra is seen playing Jackie – the leader of the Mafia group.
Plot
The series follows the story of four teenagers. These teenagers aren't your basic high school drama teenagers. They're Native Americans living in Oklahoma on a reservation. Hence, giving rise to the name of the series – Reservation Dogs. It shows how these four teens resort to crime and fight all the difficulties that come their way. Their main goal is to reach California in the hopes of a better life.
Where to Watch
Reservation Dogs is exclusively available for streaming on Hulu, and the series is an FX original. Unfortunately, even though it's an original, viewers can't watch it on the channel. The series can also be streamed on the platform Binge in Australia. International fans can watch the series on Star by Disney plus.
The series has received mostly positive reviews. People found the series genuine and relatable. The sense of using comedy and putting up the issues that exist amazed the audience. Many Native Americans could relate to the problems as they themselves faced them a lot.
Hence, the series has a very personal touch. While the show received a lot of positive reviews, some pointed out it portrayed negative stereotypes giving rise to discrimination. Well, everyone has a different perspective, so watch the show and make your own perspective. So bring your popcorn and your cold drinks because Reservation Dogs will be greeting your screens this Monday.