The award-winning Israeli drama series False Flag inspires the suspense-filled thriller series Suspicion. Uma Thurman stars in the film as a businesswoman whose son gets kidnapped. She is a Hollywood A-lister and star of Kill Bill. In addition to Kunal Nayyar from The Big Bang Theory and Noah Emmerich from The Americans, there are plenty of other notable actors in the show. You will have an amazing journey ahead of you.
In Suspicion, an American businesswoman's son is kidnapped by ruthless men who say they're looking for his father. A video of Leo, 21, being kidnapped from an exclusive hotel in central New York is viewed online more than 100,000 times. A group of four British tourists becomes suspects very quickly. What does it matter if they are in the wrong place at the wrong time, and that's all they are guilty of?
Is there a 'Suspicion' Trailer?
Suspicion has released its first trailer through Apple T.V. Plus. Brits are working together to figure out how they became suspects in this kidnapping, as Katherine Newman struggles to balance her tough businessperson persona with that of a worried mother. Who are these people, really? You can watch it on YouTube as well.
When does Suspicion Come Out?
On February 4, 2022, Apple TV+ will debut Suspicion, a new eight-part series. It will air six episodes every Friday following the premiere.
The Plot of 'Suspicion'
During Suspicion, Katherine Newman witnesses horrifyingly the kidnapping of her son (apparently by criminals wearing Queen Elizabeth masks and Prince Charles masks, see below). Investigators from the F.B.I. and National Crime Agency soon suspect four British nationals who were staying at the hotel when it occurred.
In an effort to prove their innocence, they find themselves playing an intense game of cat and mouse with the authorities across the Atlantic. Nevertheless, among them is one that completely understands the abduction mystery. While some just happened to be on the wrong side of history, there is also one who was exactly where they needed to be at the right time.
The Cast of 'Suspicion'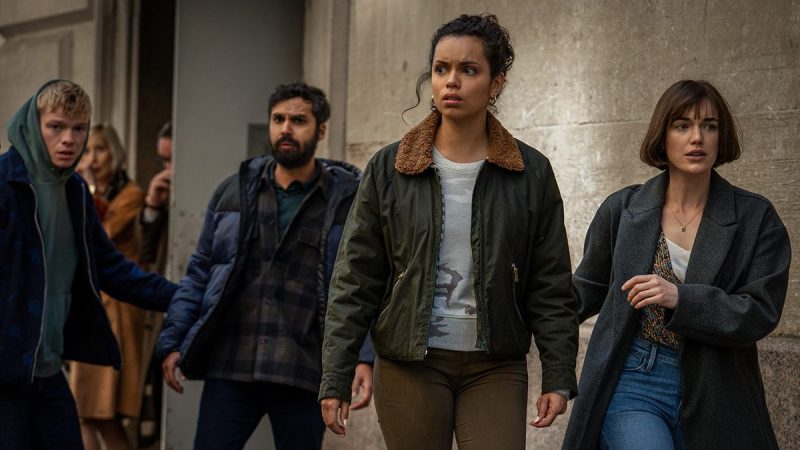 Katherine Newman, a high-flying businesswoman whose son is kidnapped, is played by Uma Thurman. The role of Mia Wallace in Tarantino's 1994 movie Pulp Fiction made her Hollywood royalty. In addition to Poison Ivy, she played Irene in Gattaca and Darcy in Batman and Robin. However, the role of The Bride is probably her most famous.
Elizabeth Henstridge, who appeared on Agents of S.H.I.E.L.D. and in the film Wolves at the Door, stars alongside Uma Thurman and Sam Worthington in Suspicion. Kunal Nayyar, who we love as Raj from T.B.B.T. and Noah Emmerich, also star in the hit T.V. show.
The notorious Israeli thriller False Flag was adapted into an English language series by Apple in July 2019. Keshet Productions also produced the original Hebrew-language series. In addition, Apple has ordered an upcoming series to be directed by Chris Long and exec-produced by Rob Williams. Deadline Hollywood confirmed the order in March 2020.