The recently released docu-series, The Curse of Von Dutch: A Brand to Die For plunges deep into the infamy of the most prominent fashion line of the early 2000s. A battle between three men claiming their stance as the ultimate founder of Von Dutch, the malign behind the entire endeavor comes across as something quite sinister. It is nonetheless a tale of backstabbing and bloodbath, triggered by greed among these three men. And, reportedly Ed Boswell is one of them.
The clothing line, Von Dutch, is best known for the tucker hat donned by everyone back then. It was ubiquitous; you could see it in the red carpet, to students wearing on the college campus. Celebrities like Justin Timberlake, Britney Spears, Paris Hilton, Jay-Z, everyone donned it. However, as quickly it rose to fame, the downfall was quite swift too. And one of the alleged creators, Ed Boswell, is a critical part of this entire endeavor.
Who is Ed Boswell?
Ed Boswell's name pops up on discussing the chain of events involving Von Dutch. He is a native of Long Beach, California. He completed his education at California State University, and then ahead to assume the job of promoting concerts, from where he launched into the world of clothes designing. He had read about Kenneth Howard, also known as Von Dutch, somewhere around the age of 16. It had thoroughly fascinated him.
Ed Boswell recounts that he was a legendary guy, his habit of smoking pot, drinking beer, and lack of Social Security number made him quite cool. Howard was famous back then in the 1950s for his iconic paintings on automobiles. In 1992, after his death, his brand name Von Dutch was purchased by Bobby Vaughn and Michael Cassel from Howard's daughters.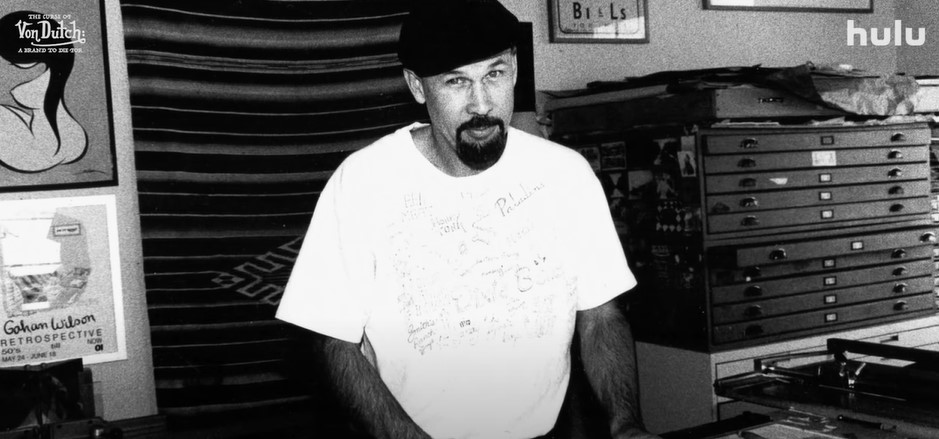 Boswell had come into contact with Cassel and Vaughn in 1996, and together they decided to build a clothing line paying homage to Howard. But Michael Cassel and Ed Boswell were constantly bickering. Boswell said that Cassel eventually forcefully removed him from the brand and then took the realm with Donald, his brother. After Boswell's exit, the company did experience a meteoric rise in popularity but quickly came down.
Where is Ed Boswell Currently?
Boswell claims that he was unjustly treated by Mike, which made him give up his interests. He also further adds that he was the one behind the idea but did not receive any credits for it. He states that he never received any profits the clothing line made. Presently, he runs Boswell Design, which is concerned with customized framing, contemporary and vintage art prints. He at present lives in Long Beach, California with his cat, daughter, and wife.
Where to Watch The Curse of Von Dutch: A Brand to Die For?
The Curse of Von Dutch: A Brand to Die For has three episodes altogether. All of these episodes premiered on Thursday, November 18, 2021. These episodes were dropped on Hulu exclusively. If you are a first-time subscriber to this platform, you can get a free trial for 30 days. The platform offers a subscription starting at a price of $6.99 monthly. Andrew Renzi has directed this docuseries. Sheila Conlin, Aaron Saidman, and Eli Holzman serve as its executive producers.
What is the Docuseries About?
The Von Dutch, at the starting of the 2000s, was one of the most prominent, ubiquitous, and bold fashion brands, particularly famous for the trucker hats. However, behind the instantaneous rise of the brand, it carried a history fueled by drugs, greed, and murder. The docuseries delves into this, exploring the events and the stance of three men who claimed to be behind the name and fame of this brand. You can watch the three-part docuseries, exclusively on Hulu.