Our beloved medical drama, The Resident, is airing on March 29, with a brand new episode. The series is currently running in its 5th season, Episode 15. With a total of 23 episodes this season, the longest season so far, there is so much more tea and drama to be spilled yet.
The series first premiered back on 21 January 2018 and has been gaining popularity and a steady rating since. The series follows the personal and professional life of people involved with Chastain Park Memorial Hospital. It is adapted from a book by Marty Markary, titled, Unaccountable.
Marty Markary, is not only a writer, but a surgeon, professor and a medical commentator. He knows the nooks and crannies of a hospital and what goes inside, which makes the series all the more interesting; knowing he doesn't just pluck things out of the air.
The series was purchased by Fox, back in 2017 from Showtime, and it has been renewed for new seasons every year. The series is created by Amy Holden Jones, Hayley Schore, and Roshan Sethi. There are mixed reviews from the critics, however, the series thrives yet, another season.
Story So Far
The last episode, episode 15, was titled, In For A Penny, which aired on March 8, 2022.
Devon seems to finally find a patient willing to test him s hypothesis- which if successful, could be revolutionary. However, the patient's health immediately declines after the first treatment. Meanwhile, Bell is also struggling with the board members who do not want to leave Bosley's good side.
They are ignorant of Bell who is newly appointed to the Board. They dismiss his claims even though he has proof and witness. He becomes very upset with the bureaucracy of the board and decides to do whatever he can to find justice
Leela working on another patient who chooses her life over her ovaries, inspires her and she tells Devon, she doesn't want babies like he wants to. She decides on donating her eggs to Kumari while leaving a window open for a "maybe" by freezing some eggs.
Leela wants only to go up from here on her career path and thinks that having babies will only block her path. Could this possibly bring some cracks into the relationship as the two have different plans for the future?
Meanwhile, on the other side of the hospital, Cade's secrets are revealed and Mafia is closing in as Cade as she tries to expose them and the hospitals pill mills and frauds. While Cade and Conrad's chemistry brews on the side, Conrad has to keep reminding himself of Gigi.
Episode 16 Expectations
Trevor hasn't shown up since, after Billie's hearing. There was a brief mention of her going off to find him, which could bring more drama to the hospital with the mafia looming not too far. With a good two years of luck, how long will Cade be able to escape them?
In the previous episode, we also saw so much happening with Devon, at the same time. The announcement of Leela, not wanting to have babies and his new medicine making the patient all the more sick and at the edge of life and death. There is too much on his plate at the moment, which, we will get to see the outcomes of in this episode- fingers crossed!
Where And When Can You Watch?
Episode 16 of Season 5 of The Resident will be live on FOX on Tuesday, 29 March 2022, at 8 p.m ET and 5 p.m. PT. You can also stream the series on FuboTV or Hulu with a monthly or yearly subscription and the benefit of a 1-week free trial.
Cast
Matt Czuchry as Conrad Hawkins, Bruce Greenwood as Dr. Randolph Bell, Manish Dayal as Devon Pravesh, Malcolm-Jamal Warner as Dr. AJ Austin, Jane Leeves as Dr. Kit Voss, Morris Chestnut as Dr. Barrett Cain, Jessica Lucas as Billie Sutton, Anuja Joshi as Dr. Leela Devi.
Guest Casts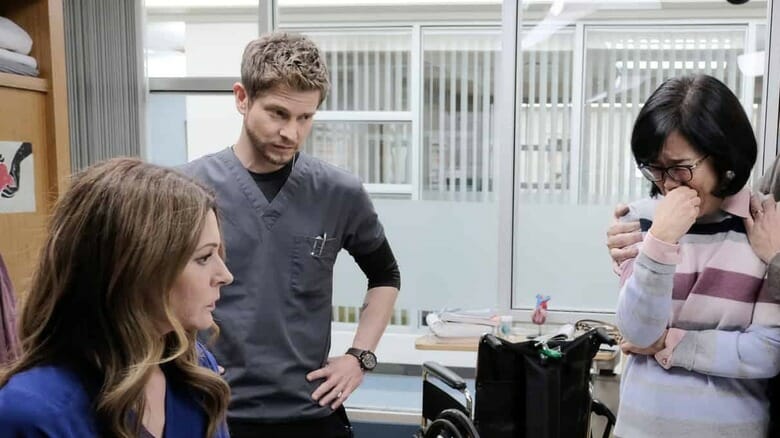 Tasso Feldman as Dr. Irving Feldman,  Denitra Isler as Nurse Ellen Hundley, Miles Fowler as Dr. Trevor Daniels, Vince Foster as Dr. Paul Chu, Andrea Powell as Dr. Leslie Malco, David de Vries as Dr. Frank Abernathy, Leslie France as Dr. Dianne Elkins, Crystal Rivers as Emily Benesch, Christina Brucato as Eliza Brockton, Tobias Truvillion as Pastor Aaron Deering, Mike Masters as Dr. Bryan Pellington, Alison Ball as Dr. Meghan Greer, Sandra Jones as Daisy Tyler, Ulisses Gonsalves as EMT, Andre Lamar as Security Guard, Christian Strong as Himself.