The young adult romance drama The Summer I Turned Pretty has been garnering a lot of positive reviews and responses from fans since its release. The complex and emotion-filled series has been showing different relationships and the changes it goes through which is being loved by the audience.
And not to forget that fans are loving the two brothers too and the relationship they are sharing with Belly. But many want to know what exactly happens to Conrad in the series? As he is going through waves of emotions in the series which leads him to change, causes drama, jealousy, and confusion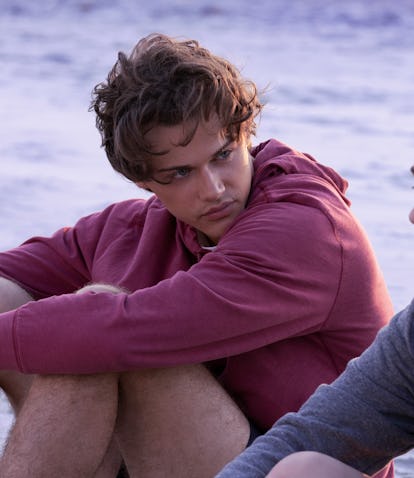 . In this article, we will tell you exactly what happens to him in the series and a little more about him, so if you want to know all the details  then without any further delay start reading to unveil about Conrad.
Before you commence your reading we would like to give you a heads up that the article contains some *SPOILERS* so read it at your own discretion. We in no way intend to spoil the mood of those who haven't seen the series yet.
What Happened To Conrad?
The series very clearly showcases the dynamic relationship between Conrad and Belly which is the primary focus too. Belly has a crush on Conrad but then their relationship does not seem to take off smoothly and it just keeps on getting complicated, heavy, and emotional.
Conrad seems to be a mysterious teen who is going through a lot of emotions at the same time which is leading to conflict of decisions for him. He seems to be different in this particular summer and seems to be sulky and filled with anger and pessimism.
Because of this even rejects Belly on several occasions and starts dating someone else and Belly starts dating someone else too which he does not like. All this in turn strains their relationship even more. But all this seems understandable when the viewers come to know the reason behind his behavior.
The reason is that he is aware that his mother is battling cancer and she does not want her children to know about this. This affects him so much that he starts to take marijuana to submerge his pain. He as mentioned starts dating someone else(Nicole) to take his mind off of all this but then all this does not help him much rather they lead to opposite reactions.
To make things worse belly who he rejected a lot of times made him jealous when she started dating Cam and Jeremiah. But then he eventually does show his love for her and confessed his feelings. Throughout the season Conrad grows mature and learns to control and share his emotions and worries respectively.
But the drama escalates when Belly wishes that this summer never as Sussanah's condition was revealed and the change in Conrad is observed. In season 2 presumably, Conrad will disappear leaving Belly and Jeremiah worried which will bring Belly back to the beach to make things right, or maybe it might end things for the three of them. And to witness that we need to wait for the second season. 
Who Is Conrad?
Conrad Fisher played by Christopher Briney is the main character and the protagonist in the series. He is the eldest son of Sussanah and Adam Fisher and the elder brother of Jeremiah. He, in the series, happens to be Belly's first crush. He is that handsome hunk in the series for whom the lady longs.
Christopher is relatively new in the industry and the series character that he is playing is his first major role but he has appeared in some short films before bagging this role. He is a graduate with a BFA in acting from Pace University and right after he graduated he bagged this life-changing role.
Apart from acting, he is also a talented photographer. He is being loved by the audience in the series and we are looking forward to seeing what more he is going to bring in the series and in the future. 
About The Summer I Turned pretty
 Adaptation of young, adult novels into movies and shows has seen a growth in recent times changing into audience favorites. added } name is currently being added to the list of variations that is named The Summer I Turned Pretty
It is a romantic, coming-of-age drama series that has been adapted from the novel of the same name by most cherished author Jenny Han who also gave us the popular and loved trilogy film To All The Boys which was also adapted from her novel of the same name.
This new Amazon Prime series tells the story of Belly who during the annual summer vacation at her family friend's beach house reunites with 2 of her friends namely Conrad and Jeremiah, who are brothers. Belly is caught in a love triangle between the two brothers.
This love triangle and the series is filled with love, fun, heartbreak, and betrayal making the drama series even more exciting and worth the watch. The series also shows the evolving relationship between mothers and their children and strong friendship. And not to forget the beautiful location, view and the music are the cherries on the top that makes the series even more appealing.
The Cast
The cast of the series includes promising talents that are standing out for the viewers like Lola Tung as belly, Jackie Chung as Laurel, Rachel Blanchard as Susannah, Christopher Briney as Conrad, Gavin Casalegno as Jeremiah, Sean Kaufman as Steven, and others.
Where to Watch?
The romantic series was released on June 17, 2022, on Amazon Prime. The series consists of 7 episodes with the duration ranging from 39-52 minutes. 
The good news before ending the article is that we are getting a SECOND season. Yes, you read that right. Ahead of its premiere, the makers confirmed the renewal of the show which indicates that we are getting a second season of the romance.