Social media is filled with information and wishes for Lil Tjay by his fans and friends. The incident with Tjay shocked everyone as the rapper recently declared that he would have a "good summer." However, Lil Tjay is severely injured and hospitalized for immediate surgery.
Please continue reading to get exact details on what exactly happened with Tjay and why is he hospitalized, and is the rumors of him passing away are genuine or a hoax.
What Happened To Tjay?
New York artist and rapper Lil Tjay was shot in Edgewater. He was one of the two people shot in New Jersey early Wednesday morning. According to the Bergen County Prosecutor's Office, the shots were fired at the Promenade in Edgewater after midnight. He was shot with multiple gunshot wounds. Along with him, Antoine Boyd was also found with a single gunshot wound.
Both the injured were taken to the area hospital for treatment. He underwent emergency surgery. According to officials, the shooting occurred after attacker Mohamed Konate tried to rob Tjay, Boyd, and Jeffrey Valdez. It was revealed that except for Tjay other two victims had unlawful weapons at the time.
The attacker was arrested later and was charged with three counts of attempted murder and armed robbery, two counts of possessing a firearm for an unlawful purpose, and fourth-degree aggravated assault. Boyd and Valdez were charged with illegally possessing weapons and held at the Bergen County Jail in Hackensack.
Did He Pass Away?
Rapper Lil Tjay did not pass away and underwent emergency surgery as he was shot multiple times and needed immediate treatment. However, the officials have confirmed and updated that he jas come out from a critical condition to the stable one, and others who were shot are also doing fine.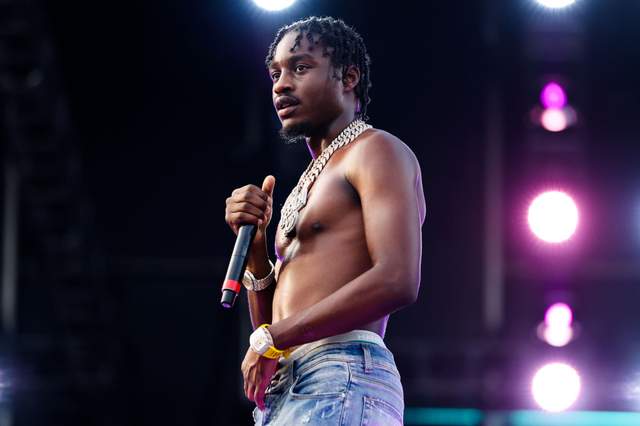 Reaction To Lil Tjay's Condition
Prayers and best wishes have been pouring in from around the corner as soon as the news broke out. French Montana tweeted, "Pray for my Lil bro Lil Tjay.", The Kid Laroi also tweeted, "PRAY FOR TJAY." The other artists and athletes were equally shocked to hear the news. The fans of the rapper are praying for his speedy recovery and health.
Who Is Tjay?
They, whose real name is Tione Jayden Merritt, is a Bronx-born rapper. He became famous on Soundcloud, where he began his career in 2016. Tjay has a whopping following of 7 million on Instagram. His debut album, "True 2 Myself," went on to the 5th rank on the US Billboard 200. He performed at the Coast 2 Coast Live NYC All Ages Edition.
He signed a deal with Columbia Records after he released his single Brothers and collaborated with several artists like 6Lack, and Polo G Fivio Foreign. His song FN has more than 523 million streams on Spotify. He was scheduled to perform at the Nickelodeon Universe Theme Park In American Dream Mall; on the 22nd of July and at other music festivals in Europe.