Young Sheldon is a sitcom TV series. Steven Molaro and Chuck Lorre created it. The show is a spin-off series and began with Sheldon Cooper at the age of 9 years. Young Sheldon is a quite popular show and has also been renewed for its sixth and seventh seasons.
In the show Young Sheldon Season 5. We will witness Sheldon moving towards his adulthood. It seems like he is not ready and is forced by the Coopers to adjust to the new arrangements made in the house. Meemaw is seen buying the establishment or the laundromat where gambling takes place. She buys the place with a motive to take over the business of slot machine gambling that takes place secretly.
Release Date of Young Sheldon Season 5 Episode 5
Episode 5 of Young Sheldon Season 5 will be released on November 4, 2021, on CBS at 8 p.m. ET. The episodes run for 30 minutes and new episodes come weekly every Thursday.
Where can You Watch Episode 5 Young Sheldon Season 5?
The fans of Young Sheldon can enjoy its episodes of Season 5 on CBS at 8 p.m. ET every Thursday. If you like to watch shows online, then it is available to stream on the official website of CBS. Apart from this, you can also watch the show on FuboTV, Paramount+, YouTube TV, Hulu+ Live TV, DirecTV, and Xfinity.
Those who have a subscription to HBO Max can watch Young Sheldon Season 1-4 on it. Viewers can also buy or rent the upcoming or previous episodes of Young Sheldon on Microsoft Store, Spectrum, Amazon Prime Video, iTunes, Vudu, or Google Play.
Expected Plot of Episode 5 of Season 5 of Young Sheldon
Stuffed Animals and a Sweet Southern Syzygy is the title of episode 5 of the show's fifth season. In this, we will see Sheldon getting back to studies and coming together with Dr. Grant Linkletter (his physics professor) in order to solve a hard equation. It is very entertaining to watch Sheldon irritate his professor, and both individuals are in some way great at the subject. This young man always ends up putting annoying questions to Dr. Grant. If not this, then he'll be seen pestering the professor with his demands.
So, something similar can be seen in this upcoming episode. Meemaw will receive help from Georgie, and this might help control the hardships faced in the business. George will also be seen in a conversation with Missy regarding the love life of his daughter. A promo for the upcoming episode also came out recently and is almost half a minute long.
Recap of Episode 4 of Season 5 of Young Sheldon
Episode 4 of Season 5 of Young Sheldon was titled Pish posh and a Secret Back Room. In this, we saw the young Sheldon fighting to adapt to new things. Since Georgie decided to leave the school, Sheldon has been living with Meemaw, and it was difficult for him. Despite Georgie's denial to let him in, Mary wants her son to be with her.
To make both ends meet, Georgie shifts to the garage, which might work in her favor of both avoidings coming in sight of her father and also being in constant touch with the family. Missy is excited to live in the old room of Georgie, but Sheldon is not willing to see her sister move out in the garage. Meemaw visits the laundromat regularly where the gambling takes place over the entire nights.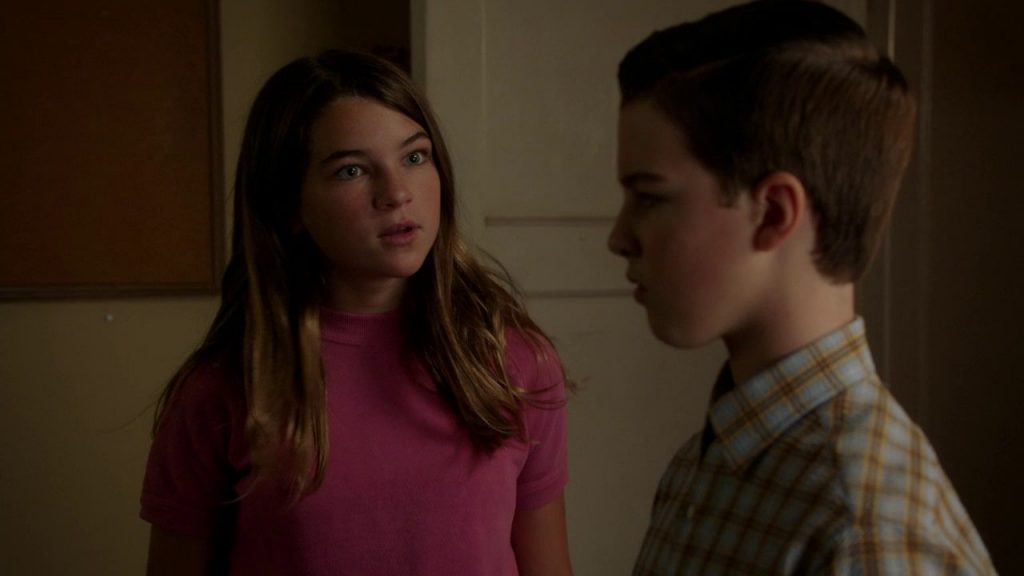 She likes the place so much that she buys the place. Dale doesn't want Meemaw to get herself in trouble, but his words don't mean anything to Meemaw as she is determined to buy the place. Meemaw fails to gain customers' attention on the first day but hopes that better nights will come. The Police bust the place, but she doesn't get into any trouble as the loss was friends with Dale.
Although she was out of trouble, the place was seized by the cops. Dale comforts Meemaw. Sheldon has set up a connection between his and Missy's room. So, even if he sleeps alone, he pings Missy regularly.