Written and directed by Yoshimi Narita and Ryota Itoh, respectively, My Senpai Is Annoying (also known as Senpai ga Uzai Kouhai no Hanashi) is the latest Japanese anime television series adapted by Doga Kobo. Inspired by Shiro Manta's manga series, the romantic comedy series got its release on October 10, 2021, on BS11, Tokyo MX, GYT, TUF, HTB, and Animax.
The music composition has been credited to Hiroaki Tsutsumiwhile designing of the characters was done by Jikou Abe. The starting composition has been sung by Saori Hayami, Tomori Kusunoki, Aoi Koga, and Reina Aoyama by Annoying! While Yui Horie has performed the closing theme, Niji ga Kakaru Made no Hanashi, San Week.
What is Anime My Senpai is Annoying All About?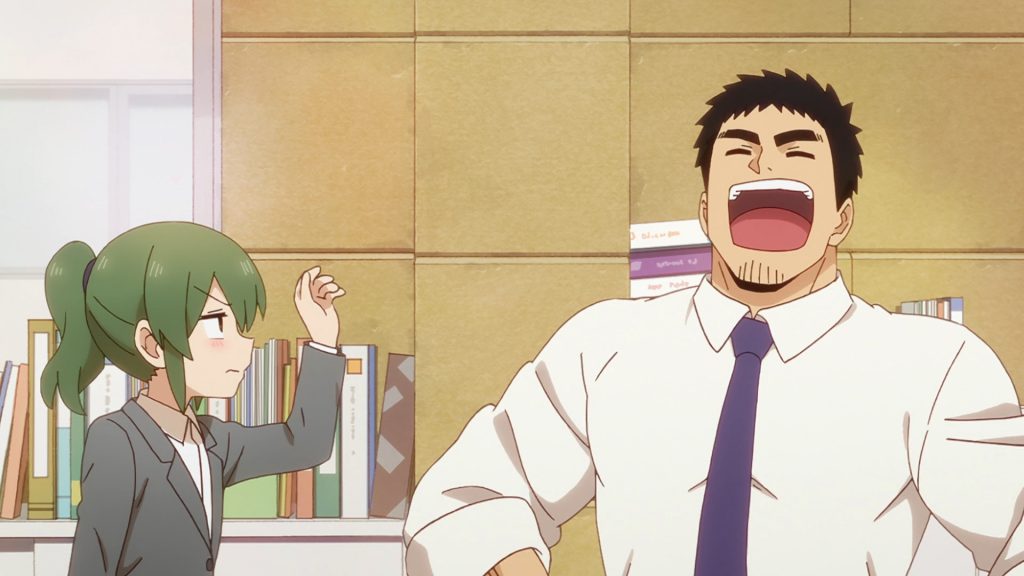 The story focuses on the journey of a woman named Futaba Igarashi, who is independent and hardworking despite her childlike appearance and height. But her tall and noisy senpai is caring towards her, but it annoys the latter as she considers herself to be self-sufficient. The journey focuses on the duo who always end up in pitiful quarrels but have feelings for each other!
What Happened So Far and What can be Expected from Episode 2 of My Senpai is Annoying?
The initial episode opened with the introduction of protagonist Futaba Igarashi, a hardworking independent woman with a childlike appearance. She loves doing her job and enjoys every bit of it. This was proven when, while heading to the office, she discussed the office presentation with her co-worker with full spirits and enthusiasm.
In her office, she is greeted by her senpai Harumi Takeda, a tall man with a boisterous nature who takes care of the protagonist like a child. Later in the evening, he made Futaba give the entire presentation, which delighted the latter fully. The next day, Futaba was stuck with a problem when she learned that there was some error in the order that she was supposed to cross-check but instead completely forgot. But her senpai came to her rescue.
Instead of getting angry with her, he takes the protagonist to the clients and apologizes to them about the issue. Then one evening, when Futaba returns to the office to collect her commuter pass, she finds her senpai sleeping on the desk, which had papers the former has messed up. It then strikes her how much Takeda cares for her and always tries to stand by her.
The upcoming second episode will show the protagonist again in some office trouble but will be saved by Takeda. The episode will also highlight how her senpai will give her some tough times as well.
When will Episode 2 of My Senpai is Annoying air?
Episode 2 of My Senpai Is Annoying is scheduled to air on October 17, 2021. The episode titled- Udon, Sometimes Full Moon will air in Japan on networks like BS11, Tokyo MX, GYT, TUF, HTB, and Animax, although at different timings.
Where to Enjoy Episode 2 of My Senpai is Annoying?
Outside Asia, Funimation has taken control of broadcasting the show, while Muse Communication is doing the job in South Asia and Southeast Asia. Thus, the second episode of My Senpai Is Annoying can be enjoyed on Funimation with subtitles in English, while Wakanim will make the series available in Scandinavian countries. Other options for the viewers to relish the show are Bilibili and iQIYI.