Angels are beautiful beings that protect people; no matter what kind the angel is, they will always have a special place in our hearts. This is why we need to know the best angel anime. Angels claim to be the most popular supernatural beings almost in all the religions and mythology that are believed in our society.
There are many characters in every religion which might be considered myths, except for angels who are taken as messengers of God with no ill intentions. Anime featuring angels in the anime movies are many numbers. Many of the stories many revolving around anime angels and demons; down below are mentioned the 20 best angel anime series.
1. High School DxD
Director: Tetsuya Yanagisawa
Writer: Takao Yoshioka
Cast: Teri Rogers, Scott Freeman, Jamie Marchi, Chloe Daniels, Yuki Kaji, Shizuka Ito, Yoko Hikasa
IMDb Rating: 7.6/10
Platforms Available: Amazon Prime, Netflix
High School did rank under the list of best Angel anime of all time. The story revolves around an angel anime boy and the world of angels; they also explore the dangerous side of it.
Hyoudou, a high school student, meets a magnificent woman, but she turns out to be a dead angel who wants to take away this boy's life. A demon named Rias Gremory is also part of this, putting him in a world of the danger of anime angels and demons.
2. Neon Genesis Evangelion 
Director: Hideaki Anno, Masayuki, Kazuya Tsurumaki
Writer: Hideaki Anno
Cast: Fumihiko, Tomokazu Seki, Koichi Yamadera, Megumi Ogata, Spike Spencer, Kotono Mitsuishi
IMDb Rating: 85/10
Platforms Available: Netflix
In this series, the angel anime are of religious imagery. The twist of the series is that the angels are not in the shape of beautiful wings; instead, they look like bizarre monsters that have the capability of taking any form. There are high portrays of action and philosophy, thus making this animated series an enthusiastic one.
3. Heaven's Lost Property
Director: Hisashi Saito
Writer: Yuko Kakihara
Cast: Monica Rial, Mina, Saori Hayami, Kara Edwards, Iori Nomizu, Ayahi Takagaki, Tatsuhisa Suzuki
IMDb Rating: 7.2/10
Platforms Available: Amazon Prime
Heaven's Lost Property is another best angel anime; the angel anime is Tomoki Sakurai, who keeps getting dreams of fallen angels that keep tearing him down.
Along with his friends, he finds out that there are possibilities of his dreams being linked to a floating object called New World in the sky. A strange winged girl falls out of the sky right into Tomoki's life as an angel girl on the day of Tomoki's New World observation.
4. Gabriel Dropout
Director: Masahiko Ohta
Writer: Takashi Aoshima
Cast: Kana Hanazawa, Mikako Izawa, Miyu Tomita, Saori Onishi, Inori Minase, Tsuyoshi Koyama
IMDb Rating: 7.1/10
Platforms Available: Netflix
In another angel anime, angels are made to spend their time with mortals in this series to understand how humans work and how they use their knowledge is used in work.
Gabriel White Tenma, who is an angel who is at the top of her class, wants to come to Earth so that she can spend her time with mortals, but her intentions do not go as planned as she gets introduced to video games, animations, and other otaku culture.
This changes their life for her; the once ambitious angel Gabriel drops out of class, and her other angel friends try to bring her back on track, whereas the demons are trying to pull her away.
5. Haibane Renmei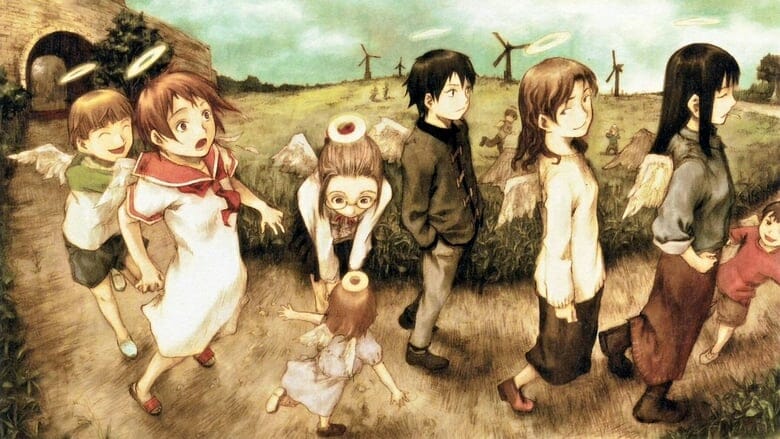 Director: Tomokazu Tokoro
Writer: Yoshitoshi Abe
Cast: Ryo Hirohashi, Junko Noda, Akiko Yajima, Fumiko Orikasa, Eri Miyajima, Manabi Mizuno
IMDb Rating: 8/10
Platforms Available: Amazon Prime
Haibane is filled with cocoons; they evolve into a reminiscent with angelic wings and halos. However, they have no idea of what is happening until and unless another Haibane disappears with no explanation left behind; Rakka, who is a Haibane, understands what is happening.
This anime is a fallen angel story that takes the audience to a world that seems to be very beautiful and makes the time worthwhile.
6. A Centaur's Life
Director: Fumitoshi Oizaki, Noayuki Konno
Writer: Touko Machida
Cast: Seria Fukagawa, Yuna Kamakura, Kristin Sutton, Emi Miyajima, Rachael Messer, Alex Moore
IMDb Rating: 5.4/10
Platforms Available: Amazon Prime
Human Beings get a look into the several paths through the world of a Centaur's Life, like the Centaurs, snakes, people who have animal ears, demons, angels and demons, and many more.
The story mainly focuses on the interaction of all these characters with each other. This world has a history of war, along with microaggression and misunderstandings. But the best part is they all live together, in spite of all the problems they have to face.
The main character of the angel is Manami Mitama, a student who cares for her four younger sisters and brothers because her father works in an art career.
7. D. N. Angel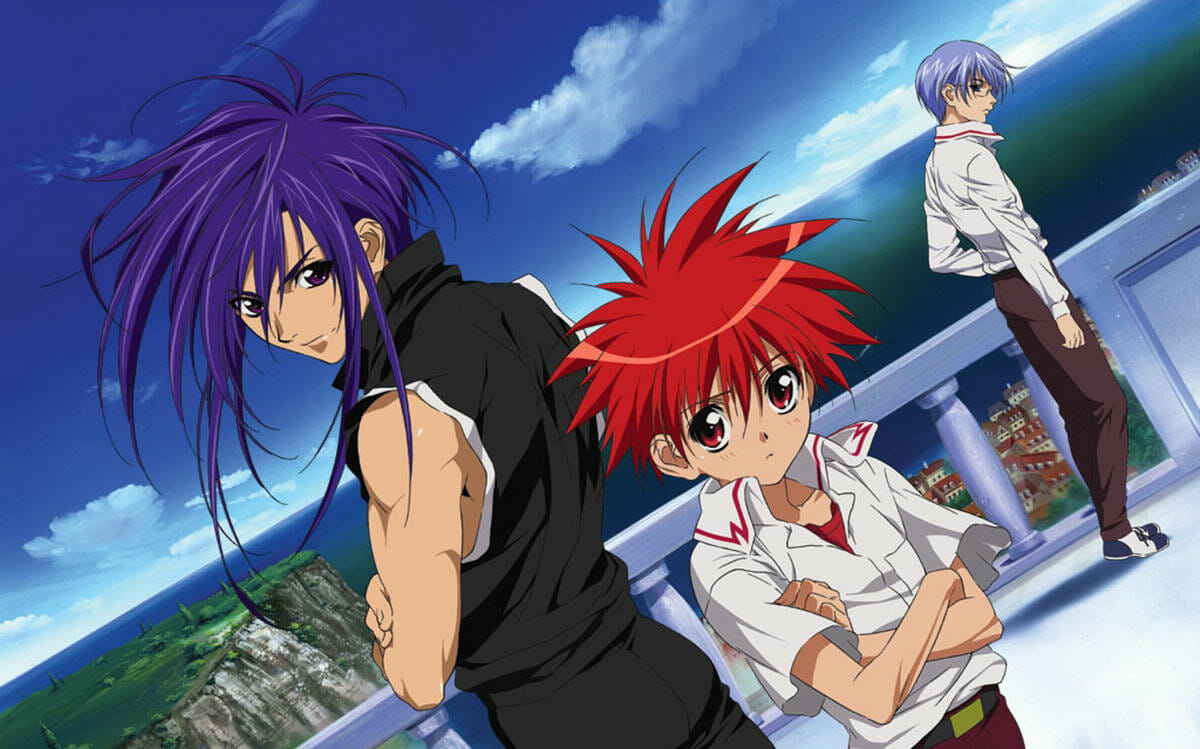 Director: Koji Yoshikawa, Nobuyoshi Habara
Writer: Naruhisa Arakawa
Cast: Luci Christian, Kevin Corn, Monica Rial, Vic Mignogna, Illich Guardiola, Andy McAvin, John Gremillion
IMDb Rating: 6.9/10
Platforms Available: Amazon Prime
D. N. Angel anime is on the list of angel anime, which shows an uncomfortable teenager who is shown in the show by rejecting Risa; life turns out to be depressing because every single time he thinks about the unrighteous love, he turns out to be an infamous thief with the name Dark Mousy.
There are many family secrets that he needs to keep, along with which he also has to deal with an unforeseen opponent who has taken the form of a fellow student.
8. Angel Sanctuary
Director: Kiyoko Sayama
Writer: Kaori Yuki
Cast: Scott Cargle, Kenji Nojima, Veronica Taylor, Tara Sands, Ayako Kawasumi, Yukari Tamura
IMDb Rating: 6.4/10
Platforms Available: Amazon Prime
Angel Sanctuary is about an anime girl named Setsuna Mudo; she is just an ordinary teenager trying to deal with issues that are worldly, for example, having to deal with bullies at school.
Once when the angels saw him, they thought he was their leader, Alexiel's reincarnation, and the demons thought that he was the one who led them to war with God; the series shows the struggle he has to go through in selecting between Heaven and hell.
9. Midnight Occult Civil Servants
Director: Tetsuya Watanabe
Writer: Tatsuo Higuchi
Cast: Brandon Mclnnis, Stephen Fu, Christopher Wehkamp, J. Michael Tatum, Shimba Tsuchiya, Jill Harris
IMDb Rating: 6.7/10
Platforms Available: Amazon Prime
The Midnight Occult Civil servants tell the audience about the occult government officials at midnight, which is not about angels exactly, but they definitely do play a very important role.
The problems faced by an angel are like an angel running away with her Tengu boyfriend and going against her family.
10. Maria the Virgin Witch
Director: Goro Taniguchi
Writer: Hideyuki Kurata
Cast: Hisako Kanemoto, Kensho Ono, Alexis Tipton, Mikako Komatsu, Mamiko Noto, Yuki Ono
IMDb Rating: 7.1/10
Platforms Available: Amazon Prime
Another anime is angel tails which gives a unique impression of angels. In this series, the angels do not help. Instead, they give penalties to humanity. Maria is a witch and uses the powers given to keep the peaceful world in medieval France.
However, the angels do not seem to like what she is doing, and Archangel Michael tries to stop her, but will Maria be able to continue keeping the peace in France?
11. Kobato
Director: Mitsuyuki Masuhara
Writer: Michiko Yokote, Nanase Ohkawa
Cast: Kana Hanazawa, Tomoaki Maeno, Tetsu Inada, Megumi Nakajima, Chiwa Saito, Fumiko Orikasa
IMDb Rating: 7.2/10
Platforms Available: Amazon Prime
In a manga series the story it is seen that Kobato Hanato is not a human being but a space being who has an angel living inside of his body.
Kobato would never say that she is an angel, but the characteristics that she possesses are angelic in nature. She is an enjoyable anime angel girl, and one challenge facing her is that she should not fall in love with the person who heals her heart, which is quite challenging.
12. Bludgeoning Angel Dokuro-Chan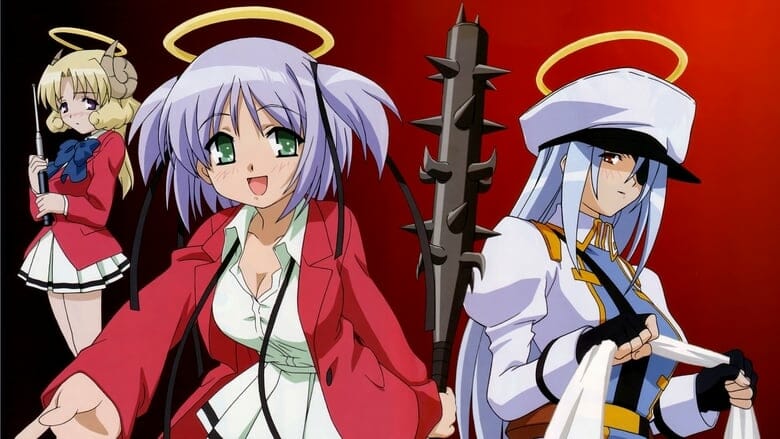 Director: Tsutomu Mizushima
Writer: Tsutomu Mizushima
Cast: Johnny Yong Bosch, Julie Ann Taylor, Kirk Thornton, Mela Lee, Kyle Hebert, Derek Stephen Prince, Sam Riegel
IMDb Rating: 6.8/10
Platforms Available: Amazon Prime
Always seeing angels as protectors, it might be difficult to even think of an angel being murderous. The story is about Dokura Mitsukai. An angel is sent from the future with the goal of stopping the violent crimes that Sakura Kusakabe was committing.
The crime that he was doing was that he invented a tool and used it to stop girls of age 12, making them immortal women. Bokura starts to distract him and annoy him so that he won't be able to get the time for the skills to build such a tool.
13. Colorful
Director: Ryutaro Nakamura
Writer: Kazuharu Sato
Cast: Yasuhiko Kawazu, Daiki Nakamura, Chiaki Takahashi, Nobutoshi Canna, Rie Kugimiya, Sayaka Ohara
IMDb Rating: 7.6/10
Platforms Available: Amazon Prime
A fantasy drama that includes angels as its characters. The main character of the story does not have a name. In the story, this person is not eligible for the reincarnation cycle because of the sins that he has committed.
But an angel turns up and gives the permission to reincarnate into a body of a 14-year-old boy who was named Makoto; the boy had died as he committed suicide. Then the story further looks into the life of Makoto.
14. Pita-Ten
Director: Toshifumi Kawase, Yuzo Sato
Writer: Akemi Omode, Yasuko Kobayashi
Cast: Miyuki Sawashiro, Yukari Tamura, Sakura Nogawa, YumiToma, Yukana, Mitsuki Saiga, Rie Kugimiya
IMDb Rating: 6.4/10
Platforms Available: Amazon Prime
An angel is training to come down from Heaven to Earth. Kotaro is a normal young man leading a normal life, but his life turned completely upside down.
He also meets a demon named Shia, who makes people happy by helping them instead of making them suffer because that is what demons usually do.
15. Angel Tales
Director: Kazuhiro Ochi
Writer: Mari Okada
Cast: Sandy Fox, Zarah Little, Sakura Nogawa, Akiko Kobayashi, Shizuka Hasegawa, Kyoko Hikami
IMDb Rating: 7.2/10
Platforms Available: Amazon Prime
This Angel Tales is an anime Angel Tv series that shows a man who is not a very lucky man. Goro does not seem to be a part of a healthy atmosphere for angels.
Goro meets a fortune-teller outside a pet store, after which many small girls start turning up at his home. At first, he was confused but later realized that they were angels, an incarnation of Goro's dead pets. The whole series is about angel anime girls and Goro.
16. Risky Safety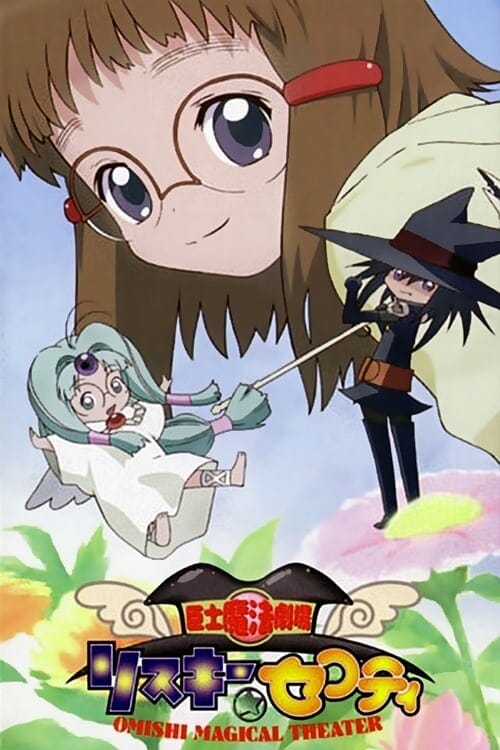 Director: Koji Masunari
Writer: Yosuke Kuroda
Cast: Rie Iwatsubo, Maaya Sakamoto, Akiko Yajima, Masaya Onosaka, Kikuko Inoue, Yuri Shiratori, Yui Horie
IMDb Rating: 5.5/10
Platforms Available: Amazon Prime
The Safety, who is a little angel also called "Shoulder angel," shares a body with a shinigami which is a spirit of death who is in a witch's costume named Risky, Risky acts as a soul collector. Known as the "Shoulder devil."
Risky plans on how to steal souls, whereas Safety is trying her best to spread joy and blessings; Safety also has the ability to make the people fall in love with the help of magical arrows, just the way a Cupid would do it.
17. Steel Angel Kurumi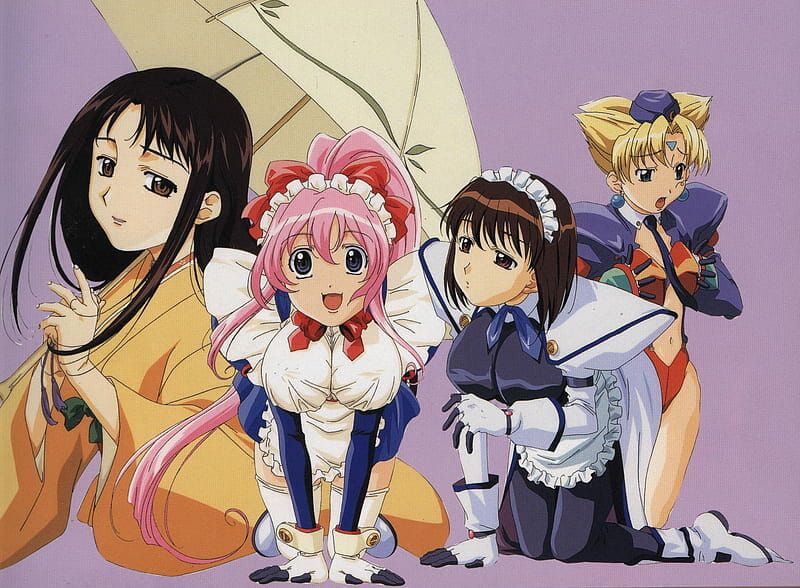 Director: Naohito Takahashi
Writer: Naruhisa Arakawa
Cast: Kelli Cousins, Atsuko Enomoto, Masayo Kurata, Houko Kuwashima, Rie Tanaka, Hilary Haag
IMDb Rating: 6.7/10
Platforms Available: Amazon Prime
The story plot starts in a weird manner, where Nakahito Kagura kisses a lifelike doll by mistake, and the doll comes to life immediately. The doll's name is Kurumi, and it turns out to be a battle android.
Kurumi protects Nakahito from bullies and from the Japanese Army. It also develops friends and enemies as she learns more about her origin and also her sisters, the Steel Angels Saki and Karinka.
18. Panty & Stocking with Garterbelt
Director: Hiroyuki Imaishi
Writer: Geek Fleet
Cast: Terri Doty, Arisa Ogasawara, Koji Ishii, Ayumi Fujimura, Mariya Ise, Miki Makiguchi, Jurota Kosugi
IMDb Rating: 7.3/10
Platforms Available: Amazon Prime
Panty and Stocking are known as the Anarchy sisters, and they had been kicked out of Heaven and were assigned the task of fighting the ghosts that had started to dominate the Earth.
This was given in order to gain Heaven Coins, which was the only way for them to get back into Heaven. But on this journey, they get to deviate from their goals because of either cake or men; their main rivals are the demon sisters Scanty and Kneesocks.
19. Wedding Peach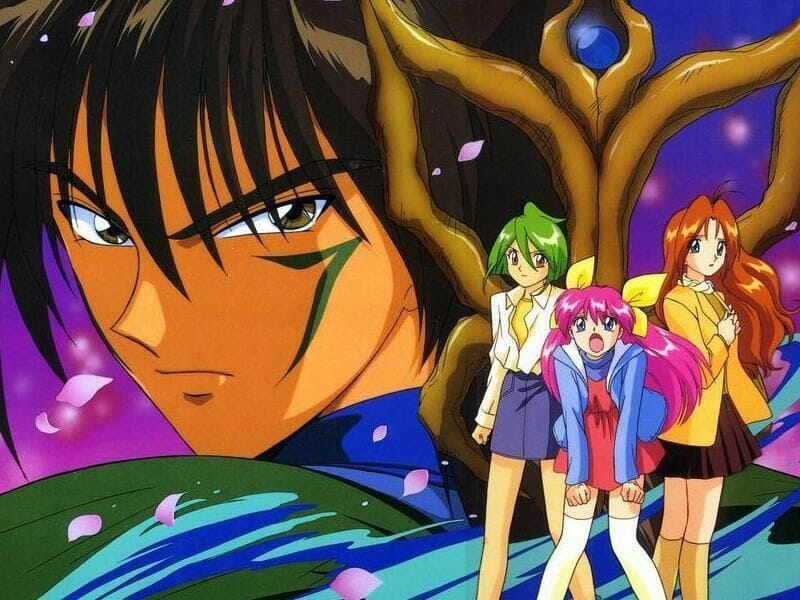 Director: Kunihiko Yuyama
Writer: Sukehiro Tomita
Cast: Kyoko Hikami, Yukana, Yuko Miyamura, Yuka Imai, Meg Bauman, Yuji Ueda, Mika Doi, Miwa Matsumoto
IMDb Rating: 6.3/10
Platforms Available: Amazon Prime
The ability to turn into Love Angels was the ability of Momoko and her friends, and they are the magical girls who could use their power of love to defeat the devils who hated love.
Momoko turns out to be the daughter of an angel mother and a human father, whereas her friends are angels present in the body of the bodies destroyed during a battle. Momoko's mother has a sister who is the Love Goddess Aphrodite, who is also the ruler of the Angel World.
Related: The 30 Best Dragon Ball Movies to Watch Right Now
20. Dragon Ball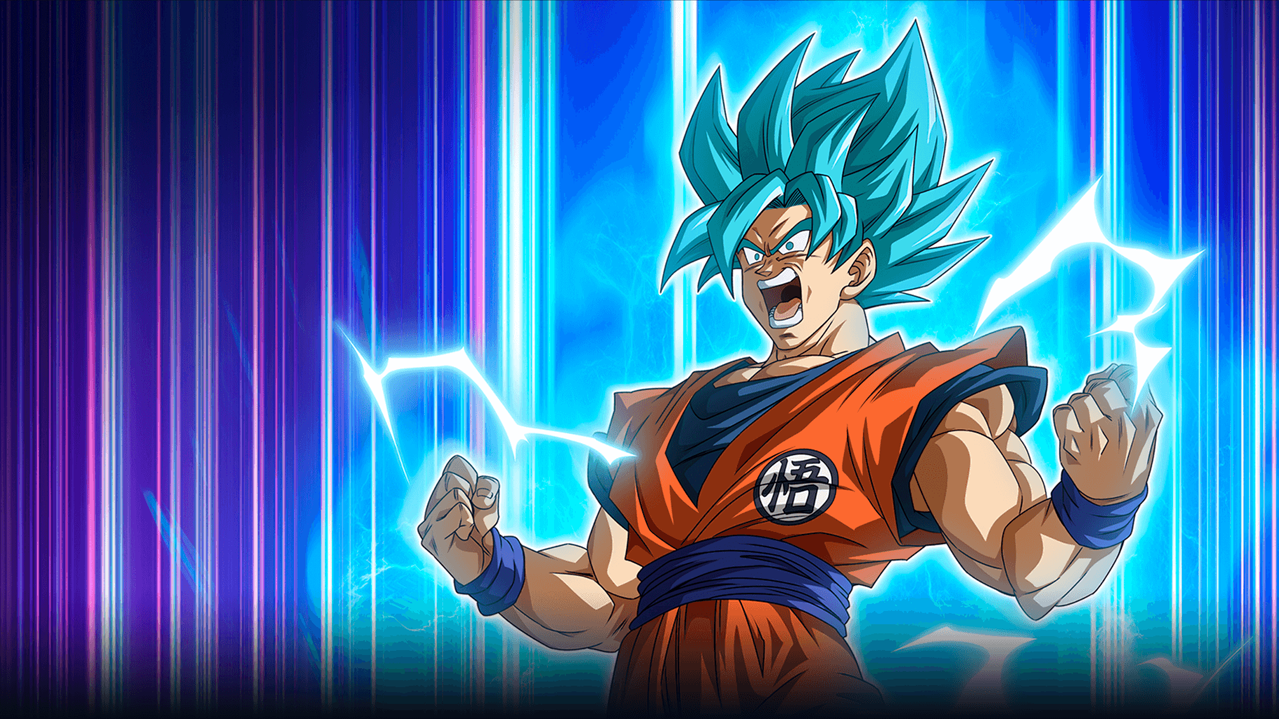 Director: Minoru Okazaki, Daisuke Nishio
Writer: Toshiki Inoue, Takao Koyama
Cast: Christopher Sabat, Sean Schemmel, Bradford Jackson, Mike McFarland, Linda Young, Chuck Huber
IMDb Rating: 8.6/10
Platforms Available: Amazon Prime
Beerus is the God of Destruction, and he also works as a martial arts teacher. His usual nature is very calm and polite. His priorities seem to be very unusual, like being obsessed with food, and he always acts to lead a carefree life.
Frieza was going to reverse time, which is when Whis acted to save up the Earth. And this isn't an easy power, and this cannot be used continuously twice.