Here are some of the animal house quotes you should know! National Lampoon's Animal House belongs to the comedy genre and was directed back in the year 1978. Back in those days, comedy was subjected to a family audience and had decent scriptwriting.
National Lampoon's Animal House was the first R-rated film ever to have a massive nationwide hit. National Lampoon's Animal House was a massive comedy hit film and was ranked as the 1st best comedy film out of 100 comedy films. Following this film, the industry started to create many such movies, and they never failed to meet up with the expectations of the audience.
Animal House – A Brief Plot
The story is about a group of students at Faber College who struggle to save their group's name. Freshmen Larry and Kent enter the college and want to join the Omega Theta Pi group, but they are rejected. They turn to the Delta Tau Chi house that welcomes them and renames them at a fraternity party.
The Omegas and the Dean of the college are against Delta Tau Chi as they have broken the college rules multiple times. The duo waits for a situation to expel the Deltas, but the deltas have their own good time.
This takes the movie to the next level, as it also has some savage moments to it.
Members of the Delta gang: Bluto, D-day, Otter, Boon, Pinto, Flounder, and Katy.
Animal House Funny Quotes
Animal House was a hit with National Lampoon, and it is very famous for the funny quotes in the movie that made us laugh hard. Here we can find some of the best quotes that had a separate fan base.
Animal House Quote 10
Otter: Let me give you a hint. She's got a couple of major-league yabbos.
Boon: Beverly!
Otter: No. But you're getting warmer. Here's another: "Oh God, Oh God, OH GOD!"
Boon: Marlene! Don't tell me you're gonna pork Marlene Desmond!
Otter: Pork?
Boon: You're gonna hump her brains out, aren't you?
Otter: Boon, I anticipate a deeply religious experience.
Boon tries to guess the name of a girl as the otter gives him some hints. He keeps guessing random names, and the scene has a pinch of sarcasm to it as Boon gets closer and closer to guessing.
Animal House Quote 9
Bluto: Holy shit!
Day: There were blanks in that gun!
Flounder: I didn't even point the gun at him!
Day: There WERE blanks in that gun!
Flounder: Maybe he had a heart attack.
Bluto: Holy shit!
This was one of the scenes that intensified the fierce against the deltas. What was supposed to be a prank ends up horribly. But even then, our deltas bought some humor to the table in this scene where they accidentally killed the horse.
Animal House Quote 8
Pinto's Devil: Fuck her! You know she wants it.
Pinto's Angel: For shame! Lawrence! I'm surprised at you.
Pinto's Devil: Don't listen to that Jackoff! You'll never get a better chance.
Pinto's Angel: If you lay on a poor sweet, helpless girl, you'll despise yourself forever.
Finally, Pinto's Angel wins, and he covers her up with a piece of clothing
Pinto's Angel: I'm proud of you, Lawrence.
Pinto's Devil: You homo!
Clorette gets drunk and falls unconscious naked on the bed, and Pinto desires to have her. At that moment, Larry's good conscience and Larry's evil conscience have a conversation. This scene was supposed to be an intensified romantic scene, but due to the conversation he had with his good conscience, it turned out to be cute and comical at the same time.
Animal House Quote 7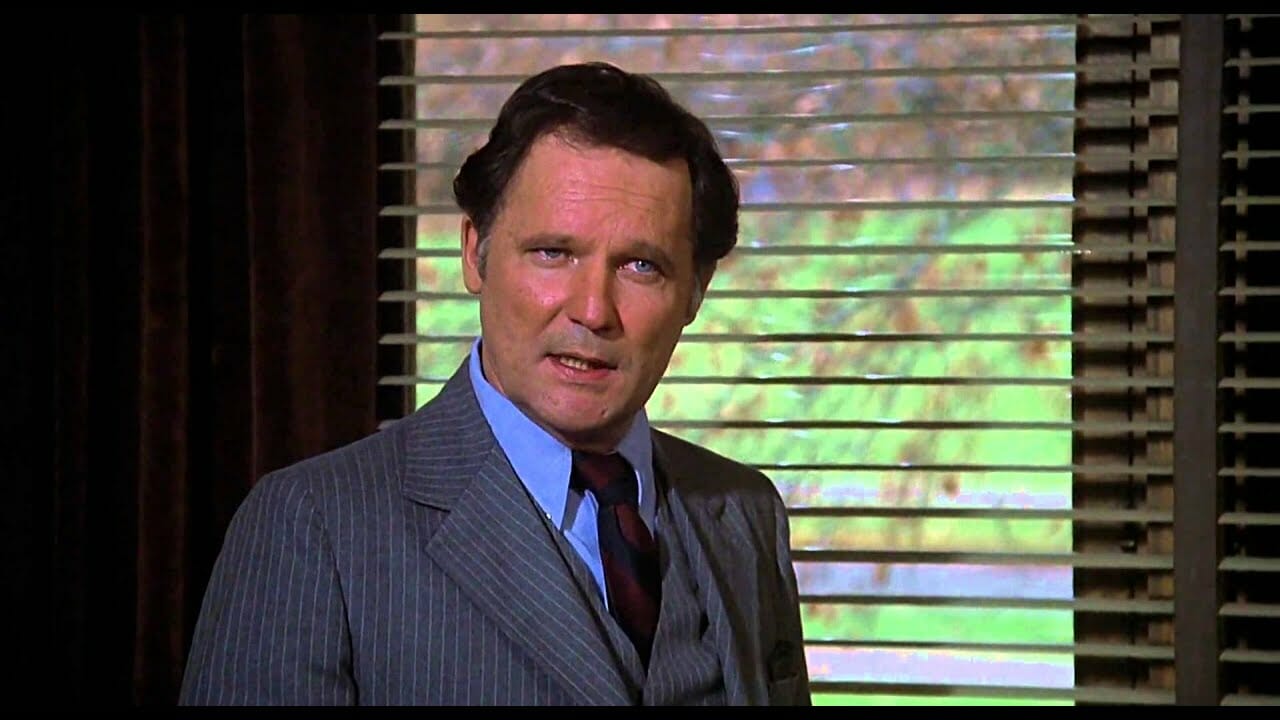 Mayor Carmine: If you want this year's homecoming parade in my town, you have to pay for it.
Dean: Carmine, I don't think it's right that you should extort money from the college.
Mayor Carmine: Look, these parades you throw are very expensive. You are using my police, my sanitation people, and my Oldsmobile free of charge. So, if you mention extortion again, I'll have your legs broken.
The homecoming parade welcomes former students, and Western countries follow this as a tradition and make interesting themes each year. Wormer goes to the mayor for his permission, and this conversation unfolds there. What had to be a bargain or a formal conversation ended up on a sarcastic note.
Animal House Quote 6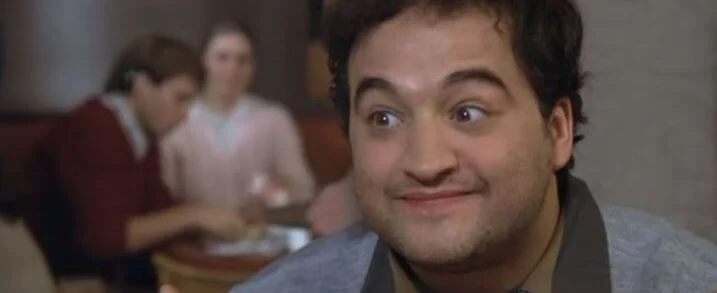 Otter: Bluto! I think you know everybody here.
Bluto: Greg, can't you – – – –
Otter: Don't worry! Just keep your hands and feet away from his mouth
Greg: Don't you have any respect for yourself?
Babs: This is gross. That boy is a P-I-G pig!
Bluto: See, if you can guess what I am now. (Bluto puts a scoop of mashed potatoes in his mouth, then squeezes his cheeks with his fists and sprays them) I'm a zit. Get it?
Greg: Alright, Let's go right here.
Bluto: Food fight!!!
Today, a food fight is one of the epic scenes in this movie. It was also classified as one of the best dialogues among the top 100 movie dialogues. John Belushi, who played Bluto, plays a consistent sarcastic and humorous role throughout the movie. When he is called a pig, he gets angry and starts a food fight, and the entire place becomes a mess.
Animal House quote 5
"Dean: Well, well, well. Looks like someone forgot there's a rule against Alcoholic beverages in fraternities on probation!
Otter: What a tool!
Dean: I didn't get that, son. What was that?
Otter: Uh! I said, "What a shame a few bad apples have to spoil a good time for everyone by breaking the rules."
Dean: Put a sock in it, boy, or else you'll be outta here like shit through a goose."
I will have to mention that Wormer was one of the coolest deans ever. His sarcasm in this movie is less than compared to others. But he places them in the right places to crack up the audience.
Animal House Quote 4
Boon: Where are you going? We just got here.
Katy: No, Boon, You just got here. I've been downstairs for an hour entertaining some kid from Pig's Knuckle.
Katy, who is already fed up with entertaining random kids, escalates this scene to the next level with mild sarcasm.
 Animal House Quote 3
Boon: It's not gonna be an orgy; it's a toga party.
Katy: Honestly, Boon, you're twenty-one years old. In six months, you're going to graduate, and tomorrow night you're going to wrap yourself in a bedsheet and pour grain alcohol all over your head. It's cute. But I think I'll pass the time.
Karen Allen, who plays Katy, doesn't have much to do with the scenes. Her character in the movie is subtle. Even then, during her screen time, the writers were keen on giving her the best dialogues with hints of sarcasm. The way she delivers the dialogue is par excellent.
Animal House Quote 2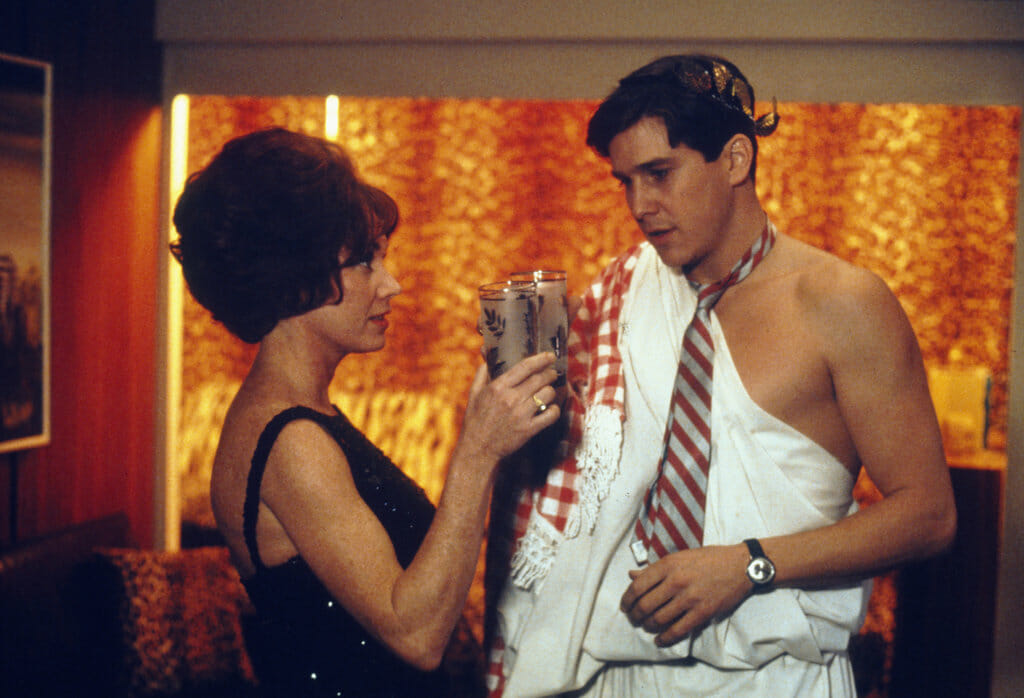 Otter: You know what we need to do.
Otter and Boon: Toga party.
Hoover: We're on double-secret probation. Whatever the hell that is. We can't afford to have a toga party.
Otter: You guys up for a party?
Due to the atrocious behavior of the Deltas, they are put on a double secret probation period. But let me tell you, this doesn't take back our Delta boys. They are determined to have a party. When Hoover reminds them about the probation, nobody minds it. They are so much determined to have a party, and at the end of the scene, all the guys join together and scream Toga! Toga! Toga!
Animal House Quote 1
"Dean: Did you boys see your midterm grades yet?
Hoover: They are not posted yet, Sir.
Dean: I've seen them. Mr. Kroger, two C's, two D's, and an F. That's a 1.2-grade point average. Congratulations, Kroger, you are at the top of the Delta pledge class.
Dean: 0.2. Fat, drunk, and stupid is no way to go through life, son. Mr. Hoover, president of Delta House – 1.6. Four C's and an F. A fine example you set. Daniel Simpson Day has no grade point averages. All courses are incomplete.
(And a while later, the dean tells them that they are expelled from Faber; soon after this, Flounder vomits on the dean, and the group later has a conversation that follows…)
Bluto: Great! Seven years of college down the drain. Might as well join the fucking peace corps!
(Otter, who wasn't a part of this scene, later joins after being bullied and hears the news about the deltas being expelled)
Otter: That makes sense.
D-day: War's over, man. Wormer dropped the big one.
Bluto: What? Over? Did you say over? Nothing is over until we decide it is! Was it over when the Germans bombed pearl harbor? Hell No!
Bluto: What the fuck happened to the Delta I used to know? Where's the spirit? This could be the greatest night of our lives, but you're gonna let it be the worst. Wormer, He's a dead man!
Otter: Bluto's right! We gotta take these bastards. Now, we could fight them with conventional weapons. That could take years and cost millions of lives. I think that this situation requires a futile and stupid gesture to be done on somebody's part."
Above The Quote
We have saved the best scene for the last. Germans bombed pearl harbor was a really funny scene because it was the Japanese in actual who bombed pearl harbor. The guys were already worried about being expelled. John Belushi was unhappy with the deltas they were now and required the team spirit of the deltas to fight the dean back and to stop letting their life in college down the drain.
Otter tells the guys that they require some futile and stupid gesture to plan a plot against the dean to save their college life. This was one of the best scenes in the movie, and it made our tummies ache harder.
Other Famous Animal House Quotes
Apart from the iconic scenes we saw above, we also have a few other scenarios that also contributed to the best of the movie.
 "My Advice To You Is To Start Drinking Heavily."
"Don't write this down, but I find Milton probably as boring as you find Milton. Milton found him boring too. He's a little bit long-winded, he doesn't translate very well into our generation, and his jokes are terrible."
"Cut the horseshit, son. I've got their disciplinary files right here. Who dropped a whole truckload of fizzies into the varsity swim meet? Who delivered the medical school cadavers to the alumni dinner? Every Halloween, the trees are filled with underwear. Every spring, the toilets explode."
"We're in trouble. I just checked with the guys at the Jewish house, and they said that every one of our answers on the psych test was wrong."
"They took the bar! The whole fucking bar!"
"What is my Delta Tau Chi name?"
Conclusion
The film has a run time of about 109 minutes. And the entire movie keeps you entertained. The small sarcasm and the way the actors deliver the lines are admirable.
Listed in this article are just a few of the best quotes. Apart from this, the movie also holds many more touches of humor. Even today, the movie is available on YouTube. If you are searching for a good comedy movie, then this is the one for you. What are you still waiting for?