Here is the list of the best comedy movies on HBO Max! Satire and comedy are the two synonyms of happiness and enjoyment. It is a form of expression to have a sigh of relaxation and satisfaction. However, some things of the essence of comedy get punched with other genres like romantic and action to enhance its core articulation.
Comedy movies never fail to provide a lesson about being happy in life in any situation. Nonetheless, HBO Max is such a streaming service that has come forward with several comedy movies.
40. House
Year: 1977

Director: Nobuhiko Obayashi

Stars: Kimiko Ikegami, Miki Jinbo, Kumiko Ohba

Genre: Comedy, Horror

Rotten Tomatoes Score: 90%

Rating: NR

Runtime: 88 minutes
Rarely, if ever, are movies as whirringly rich and bizarre as House. Nobuhiko Obayashi, a Japanese director best known for his TV commercials, made his debut in the 1977 fairytale-as-fever-dream.
Obayashi did what any aspiring auteur would do when given the opportunity to direct his first feature by a struggling studio with nothing to lose: he asked his daughter Chigumi, 11, for suggestions.
They created a tragi-comic festival of the uncanny centered on a group of seven Japanese schoolgirls, a maiden aunt with a tragic secret, her crazy white cat named Snowflake, and the title house, a spooky hallucination inspired by Japanese folklore and gothic myth that is jolted by an animated, ADD-afflicted spirit.
39. Safety Last!
Year: 1923

Directors: Fred C. Newmeyer, Sam Taylor

Stars: Harold Lloyd, Mildred Davis, Bill Strother

Rotten Tomatoes Score: 97%

Rating: NR

Runtime: 80 minutes
After accompanying Safety Last! at the San Francisco Silent Film Festival, Rodney Sauer of the Mont Alto Motion Picture Orchestra told me, "I shouldn't have bothered scoring the last 15 minutes. He claimed that during Harold Lloyd's famous building-scaling scene in the Castro Theatre, he and his ensemble were unable to hear each other.
38. Modern Times
Year: 1936

Director: Charles Chaplin

Stars: Charles Chaplin, Paulette Goddard, Henry Bergman

Rotten Tomatoes Score: 100%

Rating: G

Runtime: 88 minutes
Modern Times is comparable to a flat sprocket if time is a flat circle because the Little Tramp's struggles to survive in a mechanical world are so monotonous and repetitive that factors like luck and hope only to serve to advance Chaplin's farce while having little bearing on the futures of his characters.
Little changes for the Little Tramp throughout: Despite his efforts to survive, the institutional system dumps him back where he began, leaving him penniless and in need of food with nothing left to do but try once more.
This was also Chaplin's final performance as the Tramp, and it's simple to picture him getting sucked up and transformed into the various misadventures of the movie alongside equally amiable partner in crime, the gamin (Paulette Goddard).
37. Bottle Rocket
Year: 1996

Director: Wes Anderson

Stars: Luke Wilson, Owen Wilson, James Caan, Lumi Cavazos, Robert Musgrave, Andrew Wilson

Rotten Tomatoes Score: 85%

Rating: R

Runtime: 91 minutes
Bottle Rocket introduced us to both Wes Anderson's distinctive world and the Wilson brothers' distinctive charm. The movie, which is about two friends plotting a string of elaborate heists in Texas, is an extension of Anderson's first short film of the same name, which was made four years earlier.
Dignan, a character created with Owen Wilson, served as the model Anderson protagonist because he had lofty ideals but little self-awareness or common sense to support them.
36. Borat
Year: 2006

Director: Larry Charles

Stars: Sacha Baron Cohen, Pamela Anderson, Ken Davitian

Rotten Tomatoes Score: 90%

Rating: R

Runtime: 83 minutes
Given the Sacha Baron Cohen films that came after, it's simple to overlook or underrate Borat, or Borat: Cultural Learnings of America for Make Benefit Glorious Nation of Kazakhstan. Cohen's original statement was softened by films like Bruno and The Dictator, but his fake documentary about a clumsy traveler in Eurasia is still kind of brilliant.
35. I'm Gonna Git You Sucka
Year: 1988

Director: Keenen Ivory Wayans

Stars: Keenen Ivory Wayans, Bernie Casey, Antonio Fargas, Steve James, Isaac Hayes, Jim Brown, Ja'net DuBois, Dawnn Lewis, John Vernon

Rotten Tomatoes Score: 62%

Rating: R
Runtime: 87 minutes
A scathing parody of blaxpoitation films, Wayans' first and best film is made with obvious affection for its subject. Sucka critiques how blaxpoitation films presented African-American culture to the public while also celebrating that culture. He doesn't just riff on surface-level observations of '70s black cinema, like low production values or stilted acting.
34. Ghostbusters
Year: 1984

Director: Ivan Reitman

Stars: Bill Murray, Sigourney Weaver, Dan Aykroyd, Harold Ramos, Ernie Hudson, Rick Moranis, Annie Potts, William Atherton

Rotten Tomatoes Score: 95%

Rating: PG

Runtime: 107 minutes
Ghostbusters had widespread appeal among children, as evidenced by the abundance of 1980s merch and a cartoon series. The movie followed a group of parapsychologists who deal with big-ghost issues in New York City, including Dan Aykroyd, the late Harold Ramis, Ernie Hudson, and Bill Murray.
33. The Thin Man
Year: 1934

Director: W. S. Van Dyke II

Stars: William Powell, Myrna Loy, Maureen O'Sullivan, Nat Pendleton, Minna Gombell, Porter Hall

Rotten Tomatoes Score: 98%

Rating: NR

Runtime: 93 minutes
Sequels have existed for a very long time. In the 1930s and 1940s, Hollywood produced six films starring William Powell and Myrna Loy as the witty detectives Nick and Nora Charles.
The first of them, and possibly the best, is The Thin Man from 1934, in which a retired detective and his heiress wife investigate a murder between wisecracks and copious amounts of cocktails.
 32. Popstar: Never Stop Never Stopping
Year: 2016

Director: Akiva Schaffer, Jorma Taccone

Stars: Andy Samberg, Jorma Taccone, Akiva Schaffer, Sarah Silverman, Tim Meadows, Chris Redd, Joan Cusack, Maya Rudolph, Imogen Poots

Rotten Tomatoes Score: 79%

Rating: R

Runtime: 86 minutes
Is being a pop star fascist? Is dictatorship a distant relative of the glitzy parade of egocentric personality-worship?
Maybe not, but for one brief moment during the 80-minute runtime of Popstar: Never Stop Never Stopping, we're duped into thinking these questions matter to a hysterical, joke-a-second takedown of pop music and its privileged overlords: The fictional album's cover, with its star Conner4Real (Andy Samberg) standing in the middle and holding his hand straight up in an unintentional evocation of history's greatest tyrant, drives the movie's action through sheer awfulness.
 31. Superbad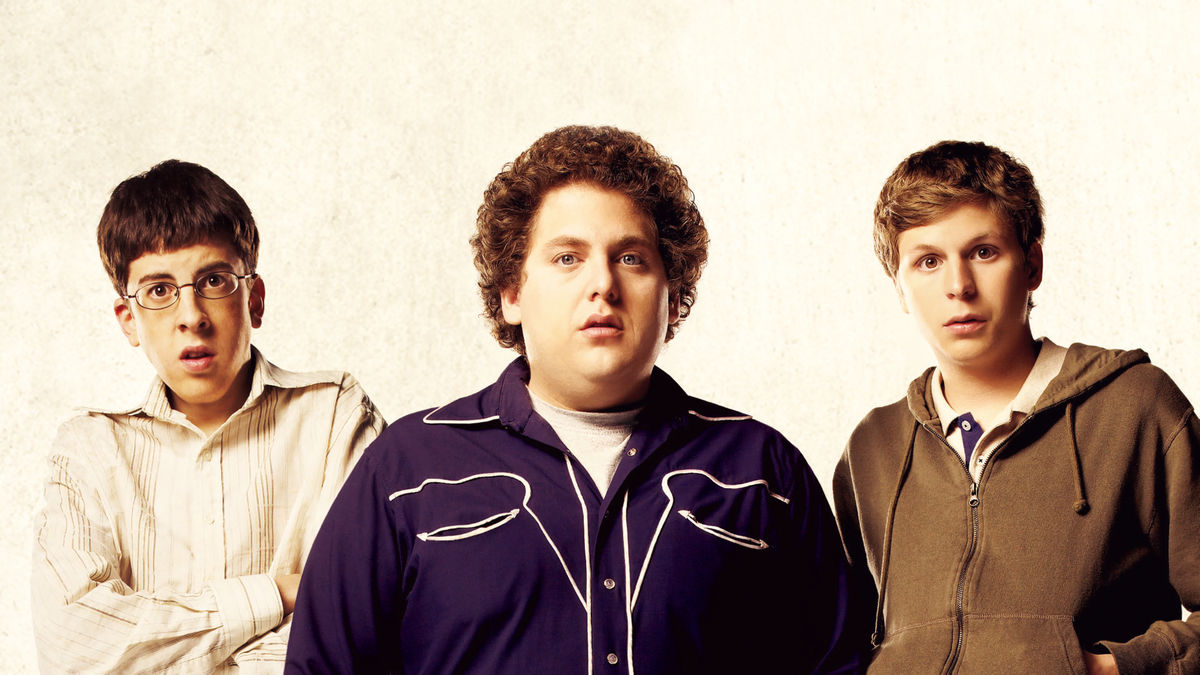 Year: 2007

Director: Greg Mottola

Stars: Jonah Hill, Michael Cera, Christopher Mintz-Plasse, Bill Hader, Seth Rogen, Emma Stone, Martha MacIsaac

Rotten Tomatoes Score: 88%

Rating: R

Runtime: 113 minutes
Greg Mottola's Superbad is the pinnacle of my generation of teen movies, which are made for teens by teens. My friends and I found a mirror for our own awkwardness and insecurity in Seth (Jonah Hill) and Evan (Michael Cera); they served as our contemporary Anthony Michael Halls.
In Fogell/McLovin (Christopher Mintz-Plasse), a sort of photonegative of Ferris Bueller (Matthew Broderick), we had an icon of weirdness who somehow ended up a winner.
30. Waiting for Guffman
Year: 1996

Director: Christopher Guest

Stars: Christopher Guest, Eugene Levy, Catherine O'Hara, Parker Posey, Bob Balaban, Fred Willard, Larry Miller, Paul Benedict

Rotten Tomatoes Score: 91%

Rating: R

Runtime: 84 minutes
Waiting for Guffman, the first of Christopher Guest and Eugene Levy's mockumentaries, introduced the world to a cast that would serve as the foundation of their subsequent works. The movie continued the tradition started by This is Spinal Tap while bringing a much softer tone to the table. The charming group of misfits that make up the small-town theater group is led by Corky St. Clair.
29. The Philadelphia Story
Year: 1940

Director: George Cukor

Stars: Katharine Hepburn, Cary Grant, James Stewart, Ruth Hussey, John Howard

Rotten Tomatoes Score: 100%

Rating: NR

Runtime: 112 minutes
Can you believe Katharine Hepburn was once referred to as "box office poison" in Hollywood? After a string of failures, this Broadway hit adaptation served as a springboard for her career. She is a force of nature in this "remarriage" comedy as the icy heiress Tracy Lord. Thankfully, Cary Grant plays her sober ex, and he makes a fantastic foil.
28. The Great Dictator
Year: 1940

Director: Charles Chaplin

Stars: Charles Chaplin, Paulette Goddard, Jack Oakie, Reginald Gardiner

Rotten Tomatoes Score: 93%

Rating: G
Runtime: 126 minutes
Charlie Chaplin wrote, directed, produced, scored, and played the lead roles in his first "talkie," a biting satire about a persecuted Jewish barber and a fascist despot who resembles Adolf Hitler.
A strong satire can be found in movies, and this one was: Its publication during the period in which the United States and Germany were still officially at peace increased public awareness of and condemnation of the Nazis and Mussolini, as well as anti-Semitism and fascism.
27. Young Frankenstein
Year: 1974

Director: Mel Brooks

Stars: Gene Wilder, Peter Boyle, Cloris Leachman, Marty Feldman, Madeline Kahn, Teri Garr

Rotten Tomatoes Score: 94%

Rating: PG

Runtime: 105 minutes
Young Frankenstein is one of the all-time great comedies and one of the 10 or so movies I can almost entirely quote from memory. Mel Brooks and his incredibly talented cast have produced a classic movie that is both a loving homage and a parody of classic Universal horror movies.
 26. Airplane!
Year: 1980

Director: Jim Abrahams

Stars: Robert Hays, Julie Hagerty, Peter Graves, Robert Stack, Lloyd Bridges, Leslie Nielsen, Lorna Patterson, Kareem Abdul-Jabbar

Rotten Tomatoes Score: 97%

Rating: PG

Runtime: 88 minutes
With their disaster-movie parody released in 1980, the writing team of Jerry Zucker, Jim Abrahams, and David Zucker (ZAZ) established a genre. The crew, which includes Roger and Captain Oveur, is confused about "Who's on First," which prompts jokes like "Roger, Roger. From Oveur (Peter Graves) asking a young passenger in the cockpit, "Joey, do you like movies about gladiators?
25. Austin Powers: International Man of Mystery
Director: Jay Roach
Writers: Mike Myers
Cast: Mike Myers as Austin Powers and Dr. Evil, Elizabeth Hurley as Vanessa Kensington, Robert Wagner as Number 2, Seth Green as Scott Evil, Mindy Sterling as Frau Farbissina, Michael York as Basil Exposition
IMDb Ratings: 7/10
Rotten Tomatoes: 73 %
Austin Powers: International Man of Mystery can be considered as one of the best films that premiere on HBO max. It is one of the best comedies which depicts the essence of spy too.
A secret agent Austin Powers is the main protagonist who has a high fashion sense and vocabulary accent to show his personality. But her appearance towards the women where never up to the mark.
The entire background of this film has an environment of the 1960s which shows the arrival of an evil devil named Dr. Evil from space. The main motive of Dr. Evil was to control the activity of Earth.
24. Just Married
Director: Shawn Levy
Writers: Sam Harper
Cast: Ashton Kutcher as Tom Leezak, Brittany Murphy as Sarah McNerney, Christian Kane as Peter Prentiss, David Moscow as Kyle, Monet Mazur as Lauren, David Rasche as Mr. McNerney
IMDb Ratings: 5.5/10
Rotten Tomatoes: 20%
Just Married is one of the best comedies on HBO max. The story of the film is about two lovebirds named Tom and Sarah who belong to a different genre of life.
Tom is an average-looking guy with a great weakness towards beer whereas Sarah is a daughter of a wealthy family and an aspiring writer.
The couple married each other against all the odds and their family as well. But Sarah's family did not lose hope and made a plan to spoil their honeymoon in Italy by sending Sarah's ex-boyfriend, Peter. However, somehow her family succeeds to put them apart.
23. Get Smart
Director: Peter Segal
Writers: Tom J. Astle and Matt Ember
Cast: Steve Carell as Maxwell Smart, Anne Hathaway as Agent 99, Dwayne Johnson as Agent 23, Alan Arkin as The Chief, Terence Stamp as Siegfried, Masi Oka as Bruce
IMDb Ratings: 6.5/10
Rotten Tomatoes: 51%
One of the best comedy movies on HBO max is Get Smart which has been distributed by Warner Bros. The story of the movie starts when some of the members of the crime possession KAOS attack the U.S. spy agency Control. To stop such an invasion the Chief of the US spy agency collide with the smart and experience Agent 99.
The entire film shows the perfect blend of inexperience and confidence along with excitement to fight against the invaded crime alliance.
22. Horrible Bosses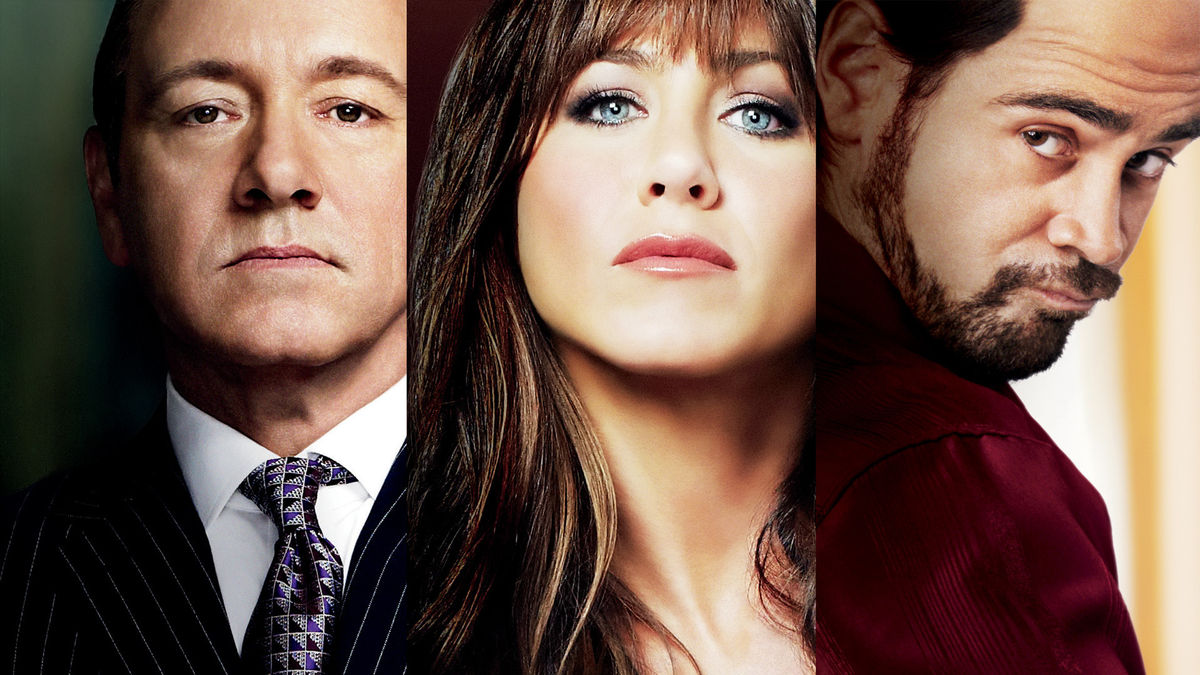 Director: Seth Gordon
Writers: Michael Markowitz, John Francis Daley, and Jonathan Goldstein
Cast: Jason Bateman, Charlie Day, Jason Sudeikis, Jennifer Aniston, Colin Farrell, Kevin Spacey, Donald Sutherland, Jamie Foxx
IMDb Ratings: 6.9/10
Rotten Tomatoes: 69%
This is the best comedy movie of all time on HBO max. Nick, Dale, and Kurt are the main protagonists of the film who were very irritated by their bosses for giving more burdens and harsh behaviors. As money is one of the necessities so quitting their jobs was never an option for them.
The mad and stressed guys made a full-proof plan with a criminal to kill their bosses after having alcohol. However, the table turns when none of the plans was executed correctly.
21. Dirty Rotten Scoundrels
Director: Frank Oz
Writers: Dale Launer, Stanley Shapiro, and Paul Henning
Cast: Steve Martin as Freddy Benson, Michael Caine as Lawrence Jamieson, Glenne Headly as Janet Colgate, Anton Rodgers as Inspector Andre, Barbara Harris as Fanny Eubanks
IMDb Ratings: 7.4/10
Rotten Tomatoes: 88%
The story of the film is about two con artists and their challenge to leave the town. Lawrence Jamieson is a con artist who used to live a fruitful life by fooling wealthy people. However, his business goes down when another con man named Freddy Benson came to the same field in the same town.
To get his prior position back Jamieson challenges Benson to take up a challenge and win it to be in the town. Whereas the bet involves coning an heiress.
20. The Birdcage
Director: Mike Nichols
Writers: Elaine May, Marcello Danon, and Jean Poiret
Cast: Robin Williams, Gene Hackman, Nathan Lane, Dianne Wiest
IMDb Ratings: 7.2/10
Rotten Tomatoes: 81%
This film is a remake of a French modern classic drama "La Cage aux Folles". The story of the movie is about a gay couple called Armand and Albert. Armand is the owner of a club and a gay who pretends to be straight and courageous. However, his strong personality is the reason for hiding his relationship with Albert.
Albert is the star as well as the center of attraction in Armand's nightclub. Well, the story takes turns when Armand's son Val Goldman and Senator Keele's daughter Barbara Keeley decided to marry each other.
19. When Harry Met Sally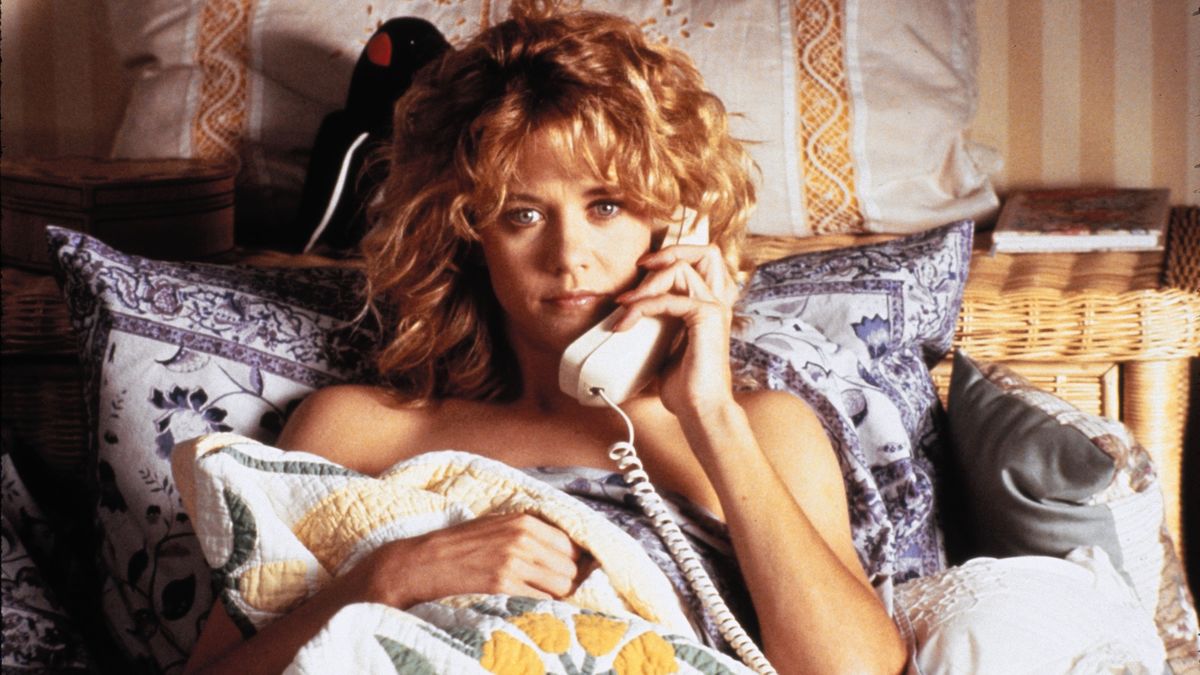 Director: Rob Reiner
Writers: Nora Ephron
Cast: Billy Crystal as Harry Burns, Meg Ryan as Sally Albright, Carrie Fisher as Marie, Bruno Kirby as Jess, Steven Ford as Joe, Lisa Jane Persky as Alice, Michelle Nicastro as Amanda Reese
IMDb Ratings: 7.7/10
Rotten Tomatoes: 81%
The story of this movie is set in the background of 1977. Harry Burns and Sally Albright are the two lead characters who met each other in college. After finishing off their graduation they moved to New York from Chicago.
After a gap of 10 years, they reunite in a bookstore and release their feelings for each other as the time proceeds. But their activities of staying crimes with each other without any sort of physical relationship became a hurdle for them.
18. Role Models
Director: David Wain
Writers: Paul Rudd, David Wain, and Ken Marino
Cast: Paul Rudd as Danny, Seann William Scott as Wheeler, Christopher Mintz-Plasse as Augie, Bobb'e J. Thompson as Ronnie, Elizabeth Banks as Beth, Jane Lynch as Gayle, Ken Jeong as King Argotron
IMDb Ratings: 6.8/10
Rotten Tomatoes: 77%
The story of the movie is about a salesman named Danny and Wheeler who commit an accident after having alcohol. For their sin, the court has provided them with a choice of being in jail or servicing in a community.
However, both of them choose to serve in a mentoring program. Over there Danny and Wheeler were paired with a teenager and a fifth-grader who had a bad temperament.
17. The Philadelphia Story
Director: George Cukor
Writers: Donald Ogden Stewart
Cast: Cary Grant as C.K. Dexter Haven, Katharine Hepburn as Tracy Samantha Lord, James Stewart as Macaulay Connor, Ruth Hussey as Elizabeth Imbrie, John Howard as George Kittredge
IMDb Ratings: 7.9/10
Rotten Tomatoes: 100%
This movie is one of the most remarkable and best comedies on HBO max. The drama shows the complex love feelings of a woman towards three men. Tracy Lord a Philadelphia socialite leaves her husband named C.K. Dexter Haven because of his drinking and demanding individuality.
After leaving him she prepares to be with a rich man George Kittredge. During this process, she gets to know a reporter Macaulay Connor. However, the three main male characters in Tracy's life become important that she could not find out whom she is in love with.
16. On the Town
Director: Gene Kelly and Stanley Donen
Writers: Adolph Green and Betty Comden
Cast: Kelly, Frank Sinatra, Betty Garrett, Ann Miller, Jules Munshin, Vera-Ellen
IMDb Ratings: 7.4/10
Rotten Tomatoes: 93%
The story of the film is about three sailors named Gabey, Chip, and Ozzie. After leaving the shore of New York City they wanted to live every moment of it.
However, all the three sailors have different stories and liking in their lives. Before leaving Chip had a cozy moment with a lady cab driver named Brunhilde, on the other hand, Ozzie was with an anthropologist Claire. However, Gabey plants a love feeling for a lady whom he had seen in an advertisement.
15. Beverly Hills Cop
Director: Martin Brest
Writers: Daniel Petrie Jr.
Cast: Eddie Murphy, Judge Reinhold, John Ashton, Lisa Eilbacher, Ronny Cox, Steven Berkoff
IMDb Ratings: 7.4/10
Rotten Tomatoes: 83%
The story starts when Axel Foley's childhood friend Mikey was murdered. Axel is a rebellious and efficient cop who was ordered to go to Beverly Hills, as a sponsored vacation.
After heading towards that place, he met one of his old friends Jenny Summers and commenced to take her help for the murder case. During the investigation, several criminal cases and trials came in front of Axel.
14. The 40-Year-Old Virgin
Director: Judd Apatow
Writers: Judd Apatow and Steve Carell
Cast: Steve Carell as Andy Stitzer, Catherine Keener as Trish Piedmont, Paul Rudd as David, Romany Malco as Jay
IMDb Ratings: 7.1/10
Rotten Tomatoes: 85%
The main character of this romance-comedy movie is Andy who works in an electronics store. This 40-year-old man lives his life peacefully and spends his leisure time playing video games. Despite being so old, Andy has never been in any physical relationship with anyone as a result his friend David does all possible means so that Andy loses his virginity.
However, Andy's awkwardness and shy nature did not allow the plan to do well. Well, the story took a good turn when Andy met Trish and started falling for her.
13. Rush Hour
Director: Brett Ratner
Writers: Jim Kouf and Ross LaManna
Cast: Jackie Chan, Chris Tucker, Tzi Ma, Tom Wilkinson, Ken Leung, Elizabeth Peña, Mark Rolston, Rex Linn
IMDb Ratings: 7/10
Rotten Tomatoes: 60%
The story of this drama was set in Los Angeles, and it starts when a Chinese politician's daughter is kidnapped. To find out the girl and assist the FBI agent he hired a Hong Kong Detective Inspector named Lee.
But the agent was not ready to work with Lee. Later Detective James Carter came into the scene and was paired with Lee. However, some personal issues within them stand as an issue but they put their work a priority and worked together to find the girl.
12. Singin' in the Rain
Director: Gene Kelly and Stanley Donen
Writers: Adolph Green and Betty Comden
Cast: Gene Kelly, Donald O'Connor, Debbie Reynolds, Jean Hagen, Millard Mitchell, Cyd Charisse
IMDb Ratings: 8.3/10
Rotten Tomatoes: 100%
This movie shows a transition movement from a silent drama to a musical one. Every movie identity was in trouble to adapt to such a revolution.
However, Don and Lina were paired together to portray the musical couple in the drama. Well, Don's voice had an acceptable tone with high pitch whereas Lina had horrible vocal quality. The mentors were not able to improve her tone so they hired Kathy to record for Lina.
11. Broadcast News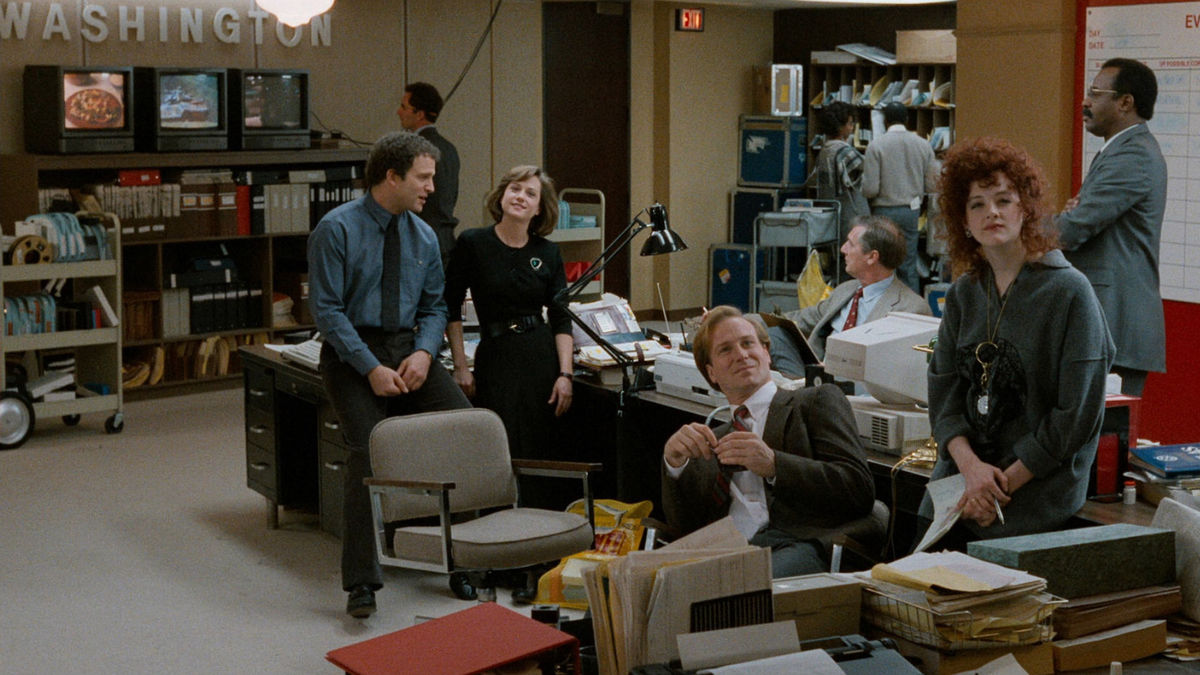 Director: James L. Brooks
Writers: James L. Brooks
Cast: William Hurt as Tom Grunick, Albert Brooks as Aaron Altman, Holly Hunter as Jane Craig, Robert Prosky as Ernie Merriman, Lois Chiles as Jennifer Mack
IMDb Ratings: 7.2/10
Rotten Tomatoes: 98%
The story of this comedy movie shows a conflict between attraction and talent. A television producer found an attractive anchorman for her television show. However, she also has a soft corner for that person. The story takes turns when she overlooks her undesirable best friend's feelings for her as well as his talent.
10. Yes Man
Director: Peyton Reed
Writers: Nicholas Stoller, Jarrad Paul, and Andrew Mogel
Cast: Jim Carrey, Zooey Deschanel, Bradley Cooper, John Michael Higgins, Terence Stamp
IMDb Ratings: 6.8/10
Rotten Tomatoes: 46%
The story of the drama revolves around Carl Allen who has low self-esteem and was invaded with negative thoughts. To improve himself he went to a self-help seminar where he got to know about how he can lead a positive life. This drastic change in his life occurs which leads to his job promotions and other optimistic and good things.
9. Punch-Drunk Love
Director: Paul Thomas Anderson
Writers: Paul Thomas Anderson
Cast: Adam Sandler, Emily Watson, Philip Seymour Hoffman, Luis Guzmán
IMDb Ratings: 7.3/10
Rotten Tomatoes: 79%
The story of the movie is about a shy and lonely businessman named Barry Egan. The main reason for his attitude was his seven sisters. This romantic film provides a satirical punch because of incidents that happen with Egan.
However, his life changed when he fell for his sister's co-worker named Lena Leonard. Well, this romantic love story takes a turn when Egan was trapped by a blackmailer.
8. Metropolitan
Director: Whit Stillman
Writers: Whit Stillman
Cast: Carolyn Farina, Edward Clements, Chris Eigeman, Taylor Nichols, Allison Parisi, Dylan Hundley
IMDb Ratings: 7.9/10
Rotten Tomatoes: 93%
The story of the movie is about young individuals from New York, who gathered in an apartment to discuss the pros and cons of life every day. They were only worried and concerned about upper-class class rituals and thoughts. However, their concept changed when a man joined the group to put forward the critical condition of life.
7. Clueless
Director: Amy Heckerling
Writers : Amy Heckerling
Cast: Alicia Silverstone, Stacey Dash, Brittany Murphy, Paul Rudd, Dan Hedaya, Donald Faison, Breckin Meyer, Jeremy Sisto
IMDb Ratings: 6.9/10
Rotten Tomatoes: 81%
The movie revolved around the story of Cher, a rich high-school student. This teenager tries her level best to cope with the puberty period and all kinds of things related to it.
However, she got to know herself and her feelings for someone when she helped one of her friends and a new student named Tai to be the star of the school. Later on, Cher discovered that she has a soft corner for Tai's stepbrother.
6. Coming to America
Director: John Landis
Writers: Barry W. Blaustein and David Sheffield
Cast: Eddie Murphy, Arsenio Hall, John Amos, James Earl Jones, Shari Headley, Madge Sinclair, Eriq La Salle, Allison Dean, Louie Anderson
IMDb Ratings: 7.1 /10
Rotten Tomatoes: 73%
The story of the movie is about a wealthy African prince named Prince Akeem. Despite being a king, he has no greed of wealth except a living and caring wife. He escapes from his arranged marriage and evades to America to his friend Semmi. His main motive is to go to America to find a queen for her.
Over there he disguised himself to gain a job. During this process, he falls for a girl called Lisa but was afraid to reveal his identity.
5. Friday
Director: F. Gary Gary
Writers: Ice Cube and DJ Pooh
Cast: Ice Cube, Chris Tucker, Nia Long, Tommy Lister, John Witherspoon, Anna Maria Horsford
IMDb Ratings: 7.3/10
Rotten Tomatoes: 73%
The story of the movie is about Craig Jones who was very frustrated with his life. However, his girlfriend Joi adds more spice to his life by harassing him. However, Craig's best friend Smokey, who is a drug dealer, sails in the same boat just like him. After so much hustle when they got to know their neighbor.
4. American Splendor
Director: Shari Springer Berman and Robert Pulcini
Writers: Shari Springer Berman and Robert Pulcini
Cast: Paul Giamatti, Hope Davis, Judah Friedlander, James Urbaniak
IMDb Ratings: 7.4/10
Rotten Tomatoes: 94%
The movie revolves around Harvey Pekar, who is a file clerk at a local hospital. His day-to-day life was only oriented toward his patient wife. However, after being so much engrossed in his work he never failed to proceed with his passion. After getting inspired by an artist and music administrator Robert Crumb, Pekar tried to put forward his thoughts and inscribe his own comic book series.
3. Bill and Ted's Excellent Adventure
Director: Stephen Herek
Writers: Chris Matheson and Ed Solomon
Cast: Keanu Reeves, Alex Winter, George Carlin, Bernie Casey, Amy Stock-Poynton; William Sadler, Joss Ackland, Pam Grier
IMDb Ratings: 6.4/10
Rotten Tomatoes: 81%
Bill and Ted are the main protagonists of the movie who are school friends and plan to come out with a band. But their lives changed when they met a man from the future named Rufus, after failing in their story assignment.
This traveler from the future helped them to finish off their pending history work by using his time machine. This device helped the youngsters to clear their history concepts and presentations.
2. They Came Together
Director: David Wain
Writers: David Wain and Michael Showalter
Cast: Rudd, Amy Poehler, Cobie Smulders, Christopher Meloni, Max Greenfield, Bill Hader
IMDb Ratings: 5.6/10
Rotten Tomatoes: 70%
The story of the movie shows an unexpected love story of two different people. This drama proceeds with the love fiction of an independent candy shop and a corporate worker. Their unexpected romance starts with some unavoidable incidents. He was appointed to shut her shop down but ended up falling for her.
1. Swingers
Director: Doug Liman
Writers: Jon Favreau
Cast: Jon Favreau, Vince Vaughan, Ron Livingston, Patrick Van Horn, Alex Desert, Heather Graham
IMDb Ratings: 7.2/10
Rotten Tomatoes: 88%
The story of the movie depicts how a breakup phase of a person turns out to be the starting point of a new love story. Mike and Trent are the lead characters. Trent is a soft-spoken man whereas Mike is the girl who is trying her level best to combat her breakup phase. Trent helped her by all means so that she does not have an emotional breakdown. However, this supportive phase of him altered into a loving phase.
The above-mentioned comedy movies are of such a kind that will never allow any of the viewers to be sad. Hopefully, the spectators will like the films which stream on HBO Max from every sub-genre and time period.