Keanu Reeves fans can make noise because we have listed some of his best movies over the years. He has been the charming handsome young Keanu reeves not only when young but even now when he is older. If you love Keanu Reeves movies and you are looking out to watch more, you are at the right place. Read ahead to know more.
25. Bill & Ted's Excellent Adventure
Director: Stephen Herek
Writer: Chris Matheson, Ed Solomon
Cast: Keanu Reeves, Alex Winter, Robert V. Barron, Terry Camilleri, Clifford David, Al Leong, Rod Loomis
IMDb: 6.9
Rotten Tomatoes Rating: 60%
Streaming Platform: HBO Max
Bill & Ted's excellent adventure is about Bill S. Preston, Esq., and "Ted" Theodore Logan, two high school students who want to start a band of their own but their life is actually falling apart starting with their high school. They are supposed to pass a history test or else they would be separated.
A time traveler named Rufus helps them save their future with the help of a time machine and they are both seen going in the past. Keanu Reeves plays Ted Logan and the duo has entertained the people to their fullest.
24. Point Break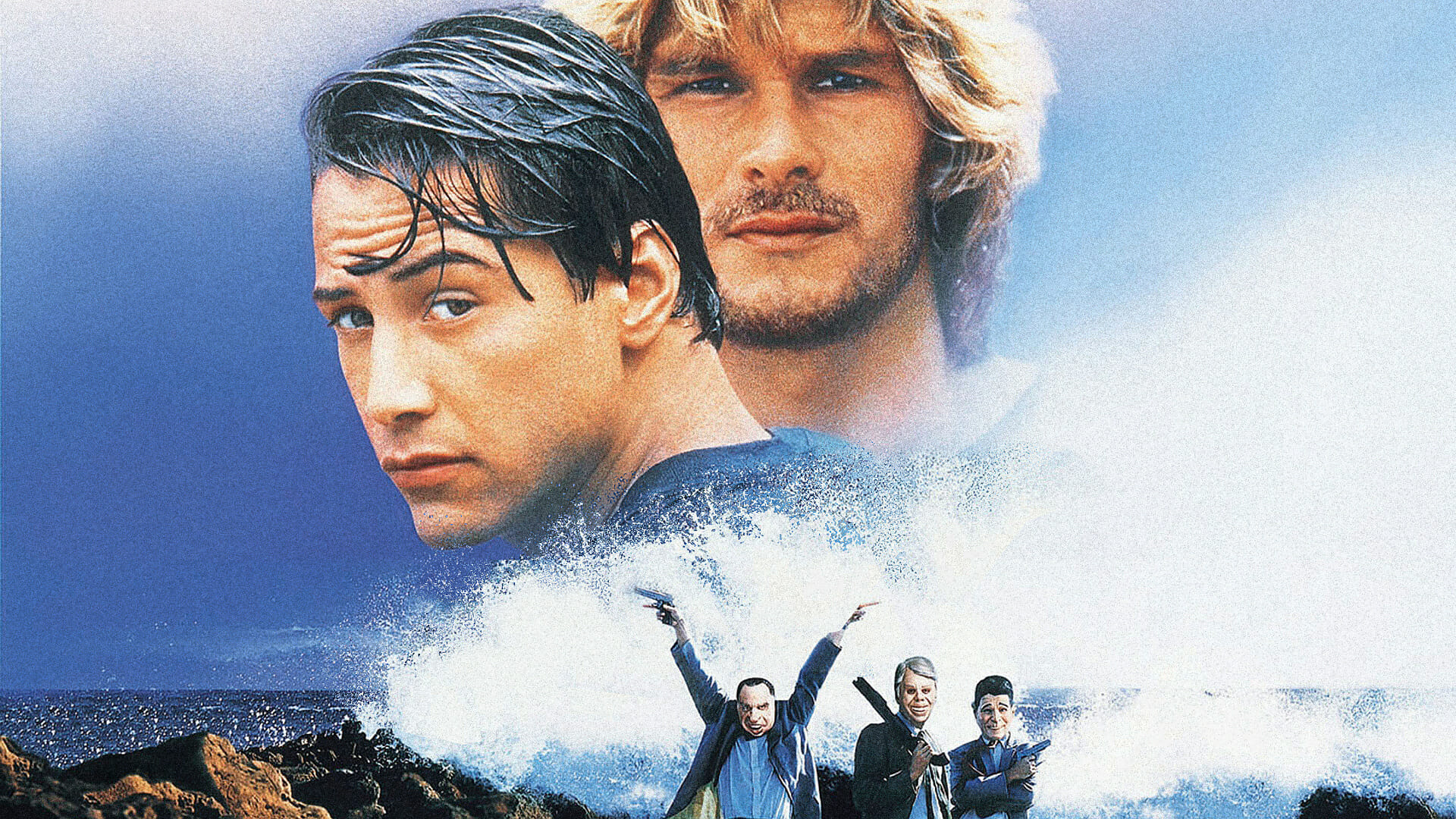 Director: Kathryn Bigelow
Writer: W. Peter Iliff
Cast: Patrick Swayze, Keanu Reeves, Gary Busey, Lori Petty
IMDb: 7.3
Rotten Tomatoes Rating: 69%
Streaming Platform: HBO Max
Pointbreak tells the story of FBI Agent Johnny Utah who is in search of a group of surfers who are supposedly bank robbers and are known by the name The Ex-Presidents. These robbers commit their crimes while wearing masks of the previous ruling presidents like Nixon, Carter, Reagan, and Johnson. Fbi agent Jonathan harder is tasked with the work of catching these criminals are befriending them on the beach.
23. John Wick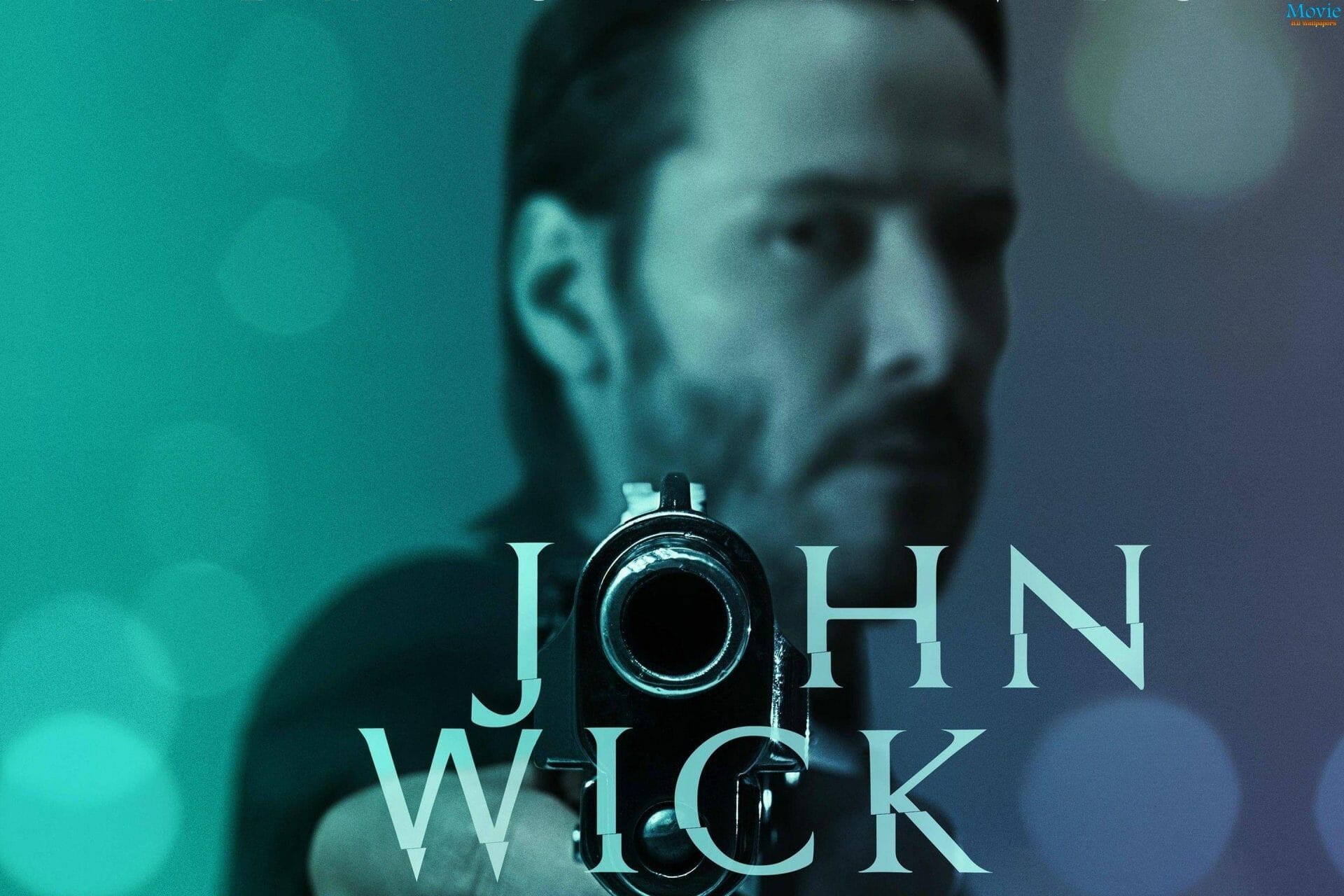 Director: Chad Stahelski
Writer: Derek Kolstad
Cast: Keanu Reeves, Michael Nyqvist, Alfie Allen, Adrianne Palicki, Bridget Moynahan, Dean Winters
IMDb: 7.4
Rotten Tomatoes Rating: 86%
Streaming Platform: Apple TV
John Wick's movie is about a former assassin John Wick, who is still grieving from the sudden loss of his wife his wife had gifted him a dog to give him company when she wouldn't be there. One day a Russian group of gangsters breaks into his house and knock him out in the process they kill his dog, the same one that his dying wife had gifted him. John wick had just one thing to cling on and that was now gone. He goes back to his former self and brutal being and he is definitely coming for the Russian gang.
22. Much Ado About Nothing
Director: Kenneth Branagh
Writer: Kenneth Branagh
Cast: Kenneth Branagh, Michael Keaton, Robert Sean Leonard, Keanu Reeves, Emma Thompson, Denzel Washington, Kate Beckinsale
IMDb: 7.3
Rotten Tomatoes Rating: 90%
Streaming Platform: Apple TV
The movie is a romantic comedy and tells the story of a couple who are about to get married in the meanwhile, they plan to set up a trap to get two other people to fall for each other and get married. Keanu Reeves plays The character of Don John, who is all set to break up the wedding by accusing one of them of infidelity. However, in the end, it becomes a show for all but nothing really happens and the marriage takes place smoothly.
21. The Devil's Advocate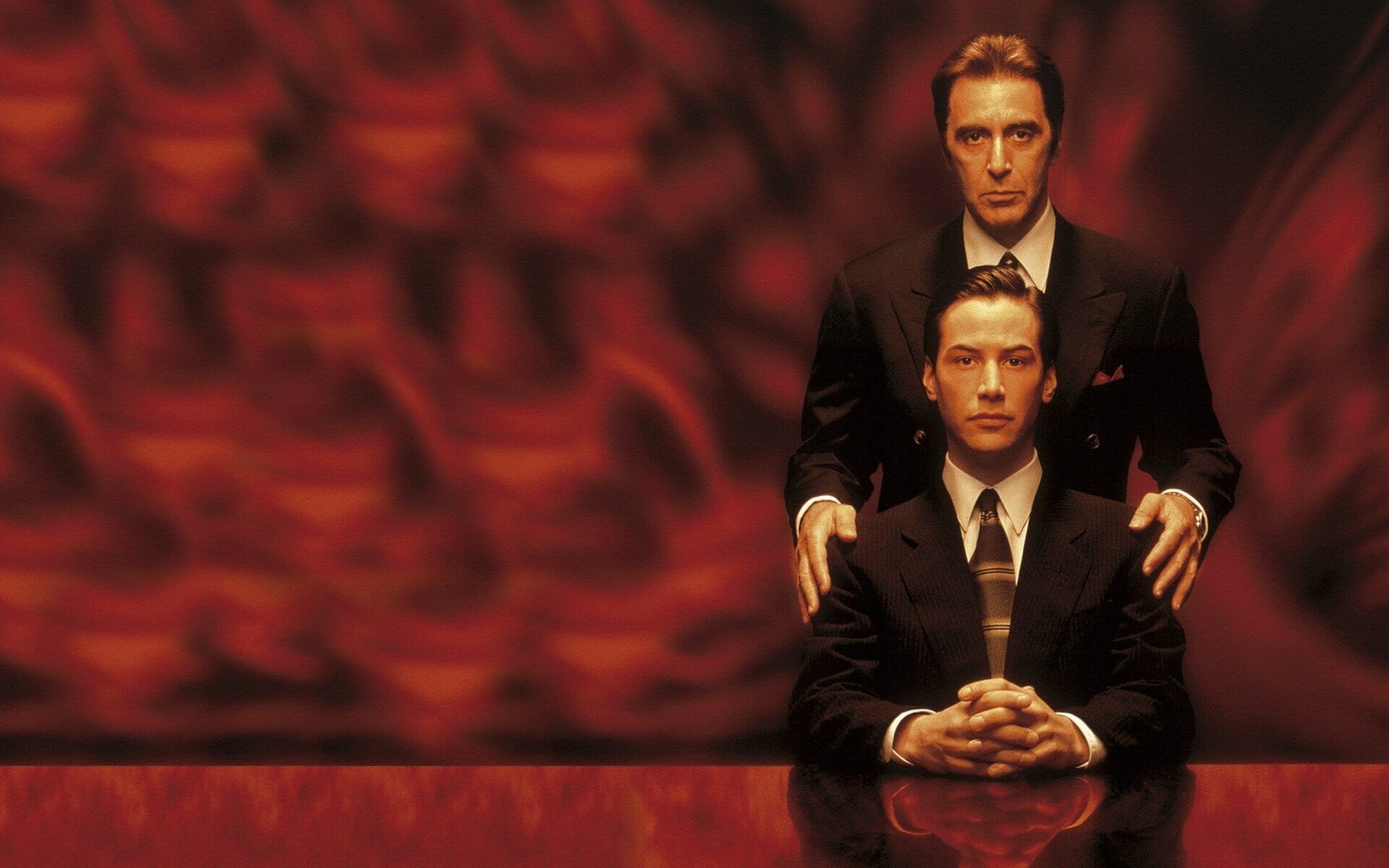 Director: Taylor Hackford
Writer: Jonathan Lemkin, Tony Gilroy
Cast: Keanu Reeves, Al Pacino, Charlize Theron, Jeffrey Jones, Judith Ivey, Craig T. Nelson
IMDb: 7.5
Rotten Tomatoes Rating: 63%
Streaming Platform: Netflix
The movie devil's advocate is about Kevin Lomax who is offered a job at a high-end New York Law firm he and his wife Mary Ann find this opportunity to be a good one and hence move to the new city. However, as time goes by Kevin starts getting more and more engrossed in his work giving less time to his wife. His wife tells him about the same and starts disliking his Job. Soon even Kevin himself starts noticing the oddities of his job but will it be too late:?
20. My Own Private Idaho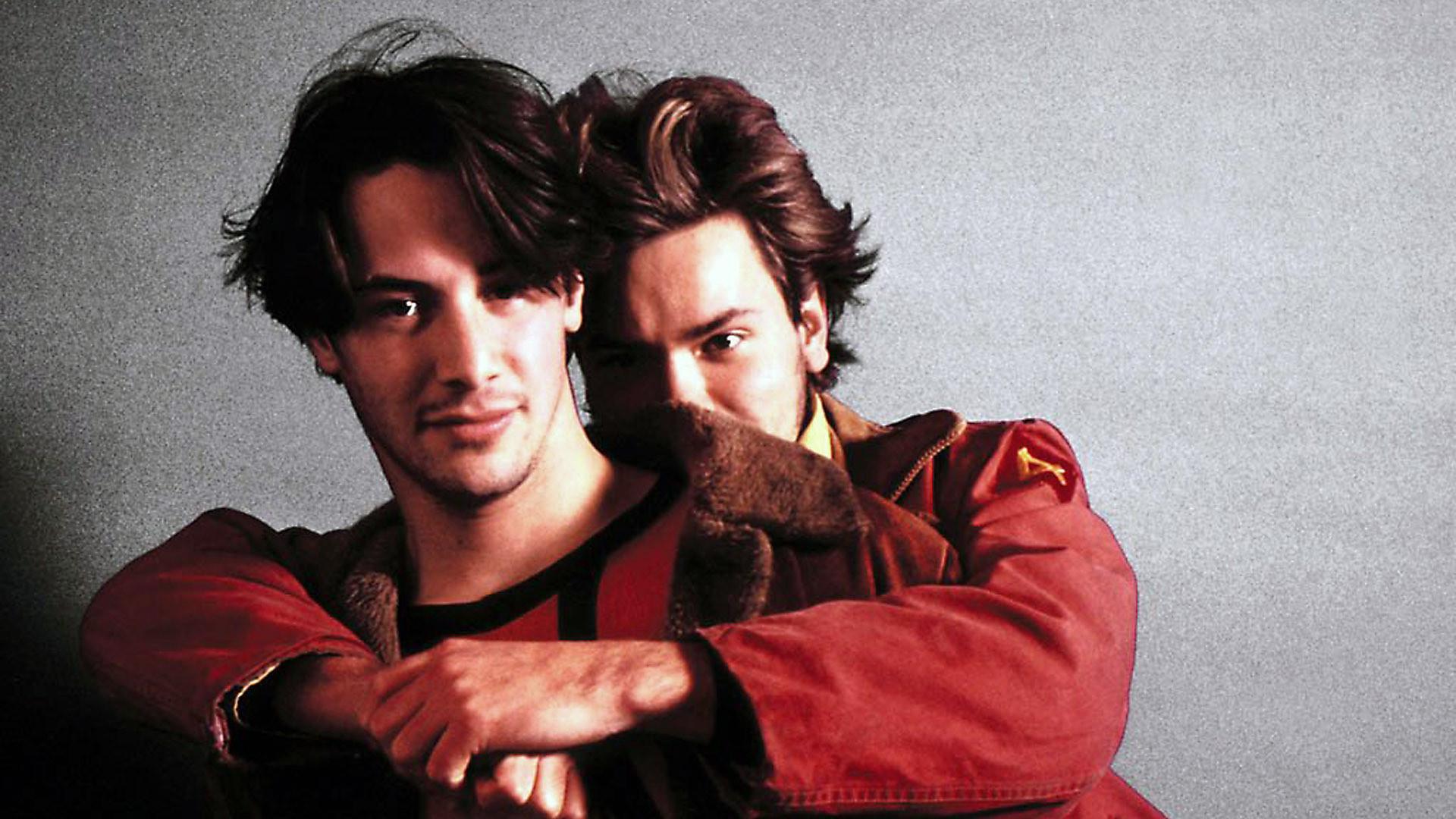 Director: Gus Van Sant
Writer: Gus Van Sant
Cast: River Phoenix, Keanu Reeves
IMDb: 7.0
Rotten Tomatoes Rating: 79%
Streaming Platform: Hoopla, Apple TV
My own private Idaho is about two friends who meet by chance. Mike Waters used to live on the streets and he befriends Scott Favor who is streetwise, but he suffers from narcolepsy, which means he can fall asleep anytime. Scott is actually from a very rich family and has started living on the streets to rebel. However, they both form a good bond and spend a lot of time together and water tries to find his real mother.
19. A Scanner Darkly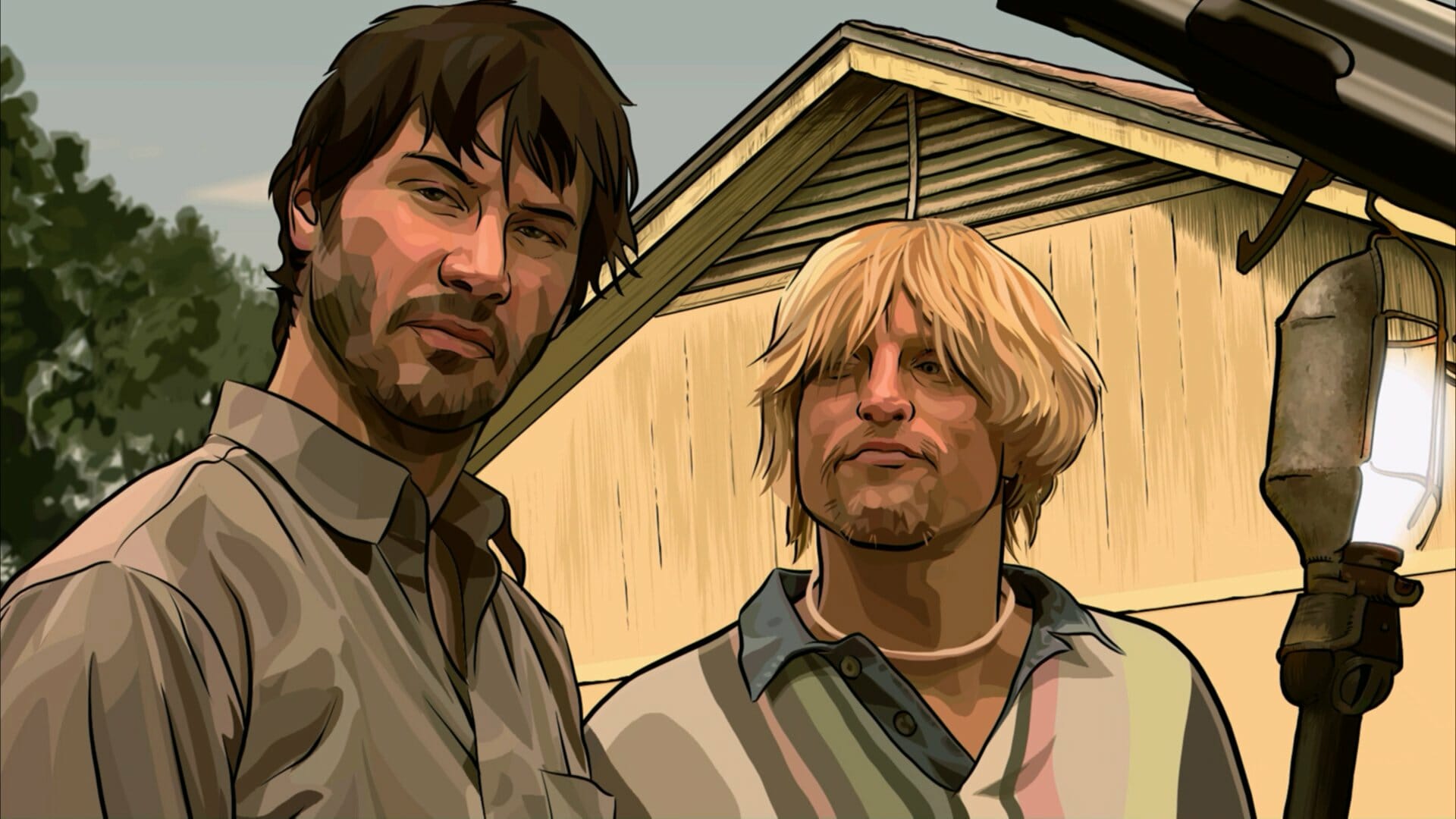 Director: Richard Linklater
Writer: Richard Linklater
Cast: Keanu Reeves, Robert Downey Jr., Woody Harrelson, Winona Ryder, Rory Cochrane
IMDb: 7.1
Rotten Tomatoes Rating: 68%
Streaming Platform: Apple TV
A Scanner Darkly is a science fiction film it tells the story of the future, Bob Arctor is an undercover agent and he is looking to work with a group of drug users so that he can reach the owners. He is in search of Substance D a drug that damages the brain. The New Path Corporation promotes his assignment and he is sent to submit his tests since he has lost his own identity and is showing schizophrenic behavior.
18. Johnny Mnemonic
Director: Robert Longo
Writer: William Gibson
Cast: Keanu Reeves, Dolph Lundgren, Takeshi Kitano, Ice-T, Dina Meyer
IMDb: 5.7
Rotten Tomatoes Rating: 19%
Streaming Platform: Netflix
Johnny mnemonic is set in the future and it tells the story of the year 2021 where everything is connected by the internet and nearly had the world s suffering from a disease. Nerve Attenuation Syndrome (NAS) is something that has developed in everyone. Jhonny has a chip in his brain and is tasked to transport the information to Newark. He needs to do this before he dies from the overload or gets killed.
17. Parenthood
Director: Ron Howard
Writer: Lowell Ganz, Babaloo Mandel
Cast: Steve Martin, Tom Hulce, Rick Moranis, Martha Plimpton, Keanu
IMDb: 7.0
Rotten Tomatoes Rating: 91%
Streaming Platform: Apple TV
The movie is about a family The Buckmans, and it tells their story of being a mid-western family and how they are dealing with their lives. It tells their tales of relatives who have gone astray, the difficulty of raising children, the pressure of having stable jobs and being there for your family, and also being a good spouse and a good example to your kids. It tells us about teenagers who are rebellious and how to deal with all of this. Overall this movie is a complete family life movie. These Keanu Reeves movies ranked a huge box office success.
16. Constantine
Director: Francis Lawrence
Writer: Kevin Brodbin, Frank Cappello
Cast: Keanu Reeves, Rachel Weisz, Shia LaBeouf, Tilda Swinton, Pruitt Taylor Vince
IMDb: 7.0
Rotten Tomatoes Rating: 72%
Streaming Platform: Apple TV
Constantine was such a success, there is probably no one who hasn't watched the movie. It is about John Constantine, who is a demon hunter and he is approached by Isabel, whose sister died and it was termed as suicide, but Isabel doesn't believe it. So she goes to John to solve her sister's death and John comes to know more things. John gets in a confrontation with Satan himself and is going to stand up for everything he knows.
15. The Matrix
Director: The Wachowskis
Writer: The Wachowskis
Cast: Keanu Reeves, Laurence Fishburne, Carrie-Anne Moss, Hugo Weaving, Joe Pantoliano
IMDb: 8.7
Rotten Tomatoes Rating: 88%
Streaming Platform: HBO Max
The Matrix trilogy is one of the best Keanu Reeves movies. The movie tells the story of Thomas A. Anderson who is a man that is an average computer programmer and he is Neo who is a hacker by night.
Neo has always been someone who questions his reality and he believes there is something more to it. He is soon contacted by Morpheus who is a hacker himself and he is said to be a terrorist by the government. Soon the government is also behind Neo.
14. John Wick: Chapter 2
Director: Chad Stahelski
Writer: Derek Kolstad
Cast: Keanu Reeves, Common, Laurence, Riccardo Scamarcio, Ruby Rose
IMDb: 7.5
Rotten Tomatoes Rating: 89%
Streaming Platform: Apple TV
The Movie John Wick Chapter 2, is a continuation of the first movie John wick. This movie is about when John kills the Russian mafia and now his brother is here to take his life because of the death of his brother. A huge price is put on his life for the same. The movie is going to give you the same amount of thrill as the previous one.
13. A Walk in the Clouds
Director: Alfonso Arau
Writer: Robert Mark Kamen, Mark Miller, Harvey Weitzman
Cast: Keanu Reeves, Aitana Sánchez-Gijón, Anthony Quinn, Giancarlo Giannini
IMDb: 6.7
Rotten Tomatoes Rating: 46%
Streaming Platform: Starz
The movie is about a US military soldier Paul, who is on his way home after world war two he meets Victoria who is pregnant and he is scared to return to her Mexican household who might as well kill her for having a child out of marriage. Paul thinks of becoming her fake husband but they soon start falling for each other. Paul is married and they try to hold back themselves but sometimes fate works in mysterious ways.
12. Speed
Director: Jan de Bont
Writer: Graham Yost
Cast: Keanu Reeves, Dennis Hopper, Sandra Bullock, Joe Morton, Jeff Daniels
IMDb: 7.3
Rotten Tomatoes Rating: 94%
Streaming Platform: HBO Max
The movie speed is one of the best Keanu Reeves movies that has been a hit. The movie tells us about SWAT officer Jack Traven who gets on bad terms with the Atlanta Police Department bomb squad member Howard.
Hence, the bomb squad member plans to take revenge on Jack by planting a bomb in a local bus and he informs them that if the bus goes below fifty miles per house then it will blow up killing everyone in it. Now it is up to Jack as to how to save all the passengers keep the speed steady and find out how Howard is monitoring them.
11. The Lake House
Director: Alejandro Agresti
Writer: David Auburn
Cast: Keanu Reeves, Sandra Bullock, Dylan Walsh
IMDb: 6.8
Rotten Tomatoes Rating: 35%
Streaming Platform: HBO Max
The movie is about Alex and Kate who are at different times but are connected through a letterbox. The story tells us about Alex who is staying at the lake house that was previously used by kate who has now moved to the city.
They somehow realize that they are in different time zones like one is in 2004 and the other is in 2005. They fall in love with each other after their regular passing of letters to each other. However, they know they can never meet each other but strive to meet somewhere in the future.
10. Toy Story 4
Director: Josh Cooley
Writer: Andrew Stanton, Stephany Folsom
Cast: Tom Hanks, Tim Allen, Annie Potts, Tony Hale, Keanu Reeves
IMDb: 7.7
Rotten Tomatoes Rating: 97%
Streaming Platform: Disney Plus
In this kid's story movie, Reeves played the role of a voice actor. The movie is a continuation of the previous movies in the toy story series. It is about when Woody and Buzz Lightyear and their other friends met Forky who is a new toy and they all embark on a journey. But Woody causes a detour and the results weren't something bad, as they meet up with his long-lost friend. They both start reminiscing about the past and discussing their future.
9. The Gift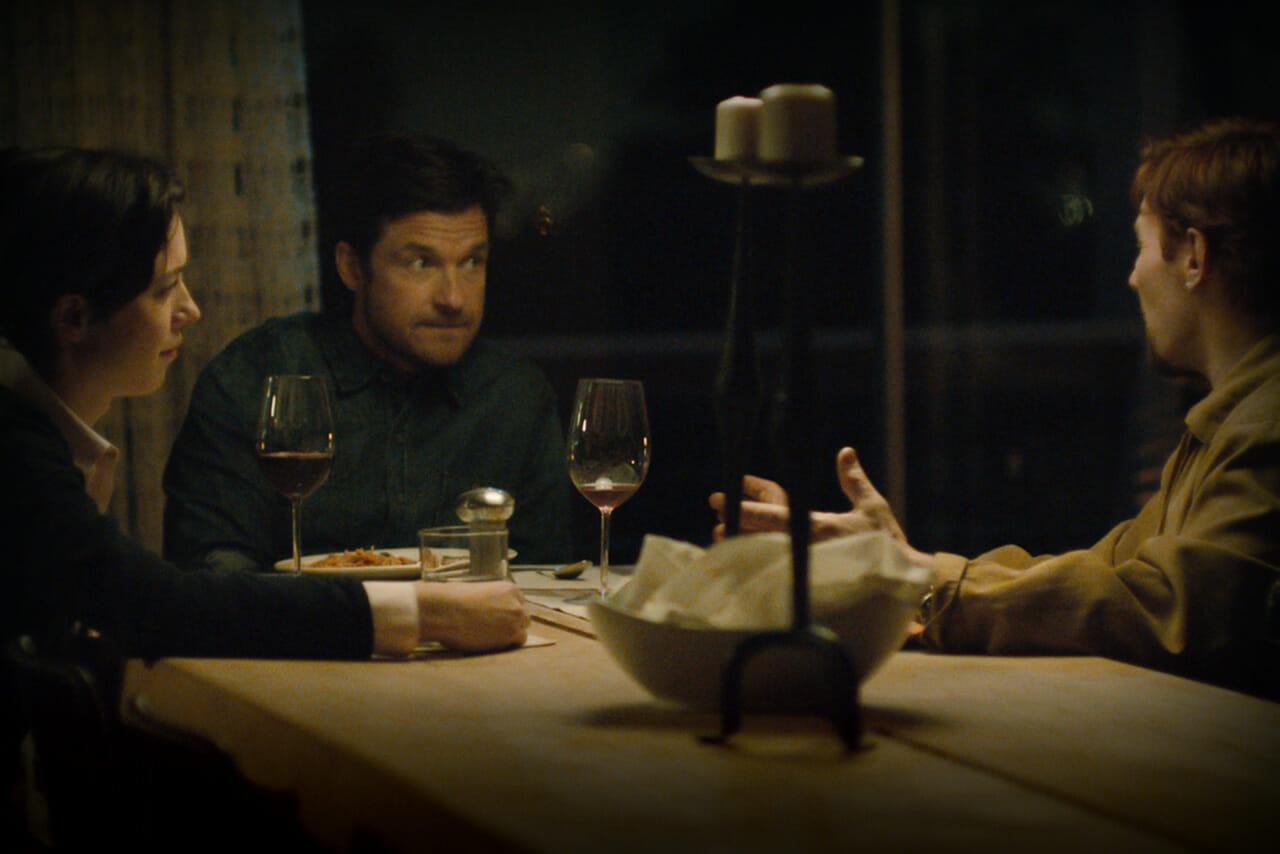 Director: Sam Raimi
Writer: Billy Bob Thornton, Tom Epperson
Cast: Cate Blanchett, Giovanni Ribisi, Keanu Reeves, Katie Holmes
IMDb: 6.7
Rotten Tomatoes Rating: 57%
Streaming Platform: Hulu
The gift is about a fortune-teller who is tasked with a case of murder and she sees visions of the person who is murdered. Jessica King is a young woman who is killed and she was about to marry Wayne Collins her fiance. As the story moves forward Keanu Reeves plays Donnie Barksdale who is an abusive husband who his wife and children and somehow becomes the prime suspect.
He is accused of killing Jessica when they find her body in their pond, but they soon come to know that he isn't the murderer, and Annie the fortune teller does everything in her might to save Donnie. Turns out it was Wayne who actually killed Jessica when he came to know about her affair with Donnie.
8. River's Edge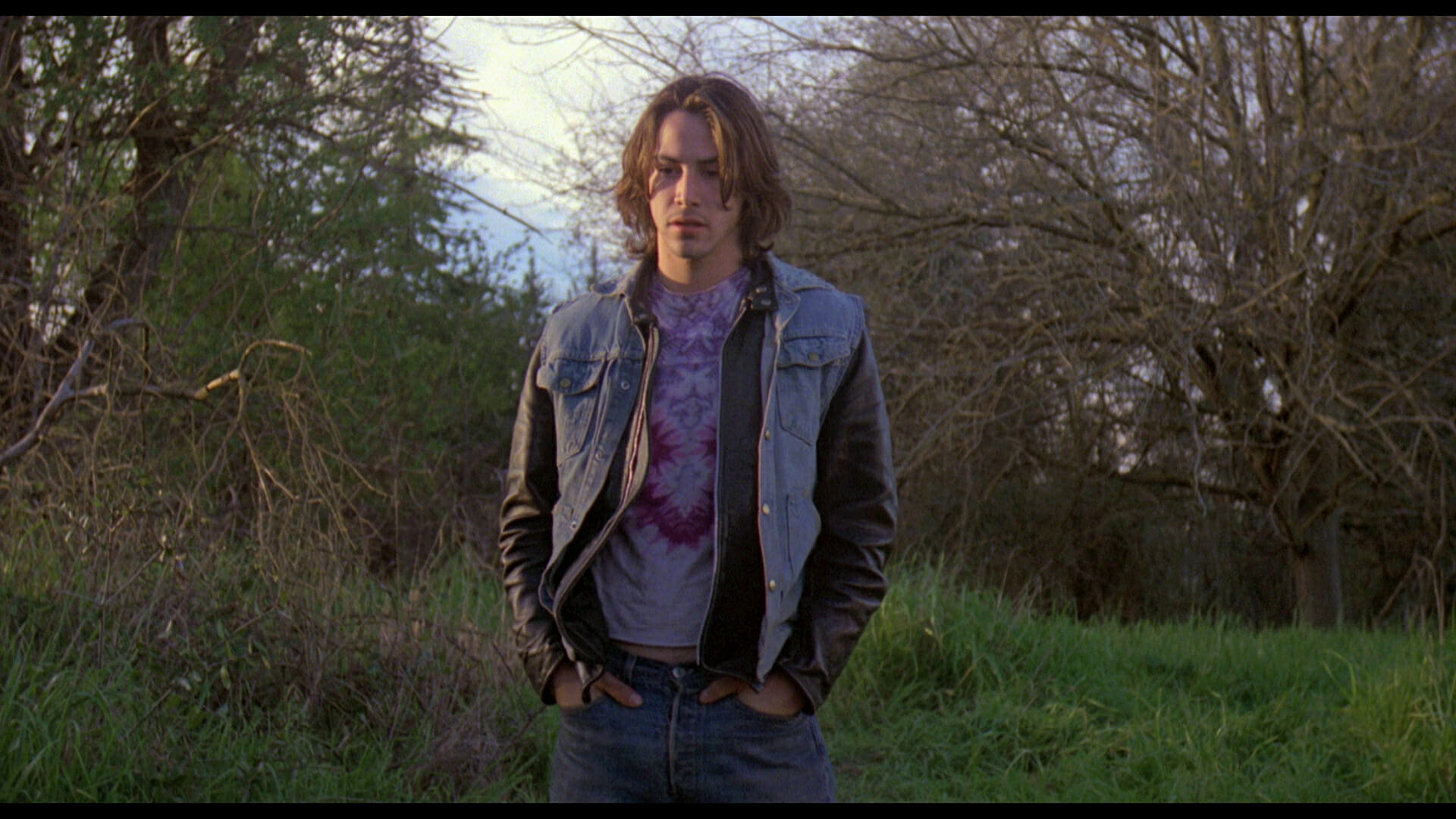 Director: Tim Hunter
Writer: Neal Jimenez
Cast: Crispin Glover, Keanu Reeves, Ione Skye Leitch, Roxana Zal, Daniel Roebuck
IMDb: 7.0
Rotten Tomatoes Rating: 88%
Streaming Platform: Hoopla
This movie will keep you laughing and talk about dead serious topics all at once. The movie is about a group of teenagers, one of them accidentally kills another friend of theirs. While some are absolutely scared and want to report the same to the police, the others are either trying to sweep the matter under the rug or have nothing to do with the murder. However, the murder does come to light and these boys are questioned about anything and everything. But what answers will you expect from twelve-year-olds?
7. To the Bone
Director: Marti Noxon
Writer: Marti Noxon
Cast: Lily Collins, Keanu Reeves, Carrie Preston, Lili Taylor, Alex Sharp
IMDb: 6.8
Rotten Tomatoes Rating: 70%
Streaming Platform: Netflix
The movie is about twenty-year-old Ellen, who suffers from anorexia nervosa. Anorexia is a condition where the patient feels a lack of appetite and this made Ellen very conscious about herself around her family. They meet up with a doctor who places Ellen with other people suffering from the same and somewhere she starts feeling more comfortable and comes to accept herself as well as starts working on herself.
6. Bill & Ted's Bogus Journey
Director: Pete Hewitt
Writer: Chris Matheson, Ed Solomon
Cast: Keanu Reeves, Alex Winter, William Sadler, Joss Ackland, George Carlin
IMDb: 6.3
Rotten Tomatoes Rating: 56%
Streaming Platform: HBO Max
If you have already watched the first movie which is Bill ted's excellent adventure, then you know what you are in for in the second movie. This science-fiction comedy film will keep you entertained to the end. The movie is a continuation of the first part. The movie tells about the utopian future, where a former gym teacher turns into a terrorist.
He steals the time-traveling machine and sends in robots that resemble Bill and Ted but they are nowhere close to the real ones. He sends these replicas to the 20th century to avoid the original Bill and Ted winning the San Dimas Battle of the Bands. Now it is up to Bill and Ted to save everything they like and to save the future. However, can they do everything needed before time runs out?
5. The Matrix Resurrections
Director: Lana Wachowski
Writer: Lana Wachowski, David Mitchell, Aleksandar Hemon
Cast: Keanu Reeves, Carrie-Anne Moss, Yahya Abdul-Mateen II, Jessica Henwick, Jonathan Groff, Neil Patrick Harris, Priyanka Chopra Jonas, Jada Pinkett Smith
IMDb: 5.7
Rotten Tomatoes Rating: 63%
Streaming Platform: DirecTV
The movie is the third part of the matrix film series. The Matrix resurrections are about Neo who is now a game developer and has developed the game The Matrix. A younger female named Bugs learns that the modal is walking vintage code in a loop, enacting the instant while Trinity first determined Neo in the Matrix. Bugs discovers an application embodying Morpheus and facilitates unfastened him earlier than Anderson's enterprise partner, Smith, can erase the modal.
The peace performed via way of means of Neo's sacrifice lasted for plenty of years, however eventually, such a lot of human beings have been allowed to depart the Matrix that it created a severe energy shortage, inflicting the machines to break up into rival factions competing over restrained resources.
The Analyst stalled the reboot via way of means of convincing his superiors that threatening to kill Trinity might get Neo to voluntarily go back to his pod. Back withinside the Matrix, Neo makes an address to the Analyst; he'll go back to his pod if he fails to persuade Trinity to end up privy to her very own beyond and the Matrix.
4. The Whole Truth
Director: Courtney Hunt
Writer: Nicholas Kazan
Cast: Keanu Reeves, Renée Zellweger, Gugu Mbatha-Raw, Gabriel Basso, Jim Belushi
IMDb: 6.2
Rotten Tomatoes Rating: 34%
Streaming Platform: Netflix
The movie is about defense lawyer Richard Ramsay who is working for a teenage client that has been accused of murdering their wealthy father. He takes on this case for his best friend whose son is accused of murder. Initially, mike agrees to all the charges but later on, as the trials proceed, they find out new and disturbing pieces of evidence of what kind of person exactly Boon Lassiter has been all the while.
As more evidence comes to light the very basis of the case is shaken and what they knew all along might not be the truth. Ramsey is seen digging deep for more evidence to free mike from all the charges. His colleague Janelle digs and she realizes the truth might actually be quite ugly.
3. Sweet November
Director: Pat O'Connor
Writer: Kurt Voelker
Cast: Keanu Reeves, Charlize Theron, Jason Isaacs, Greg Germann
IMDb: 6.7
Rotten Tomatoes Rating: 76%
Streaming Platform: Apple TV
T6he movie tells the story of a man and woman who meet by chance but both of their lives change forever. Nelson is an advisor and one day at a driving test, he meets Sara who is as beautiful as an angel. However, she is accused of cheating on the driving test because of Nelson. Sara insults nelson and gives him a good scolding. Nelson doesn't care much and ignores her.
Sara searches for his house and shows up and asks for a car ride. at night she asks him to stay with her for the month of November. But Nelson turns her down because he already has a girlfriend. On the first day of November, he losses his job and his girlfriend, feeling empty he plans to take up the offer. He starts living with Sara and his life changes drastically.
2. The Matrix Reloaded
Director: The Wachowskis
Writer: The Wachowskis
Cast: Keanu Reeves, Laurence Fishburne, Carrie-Anne Moss, Hugo Weaving, Jada Pinkett Smith, Gloria Foster
IMDb: 7.2
Rotten Tomatoes Rating: 73%
Streaming Platform: HBO Max
Within the Matrix, the lone ship's team is encountered via way of means of the previous Agent Smith, who copies himself over the frame of team member Bane and uses the telecall smartphone line to go away from the Matrix. The Nebuchadnezzar leaves Zion and enters the Matrix, in which Neo meets the Oracle's bodyguard Seraph, who leads him to her. The Oracle well-known shows that she is a part of the Matrix and instructs Neo to attain its Source with the assistance of the Keymaker.
Morpheus and Trinity attempt to get away with the Keymaker pursued via way of means by numerous Agents and the Merovingian's leader henchmen, the Twins. The crews of the Nebuchadnezzar, Vigilant, and Logos assist the Keymaker and Neo attain the Source. As Neo, Morpheus, and the Keymaker attempt to attain the Source, the Smiths ambush them.
1. Bram Stoker's Dracula
Director: Francis Ford Coppola
Writer: James V. Hart
Cast: Gary Oldman, Winona Ryder, Anthony Hopkins, Keanu Reeves
IMDb: 7.4
Rotten Tomatoes Rating: 76%
Streaming Platform: Netflix
Bram stoker's Dracula is loosely based on the novel of the same name. The movie looks at the life of Jonathan harder who is assigned to a small village in Eastern Europe. However, he gets captured by the Vampire Dracula. He is inspired to travel to London after he looks at a photo of Mina Murray.
The story then shifts to Britain where Dracula starts his own time of terror and seduction. He starts troubling Mina's closest friend Lucy. Soon lucy decides that she has taken enough and they get together to send Dracula away.
The above list of movies is some of Keanu reeves movies ranked best in Kean reeve's career. Keanu Reeves plays versatile roles and has made a name for himself. The list contains the name of the movie, the directors, the writer as well as who stars in it, and the ranking of each movie. The list also contains streaming options and a small description of the summary of the movie. If you like any of these movies go watch them right now.