We all know that anime is known for its overpowered characters, which is generally called God anime. However, we can even say that no such anime contains good feelings and is disliked.
Even though many stories don't feature God, we will discuss anime gods as the main character. 20 best anime gods are as follows:
20. Oh! My Goddess
Director: Hiroko Kazui, Yasuhiro Matsumura

Writer: Shōji Yonemura
Oh! My Goddess is a Rom-com anime. There are three places:
Heaven is called Valhalla, where gods rule.

Hell is called Niflheim, which is full of demons and beasts.

Earth, where humans live.
The reality is managed by Yggdrasil, which is a complex computer. Like Earth, there is a realm of heaven and hell. Gods are divine beings that are differentiated based on class, category, and limitation to use power. Here Yggdrasil keeps an eye on and maintains the laws precisely.
The Story anime is about a young human named Keiichi Morisato and the Goddess named Belldandy. They both stay together and are always for each other. They faced all problems together and against the laws of Yggdrasil so they could live together.
19. Inari Kon Kon
Director: Toru Takahashi

Writer: Touko Machida
Inari Kon Kon is a supernatural and romantic comedy series. The Story is about Inari, a young girl who is a shy and very clumsy schoolgirl. One day she saw an animal drowning in a river and saved it. Seeing her kindness, deities get happy.
They give her the power to transform into whatever she wishes. After knowing about the power, evil demons are after her. Now she has to deal with all unwanted attention. That she is getting from other supernatural beings
18. Cautious Hero
Director: Masayuki Sakoi

Writer: Kenta Ihara
Cautious Hero is a fantasy comedy series of anime gods. This is God anime with a team of heroes and all gods fighting against evil.
The Story of Goddess Ristarte is on a hunt to find a hero. She wants to save the parallel world. From Earth, she finds Seiya Ryūgūin. He is a young man who is extra cautious of everything.
17. Kamichu
Director: Koji Masunari

Writer: Hideyuki Kurata
Kamichu is an anime set in 80s gold era. A genre of the series is Fantasy and some slice of life. The Story is about a shy schoolgirl whose anime character name is Yurie. Her life takes a 360-degree turn when everyone learns about her divine power.
She got the nickname Kamichu from her friends. As she discovers her potential, she is naive to realize he powers. She meets new deities to become better goddess. Also, she can help other gods.
16. Saint Seiya
Director: Kōzō Morishita (eps: 1–73), Kazuhito Kikuchi (eps: 74–114)

Writer: Takao Koyama (eps: 1–73), Yoshiyuki Suga (eps: 74–114)
Saint Seiya is a fantasy, martial arts, and some mythic-based fiction. God anime based on the Mythology of Greek is always the best choice to watch.
The Story is attractive and has 12 powerful anime characters. These characters are also based on 12 zodiac signs. They are called saints. All the divine beings are living to protect Goddess Athena. One young man, whose name is Seiya wants to be a saint. He has to overcome many obstacles, as many worshippers wish to be in the same position.
15 Kamigami no Asobi
Director: Tomoyuki Kawamura

Writer: Tomoko Konparu
Kamigami no Asobi is a Supernatural fiction. It means "play of gods." Play of Gods is an anime that is based on Japan's religion, Shinto.
Yuri is the daughter of a priest from a Shinto shrine. She finds a mysterious sword. This sword gives her the ultimate power to teleport to a different reality. There she meets the Son of Cronus, named Zeus. He invites other spirit creatures to his school. He teaches all of the connections between God and the human world.
14. Neo Ranga
Director: Jun Kamiya (eps. 1-24), Toshiyuki Tsuru (eps. 25-48)

Writer: Shō Aikawa
Neo Raga is a comedy and Sci-fi anime series. Unfortunately, this is an underrated gem. With two seasons having 48 episodes, the Story revolves around three sisters with their gods. This series is a total disaster comically.
It is about the Shimbara sisters named Manami, Ushio, and Yuuhi. They live together in a flat they have rented. All of them are trying to search for their missing brother.
One day they get a death note saying their brother is dead. Before he married the royalty of Barou, now he was a part of heredity which is now shifted to sisters. Neo Ranga is the God of their land. He is a demon king.
13. Idaten Deities Know Only Peace
Director: Seimei Kidokoro

Writer: Hiroshi Seko
Idaten deities are dark Fantasies. It is a new anime gods series. Nothing is out of the box, but action is something to watch; that is how minor gods fight giant demons.
The Story is about a battle between gods and demons that occurred 800 years ago. In the end, the gods kill a monster and defeat them. It has been eight centuries since the war. There is peace in the entire universe. However, everything is about to change as demons return and want to start a war with them again.
12. Campione
Director: Keizō Kusakawa

Writer: Jukki Hanada
Campione is a supernatural and comedy anime gods series.
The Story is about a young boy name Gouda. He accidentally kills The God of war. Now he has inherited all his powers and become the God of Slayer. Many new followers are coming towards him. He is mesmerized by the new world he is entering with a godly aura.
11. Nekogami Yaoyorozu
Director: Hiroaki Sakurai

Writer: Touko Machida
Another name for this anime is The Everyday Tales of a Cat God. It is one of the hilarious anime gods that will make anyone roll on the floor.
The Story revolves around a god cat whose name is Mayu. It is once involved in gambling in Takama-ga-Hara. One day she was caught with the truth. Further, she is banned from heaven, and her services are demoted.
She is sent on earth to live an entirely new life. Later she finds a place in an antique shop and lives there with a young girl named Yuzu.
10. Kamichama Karin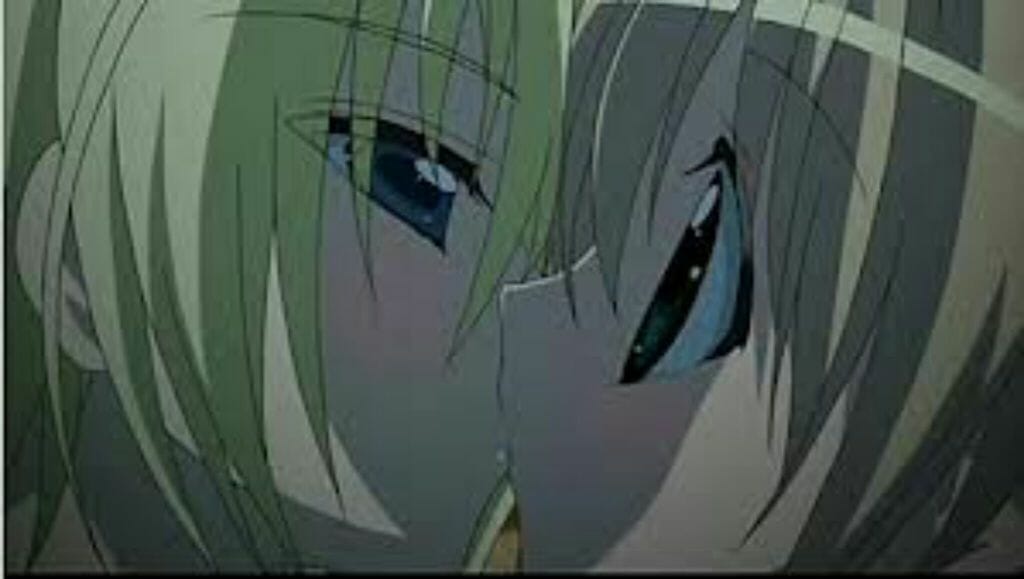 Director: Takashi Anno

Writer: Koge-Donbo
Kamichama Karin appears to be another anime that are made for kids. But, on the contrary, it is a total masterpiece.
The Story is about Karin Hanazono, a 13-year-old teenager. She is an orphan and struggling to survive the world. After the death of her parents, she is left all alone with her mean aunt. As a result, she slowly slips into depression.
One day she discovers that her mom gave her a ring that is not ordinary. It happens to be full of powers. Once, the demons knew about a call.
They started to follow Karin. She fought back and killed criminals. It helped her discover her powers.
9. Kamisama Kiss
Director: Akitaro Daichi

Writer: Akitaro Daichi, Takashi Anno
The Story is about a teenage girl named Nanami Momozono. Her father used all their money on gambling. She was leaving them homeless. She sees a man being chased by a dog and saves him.
In return, the eccentric man is also a divine being. He offers to help and gives her a place to live. Later she learns the truth that she is in a shrine. Also, man is the God of Earth himself. She is now chosen as a successor, which will change her life.
8. Danmachi
Director: Yoshiki Yamakawa (I), Hideki Tachibana (II-IV)

Writer: Hideki Shirane, Fujino Ōmori (IV)
Danmachi is a very popular anime god. The show brings all the different gods together from other times. There is action, love, and a lot of magic.
The Story of the series is in the world of Danmachi. Deity has come to live with humans. They wanted to learn about the hardships of humans. DeitiesSo gods have started to form families.
, Among anime characters, only Bell Cranel is a member of the Hestia family, which is the family of Goddess Hestia. Bell gives his best to have his best adventure, and Hestia supports him.
7. Kamisama Kazouku
Director: Kimitoshi Chioka

Writer: Yoshikazu Kuwashima
Kamisama Kazouku is a romantic supernatural comedy. The Story of the series is presented beautifully. Character development and everything are appreciated.
The Story is of a high school boy who is average. Samatoru's father is a god, and his mother is a goddess. Their whole family lives in the human world. So that he can learn the reality of humans in a better way, his life changes as a girl enter his life. He falls in love with her.
6. Record of Ragnarok
Director: Masao Ōkubo

Writer: Kazuyuki Fudeyasu, Yuka Yamada (season 2)
The record of Ragnarok is about the world of Ragnarok. It is a world in that deities have formed so that discussion can be done on universal matters. Council is responsible for deciding the fate of humanity.
Gods decide to perish in humans' realm as they are greedy. Valkyrie Brunhilde comes with a suggestion to give a chance to humanity. He calls for a battle between God and humans.
5. Noragami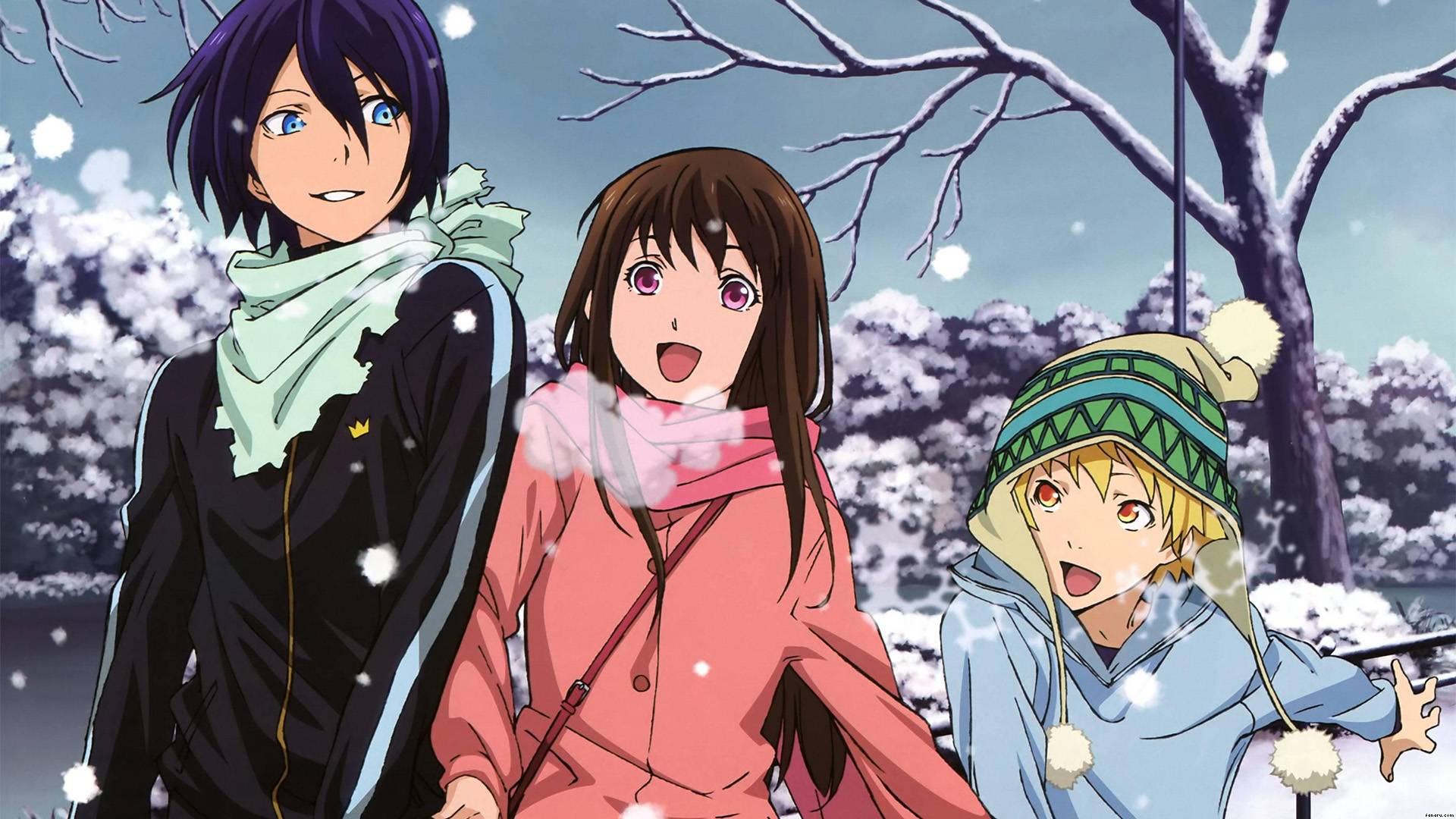 Director: Kotaro Tamura

Writer: Deko Akao
Noragami is about Yato, who is a minor god. He grants everyone a wish of 5 yen. Yato wishes to have his shrine and a lot of worshipers. So he fights and kills monsters with the help of his family and a human girl.
4. Spice And Wolf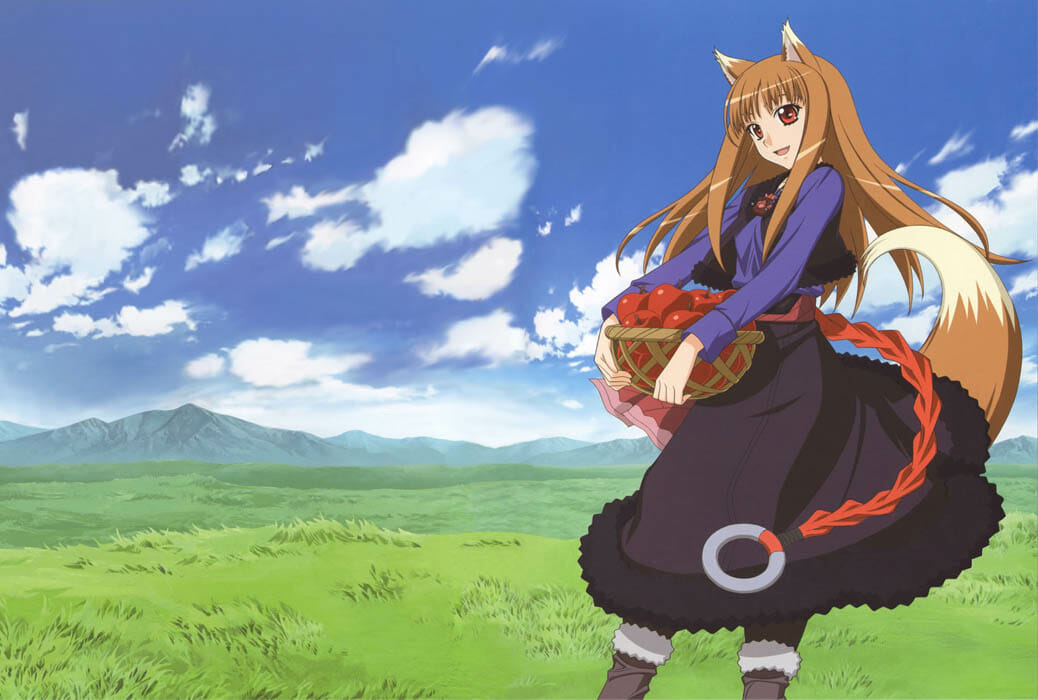 Director: Takeo Takahashi

Writer: Naruhisa Arakawa
Spice and Wolf is an amazingly romantic, adventure, and Fantasy-based anime. The novel Spice inspired themWolf.
The storyline is about Holo, who is a 600-year-old wolf deity. She has spent her entire life in one place only. One day she decided to move on and go to her birthplace in the north. There she meets Kraft Lawrence. His age is 25 years. He is a traveling merchant, trading goods to meet his needs. Holo convinces him to take her along for the adventure.
3. Mythical Detective Loki Ragnarok
Director: Hiroshi Watanabe

Writer: Sakura Kinoshita
Mythical Detective Loki Ragnarok is about a Greek legend where the God Odin banned Loki, a god of mischief. As punishment, he is forced to be a human child.
He redeemed himself to heaven by collecting all the evil characters. But, unfortunately, that affects humans. To complete his task. He starts his detective company, which investigates all paranormal and supernatural activities. During his journey, he befriends many characters, and many of them want to annihilate him.
2. Good Luck Girl
Director: Tomoyuki Kawamura, Yoichi Fujita

Writer: Taketo Shimoyama
Good luck girl is about an anime character named Ichiko Sakura, a high school girl; who is lucky. She is blessed with an unexpected fortune. When gods were writing her future, it had no difficulties. However, this power is now creating an imbalance in the world.
To rectify it, God sends Momijo, the God of misfortune. He will search for Ichiko and take the power of fortune back. To balance the world.
1. KonoSuba
Director: Takaomi Kanasaki

Writer: Makoto Uezu
KonoSuba is about Kazuma Sato. He is dead and transported to the world of Fantasy. There he meets Goddess named Aqua. She asks him to join her new adventure to get the support of all the goddesses there.
To Kazuma's surprise, Aqua is useless and becomes a burden. Nevertheless, they try their best to survive in a world of demons and magic.