For various reasons, some of the finest anime shows have main characters that appear in trios. Three characters add more dynamics to any connection in every given circumstance. There is just only one relationship when there are only two characters. But now, with anime trios, you've acquired a whole slew of links, as any series with three characters has shown.
While most character trios are comprised of good guys, others comprise villains. Some characters are made up of both heroes and villains.
These are among the most significant anime trios of all time, irrespective of the orientation of the unique characters.
20. Ikuto, Naoya and Ryûnosuke Kurosaki
Anime: Maid Sama!
IMDb Rating: 8
Streaming Platform: Hulu and Amazon Prime.
They are among a small group of people that like Misaki Ayuzawa's low-maintenance artwork. They are Misaki's strongest supporters, plus Maid Latte's most loyal customers. The team is comprised of 3 young guys who all attended Seika High School. They were mainly hostile to Misaki at first, but after learning out she worked at a Maid cafe, everyone became her biggest admirers & frequented go to the cafe regularly. Naoya Shirokawa, often known as Shiroyan, is the team's unofficial leader. He was a juvenile at Seisen Middle School alongside Kurotatsu and then attended Seika High.
19. Tanjiro, Zenitsu, Inosuke
Anime:  Demon Slayer.
IMDb Rating: 8.7
Streaming Platform: Funimation, Hulu, Crunchyroll, and Netflix.
These three characters make up one of the favorite trios in history. Apart from their association with the Demon Slayer Legion, it is evident from the moment these three individual characters meet that they have absolutely no feelings.
Inosuke is impulsive, unsocial, and deeply nasty at times, whereas Tanjiro is level-headed, generous, and caring. When you add Zenitsu, the meek, scaredy-cat, to the mix, you've produced one hell of a powerful combination.
18. Sanji, Luffy, Zoro
Anime:  One Piece
IMDb Rating: 8.7
Streaming Platform: Netflix, Crunchyroll, Funimation and Hulu
This trio of crazy, hot-headed, and driven gentlemen is responsible for the show's continued success. Without this group, One Piece would not exist. These three characters are unstoppable and symbolises the crew's most potent force.
Despite their highly different persona, these guys have shared so much in their lives that there's no way to separate them.
Their closeness and unwavering support for one another is precisely what makes them one of the most formidable trios of all time.
17. Misa, Light and Ryuk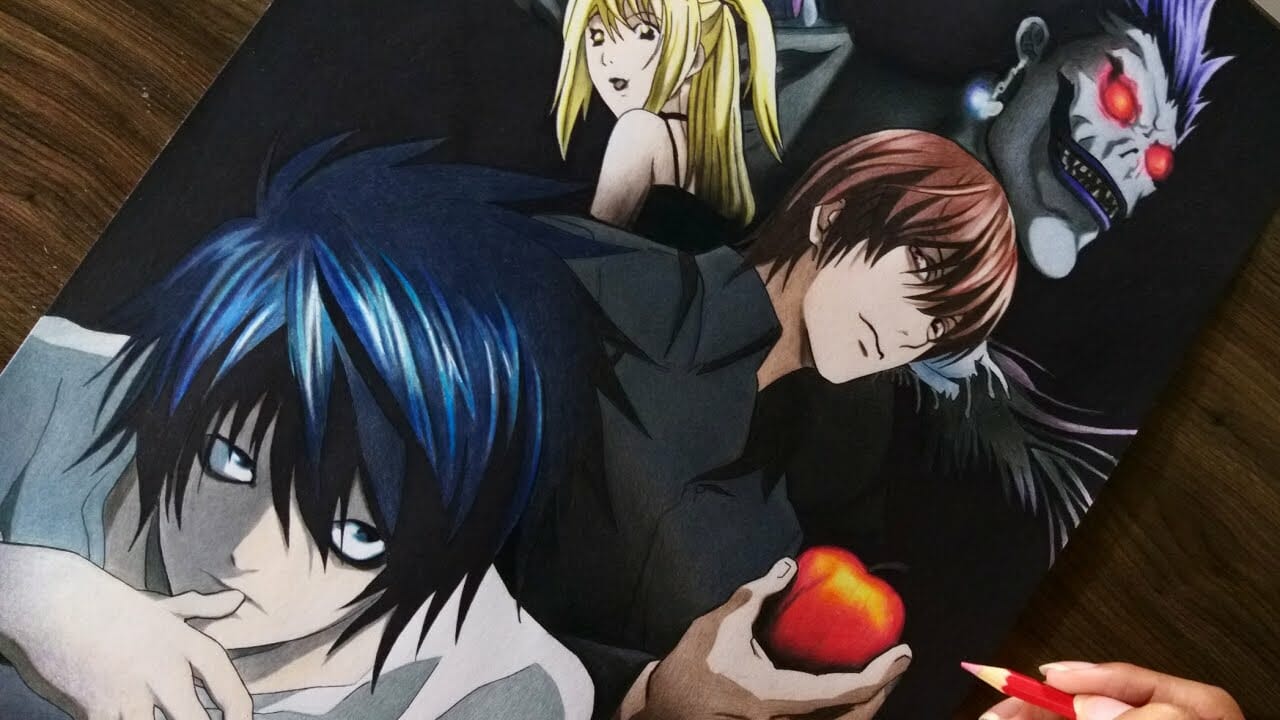 Anime: Death Note
IMDb Rating: 9
Streaming Platform: Hulu and Netflix.
Light Yagami is the most devious, brilliant man I've ever encountered. People despise him and adore L, but I couldn't be that careless. Ryuk is an apple-loving shinigami. In exchange for apples, he performed a lot of things for light.
During the remarkable sequences of Death Note, Ryuk was my lone source of humor.
Misa contributed to the story's enjoyment. Some idiotic individual characters are required to make everyone else appear amusing.
16. Goku, Vegeta, And Piccolo
Anime: Dragon Ball Z
IMDb Rating: 8.7
Streaming Platform: Amazon Prime and Funimation.
Goku, Vegeta, and Piccolo are some of the best trios of all time in this series other than the Vegeta, Nappa And Raditz trio. These three courageous heroes from separate universes who protect the Earth are the most genuine long-running characters.
Goku's positivity contrasts with Piccolo's passivity and Vegeta's cynical wrath. The fact that both Vegeta and Goku are the few of the remaining Saiyans gives them something in common, while Piccolo is always an outsider, which gives them something to connect over.
Both Piccolo and Vegeta were villains before becoming friends with Goku and becoming allies.
15. Daichi, Sugawara, Asahi
Anime: Haikyuu
IMDb Rating: 8.7
Streaming Platform: Netflix, Crunchyroll, Amazon Prime.
Trios are frequently constructed by adding two external characters to the third and primary character, resulting in an unusual friendship relationship. As the anime goes on, their bond grows even more vital.
They certainly realize that life will lead them down separate routes in the future, but they never lose upon their shared ambition and strive hard to make the most of the time they have together.
14. Guts, Griffith, And Caska
Anime: Berserk: Golden Age Arc
IMDb Rating: 7.6
Streaming Platform: Netflix.
Guts, the series' protagonist, joined the Hawks midway but rapidly earned his place and was elevated to Chief of the Hawks' Raiders.
Griffith, the group's commander, seemed to adore Guts, while his assistant commander, Caska, a talented woman, adored Griffith and detested Guts. The psychological soul of the story was developed by the way these three engaged with each other and matured throughout the decades.
13. Natsu, Lucy, And Happy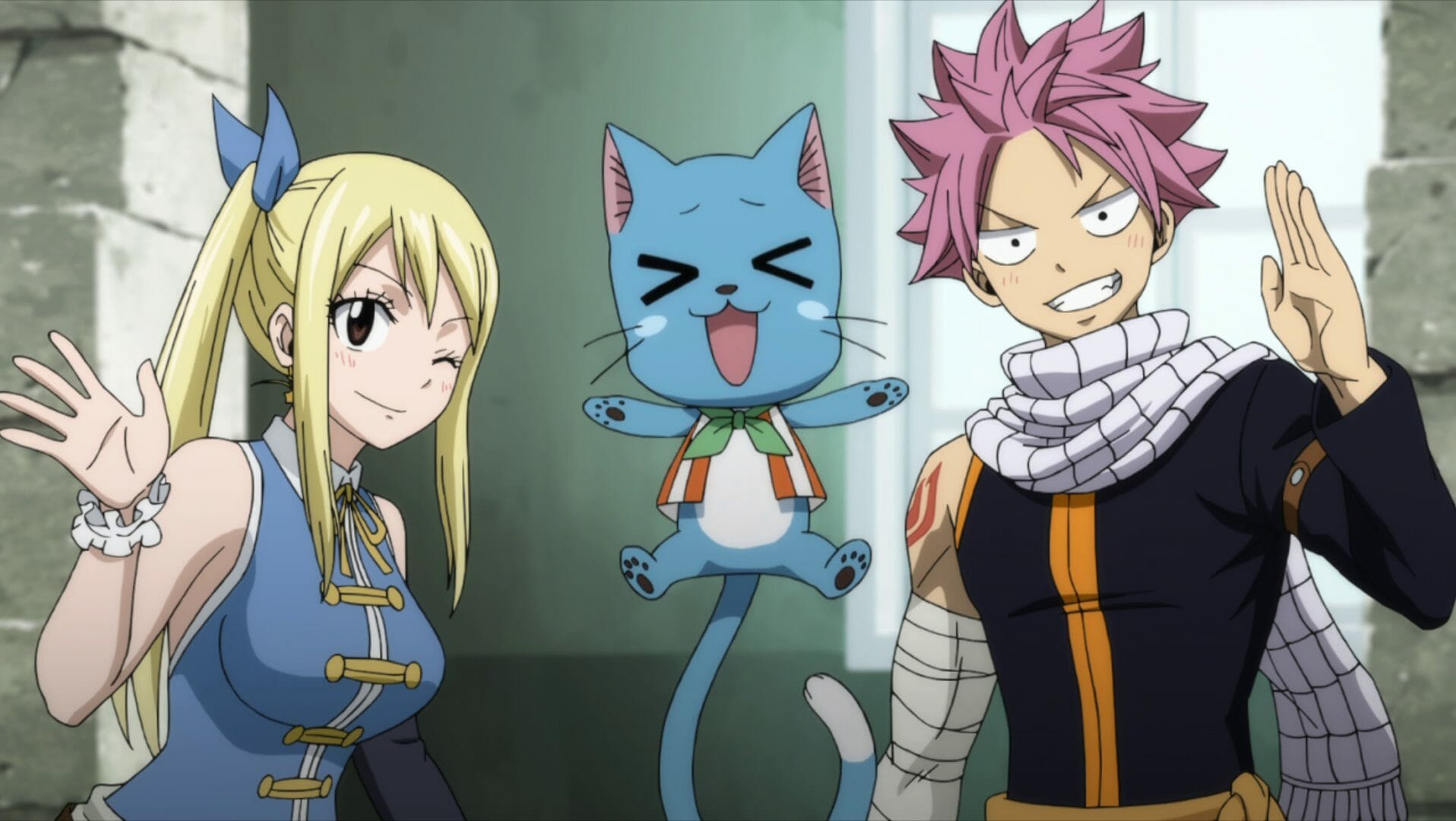 Anime: Fairy Tail
IMDb Rating: 7.9
Streaming Platform: Funimation, Crunchyroll, Amazon Prime, iTunes, Vudu, and Hulu.
Lucy joined Fairy Tail as a result of Natsu's influence. Fairy Tail's companions are just like home to her. Several times, Natsu has kept her alive. They're incredibly connected that neither would go on operations without each other. Lucy has spent a lot of moments both with Happy and Natsu since they are a bundle offer. Amidst his constant taunting of Lucy, Happy is devoted and prepared to go to any length for her, just like all the other representatives of Fairy Tail would. Happy devotes his entire himself to defending her while she reciprocates. He is so attached to her, and the prospect of her departing ends up making him weep.
12. Mugen, Jin, And Fuu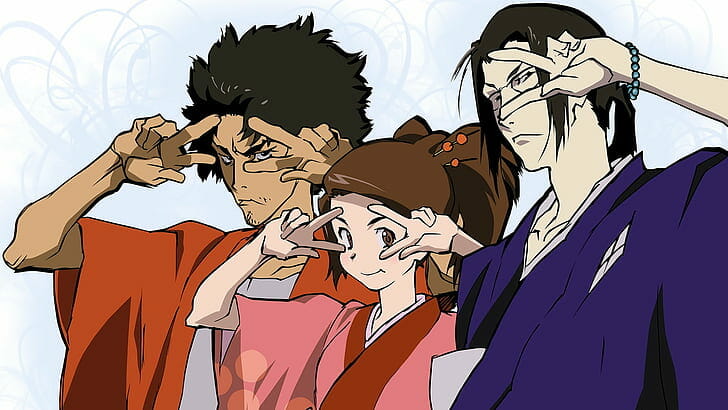 Anime: Samurai Champloo
IMDb Rating: 8.5
Streaming Platform: Hulu and Amazon Prime.
Samurai Champloo is a fantastic anime full of comedy and adventure. The show is amusing not only because of its visual style but also because of the trios that the viewer follows. Even if they tried, Mugen, Jin, and Fu couldn't have been more different characters from one another.
11. Kaminari, Bakugo, Kirishima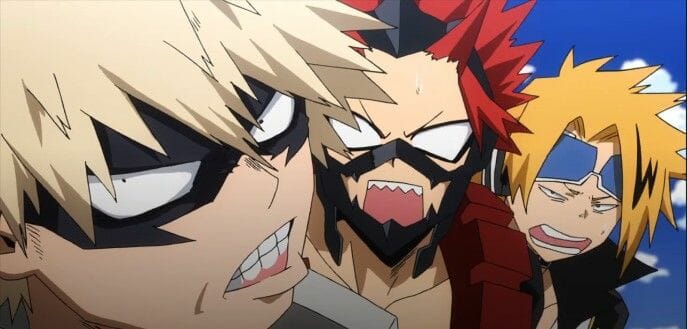 Anime: My Hero Academia
IMDb Rating: 8.4
Streaming Platform: Hulu, Crunchyroll, Funimation and Netflix.
This trio is both shocking and makes complete sense at the same time. Because Kaminari and Kirishima have highly similar characteristics, it seemed inevitable that they would become close friends from the start of anime; nonetheless, incorporating Bakugo into these only two characters' groups was indeed the true bombshell.
10. Ayaa, Hatori, Shigure
Anime: Fruits basket.
IMDb Rating: 8.6
Streaming Platform: Hulu, Netflix and Funimation.
There are several incredible trios in this anime, but Ayaa, Hatori, and Shigure are, without a doubt, the most famous.
The story explores the pasts of all three main characters, revealing the causes for their relationship, which make perfect sense.
Born and raised in such a confined environment with minimal possibility of ever escaping, they discovered the warmth and stability they'd been missing their entire existence in each other, which is what makes this trio so compelling.
9. Edward, Alphonse, And Winry
Anime: Fullmetal Alchemist.
IMDb Rating: 9.1
Streaming Platform: Netflix and Amazon Prime.
Ed, Winry, and Al are excellent friends, even though they ridicule each other daily. Ed & Winry are both obstinate and like arguing, but they seldom remain enraged for longer. he genuinely loves Winry and buries his genuine affection for her to avoid shame.
The Elric siblings, Ed and Al, were born and raised along with an estranged dad, and their friendship developed even closer once their mum died and they lost their identities. Ed is driven to repair Al's body, though it means risking his precious existence. In contrast, Al is determined to ensure that his elder brother doesn't forfeit his compassion or his existence in the process of assisting Al. They stand up and defend one another, and their strong friendship is among the series's cornerstones.
8. Norman, Emma and Ray
Anime: Promised Neverland.
IMDb Rating: 8.4
Streaming Platform: Funimation, Hulu, and Toonami!
This trio manages to bring brightness and warmth to such an ugly and remorseless subject, even though The Promised Neverland is a gloomy and warped production.
Emma is the series' main character, and she is the kindest, most challenging, and most dedicated of the characters. Since they're the eldest kid in the family, this trio has taken it on themselves to look after the younger kid and each other.
Their strong friendship enabled them to depend on one another as their world fell apart, which ought to be acknowledged.
7. Jessie, James and Meowth
Anime: Pokemon.
IMDb Rating: 7.5
Streaming Platform: Pokemon.com and Netflix
Jessie, James and Meowth are the three villains of Team Rocket.
The fact that the protagonists had a recurring false antagonistic force against the good guys helped the anime function so successfully.
Team Rocket evolved from basic thugs to comic foils who contrasted the main protagonists.
6. Himeko, Bossun and Switch: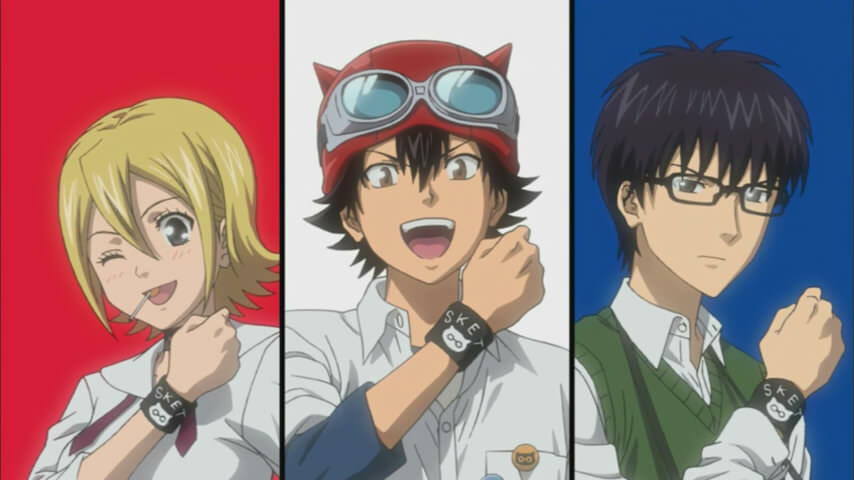 Anime: Sket Dance
IMDb Rating: 7.7
Streaming Platform: Crunchyroll.
Enshrine charity, comfort, and research are all symbols of Sket. Himeko, Bossun, and Switch are the three characters. These are the titles their partners and friends alike refer to them. Himeko is a female criminal renowned for carrying a hockey stick. She is both obnoxious and amusing. The show's primary character is Bossun. Yusuke Fujisaki is his name. He's also the de facto leader of the Sket Dance. He has also shown his ability to work with his hands. The switch is a mysterious individual that refuses to speak. A computer represents him. He is Sket Dance's brains.
5. Spike, Jet and Faye
Anime: Cowboy Bebop.
IMDb Rating:  8.9
Streaming Platform: Hulu Plus and Netflix.
Spike is a laid-back, amiable character who uses Jeet Kun Do to counter enemies' assaults.
Jet is a much more solemn and determined guy with a lot of strength, and he's the perfect opposite for Spike.
Faye decides to accompany the other two on their sailboat. Despite her appearance of being sluggish and pompous, she is the most complex of the three, putting up a fight while also assisting the others.
Indeed Spike Jet and Faye are some of the greatest anime trios.
4. Rei, Shinji and Asuka
Anime: Neon Genesis Evangelion.
IMDb Rating: 8.5
Streaming Platform: Netflix and Amazon Prime.
This trio, Rei, Shinji and Asuka, are the main characters of Neon Genesis Evangelion. However, Shinji is the hero of this anime series.
While Rei, Shinji and Asuka (Neon Genesis Evangelion) is a part of conceptually dense anime with breathtaking graphics and great emotion, this trio's struggle has kept viewers watching.
3. Eren, Mikasa and Armin
Anime: Attack on titan
IMDb Rating: 9
Streaming Platform: Funimation, Crunchyroll, Netflix, and Hulu.
Eren mikasa and armin (Attack on titan).The famous trio from the manga "Attack on Titan" is another fantastic trio of two guys and one little girl in this anime world.
Even though Eren Mikasa and Armin(Attack on Titan) are fundamentally opposed people, they have discovered one another as siblings, built from broken pieces and kept together by the utter depth of their friendship.
Mikasa, Eren and Armin (Attack on Titan)is the protagonist, antagonist, the narrator respectively of this anime.
2. Ash, Misty, Brock
Anime: Pokemon
IMDb Rating: 7.5
Streaming Platform: Pokemon.com and Netflix
It's challenging to make a list of the top trios of all time without discussing the original Pokemon heroes, even if just for nostalgic reasons. This anime trio is one of my favorite trios.
Brock's midday meals, which left everyone wondering how on Earth he managed to put down such a massive pot, and Misty's day in and out murmurings about insects and her bicycle are regrettably a history of ancient days by.
Finally, without this trio of Misty, Brock, Ash isn't quite the same, and this isn't entirely due to his continuous makeover.
1. Naruto, Sasuke, Sakura
Anime: Naruto
IMDb Rating: 8.3
Streaming Platform: Netflix, Amazon Prime and Crunchyroll.
Naruto is the best anime series that almost everyone has heard of and talks about, and naruto indeed has the greatest trios of all time.
This trio of teenage characters, ninjas, Naruto, Sasuke and Sakura, along with their odd connection, their dedication to one another, and the challenges and trials they encounter together, are what truly distinguishes this anime. The trio of Naruto is one of the best trios you could watch.
In Naruto, Sasuke and Sakura's duo is referred to as SasuSaku. These two characters add a romantic twist to this series.
Read More: The Best Anime Duos of All Time