One of the most thrilling and action-based lists of best apocalyptic anime or post-apocalypse anime. Anime has become one such go-to place to watch a wide variety of shows and movies based on the apocalypse anime theme. Apocalypse anime, the name itself says it all! the content is about apocalypse.
The world's suffering emotional and mental traumas have already been the common themes of the filming world. But interestingly, Amine has taken over the world by surprise with its different genres and themes, such as Post Apocalyptic Anime.
Apocalypse or Post-Apocalypse Anime 
Post Apocalyptic worlds are often full of a dark story, world suffering, Earth's surface, God eater, humanoid monsters, alien invasion, natural disaster, nuclear war, mysterious creatures, mysterious virus, malfunctioning robots, bloodthirsty ghouls, humans survived, the human race, new world, zombie apocalypse and psychic powers.
Following is a list of top-rated and worth watching post-apocalyptic anime series/movies for the super enthusiastic and greatest anime fans. In the near anime history, these shows have left an imprint on the idea of what an anime tells through its strong plot and remarkable performances by every individual main character.
25. Casshern Sins
What is a telltale sign that your planet is about to experience hardship? having two apocalypses instead of just one. Humanity is first wiped out by immortal, sentient machines. The search for Casshern, a robot/human hybrid who holds the key to restoring robot immortality—but only if he is consumed—begins when the robots lose their immortality.
Casshern Sins strives to depict a world that is genuinely alien, making it the complete opposite of a slice-of-life anime in many ways. Although Cassern's amnesia may be a worn-out trope, the show consistently uses it to interesting effect as Casshern tries to figure out why everyone wants him dead.
24. Gargantia On The Verdurous Planet
The post-apocalyptic state of the inhabitants of Gargantia on the Verdurous Planet is so advanced that they even believed that Earth, the planet where humanity originated, was a myth. That is, until Ledo, a time traveler, awakens from stasis with the help of his mech.
Some of the humans managed to survive, but they were still plagued by the warlike alien species that had destroyed most of their works of art. One of the visually stunning anime on this list, Gargantia on the Verdurous Planet is a delight for fans of the sci-fi genre.
23. Coppelion
Coppelion ought to be the perfect choice for you if you're looking for something more grounded in reality. It is a post-apocalyptic anime that is set in a setting that is somewhat contemporary and depicts an apocalypse brought on by a nuclear meltdown, much like what occurred at Chernobyl.
Three cute girls have managed to survive the radiation and are now tasked with searching for survivors in the barren wasteland. They discover some threats and dangers during their search that are greater than a nuclear meltdown itself.
22. From The New World
It is also very new and traumatic to experience From the New World. But don't let that stop you from watching; it's just as beautiful as it is macabre or upsetting. Teenagers with the ability to telekinesis are central to the narrative.
A small portion of the population started acquiring the same abilities, and as a result, war and chaos broke out naturally, destroying civilizations. The world (what is left of it) is once again in danger of being destroyed as the gifted people attempt to find their own country.
21. Fist Of The North Star
Fist of the North Star is essentially Mad Max with martial arts, gory, and action that is over the top. Additionally, it takes place in a devastated Japan where murderous gangs fight for dominance and control of what little is left.
Then, Kenshiro shows up, who had the unfortunate experience of having his fiancee abducted by a former rival. Kenshiro uses his fists and martial arts skills to straighten up the twisted post-apocalyptic landscape and its inhabitants while saving her. Not as easy as it sounds.
20. God Eater (TV Show 2015)
Director: Takayuki, Hirao
Writer: Kei Tsunematsu, Takayuki Hirao
Cast: Cherami Leigh, Robbie Daymond, Kira Buckland, Crispin Freeman, Patrick Seitz, Mary Elizabeth McGlynn, Wendee Lee, Erika Harlavher, Kyle Hebert
IMDb Rating: 7/10
Platforms Available: Crunchyroll, Netflix
This is another anime with thrilling adventures between monsters and human beings.It seems that the monsters have become so capable and powerful that they have driven away the whole humanity bit by bit.
This is when comes Fenrir, an organization that works in multiple teams to restore harmony peace and bring back the planet to its natural state. It was a state that it was before the apocalypse and a state of immense development.
19. Wolf's Rain (TV show 2003)
Director: Tensai Okamura
Writer: Keiko Nobumoto
Cast: Kenta Miyake, Darren Pleavin, Crispin Freeman, Akio Suyama, Jonny Yong Bosch, Mamoru Miyano, Joshua Seth, Mona Marshall, Hiroki Shimowada
IMDb Rating: 8/10
Platforms Available: Funimation Now, Apple iTunes (Buy)
If what tempts you about an anime is the giant's creatures or the presence of animals within the story plot. Here, Wolf's Rain is the shower of many such wolves.
The plot opens up as the wolves transform into the human species form and live amongst the common public, just becoming one of them.
The primary reason behind this human form is to obtain paradise and get rid of those hunting them down.
18. Chrome Shelled Regios (TV Show 2009)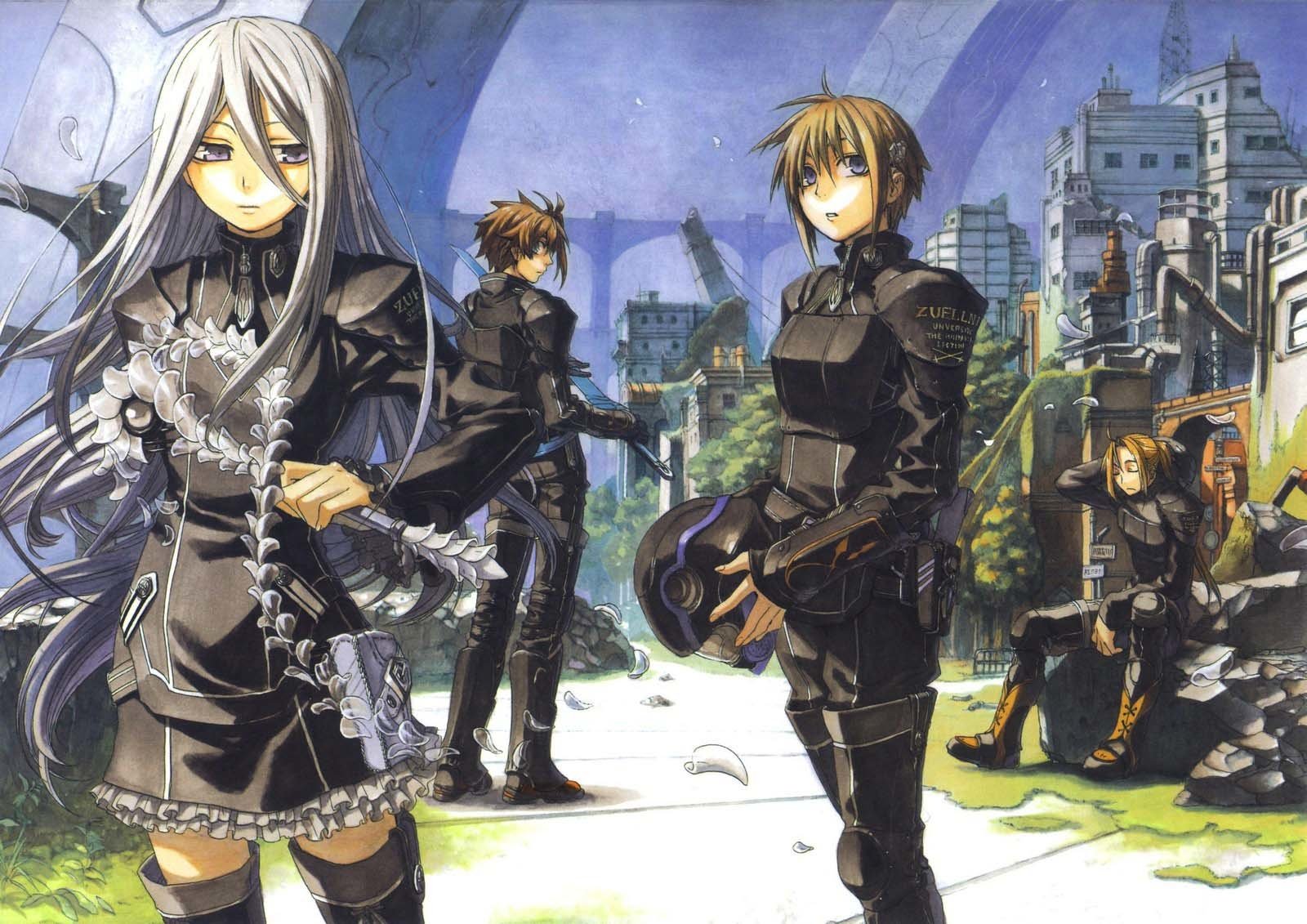 Director: Chris Cason, Itsuro Kawasaki, Hiroaki Tori
Writer: Sean Whitley
Cast: Brina Palencia, Vic Mignogna, Alexis Tipton, Kyle Hebert, Terri Doty, Chris Cason
IMDb Rating: 7.1/10
Platforms Available: Funimation, Animax Asia, Amazon Prime
The story begins as the audience is introduced with 'Contaminoids', the insect kind of monstrous creatures living within the Chrome Shelled Regios with no shame.
This is causing humans their whole life. A thread that is simply life-threatening is posed directly towards the human world.
Thus, we believe that the brave warriors are the only ones who can save humanity and the dear land from the apocalypse. So, here in this city resides an academy named the academy city of Zuellni.
This is known as the training centre that helps and will continue to help the brave fighters by giving their full support in weapons and equipment to fight this apocalyptic or complete disaster situation.
One such recent enrolled member of the academy is Layfon. He seems to live an indifferent life yet fully committed to saving the world and the people who live in it.
Also, this isn't just the end of the story. As with time, the viewers will also learn of the deep personal past and potential powers hidden with Layfon.
17. Now and Then, Here and There (TV Show 1999)
Director: Akitaro Daichi
Writer: Hideyuki Kurata
Cast: Dan Green, Crispin Freeman, Ted Lewis, Lisa Ortiz, Dan Olk
IMDb Rating: 7.9/10
Platforms Available: Crunchyroll
The story takes off with a boy named Shu, who tries his luck to be introduced to a girl with the blue-hairs one fine day.But unfortunately, his life changes when he and the girl are kidnapped and travel to a new world named Hollywood.
Interestingly, this chase has caused a mysterious power discovery that the girl chased consists of magical powers to generate water.Knowing that Hollywood is facing severe drought, the evils who live there embark on a mission to get hold of the girl's elemental power.
16. The Promised Neverland (TV Show 2019-2021)
Director: Mamoru Kanbe
Writer: Toshiya Ono, Kaisu Shirai
Cast: Sumire Morohoshi, Mariya Ise, Nao Fujita, Lynn, Shinei Ueki, Yoshino Aoyama, Yuuko Mori, Koko Hayashi, Mari Hino
IMDb Rating: 8.4/10
Rotten Tomatoes Rating: 100% & 59%
Platforms Available: Netflix, Crunchyroll, HBO max, Funimation and Hulu
As the name suggests, a promised neverland is a promising tale of a place house called Grace Field House, which was initially the most magically living place.
As the story proceeds, a little 11year old girl named Emma discovers the secretive purpose planted in this orphanage. Thus, the girl becomes reluctant to escape and step out of this trapped house.
A story about a girl who no longer wants to be a part of a place that is nothing compared to what was promised to her, like a promised neverland.
Throughout the story, Emma attempts to find opportunities to break from her orphanage's caretaker.
15. Black Bullet (TV show 2014)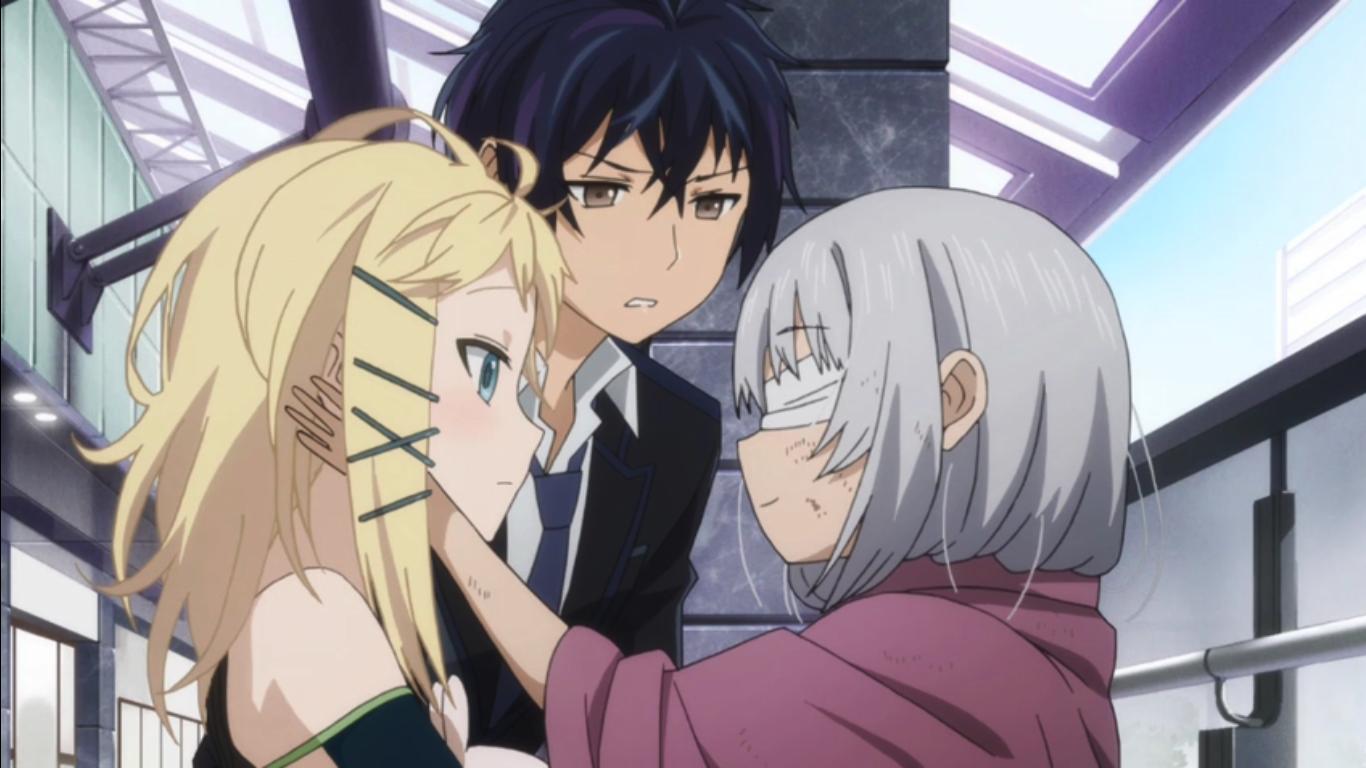 Director: Masayuki Kojima Hiroshi Ikehata,
Writer: Tatsuhiko Urahata
Cast: Yuki Kaji, Christina Marie Kelly, Luci Christian, Caithynn French, Chris Patton, Tiffany Grant, Mark Laskowski, Nancy Novotny
IMDb Rating: 6.9/10
Platforms Available: Amazon Prine, Netflix and Crunchyroll
Black bullet consists of a land full of crazy and havoc creating giant creatures. However, the land is full of humans and absurdity on the other side.This is simply due to the freedom these ghouls roam around, considering it as their native land.
Interestingly, to avoid this chaos and neucence, a pair named Enju and Rentaro team up to protect their planet from the spreading of this newly discovered virus named Gastrea virus.
This virus seems to have affected the whole of humanity. Therefore, the duo comes together with a sincere promise to bring these marginalized girls to light who have been otherwise strongly neglected.
May it be two to three girls, or the more comprehensive number affected. The priority seems to save them all.
14. No.6 (TV show 2011)
Director: Ikuro Sato, Shinpei Miyashita, Hisatoshi Shimizu, Kenji Nagasaki
Writer: Seishi Minakatni
Cast: Yuki Kaji, Yoshimasa Hosoya, Greg Ayres, Luci Christian, Kalob Martinez, Kiyono Yasuno, Hilary Haag
IMDb Rating: 7.4/10
Platforms Available: Crunchyroll
It is a modern style story dating back to the time after the war. This war had created a post-apocalypse state all around the planet, dividing mankind into six different parts precisely.
No.6 seems to be the highlight of all the six cities. The story unfolds within the settings and parameters of this city. Thus, two of the most wanted by the custody plays the most significant roles in the entire story that follows. These two fugitives are Nezumi and Shion namely.
These two have a deep-rooted connection within the story. As the story proceeds, years later, Shion and Nezumi unite to solve the mysterious murders happening across the city. Also, their bonds to starts to flourish with time.
13. Seraph of the End (TV show 2015)
Director: Daisuke Tokufo
Writer: Monica Rial, Hiroshi Seko
Cast: Micah Solusod, Miyu Latino, Nobuhiko Okamoto, Saori Hayami, Chris Burnett, Felecia Angelle, Kaito Ishikawa, Kensho Ono
IMDb Rating: 7.5/10
Rotten Tomatoes Rating: NA
Platform Available: Netflix
What does a world look like when humankind above the age of 11years have been killed? This story follows the cru slavery lives that these little orphan children are forced to experience. Also, these emergent creatures are not ordinary human souls but are the wildest vampires.
One such enslaved person named Yuichiro Hyakuya vows to himself and every other child trapped in this dangerous situation to take definite revenge. He promises to make the vampires pay for the harm they have caused to humankind.
Just when escapism seemed impossible, Yuichiro stood up and declared to fight against the injustice that has been done and is continuously happening to the little children of the planet earth in this post-apocalyptic era.
12. Made in Abyss (TV show 2017)
Director: Masayuki Kojima, Hitoshi Haga
Writer: Keigo Koyanagi, Hideyuki Kurata
Cast: Mariya Ise, Miyu Tomita, Brittany Lauda, Luci Christian, Shelley Calene-Black, Maaya Sakamoto
IMDb Rating: 8.4/10
Platforms Available: Amazon Prime Video, HiDive, Spectrum, DIRECTV on Demand
Here is another story with another plot. This one revolves around the little girl and her adventures which are completely towards finding her mother.
To do so, the girl befriends a robotic humanoid friend, makes him a companion and steps forward towards another world in search of her beloved mother.
The other world has its own rules and regulations, which calls for new and wild adventures. With the full support of her new friend, the girl is determined to bring back her lost mother from this other land.
11. Humanity has declined (TV show 2012)
Director: Seiji Kishi
Writer: Yumiko Ayana, Jun Kumagai
Cast: Mai Nakahara, Unsho Ishizuka, Hisako Kanemoto, Satani Akrsaka, Nozomi Sasaki
IMDb Rating: 7.4/10
Platforms Available: Amazon Prine and Crunchyroll
Humanity has declined the world of fairies. Yet, this world lives just alongside the human world. This girl fairy seems to act as the primary medium for the communication between two worlds that live poles apart.
The story is set in a village named Kusunoki. Following maintaining the peace and harmony between the two worlds, this fairy comes down to this small town. The series follows her throughout her short and big adventures.
So, if you are craving to experience a post-apocalyptic world that is somewhat far from the dark-themed, nuclear war, deep hatred or action-based series can go with this new world post-apocalyptic story.
10. Desert Punk (TV Show 2004-2005)
Director: Takayuki Inagaki
Writer: Hiroshi Yamaguchi
Cast: Cole Brown, Eric Vale, Luci Christian, Chihiro Suzuki Tamio Oki, Justin Cook, Jeremy Inman
IMDb Rating: 7.3/10
Platforms Available: Hulu (Free Trial), Crunchyroll
An interesting manga series that sprinkles adventure, post-apocalyptic and comedy within one plot.The story is structured in the future time, a unique setting where the audience will experience Japan in the deserted form.
Kanta Mizuno (Desert Punk), a skilful, adventurous and daring mercenary, plays the whole series's central role.
The series is structured around his unique and incredible adventures. In this series, he seems to have earned the attention of the lit as the main character.
Within the story, we see him making friends and even enemies. But unfortunately, the list of enemies seems to exceed the list of friends that he ends up making.
Along with Kanta, the audience becomes familiar with other supporting casts. The cast, the story and the themes seem to sync well and collectively brings out an entertaining anime story.
9. Dr Stone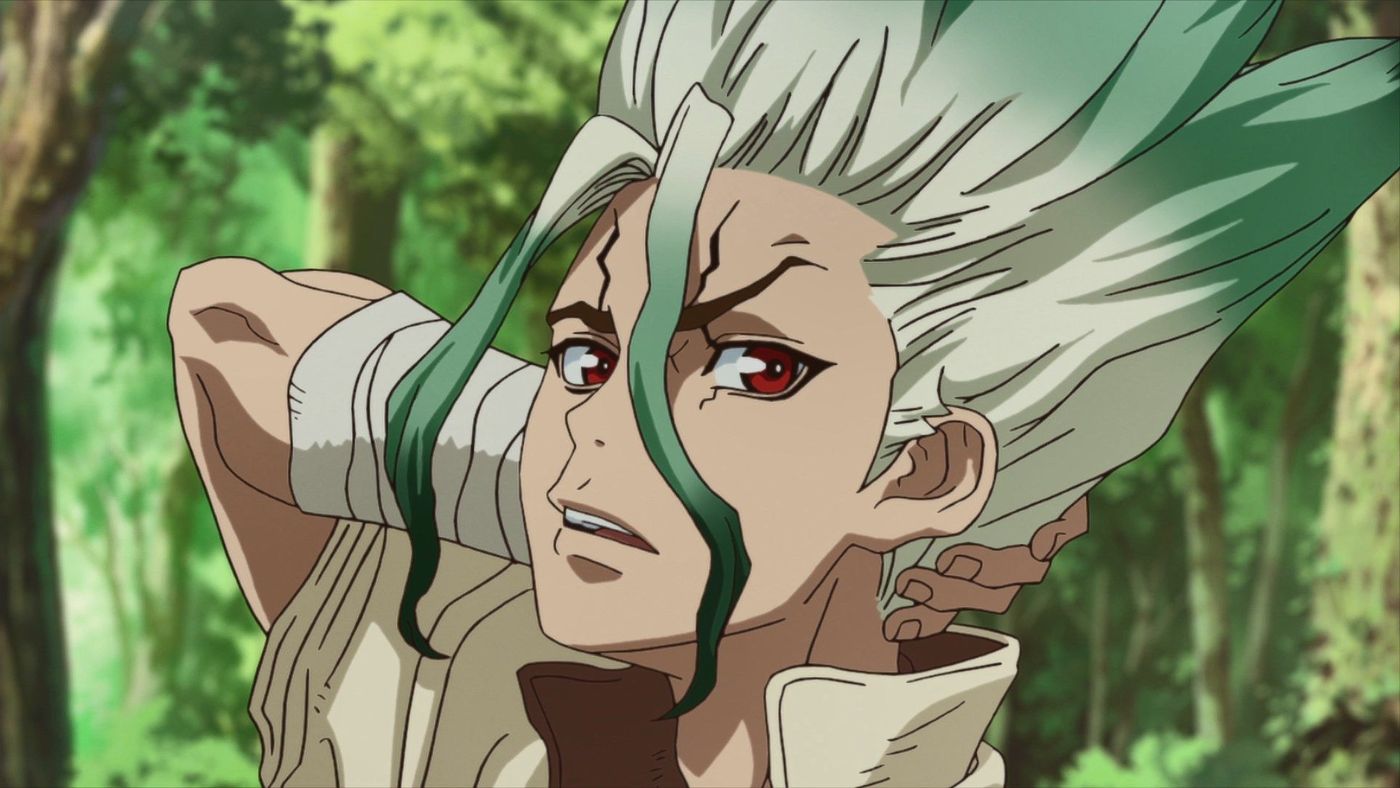 Director: Shinya Iino
Writer: Boichi, Riichiro Inagaki, Yuichiro Kido, Tyler Walker
Cast: Yusuki Kobayashi, Manami Numakura, Ayumu Murase, Grn Sato, Tomoaki Maeno, Karin Takahashi
IMDb Rating: 8.2/10
Rotten Tomatoes Rating: 91%
Platforms Available: Amazon Video, iTunes
This is another excellent plot with a significant plot twist that forms the center of the storyline. This is to say that in the Petrification age where the whole planet has been drastically turned into the stone world just within a blink of an eye, just when a sudden flash of light struck the planet.
In this sudden post-apocalyptic situation, some of the humans left from the pre-pacification age seem to have lightened up with a hope to restructure, rebirth or rebuild the whole humanity or the civilization and give the world live again.
8. Trigun anime (TV show 1998)
Director: Satoshi Nishimura
Writer: Yasuhiro Nightow, Yosuke Kuroda
Cast: Johnny Yong Bosch, Masaya Onosaka, Hiromi Tsuru, Dean Wein, Dorothy Elias-Fahn, Lia Sargent, Satsuki Yukino
IMDb Rating: 8.2/10
Rotten Tomatoes Rating: 100% & 75%
Platforms Available: Netflix
This is a fictional story with a fictional land known as No man's land. A gunman named Vash the Stampede within this planet lives or instead thrives to survive. This gunman is popularly known for his bounty hunting.
This is often considered a great anime that every Anime or Japanese manga series fan must contemplate. The story has been assigned with a narrator, who works towards thrilling processing of the story.
This gives the story a much more powerful and live experience. Resulting in making it an overall worth it watching experience.
7. Tokyo Ghoul (TV Show 2014)
Director: Shuhei Morita
Writer: John Burgmeier, Aaron Dismuke, Sui Ishida
Cast: Natsuki Hanae, Mamoru Miyano, Austen Tindle, Sora Amamiya, Brina Palencia, Sean Hennigan
IMDb Rating: 7.8/10
Platforms Available: Hulu Plus, Netflix, Crunchyroll
This Anime is structured around humans and ghouls living together on the same planet Earth. Interestingly, both species share multiple similarities, but one difference still keeps the human race separated from the ghouls: their desperate need or unpredictable cravings to eat human flesh.
Ken Kaneki and Preety Rize when goes out on a fancy date. The date turns disastrous as Ken Kaneki soon realizes the harsh truth that Rize is not in love with him but is only after his human flesh.
Thus, Kaneki Ken officially becomes the first-ever half-ghoul hybrid and has initially been human flesh.
This dark reality revealed to him the terrifying world of ghouls, and he got the chance to discover the mysterious life that has been secretively living along with the human being.
6. Ergo Proxy (TV Show 2006)
Director: Shuko Murase
Writer: Dai Sato
Cast: Koji Yusa, Liam O'Brien, Akiko Yajima, Rie Saito, Rachel Hirschfeld, Megan Hollingshead, Sanae Kobayashi
IMDb Rating: 8/10
Rotten Tomatoes Rating: 86%
Platforms Available: Netflix
A unique tale that unites humans to the outside world ever since the apocalypse. In this post-apocalypse scenario, the coexistence of the opposites thankfully forms instead of a peaceful bond and result in depicting a utopian state.
But this piece does not last much longer. A very diverse virus soon approaches the AutoReiv-android and gives them a sense of self-awareness. This turns them Opposite to what were harmoniously living together till now.
5. Kabaneri of Iron fortress (TV Show 2016)
Director: Tetsuro Araki
Writer: Ichiro Okouchi
Cast: Roger Craig Smith, Collen O'Shaughnessey, Robbie Daymond, Ben Diskin, Abby Trott, Jamieson Price, Richard Epcar, Veronica Taylor
IMDb Rating: 7.2/ 10
Rotten Tomatoes Rating: 100%
Platforms Available: Netflix
This is an exciting series with dark fantasy and apocalypse as its central genre. This series is set during the time of the industrial revolution.
A shocking and scary emergence of some creepy undead giant-sized monsters has come down to already suffering Earth. The only possible way to get rid of these dynamically sized monsters named Kabane is by fiercely piercing its heart with an iron plate.
4. Tengen Toppa Gurren Lagann (TV Show 2007)
Director: Hiroyuki Imaishi
Writer: Kazuki Nakashima
Cast: Yuri Lowenthal, Sam Riegel, Karen Strassman, Jonny Yong Bosch, Steve Blum, Barbara Goodson, Marina Inoue, Stephanie Sheh, Jamieson Price
IMDb Rating: 8.3/10
Rotten Tomatoes Rating: 100% & 88%
Platforms Available: Netflix, Hulu (Free trial)
This is one of the highly rated sci-fi anime series that takes us and the whole of humankind on a trip to the future, a future of the make-believe type. Here, humans are forcefully made to live underground. So interested, they face many significant challenges, such as a severe earthquake.
Two humans named Kamina and Simon, who have knowingly been orphans, dare to find my possible way to successfully and safely crawl back to the Earth.
3. Highschool of the Dead (TV Show 2010)
Director: Tetsuro Araki
Writer: Yosuke Kuroda
Cast: Leraldo Anzaldua, Junichi Suwabe, Nobuyuki Hiyama, Eti Kitamura, Taylor Hannah, Hitomi Harada
IMDb Rating: 7.2 /10
Platforms Available: Hulu (Subscription)
In Japan, this show is popularly known called as Apocalyptic Academy Highschool of the dead. This is an adaptation of a popular manga series. The show centers around the survival of childhood friend bonds, school life or the teens as a whole.
The story follows the massive destructive condition that surrounds the streets of Japan. One such high school is spotlighted in the form of a series.
Many high school students, staff, single girls and even nurses are stuck within this severity of apocalypse. In this series, the audience closely witnesses the zombie apocalypse.
2. Neon Genesis Evangelion (TV Show 1995-1996)
Director: Hideaki Anno. (AD: Masayuki, Kazuya Tsurumaki)
Writer: Hideaki Anno, et al
Cast: Spike Spencer, Allison Keith-Shipp, Sue Ulu, Amanda Winn Lee, Guil Lunde, Tristan MacAvery, Tiffany Grant
IMDb Rating: 8.5/10
Rotten Tomatoes Rating: 100%
Platforms Available: Netflix
This is the next adventurous psychological drama where a young man, on the strict command of his dictatorial father, with the help of some giant-sized machines, work towards driving away those menace monsters who have come to the Earth to cause a severe level of post-apocalyptic landscape destruction.
Interestingly, these machines which are used to have their pros and cons. Thus, making it a show that comes with multiple approaches.
1. Attack on Titan (TV Show 2013-Present)
Director: Tetsuro Araki, Masashi Koizuka, Yuichiro Hayashi, Jun Shishido
Writer: Yasuko Kobayashi, Hiroshi Seko, Shintaro Kawakubo
Cast: Yuki Kaji, Marina Inoue, Yui Ishikawa, Josh GGrelle, Bryce Papenbrook
IMDb Rating: 9/10
Rotten Tomatoes Rating: 96%
Platforms Available: Hulu (free trial), Amazon Prime and Netflix (Season 1)
Attack on Titan is our first pick as the must-must watch post-apocalyptic anime series. It has been ranking top in the list for many decades. It starts with the introduction to the walls of humanity; it is considered as the safe zone. Soon, the story follows the man-eating titans. Titans are known to be anonymous and live threatening giants who broke into the walls of humanity.
Further, one such human race which witnessed his close one in danger makes an abrupt vow to take revenge on these titans. Thus, he calls a group of friends to save the Earth as this is the only way out.
Related: The 20 Best Anime on HBO Max To Watch Right Now
Conclusion 
Japanese Anime goes back to the time of vast anime history. A time that has now completely changed and developed. New themes and new genres of Anime like the prevalent ones these days, such as apocalyptic or post-apocalyptic Anime.
Under this wide variety of elements are covered. Natural disasters, new viruses, creepy and ghoul creators, monsters, giant creatures and even robots are used. The above list is not entirely the only anime series that one should watch but doubtlessly a great list to get started with the best possible must-watch post-apocalyptic Anime.
You are entirely free to read the details of each and after going through thorough background research, start with the one that is first perfect.