Often, we use the words "anime" and "cartoons" interchangeably without even realizing that they are two different things. Both, however, have their own distinct characteristics. Cartoons often adopt caricatures. We've got some recommendations for you if you want to watch best anime on Netflix. Right now, you can have a look at the anime movies on Netflix.
They are intended to evoke a sense of humor into the story, and whose features are far removed from reality. An anime is usually a Japanese style of motion-picture animation.
Above all, the non-live-action world has been dominated by anime movies and TV shows for years, garnering millions of dollars thanks to the cult following they have gained.
Streaming services like Netflix have become very popular in recent years. There are many good shows and movies to choose from. As a result, Netflix has started producing its own films and series under the Netflix Originals brand.
Netflix has so far shown immense potential to tackle anime originals, even though it hasn't fully embraced the genre. We can therefore expect to be able to watch some of our favorite anime on the site sooner rather than later.
25. Neon Genesis Evangelion: The End of Evangelion
Director: Hideaki Anno, Masayuki, Kazuya Tsurumaki
Cast: Megumi Ogata, Megumi Hayashibara, Kotono Mitsuishi
IMDb Ratings: 8.1
Rotten Tomatoes Score: 100
Streaming Platform: Netflix
Set 15 years after "Angels" attack Tokyo-3, the series, Neon Genesis Evangelion: The End of Evangelion takes place in that city. Humans fight Evangelions, or EVAs, colossal extraterrestrial lifeforms that have been created by the organization NERV.
As a teenager, Shinji Ikaru pilots an EVA unit, piloted by Gendo Ikari's estranged son Shinji. He is accompanied by teenagers Rei Ayanami and Asuka Langley, both of whom pilot Units 00 and 02.
Watching the animated series (or doing some research on it) is necessary before diving into "The End of Evangelion" as an anime movie.
There is no doubt that the visuals of the film are its greatest asset, as they were impressive for the period. It is indeed one of the best-animated movies. It is a classic science fiction anime series.
24. A Silent Voice
Director: Naoko Yamada
Writer: Reiko Yoshida
Cast: Miyu Irino, Saori Hayami, Aoi Yûki
IMDb Ratings: 8.1
Rotten Tomatoes Score: 95
Streaming Platform: Netflix
The drama "A Silent Voice" (2016), based on a manga of the same title, is a heartbreaking story of forgiveness and healing after bullying. An 11th grader who plans to commit suicide is thwarted at the last minute by Shoya Ishida, who is in the middle of it. Shoya instead seeks forgiveness and redeems himself.
As a result of Shoya's bullying of Shoko Nishymiya, another deaf transfer student, the two had a fight, and Shoko had to transfer from the school. As a consequence of Shoya's identification as Shoko's bully, the other students bullied him in turn.
His search turned up Shoko's notebook, which she used to communicate with people not familiar with sign language, in A silent Voice. As Shoya prepares to apologize to Shoko at the sign language center, he turns to look for a friend instead. With such powerful editing and music, "A Silent Voice" is one of the best anime films released in the past few years.
23. Flavors of Youth
Director: Yoshitaka Takeuchi, Haoling Li, Jiaoshou Yi Xiaoxing
Cast: George Ackles, Taito Ban
IMDb Ratings: 6.6
Rotten Tomatoes Score: 80
Streaming Platform: Netflix
The anime "Flavors of Youth" (2018) was a co-production between Japan and China. This anime, produced by Haoliners Animation League and CoMix Wave Films, was released in 2018. This anime drama movie can be divided into three stories: The Rice Noodles, Love in Shanghai, and The Olive Tree.
"The Rice Noodles," the debut episode, is a visually striking short about the way food is able to evoke memories. "A Little Fashion Show," the second episode, explores, in addition to caring for her little sister, Yi Lin struggles with finding her place in an industry that values youth and beauty.
In 'Love in Shanghai,' the third episode, as the title suggests, Li Mo, who just graduated, reflects on the regrets of his childhood after he finds an old cassette tape and goes back home to listen to it. There are no direct connections between the stories, but they each explore similar themes, and the mix of animation styles creates a visually compelling whole.
22. In This Corner of the World
Director: Sunao Katabuchi
Writers: Sunao Katabuchi, Fumiyo Kono
Cast: Non, Ava Pickard, Kenna Pickard
IMDb Ratings: 7.8
Rotten Tomatoes Score: 97
Streaming Platform: Netflix
This Corner of the World should be on the list of one of the greatest anime movies in the 2010s. The historical drama movie revolves around our protagonist named Suzu who lives in Hiroshima during World War II. An anime movie depicts the hardships that the people of Hiroshima endured at that time, such as hunger and anxiety.
21. Cowboy Bebop: The Movie
Director: Shinichirō Watanabe
Writers: Keiko Nobumoto, Hajime Yatate
Cast: Beau Billingslea, Melissa Fahn
IMDb Ratings: 7.8
Rotten Tomatoes Score: 66
Streaming Platform: Netflix
An anime movie adaptation of Cowboy Bebop, which became popular in Japan and internationally in 1999, Cowboy Bebop: The Movie has been released. A terrorist attack kills 400 people on Mars the week before Halloween in 2071, where the Bebop crew follows the crew's investigation. There are action scenes as well as science fiction elements.
20. Okko's Inn
Director: Kitarō Kōsaka
Writer: Reiko Yoshida
Cast: Seiran Kobayashi, Nana Mizuki, Satsumi Matsuda
IMDb Ratings: 7
Rotten Tomatoes Score: 100
Streaming Platform: Netflix
Having lost both of her parents in a car accident, Okko, a young girl moves to the country with her grandmother and stays at an inn built on top of an ancient spring whose healing waters are believed to be flowing.
She discovers there are ghosts that live in the inn, but they are not scary ones, but she can see their apparitions as she carries out her chores and prepares for her new role as an innkeeper.
19. Berserk: The Golden Age Arc
Director: Toshiyuki Kubooka
Writer: Ichirō Ōkouchi
Cast: Hiroaki Iwanaga, Carrie Keranen, Takahiro Sakurai
IMDb Ratings: 7.5
Rotten Tomatoes Score: 100
Streaming Platform: Netflix
Another anime-TV-show-turned-movie series, "Berserk: The Golden Age Arc" is a trilogy that was inspired by the manga of a similar title. It's based on the TV series from the '90s, which consisted of twenty installments, and unlike the series, the films start from the very beginning, while the TV show explored some of the same stories. There is no time limit, so you can start watching "Berserk: The Golden Age Arc" right away.
Guts, a mercenary who is forced to join the Band of the Hawks after losing a duel with Griffith, is the focus of "Berserk: The Golden Age Arc".The CGI animation isn't very good. Nonetheless, the "Berserk" trilogy is bound to be a hit and is sure to amaze newcomers as well as die-hard fans.
18. A Whisker Away
Director: Junichi Sato, Tomotaka Shibayama
Writer: Mari Okada
Cast: Mirai Shida, Natsuki Hanae, Johnny Yong Bosch
IMDb Ratings: 6.7
Rotten Tomatoes Score: 93
Streaming Platform: Netflix
An anime movie named Whisker Away, released in 2020, is exclusively available on Netflix. The story revolves around Muge, a teenage girl who falls for another character named Kento. She has a magical mask that transforms her into a cat. It is a perfect anime movie.
17. Violet Evergarden: Eternity and the Auto Memory Doll
Director: Haruka Fujita, Taichi Ishidate
Writers: Kana Akatsuki, Reiko Yoshida
Cast: Yui Ishikawa, Minako Kotobuki, Aoi Yûki
IMDb Ratings: 7.4
Rotten Tomatoes Score:
Streaming Platform: Netflix
This year is the first movie the franchise has produced a movie, as it is based on a manga series named Violet Evergarden and a TV adaptation of the same name. A ghostwriter is simply a fancy way of describing Violet Evergarden, who is the titular character in the book. In two parts, the story unfolds.
A young lady close to the royal family, Isabella York, needs some help learning manners during the first half of the play. Despite Isabelle's estranged relationship with her younger sister, Taylor, Violet helps her write a letter to her. Taylor becomes a postman at Violet's workplace during the next part of the show, Eternity and the Auto Memory Doll.
16. Spirited Away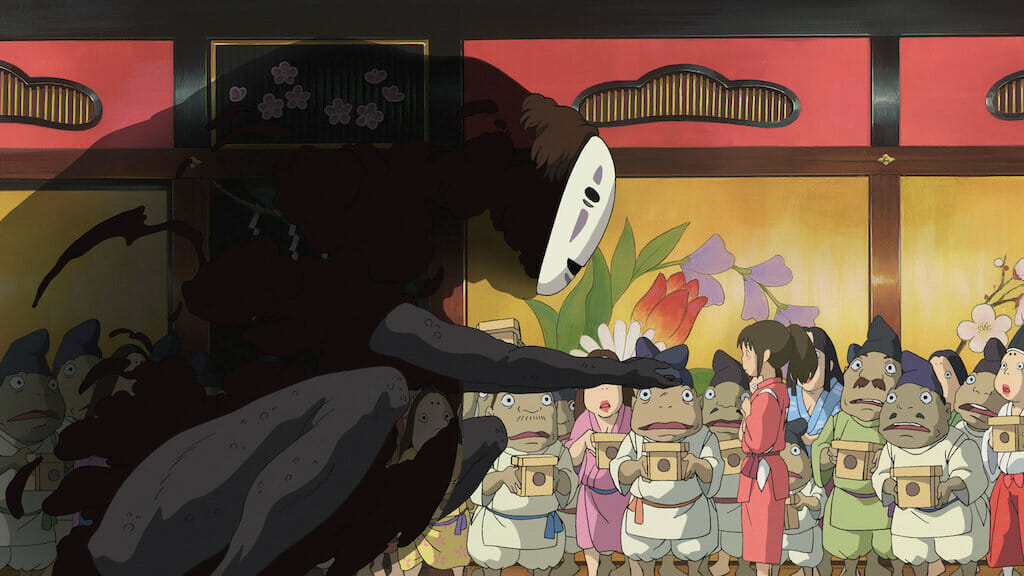 Director: Hayao Miyazaki
Writer: Hayao Miyazaki
Cast: Daveigh Chase, Suzanne Pleshette, Miyu Irino
IMDb Ratings: 8.6
Rotten Tomatoes Score: 97
Streaming Platform: Netflix
Chihiro and her loved ones were on their way to a newly built house in the suburbs. However, on the way, they stumbled upon an amusement park with haunted attractions and a bathhouse where several deities are also present. It's a gorgeous film, as is the way with other Studio Ghibli films, with plenty of hand-drawn touches seamlessly weaving into the CGI elements. Anime fans classify this as a great movie.
15. Mary and The Witch's Flower
Director: Hiromasa Yonebayashi
Writers: Mary Stewart, Riko Sakaguchi, Hiromasa Yonebayashi
Cast: Hana Sugisaki, Ryûnosuke Kamiki, Yûki Amami
IMDb Ratings: 6.8
Rotten Tomatoes Score: 89
Streaming Platform: Netflix
Studio Ghibli has been missing the next big act after Hayao Miyazaki's semi-retirement and Isao Takahata's passing last year. To continue the tradition, anime fans are looking for the next big star.
Studio Ponoc's first animated feature, Mary and The Witch's Flower stands out among the numerous studios founded by former Studio Ghibli animators and instantly reminds one of the magic of the earliest Ghibli films." Mary and The Witch's Flower" is adapted from Mary Stewart's "The Little Broomstick", about a young child known as Mary who is bored in a town full of older people.
She found a flower that gave her one night of witchcraft power. In no time, she is in trouble with a bunch of magical folks and must figure out a way to get back home. This movie celebrates Studio Ghibli's roots while experimenting with new ideas.
14. The Disappearance of Haruhi Suzumiya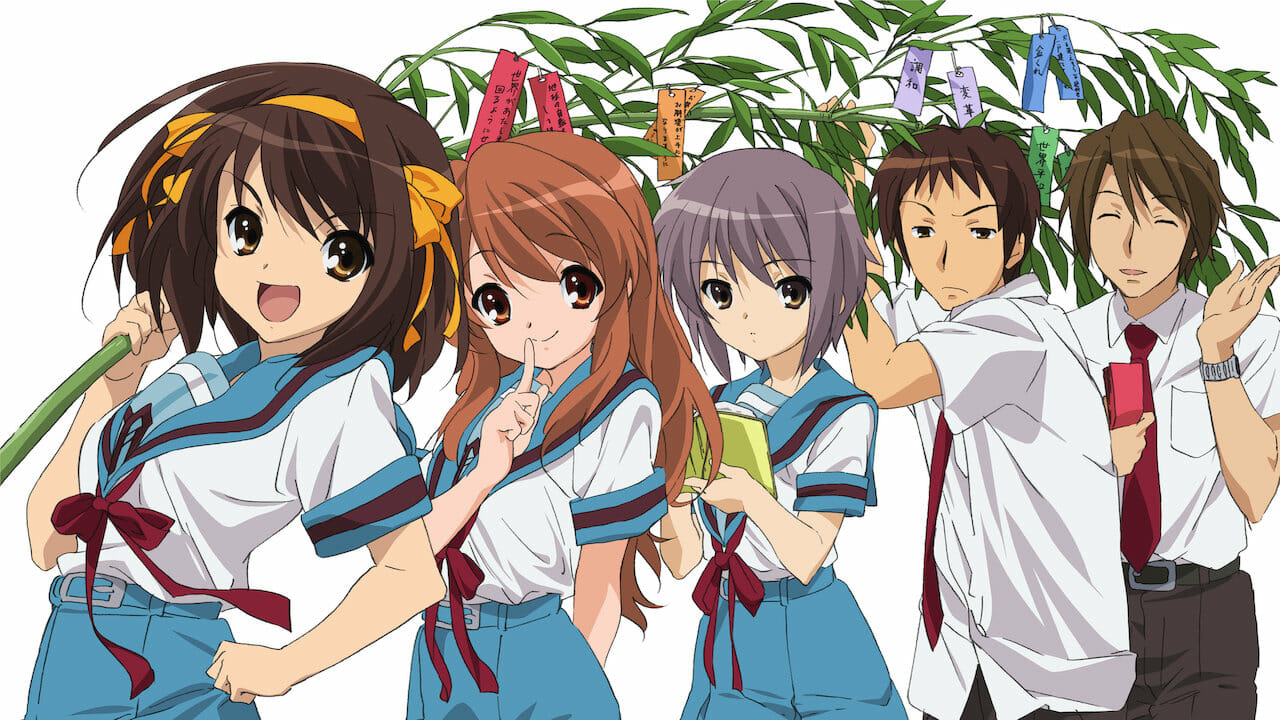 Director: Tatsuya Ishihara
Writers: Nagaru Tanigawa, Fumihiko Shimo
Cast: Aya Hirano, Tomokazu Sugita
IMDb Ratings: 8.1
Rotten Tomatoes Score:
Streaming Platform: Netflix
In 2010, Kyoto Animation produced the slice-of-life anime movie, The Disappearance of Haruhi Suzumiya, after the television series The Melancholy of Haruhi Suzumiya (2006-2009). Kyon discovers that something is amiss with all the people of the SOS Brigade and the world in general.
13. No Game No Life
Director: Atsuko Ishizuka
Writer: Jukki Hanada
Cast: Alexandra Bedford, Ricardo Contreras
IMDb Ratings: 7.4
Rotten Tomatoes Score:
Streaming Platform: Netflix
In addition to its many incarnations, "No Game No Life" has been a manga, a series, and a film just like the other movies that have been mentioned. As an introduction to the TV series, "No Game No Life: Zero," which premiered in 2017, does not assume familiarity with the franchise.
Those who enjoy complex lore will find this sci-fi epic thoroughly satisfying. Despite the show's slower pace, tA tense relationship between rivals to friends Riku and Shuvi in the film provides a platform for exploring themes of contrast, disagreement, companionship, and loyalty.
12. Ni no Kuni
Director: Yoshiyuki Momosea
Writer: Akihiro Hino
Cast: Kento Yamazaki, Tucker Chandler
IMDb Ratings: 6.1
Rotten Tomatoes Score:
Streaming Platform: Netflix
As the film's title implies, "Ni no Kuni" means "second country" in Japanese; it imagines a fantasy world, similar to our own through two having the same crush on a girl during childhood, Kotona.Trying to save Kotona's life after she is stabbed in the street, Yuu and Haru find themselves lost in a surreal world after a vehicle accident.
Amidst all the wars and magic in the kingdom, they discover the princess, who is closely resembling Kotona, is suffering from a deadly curse and needs their help.YUU and HARU are grappling with the reality of what's happening in the world but revert to fantasy to process their emotions. It is a must-watch
11. Mobile Suit Gundam: Hathaway
Director: Shûkô Murase
Writers: Hajime Yatate, Yasuyuki Muto
Cast: Kenshô Ono, Reina Ueda
IMDb Ratings: 6.6
Rotten Tomatoes Score: 80
Streaming Platform: Netflix
Uninitiated viewers may find it hard to get into the Gundam series due to so many series and movies available. You can watch some timeless classics on this streaming platform too, such as the above-mentioned and also Mobile Suit Gundam: Char's Counterattack.
Mafty, a terrorist leader, is the focus of an intriguing plot with excellent animation. Although it requires familiarity with the series to appreciate, particularly Hathaway's background story, it is a mecha fan's dream come true.
10. Lupin III: The Castle of Cagliostro
Director: Hayao Miyazaki
Writers: Monkey Punch, Hayao Miyazaki
Cast: Yasuo Yamada, Sumi Shimamoto, Taro Ishida
IMDb Ratings: 8.1
Rotten Tomatoes Score:
Streaming Platform: Netflix
You can see Hayao Miyazaki's directorial debut in Lupin III if you have never seen the long-running franchise before. There is no doubt that Miyazaki drew inspiration from The Castle of Cagliostro in the sequence of Big Ben in The Great Mouse Detective, and similarly from Indiana Jones action sequences as well.
Lupin III's classic hand-drawn animation style and the story of a thief and conman give it a timeless feel, and you don't have to watch any of its previous movies or anime shows to fully comprehend what's happening in it.
Heist film that combines romance with slapstick comedy, and a heist film that includes a romantic subplot. The language and violence in this Miyazaki film are still appropriate for kids, so the film may seem a bit dark for the younger ones.
9. Godzilla: Planet of the Monsters
Director: Kōbun Shizuno
Writer: Gen Urobuchi
Cast: Mamoru Miyano, Takahiro Sakurai, Tomokazu Sugita
IMDb Ratings: 6
Rotten Tomatoes Score: 71
Streaming Platform: Netflix
It marks the first film in the Godzilla franchise after more than sixty years and over thirty films and is the first in a trilogy that follows humans trying to take over the earth thousands of years after the monster had annihilated it. It may take a while to adjust to CGI animation, but there are some stunning shots and action scenes that can even compete with a big-budget live-action movie like King of the Monsters.
In addition, the franchise's original films are also true to the trilogy, in that they are more of a drama with monsters than a full-on action movie.
Planet of the Monsters and its sequels not only provide a thrilling sci-fi epic with an amazing soundtrack but also raises some interesting philosophic and moral issues. It is one of the coolest anime movies on Netflix.
8. Patema Inverted
Director: Yasuhiro Yoshiura
Writer: Yasuhiro Yoshiura
Cast: Yukiyo Fujii, Nobuhiko Okamoto, Shintarô Oohata
IMDb Ratings: 7.3
Rotten Tomatoes Score: 73
Streaming Platform: Netflix
The 2013 anime movie Patema Inverted can be streamed on Netflix. Time of Eve's director, Yasuhiro Yoshiura, directed the anime as well. Patema Inverted consists of two worlds: Agia, a normal world, and Reverse, a world in which gravity is reversed. An underground girl named Patema shows up one day in Agia as a young boy named Eiji and from there the story begins. It is clearly- not a simple story.
7. Mirai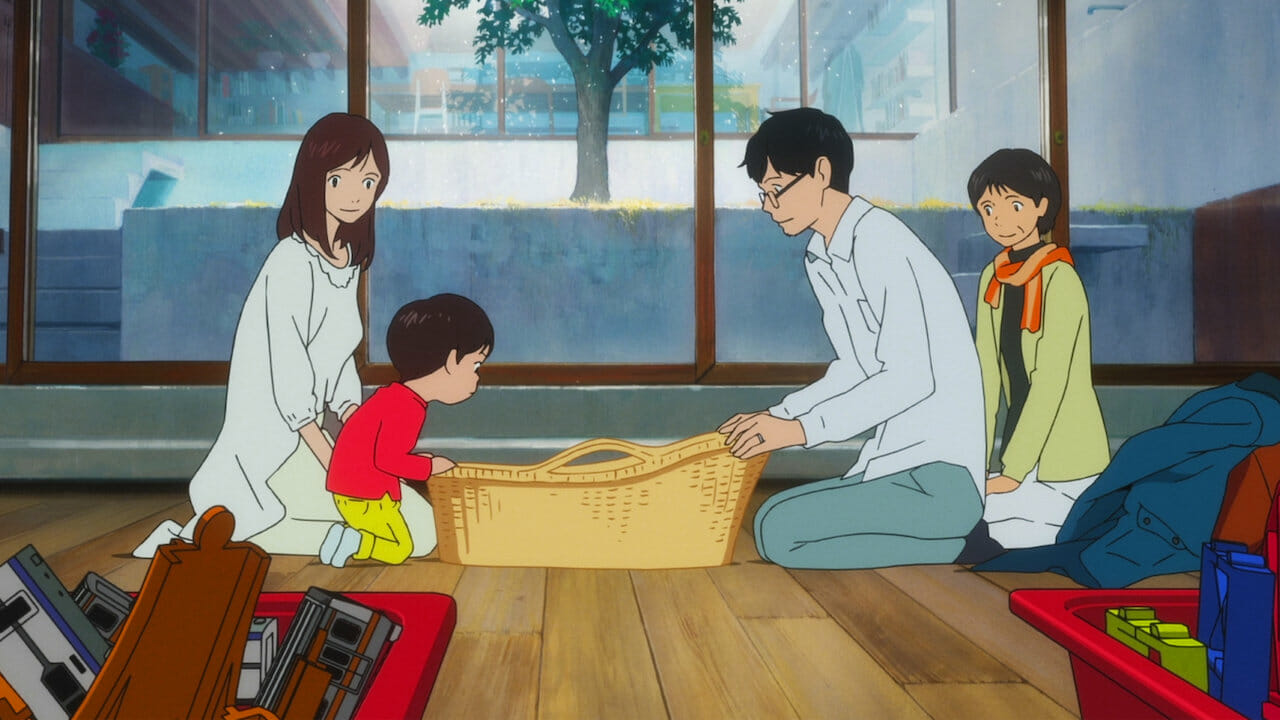 Director: Mamoru Hosoda
Writer: Mamoru Hosoda
Cast: Rebecca Hall, Daniel Dae Kim, Haru Kuroki
IMDb Ratings: 7
Rotten Tomatoes Score: 90
Streaming Platform: Netflix
Mamoru Hosoda (known for Wolf Children) has released his latest family-friendly film Mirai. In Mirai, four-year-old Kun deals with the arrival of his baby sister Mirai, who will become part of the family.
These main characters seek solace in a magical, indoor garden to cope with the lack of attention from his parents and changing household dynamics. The garden enables them to travel through time and meet different characters along the way. It is one of those heart-warming anime movies on Netflix.
6. Fireworks
Director: Akiyuki Shinbo, Nobuyuki Takeuchi
Writer: Shunji Iwai, Hitoshi Ône
Cast: Suzu Hirose, Masaki Suda, Mamoru Miyano
IMDb Ratings: 5.5
Rotten Tomatoes Score: 43
Streaming Platform: Netflix
A follow-up to Genki Kawamura's hit anime film Your Name, Fireworks is an anime feature film adapted from a short television drama by Akiyuki Shinbo and Nobuyuki Takeuchi (also known for animating Spirited).
The story centers around a group of middle school boys arguing about how best to observe fireworks, but the story also tells the story of Nazuna, who is trying to escape her family's troubles with the help of one of the boys. However, an unexpected twist turns the story upside down. The time-looping story was released on the big screen in 1995, but these days, Fireworks is a fully-fledged feature film available on Netflix.
5. Pokémon – I Choose You
Director: Kunihiko Yuyama
Writer: Satoshi Tajiri, Shōji Yonemura
Cast: Rica Matsumoto, Kanata Hongō, Shiori Sato
IMDb Ratings: 6.3
Rotten Tomatoes Score: 33
Streaming Platform: Netflix
In case you are a Pokémon fan then you need to watch this one without a doubt! For some people, Ash Ketchum is a 10-year-old living alone in the town of Ashfield. In the movie, he catches Pokémon and becomes a "master" by catching all of them and beating strong trainers. Even though, the long-standing fans find this repetitive alongside to the new visuals and condensed story make the feature a perfect way for newcomers to get a taste of the largest-grossing media franchise.
4. Kuroko's Basketball The Movie: Last Game
Director: Shunsuke Tada
Writers: Tadatoshi Fujimaki, Noboru Takagi
Cast: Jon Allen, Sôichirô Hoshi, Yoshimasa Hosoya
IMDb Ratings: 7.8
Rotten Tomatoes Score:
Streaming Platform: Netflix
Kuroko's Basketball anime concludes with Last Game, in which members of the Generation of Miracles face off against an American team that treats them as second-class citizens. Also, the fans of Kuroko's Basketball will find little value in this film, nevertheless, as it offers a rare opportunity to see the Miracles united as a cohesive unit. It is a beautiful movie, likewise.
3. Miss Hokusai
Director: Keiichi Hara
Writers: Hinako Sugiura, Miho Maruo
Cast: Anne Watanabe, Yukata Matsushige
IMDb Ratings: 6.7
Rotten Tomatoes Score: 93
Streaming Platform: Netflix
Westerners typically associate animated movies with children's movies, colorful adventures, or even action movies, but rarely do they think of biopics.
Regardless of Netflix's acquisitions not getting nearly as much attention as the original content, this one is worth watching. At the Fantasia Film Festival and at the Annecy Film Festival, Miss Hokusai was the winner of the Audience Award.
Known as the daughter of Katsushika Hokusai, one of the most famous Asian painters in the West, Oei Katsushika was a painter. She is the central character of Miss Hokusai, in which you learn about her life under the shadow of her father. In this movie, Oei's life and work are presented through an array of vignettes, with complex themes like religion, sexuality, art, and even the supernatural.
Produced in 2D animation, this movie gives the viewer a sense of being in a medieval world without the need to master swordsmanship. It has to best one of the most heart-touching anime movies on Netflix right now.
2. Ghost in the Shell: Arise
Director: Kazuchika Kise
Writers: Masamune Shirow (manga), Tow Ubukata
Cast: Maaya Sakamoto, Ikyuu Jyuku, Nenji Nojima
IMDb Ratings: 7.1
Rotten Tomatoes Score:
Streaming Platform: Netflix
Cyberpunk anime movies have never been more famous and influential than Ghost in the Shell, the most influential anime movie of all time. In association with the first film's production company, Ghost Pain represents a new interpretation of the franchise with new character designs and a timeline that precedes that of the original manga and feature film.
Old fans will find a bit of repetition! Although, all the newcomers will find a thrilling introduction to the series, which combines mecha action, intrigue, and a frightening dystopian future. Besides, it is indeed one of the most intriguing anime films.
1. Kiki's Delivery Service
Director: Takashi Shimizu
Writers: Eiko Kadono
Cast: Tadanobu Asano, Rie Miyazawa, Machiko Ono
IMDb Ratings: 7.8
Rotten Tomatoes Score: 98
Streaming Platform: Netflix
An anime movie that tells the story of 13-year-old Kiki our main character, who moves to a coastal town with her talking cat, Jiji, to spend a year alone as part of her village's tradition for witches undergoing training. Kiki sets up a flying courier service after learning to control her broomstick. However, she is a household name. Also, now she must overcome her self-doubt when she loses her magic when she questions herself and doubts herself.