Anime is known for its beautiful animation styles. Animation studios like Ufotable have the best art styles in anime. This was evident in Demon Slayer and Howl's Moving Castle. These two studios have in common their great storytelling and the use of colors.
In animation work, color is an essential component. But, in some beautiful anime, we get to understand that existing in black and white is also not a hindrance. Without color, they still have incredible plots.
Here are some of the best black-and-white anime series that combine great storylines with characters that are hard to ignore. Some black-and-white anime series stand out from the rest. Anime fans should check these out if they want to watch some classic stuff.
20. Perman (1967)
Director

: Hiroshi Sasagawa, Sadayoshi Tominaga

Writer

: Fujiko F. Fujio

Studio

: Shin-Ei Animation
Perman is a very famous anime series among kids. It has been adapted from the Japanese manga series directed by Sadayoshi Tominaga and Hiroshi Sasagawa. The story of this anime series is about Mitsuo Suwa, who was chosen by Birdman, a superhero so that he can save the world with other superheroes.
Mitsuo was an ordinary human. Now, he has been paired up with four other crime fighters. They must keep their identities hidden and wear a mask for the same.
19. Yuusei Kamen (1966)
Director

: Isao Kawauchi (14 episodes), Isao Yamamoto (13 episodes), Yonehiko Watanabe (12 episodes)

Writer

: Akira Adachi

Studio

: NA
Yuusei Kamen is a black-and-white anime series made by Tele-Cartoon Japan. It first came to Japan in 1966 and had 39 episodes. It was set in 2001, and the story deals with the aftermath of an evil conspiracy that destroyed society.
Multiple cities on Earth get destroyed, and a war starts between two civilizations. The main character's goal is to stop the fighting and restore peace. He dresses in a mask, and his journey of saving the Earth has just started.
18. Suteneko Tora-chan (1947)
Director

: Kenzō Masaoka

Writer

: Tomio Sasaki

Studio

: NA
This is a great black-and-white anime that is about animals. It tells the story of a family of cats who find a homeless kitten and then take him into their home. The kitten soon becomes everyone's favorite, but the love doesn't last that long.
As time passes, the sibling starts growing jealous of the attention the kitten receives from their mother. This leads her to go away from home. Can this family bring the Cat back home? Can they accept the homeless kitten as a part of their own family?
17. Sabu to Ichi Torimono Hikae (1968)
Director

: Rintaro

Writer

: Shotaro Ishimori

Studio

: Mushi Productions, Toei Animation, Zero Studio
Sabu to Ichi Torimono Hikae is an action-adventure anime series made in 1968 by Shotaro Ishimori. This series tells us about Sabu's adventures, and he is a young Bakufu investigator.
He travels with swordsman Ichi, the blind master. Throughout their journey, they can be seen capturing animals and solving several public concerns.
16. Momotaro: Sacred Sailor (1945)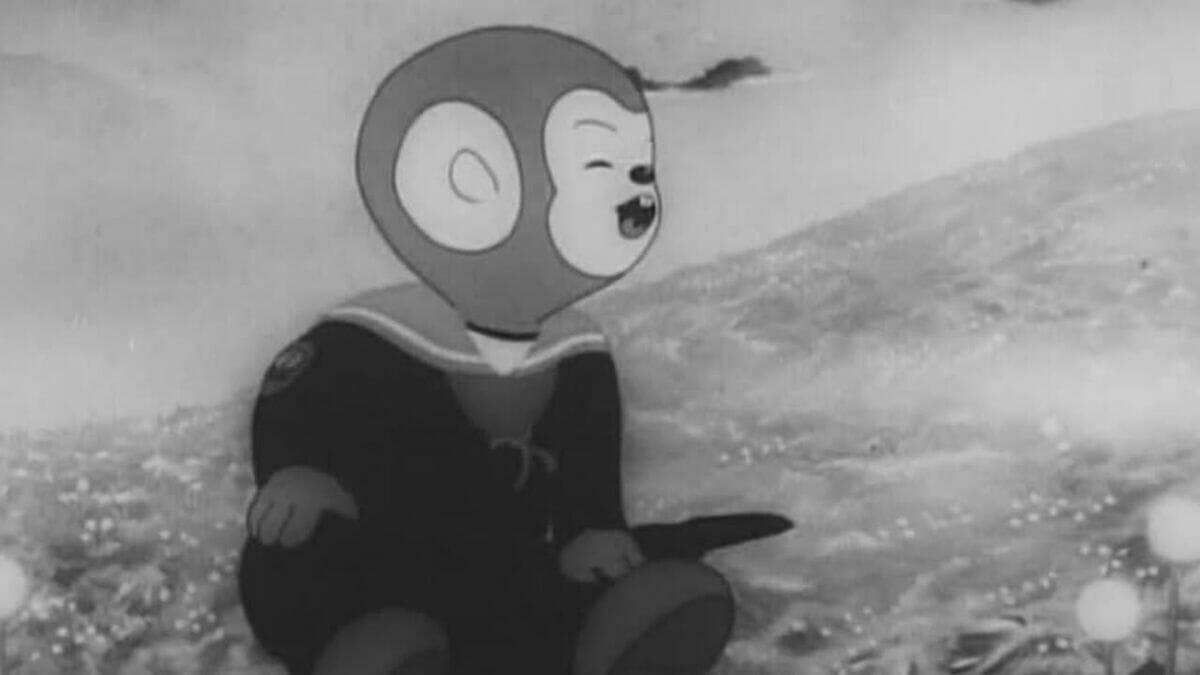 Director

: Mitsuyo Seo

Writer

: Mitsuyo Seo

Studio

: Shōchiku Dōga Kenkyūsho
Momotaro: Sacred Sailor is the first feature-length animated film made in Japan. It is made by Mitsuyo Seo and serves as a comparison between modern-day war propaganda and the dark days seen in history.
The story is about the lives of young Japanese boys from their school days till their enlistment in the army. They fought bravely against the enemies of Japan. This anime series teaches the viewers about bravery and unity.
15. Wonder 3 (1965)
Director

: Taku Sugiyama

Writer

: original manga by Osamu Tezuka

Studio

: NA
Wonder 3 is a sci-fi anime series created in 1965 by Osamu Tezuka. The anime series tells the story of the journey of three extraterrestrial agents who land on Earth.
They come to destroy the planet Earth as they believe it poses a threat to the entire universe. When they land on Earth, these agents take the forms of a rabbit, a duck, and a horse.
This series mainly focuses on issues not commonly highlighted in other series, like poverty and environmental concerns.
14. Furiko (2012)
Director

: NA

Writer

: NA

Studio

: NA
'Furiko' actually means pendulum. This is a 4 minutes animation video created by Tekken, the Japanese comedian. It is the story of a man and a woman poetically interpreting life from birth to death. In just 4 minutes, this anime successfully discusses and depicts the ups and downs faced in life.
13. Kagami No Genon (2004)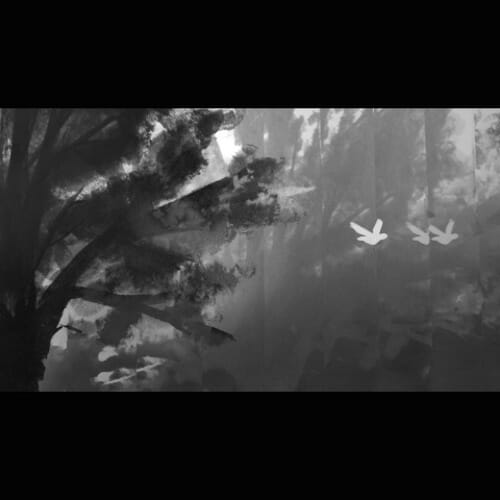 Director

: NA

Writer

: NA

Studio

: NA
Kagami no Genon is a black-and-white anime created by Kojiro Shishido in 2004. It is just a 7-minute video animation. In this anime, a young man is seen discovering the world's true beauty by sighing. However, he sees the world entirely differently from that view.
He noticed every shadow, every light very carefully. This anime shows excellent sensitivity towards light and shadow. It also has a pleasant soundtrack.
12. 8 Man (1963)
Director

: Yoriyasu Kogawa

Writer

: Masahiro Suematsu, Kyoichi Nanatsuki

Studio

: J.C.Staff
8 Man, originally a manga series from 1963 to 1966 in Japan, was produced in 1963. It focuses on the first cyborg fighters and superheroes of Japan. This cyborg was created after Special Agent Brady was fatally shot. Professor Genius then transferred his brain of Brady into the 8-Man cyborg's body.
This powerful cyborg fighter with a human brain aimed to bring peace and justice. This anime series probably inspired the iconic Robocop, which aired in 1987.
11. Tamala 2010: A Punk Cat In Space (2002)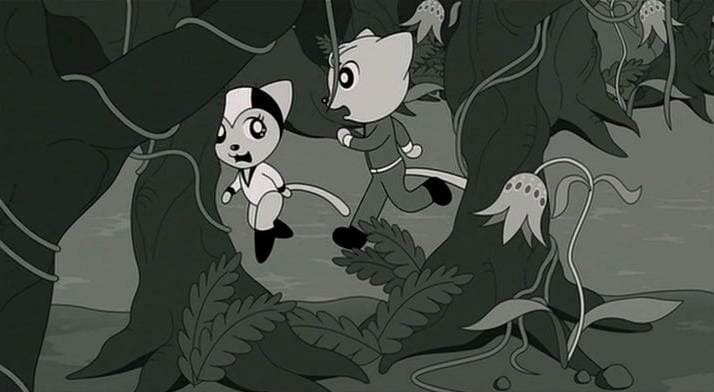 Director

: Kentaro Nemoto

Writer

: Kentaro Nemoto

Studio

: Kinétique, Catty & Co. Partners
It aired in 2002. Tamala 2010: A Punk Cat In Space tells the story of Tamala, a kitten who lives on Planet Cat Earth. Tamala, the Cat, focuses and decides to escape from fleeing Cat Earth as it is under the control of a corporation, Catty & Co.
It showcases A Feline Universe. On her way out, she crashes on Planet Q. On this planet, she meets another cat called Michelangelo. Together they have a lot of fun, and on this same planet, Tamala researched Catty & Co. and Orion (her home world).
10. Osomatsu-Kun (1966)
Director

: Ryuichi Okumura

Writer

: Tokio Tsuchiya

Studio

: Pierrot
Osomatsu-Kun initially aired in 1966, and it is a popular comedy anime series. Later, in 1988 and 2015, it was made again in color as Mr. Osomatsu, known as Osomatsu san in Japanese. The original series of 1966 was animated entirely in the form of black and white animation styles.
Osomatsu Kun shows the life of sextuplet boys who look, talk, and dress the same way. These sextuplets boys are fun lovers who like to create chaos with their wild pranks every day.
9. Shounen Ninja Kaze No Fujimaru (1964)
Director

: Daisaku Shirakawa, Kimio Yabuki

Writer

: Based on a manga by Sanpei Shirato

Studio

: Toei Animation
This is an excellent classic anime TV show for the fans of this genre. It is an authentic historical show with an outstanding balance of magic, martial arts, and weapons.
The story of this anime series is set in a chaotic time where ancient material was searched for as they were instrumental in the procedures to conquer the world. So, the Ninja masters worked against each other. Thus, when Midori and Fujimaru come across as the Ninja Masters, they are seen fighting.
8. Cyborg 009 (1968)
Director

: Yugo Serikawa, Kokai Kakimoto, and others

Writer

: Kenji Kamiyama

Studio

: OLM Digital, Signal.MD
Toei Animation produced this series highly liked by anime fans in 1968. It was initially a film trilogy and was later made into an anime series. In Cyborg 009, a team of nine cyborg fighters with superhuman strength can be seen fighting against enemies like aliens, robots, and other cyborgs.
Each cyborg fighter has its unique special powers. 009 is the leader of this team, and he has incredible speed, can escape from bullets, and has superhuman strength.
7. Gegege No Kitarō (1968)
Director

: Isao Takahata (ep 62)

Writer

: Hiroshi Ozawa (eps 53, 56, 61), Masaki Tsuji (13 episodes), Michio Suzuki (13 episodes), Motonari Wakai (ep 3), Shunichi Yukimuro (18 episodes), Susumu Takaku (eps 2, 14, 21), Toyohiro Andō (12 episodes)

Studio

: NA
Toei Animation made this yet another black-and-white anime Gegege No Kitarō. It was made in 1968 and is about the story of a young boy born in Kitarō, a graveyard. The boy is part of a Ghost Tribe.
Throughout this anime, Kitarō can be seen going on adventures and fighting battles in Japan against yōkai. Yōkai is supernatural monsters that can change in any shape or form. Gegege No Kitarō has been made several times over the years in color.
6. Tetsujin 28-Gou (1963)
Director

: Tatsuji Yamazaki

Writer

: Mitsutaka Hirota, Tatsuji Yamazaki

Studio

: Eiken
Tetsujin 28-Gou aired in 1963, telling the viewers the story of Dr. Haneda and his mission of creating giant robots that would fight in the Second World War. Before he could show his creations, Dr. Haneda and his facility got bombed.
After ten years, a criminal group discovered two of his giant robots, and now they are being used to commit crimes.
Shotaro Haneda, son of Dr. Haneda, is now on a mission to find yet another of his father's robots. The criminal group is also after that giant robot. Hence, it becomes even more essential to find it.
5. Kaizoku Ouji (1966)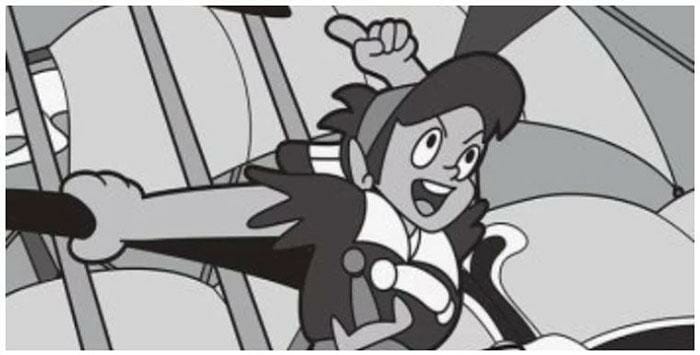 Director

: Bonjin Nagaki (ep 25), Kazukiyo Shigeno (eps 5, 10, 16), Kenji Araki, Kimio Yabuki (eps 3, 14), Masayuki Akehi (6 episodes), Minoru Okazaki (ep 21), Ryozo Tanaka (4 episodes), and others

Writer

: Daikichi Harada (ep 19), Hiroyasu Yamaura (eps 6-8, 19), Ichiro Wakabayashi (eps 23, 30), Jiro Yoshino (eps 1, 16, 27), and others

Studio

: Toei Animation Co., Ltd.
Toei Animation also produces Kaizoku Ouji and is also a black-and-white anime. It was released in 1966. This series is about a young boy who lives peacefully on a small island with his father. However, this kid's life is soon turned upside down when his dying father tells him that he is not his blood relative.
The father of Kid is Captain Morgan, in reality. He is a pirate who rules over the seven seas. Unfortunately, this young boy didn't have much knowledge about his father and decided to go on a search for him.
4. She And Her Cat (1999)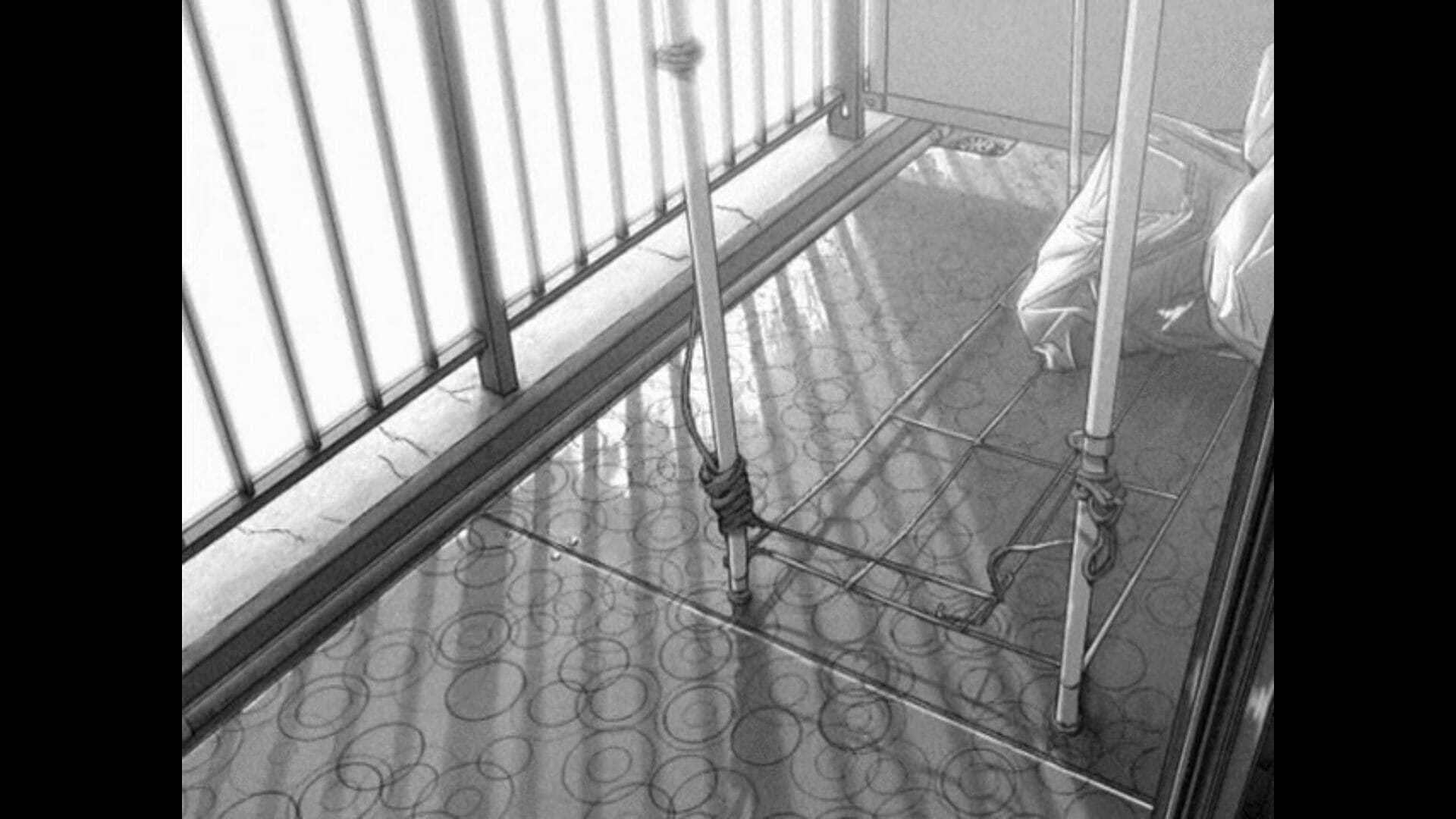 Director

: Makoto Shinkai

Writer

: Makoto Shinkai, Naruki Nagakawa

Studio

: Liden Films Kyoto Studio
She And Her Cat is a black and white original video animation released in 1999. Later on, it received a four-episode colorful anime series in 2016. She And Cat focus on the relationship shared by a girl and the Cat she found on a rainy day.
The girl then decided to take the cat home with her. Chobi, the Cat, falls in love with his owner. Life has its own set of ups and downs. And at the end of the series, She And Her Cat, the Cat can be seen living a happy life. The main character in this series feels to be the Cat itself.
3. Harris No Kaze (1966)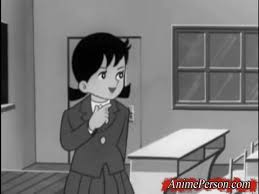 Director

: Masami Hata

Writer

: Tetsuya Chiba, Koji Ito

Studio

: Mushi Productions
Harris No Kaze is a Japanese manga series illustrated and written by Tetsuya Chiba. It was initially published in 1965 and then republished in 1967 as a part of the Kodansha Comics series.
This black-and-white anime was released in 1966 and had 70 episodes. The story is of a boy who is a troublemaker and gets transferred to a new school.
2. Dororo (1968)
Director

: Gisaburou Sugii

Writer

: Based on the manga of the same name by Osamu Tezuka, Yoshitake Suzuki, Tooru Sawaki, Mushi Pro Literature Room, and others

Studio

: Mushi Productions
Most anime fans know Dororo because of its hit 2019 version. However, people should also not forget that it was the first anime series of 1968. It is among the best black-and-white anime. Dororo tells the story of Hyakkimaru, a young boy with 48 parts missing. The demons took those missing parts from him even before he was born.
Now, he is all grown up, so, Hyakkimaru has fake body parts, and he is working on the mission to eliminate those 48 demons that were made from his missing parts. After this, he can get his original details back.
1. Astro Boy (1963)
Director

: Rintaro, Yoshitake Suzuki, Eiichi Yamamoto

Writer

: Rintaro, Yoshitake Suzuki, Eiichi Yamamoto

Studio

: Mushi Production
Astro Boy is among Japan and America's very first anime series. It aired from 1963 to 1966. Astro Boy is famous among non-anime series and anime fans. The plot of Astro Boy focuses on Dr. Tenma and his fixation on creating a robot boy after his son passes away in a car accident.
Tenma's mission was successful, and he is there with a new creation- Astro Boy. The doctor treated his new design just like his own son. The plot follows The Life Of A Robot Boy.